There's a very important series of questions you need to ask yourself when critically assessing a Backstreet Boys concert like Friday night's jam-packed Summerfest Amp gig.
Was it original? Well, they didn't do any covers and played a remarkable amount of new material off their most recent album, 2019's "DNA" – so yeah. Was the show the only one? Sure, you could hear Charli XCX boom-clapping next door, but for the filled-up Amp crowd, the Backstreet Boys might as well have been the only act needed on the grounds that night – so yeah. Was it sexual? (*still can't hear because of the throngs of women howling their vocal chords to shreds at every song and any gyration*) Yeeeeah. And was it everything the audience could need? Yeah, pretty much, as the boy band brought the new material, the dance moves, the nostalgia and even the white outfits (even if not THE signature Y2K-era white outfits) to their two-hour headlining blast to the past.
Sure, time's taken its requisite toll on some of the group's dance moves and voices – but if Friday was any indication, Backstreet Boys still know how to rock fans' (and even jaded concert reviewers') bodies right.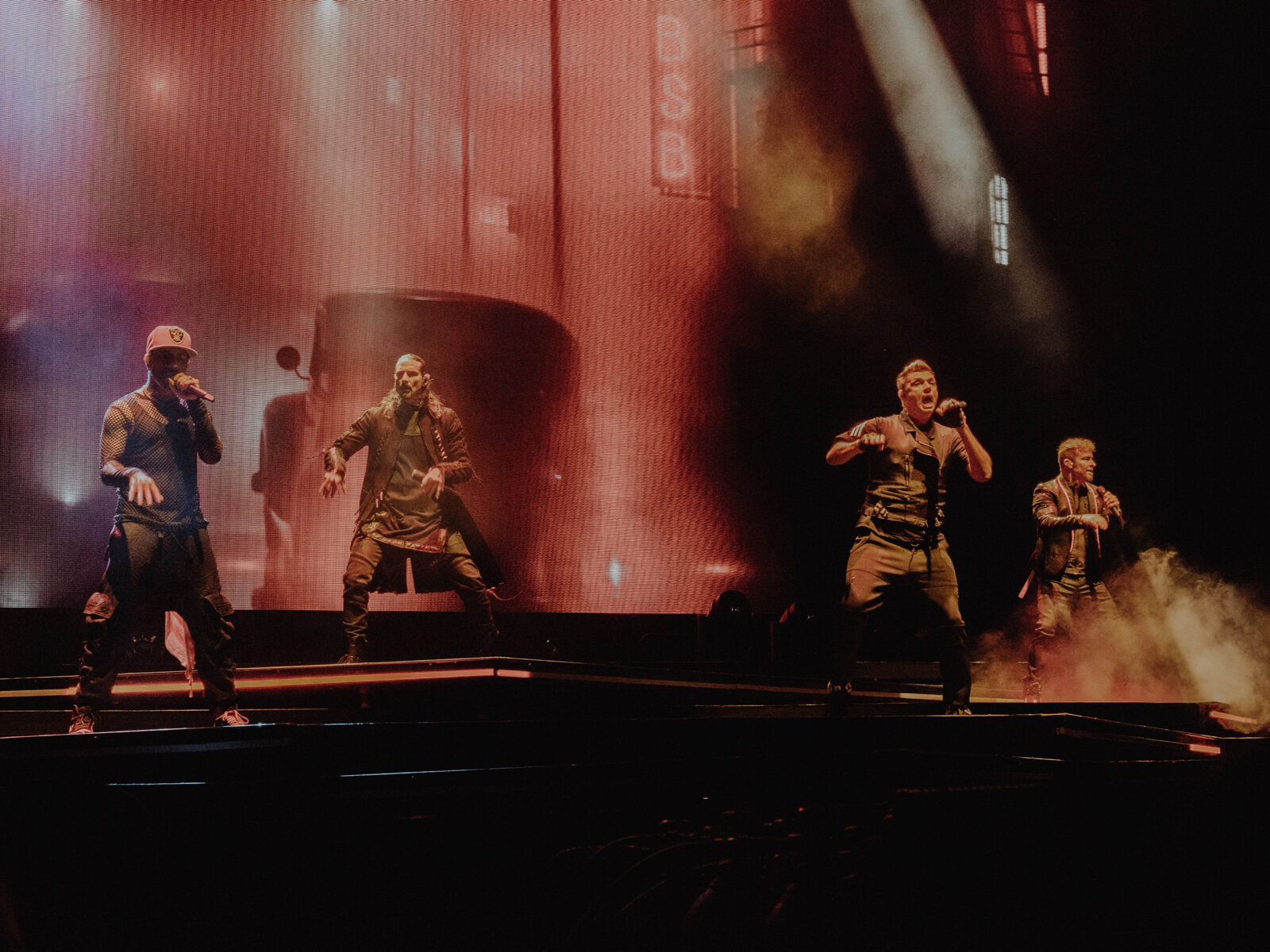 The show may have been a flashback to the turn of the millennium, but the setlist harkened back to memories from a time slightly more recent: 2019, when the band played their first "DNA" Milwaukee tour stop at Fiserv Forum. As you'd expect, the setlists are near identical, so if you saw one visit, you pretty much saw them both (though now Kevin Richardson has long hair which, tied back together with his draped first act costume, made him look like Qui-Gon Kevin – so that's something fresh).
Not that the crowd minded one single bit. As soon as the lights went down, the requisite plugs got out of the way (Christmas album: coming later this year!) and the screens played a "Matrix"-like visual intro, the packed Amp audience shrieked and screamed their way to new levels of consciousness. One nearby group threw their necks back in joyful recognition at the start of every song, to the degree I was getting very concerned about their spinal columns. It was an ecstatic night, impressively maintained across two hours.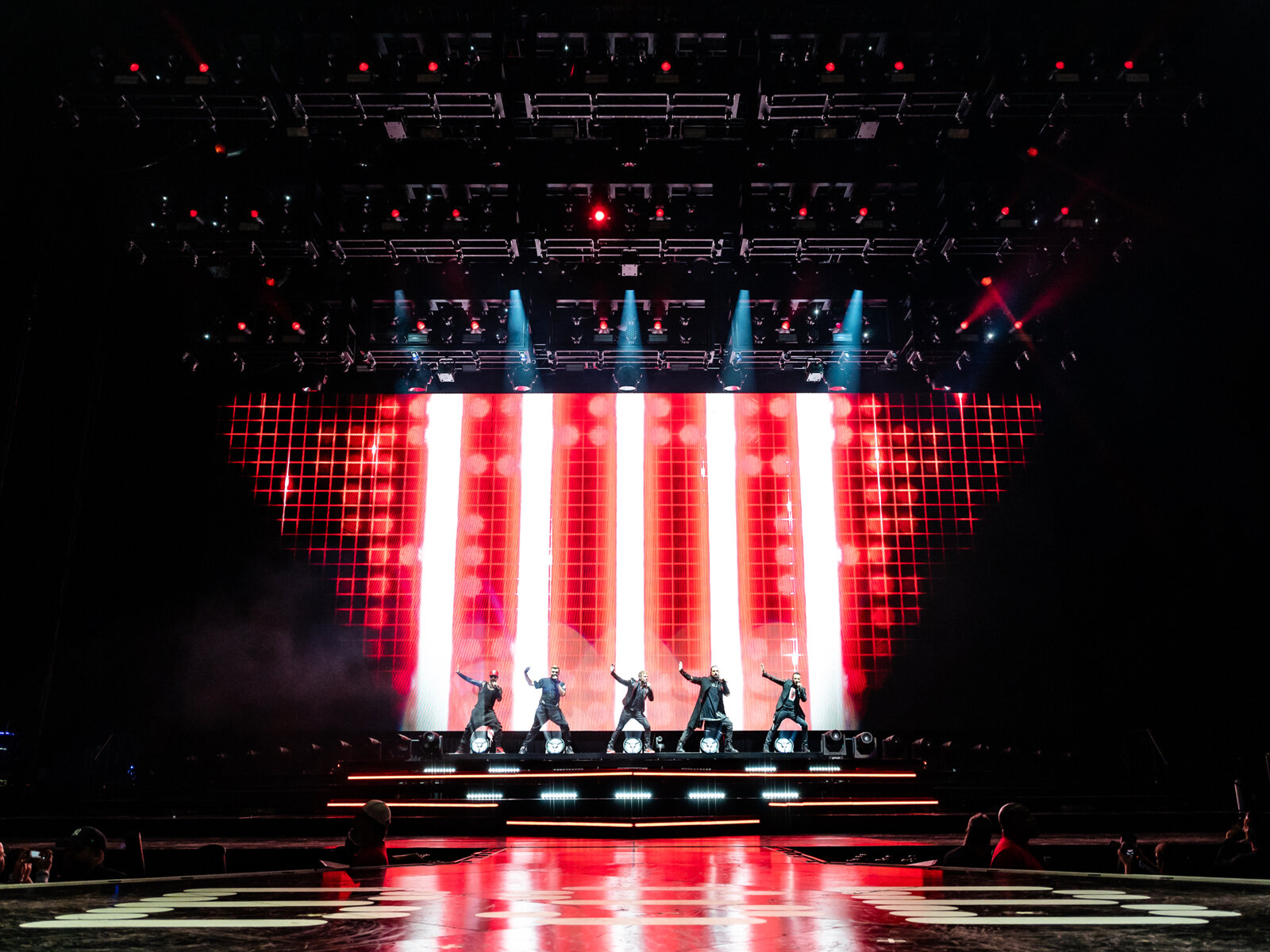 In a twist that frankly should be illegal by law, the boys somehow did not start with "Backstreet's Back (Alright)," the most obvious opener in music history (maybe second only to the Rolling Stones' "Start Me Up"). But "Everyone" off 2000's "Black & Blue" worked just fine as well, though, an energetic first taste to get the audience into the groove and get an early sweat going.
Same goes for the band itself. As you'd expect for a quintet now all comfortably in their 40s – 50, in Kevin's case – the dance moves aren't quite as snappy and sharp as in their Y2K heyday, particularly in the beginning of the night when they were getting revved up and back into the rhythm and momentum of a show. Some, however, haven't lost that much of a step. Go figure, it's the two who've done "Dancing with the Stars": AJ McLean and Nick Carter, both looking smooth on stage and putting in an eye-catching effort that really earned respect. Credit to Kevin, too, whose dance moves have this weighty gravitas about them that grab the eye.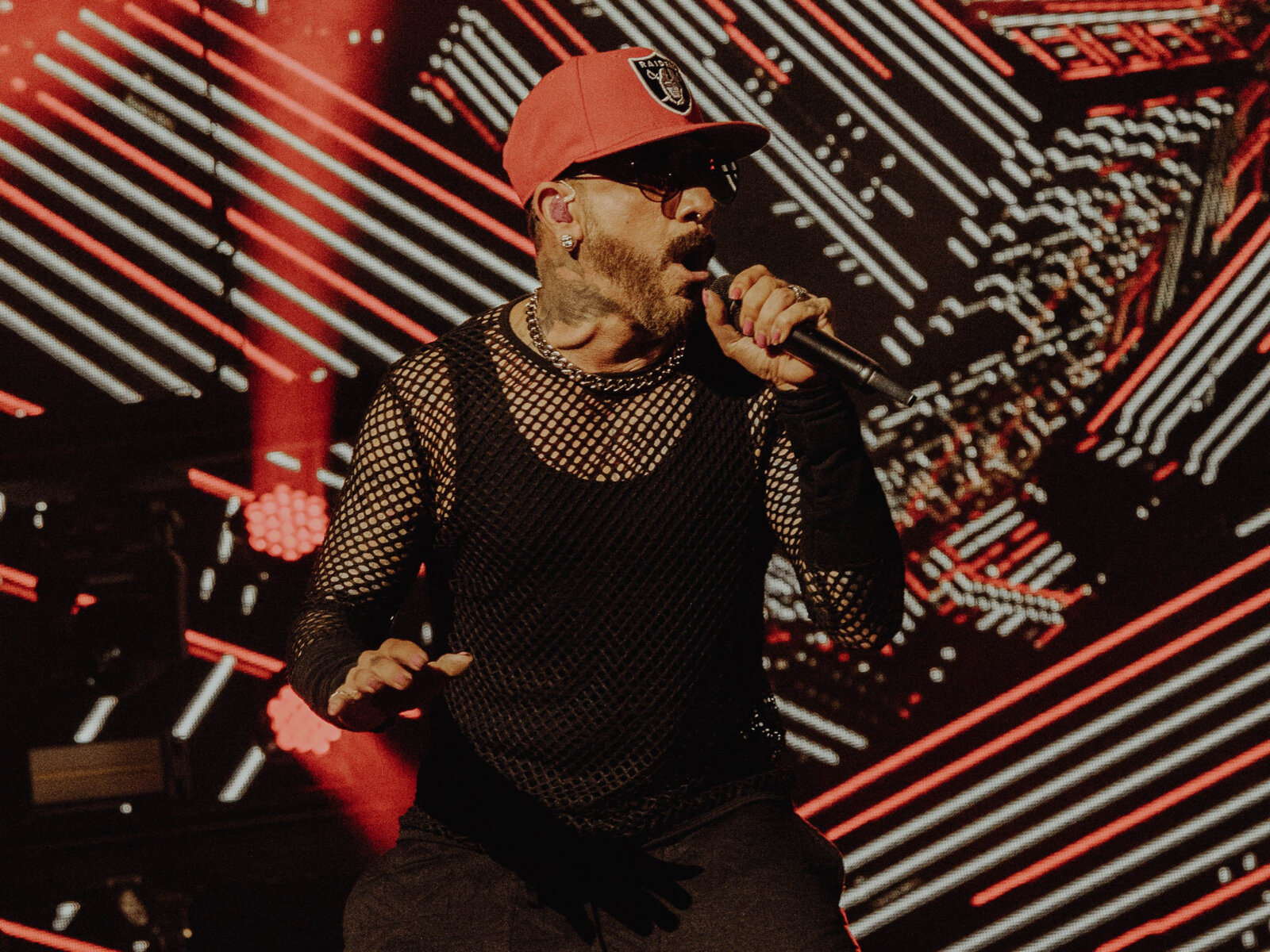 Even the worst of the dancers (*cough* Howie *unconvincing fake cough*) is still impressive, moving and performing two hours of memorized choreography years past their mainstream primes. They can't make it look easy anymore – but they did make it look entertaining and engaging. A tour like this can risk feeling like a nostalgia cash-grab if done without heart or effort; that wasn't a problem at all Friday night.
Accompanied by pleasantly generic screensaver-like visuals (as if anyone there noticed anything beyond the five handsome guys on stage), BSB charged their way through their first act set. Save for "The Call," the early going didn't include many of the monster golden age hits, eventually hitting a collection of "DNA" songs since – as we were reminded approximately 47 times throughout the night – it was the "DNA" tour. The dreaded words "new one off the new record" were indeed uttered.
Even if they weren't the retro crowd-pleasers, though, the energy (and the shattering decibels) stayed up throughout the deeper-cut segments. The band's constant dancing and choreographed movement kept things engaging, and while not the radio hits, the songs are mostly still fun bops. And, most of all, Backstreet Boys very smartly organize the show so the requisite "DNA" moments tended to also be the fastest. In the case of "Nobody Else," "Chateau" and "The Way It Was," the tunes were trimmed down to just maybe a verse and one trip through the chorus, performed with just one member highlighted on stage after pleasantly chatting with the crowd. It was a savvy move, not getting bogged down in new material while also hiding the night's several costume changes.
Or not hiding them, in the case of the mid-set break for the funky track "Passionate," where AJ and Kevin casually conversed with the crowd (glad you liked Fontana, Kevin!) and then got to flirtingly changing their outfits right on the stage. Behind some decency walls, of course – settle down, folks – but it did end with their underwear getting chucked into the crowd for some lucky fans. (Or unlucky, depending on how much sweaty dancing happened in them.) As AJ pointed out, after years of women throwing their undergarments on stage, it was only fair to return the favor.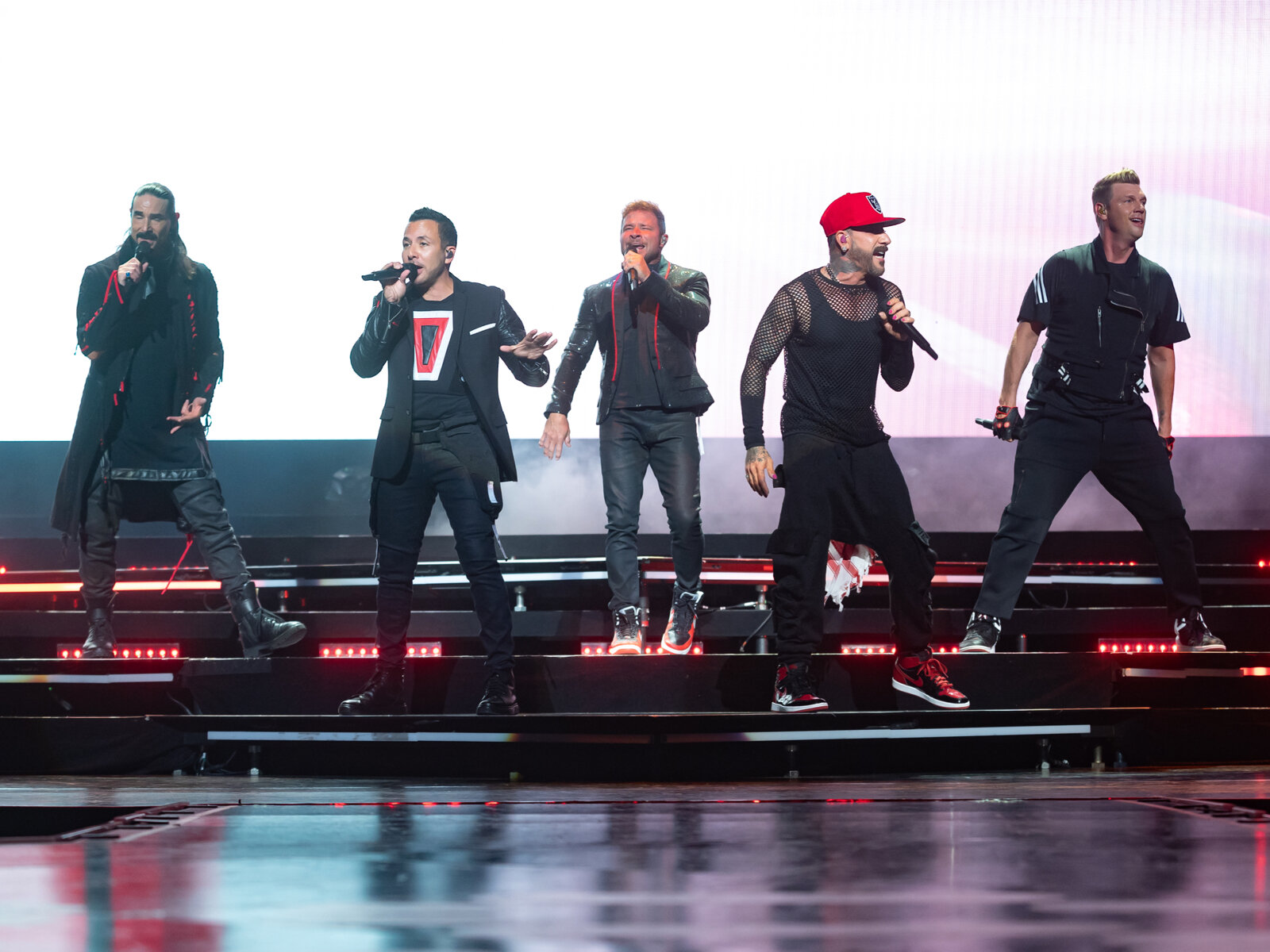 If that bit sounds a little corny, well, they're all dads and family men now, so they are a little corny and dad-jokey. The little "ooh pulled a muscle" gags, hammy flirtations and moments of band interplay during songs on stage actually added to the charm of the night – especially during one interaction in between the sweet family tribute ballad "No Place" (complete with cute video footage of hanging with their families at home) and "Breathe." As Howie couldn't get his lines out right, the guys chuckled about things going off the rails while Brian off to the side was giddily distracted by some animated conversation he was having with audience members. They may obviously be older, but they're still just boys having fun.
The middle of the show served as mostly the slow jam segment of the night, running through many of BSB's popular and less popular ballads – always a threat to screech a show to a halt. Unfortunately, it was also the part where some vocal limitations became most apparent – mainly Brian, who visibly struggled trying to push out some of his signature cooing high parts and soaring moments. In fairness, he has some of the hardest, showiest vocal runs to tackle – and to make them even harder, in 2015, he revealed he's been diagnosed with dystonia, impacting his voice. But he still powered through, even if there were concerns he might pop a muscle from the strain.
Even if the midsection wasn't the boppiest part of the night, it still had the crowd roaring with delight. "Show Me the Meaning of Being Lonely" is a banger of a ballad, encouraging massive sing-alongs along with "Shape of My Heart," "Quit Playing Games (With My Heart)" and "As Long As You Love Me." Near the end of the segment, BSB gave the band a break and did a lovely harmonious a cappella rendition of "Breathe" that showed off their vocal chops while "I'll Never Break Your Heart" radiated old-school Motown ballad inspirations, complete with the little synchronized moves at their individual mic stands (glowing like lightsabers for a modern touch). For those who came for the party hits and that's it, the middle could've been a lowlight – but it still came with plenty of highlights.
Just people coming together, who all love the same 5 guys. What a feeling!#BSB #BackstreetBoys #DNAWorldTour #dnaworldtour2022 @nickcarter @aj_mclean @brian_littrell @howied @kevinrichardson pic.twitter.com/QcrxyZmVl1 — S1001 (@Stephhhh1001) July 8, 2022
And for those people, they wouldn't have to wait much longer for the smash hits either as Backstreet Boys wrapped up the set with a barrage of classics – starting with "Everybody (Backstreet's Back)," somehow made even catchier with a bonus crunchy EDM beat added to the mix. I still think it should be illegal to not open with the swaggery hit – but the wait was well worth it, especially as more high-energy pop favorites ("We've Got It Goin' On," "That's The Way I Like It," "Get Another Boyfriend," "The One") quickly followed. The run ended with the triumphant boy band staple "I Want It That Way" – and if you don't belt out "Tell me why" and "Don't wanna hear you saaaaay" at the key change, do you even like music?
After a bow and brief break, Backstreet Boys came out for a few final songs and one final costume change – unfortunately not into their robot suits from the iconic "Larger Than Life" music video. Thankfully, after the first encore of the new stompy electronic smash "Don't Go Breaking My Heart," the song itself did make its expected appearance – complete with AJ's incredible sinister cackle at the open and, perhaps the biggest shocker of the night, a bit of a Justin Timberlake beat coming through in the background. If NSYNC and BSB can (tangentially) unite, maybe there can be world peace in our time after all.
While that boy band combo tour will have to exist solely in our wildest Surge-addled dreams, the Backstreet Boys were very real Friday night – and a real good time. Backstreet can be back anytime they please.
Setlist
"Everyone"
"I Wanna Be With You"
"The Call"
"Don't Want You Back"
"Nobody Else"
"New Love"
"Get Down (You're the One for Me)"
"Chateau"
"Show Me the Meaning of Being Lonely"
"Incomplete"
"Undone"
"More Than That"
"The Way It Was"
"Chances"
"Shape of My Heart"
"Drowning"
"Passionate"
"Quit Playing Games (With My Heart)"
"As Long As You Love Me"
"No Place"
"Breathe"
"Don't Wanna Lose You Now"
"I'll Never Break Your Heart"
"All I Have to Give"
"Everybody (Backstreet's Back)"
"We've Got It Goin' On"
"It's Gotta Be You"
"That's the Way I Like It"
"Get Another Boyfriend"
"The One"
"I Want It That Way"
Encore
"Don't Go Breaking My Heart"
"Larger Than Life"
As much as it is a gigantic cliché to say that one has always had a passion for film, Matt Mueller has always had a passion for film. Whether it was bringing in the latest movie reviews for his first grade show-and-tell or writing film reviews for the St. Norbert College Times as a high school student, Matt is way too obsessed with movies for his own good.
When he's not writing about the latest blockbuster or talking much too glowingly about "Piranha 3D," Matt can probably be found watching literally any sport (minus cricket) or working at - get this - a local movie theater. Or watching a movie. Yeah, he's probably watching a movie.