Last year, we shared a series of photos of Milwaukee buildings under construction, thanks to vintage images shared by Dahlman Construction.
Now, thanks to another long-lived family-owned Cream City construction firm – Gillen Marine Construction – we have more images, but this time featuring construction of projects along Milwaukee's waterways (mostly).
Gillen Maritime Construction
For more than a century, Gillen – founded by Racine native Edward Gillen – built docks, seawalls and bridges, towed boats, dredged waterways and driven piles for the construction of buildings like the Plankinton Arcade, the 1930 Northwestern Mutual addition on East Wisconsin Avenue and brewery structures for Miller, Pabst and Schlitz.
Gillen built slips for carferrys like the Milwaukee Clipper in Milwaukee, Muskegon and Ludington, as well as the Kilbourn Avenue Bridge in Milwaukee and the State Street Bridge in Racine. It also constructed Lock No. 5 on the Mississippi River and a levee near Kansas City.
Gillen left Marquette University dental school to join his father Edward Sr.'s marine construction business before setting off to start his own company in Milwaukee.
After Gillen's death in 1951, his widow sold the company to Andrew Jackson, who had joined the company as an engineer years before and had begun acquiring shares of the company in 1945.
Jackson's descendants still own the company, which sold off its pile-driving business to focus exclusively on maritime work in 2012.
The photographers
All of the images that Gillen shared – many more were previously donated to the Wisconsin Marine Historical Society housed at the Milwaukee Public Library – were taken by Brown & Rehbaum.
So skilled were these commercial photographers that – like their colleagues, such as Joseph Brown – much of their work was as artistic as it was utilitarian, documenting construction projects with an aesthetic eye.
Brown & Rehbaum was founded in 1902 by William E. Brown and Karl S. Rehbaum and headquartered at what is now 327 W. National Ave.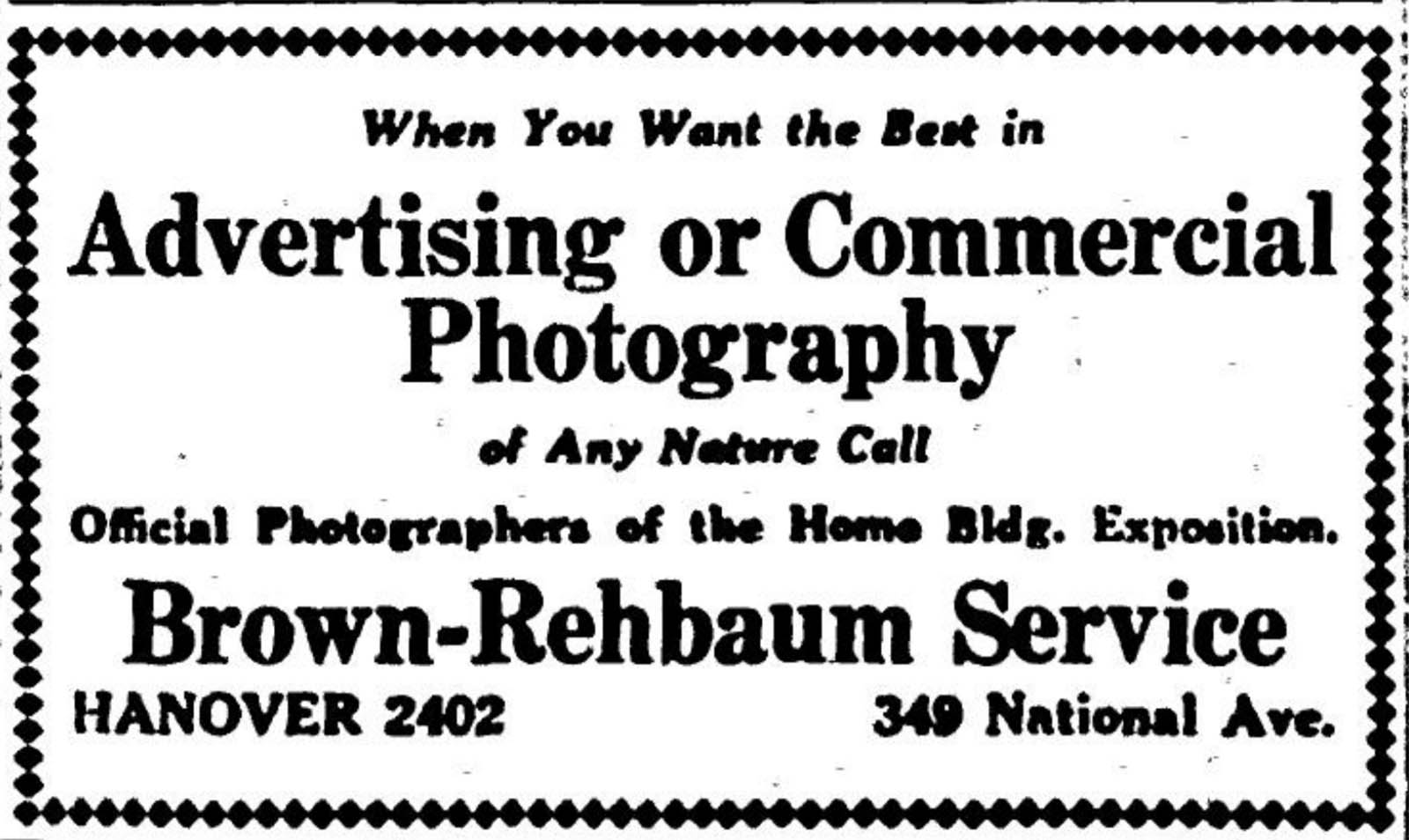 One early article noted that the company, "specialize(d) in interior and machine photography of industrial plans for advertising purposes."
It appears that Brown & Rehbaum also found a niche in maritime photography, with many images of vessels in its oeuvre, as well as the images of the type you see here: docks, pile-driving and bridges.
It's unclear who actually took the protographs, however, as the company had a number of lensmen on staff, including Max Ludwig Heim and Fred Kieckhefer, who later became company president.
The last reference I could find to Brown & Rehbaum was a 1959 newspaper advertisement.
The Milwaukee-Western Fuel Co.
Most of the photographs here document projects constructed for Milwaukee-Western Fuel Co., whose name these days conjures the company's beautiful Art Deco former headquarters, designed by Martin Tullgren, on Prospect Avenue.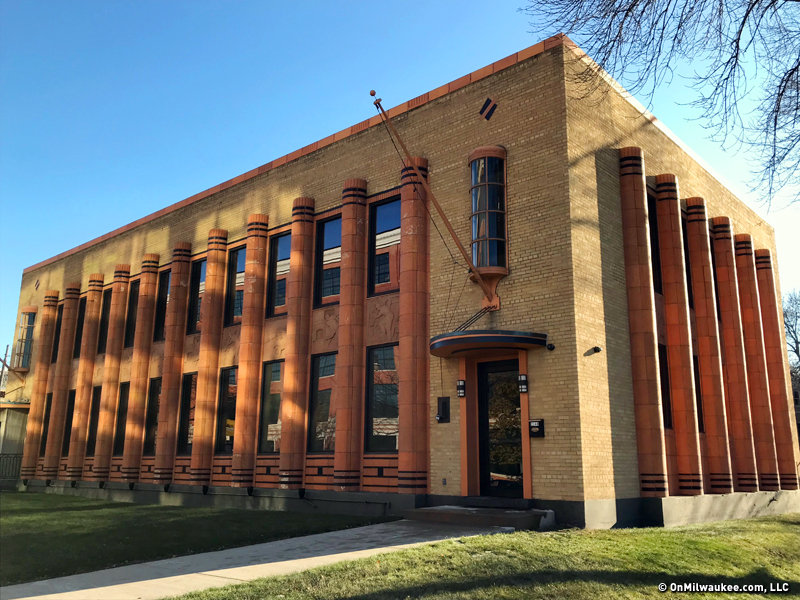 You can read an Urban Spelunking story about that building here.
Milwaukee-Western Fuel was created during the era of consolidation, in which many small companies merged to create market giants.
This example was born when, in spring 1901, Milwaukee's B. Uhrig Coal Co. merged with R.P. Elmore Co., H.M. Benjamin Coal Co., F.R. Buell Co. and George S. Eastman Co.
At the time, it was said to be the biggest coal fuel company in the "northwest" and the company's advertisements claimed that it was Milwaukee's biggest wholesale and retail fuel seller.
Most of its shipments arrived via lake steamer, which explains why it was so busy building and upgrading the docks on Milwaukee's waterways that you see below.
The company operated coal distribution yards at 1942 N. Commerce St., 2003 S. Kinnickinnic Ave. and 301 E. Washington St., plus a repair shop at 103 W. Pierce St. and coal docks at 316 W. Greenfield Ave. and in the Menomonee Valley at 16th and Canal Streets.
For a few years, the City of Milwaukee was, according to research for a historic designation report for the Prospect building, believed to be the biggest customer for coal in the upper Midwest and the Great Lakes' biggest coal receiving port.
That report notes that in 1907, Milwaukee received more than 4 million tons of coal, worth $16 million, by lake steamer and sold nearly two-thirds of it. That made coal the fifth largest industry in town, after iron, beer, leather and meat.
That same year, Milwaukee-Western, which employed 600 people, owned 1.5 miles of dock frontage and 2.5 miles of railroad sidetrack, enough space to accommodate 300 rail cars simultaneously.
Its facilities had a footprint of more than 40 acres and it had 150 teams of horses delivering coal around the city.
Eleven years later it boasted eight docks at which a dozen boats could be unloaded at the same time. Its facilities then covered 85 acres, with three miles of waterfront and 6.5 miles of railroad sidetracks.
Some of the many brands of coal the company hawked over the years included Smithing Coal, Kentucky Cannel, West Virginia Splint, Solvay Coke, Kentucky Prime Coal and Hi-Heat Stove Coal. Milwaukee-Western was also the local sales agent for Scranton Coal, Youghiogheny Coal, Hocking Coal, C.C.B. Pocahontas and Smokeless Coal.
Forty-five years after its creation merger, the company was merged into the North Western-Hanna Fuel Co., with Hanna Coal and Northwestern Fuel, though it continued to operate under its original name.
However, within five years, the Milwaukee-Western name was completely gone and by 1965 the company, by then renamed Consoldation Coal Co. of Pittsburgh, had left its Prospect Avenue headquarters and sold its docks.
The photographs
Milwaukee-Western Fuel Commerce Street dock, 1929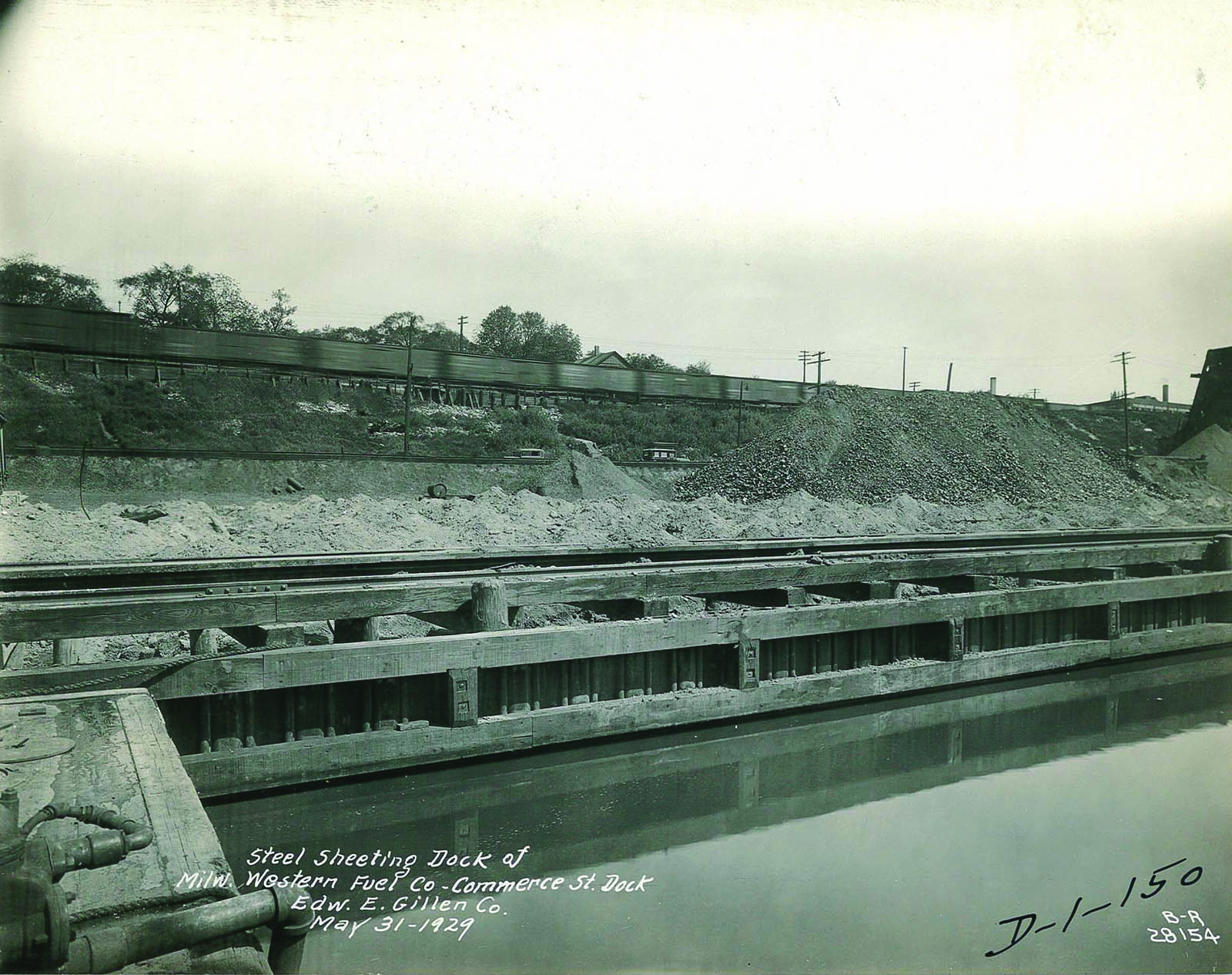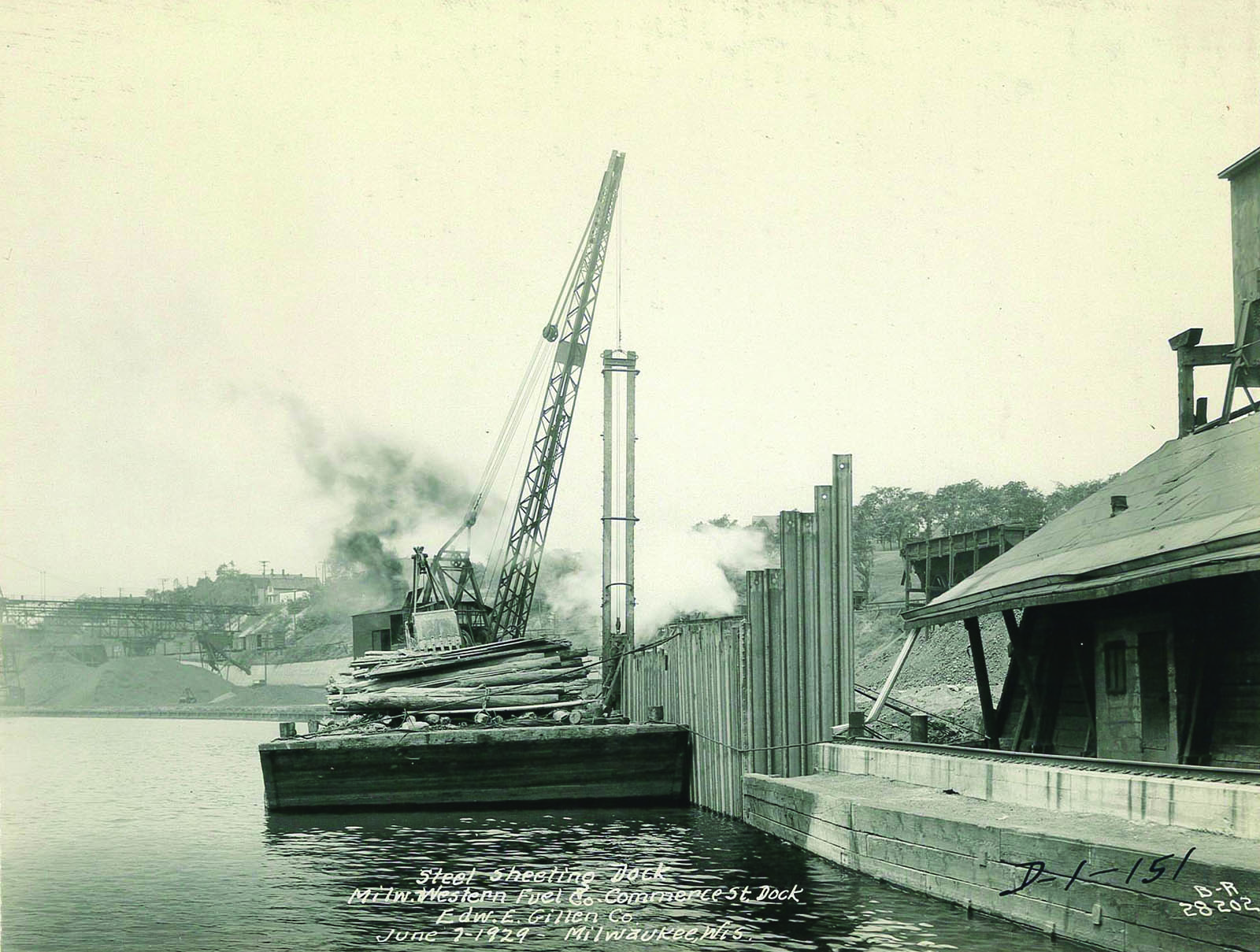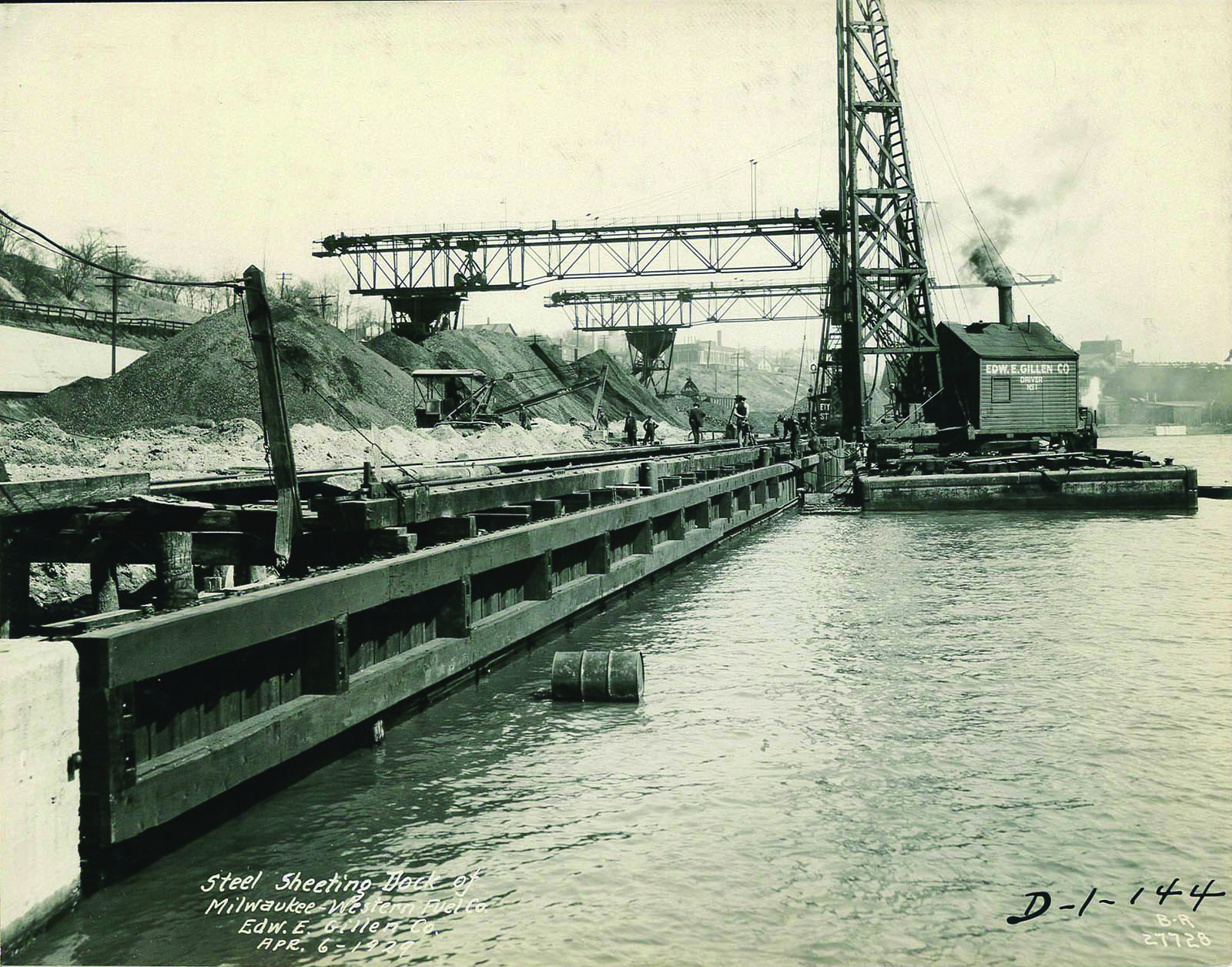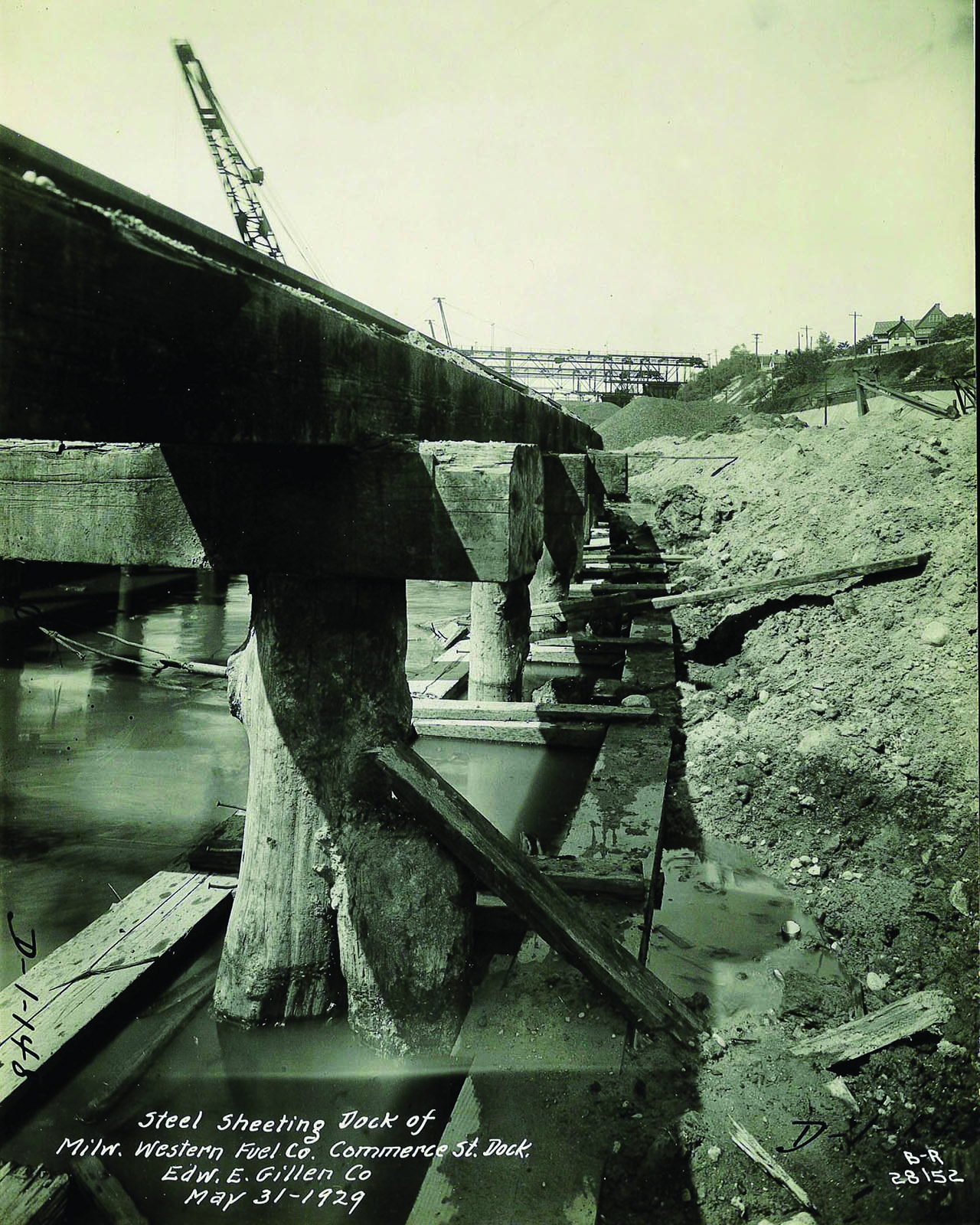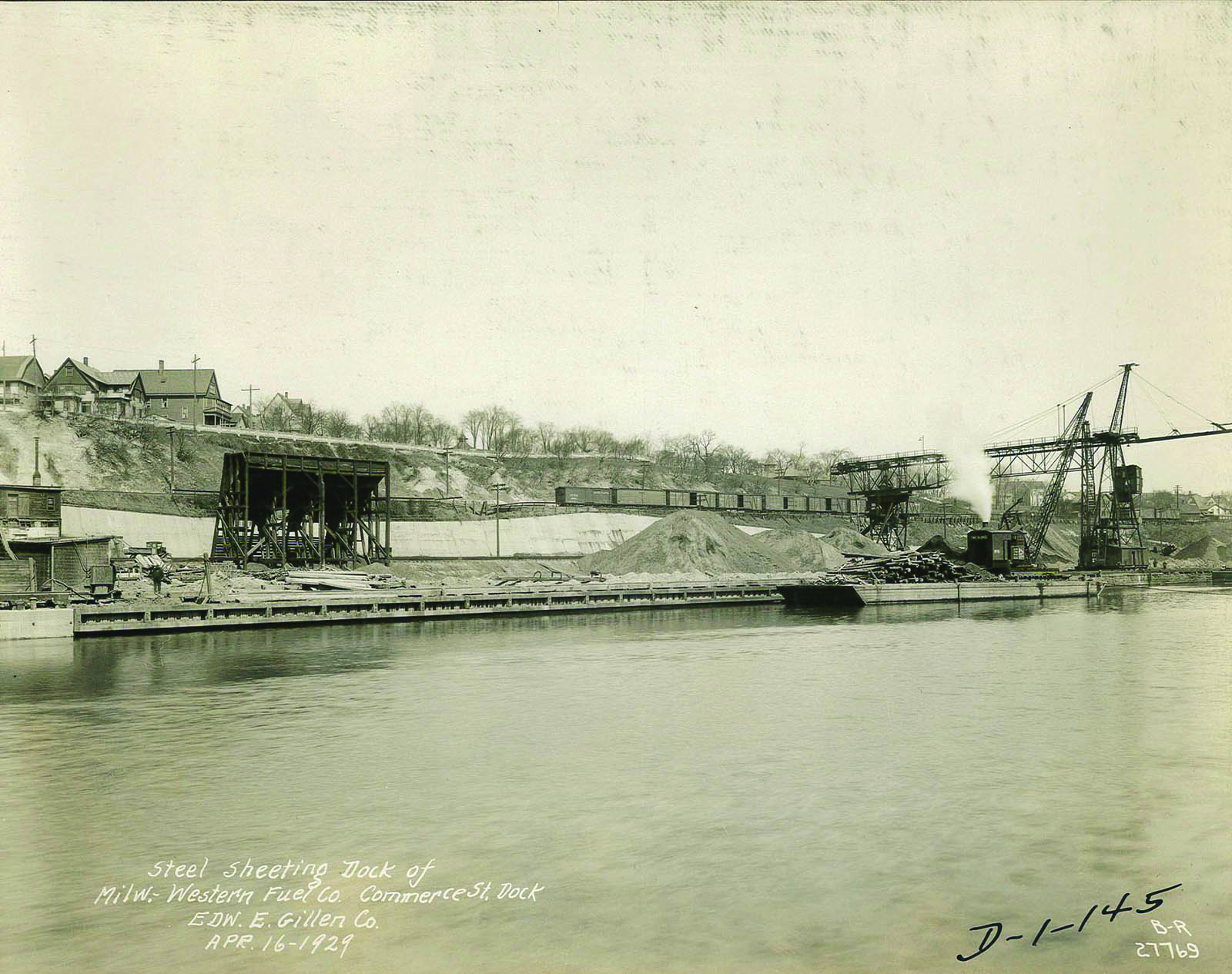 Milwaukee-Western Fuel 16th Street Yard dock, 16th and Canal Streets, Menomonee Valley, 1929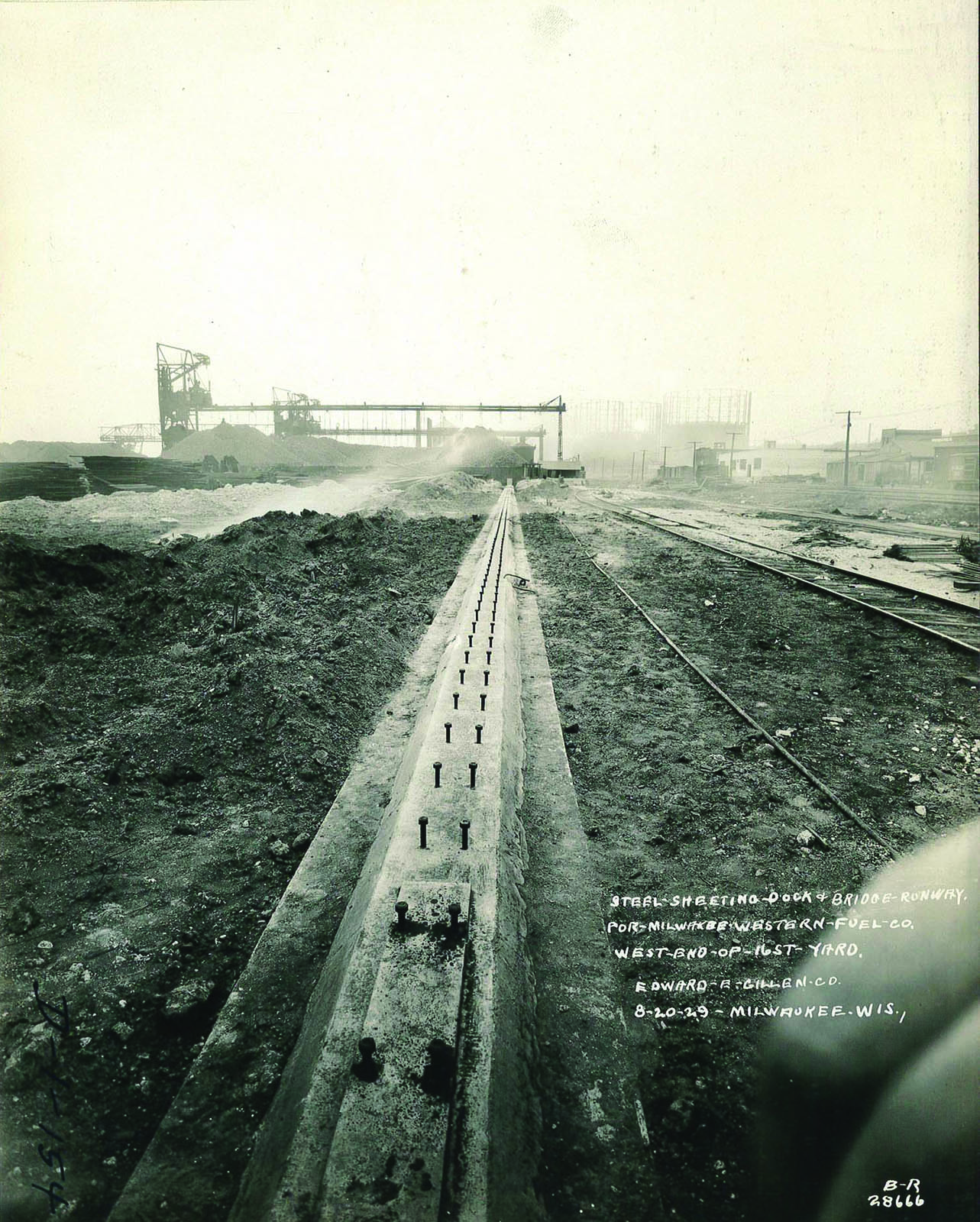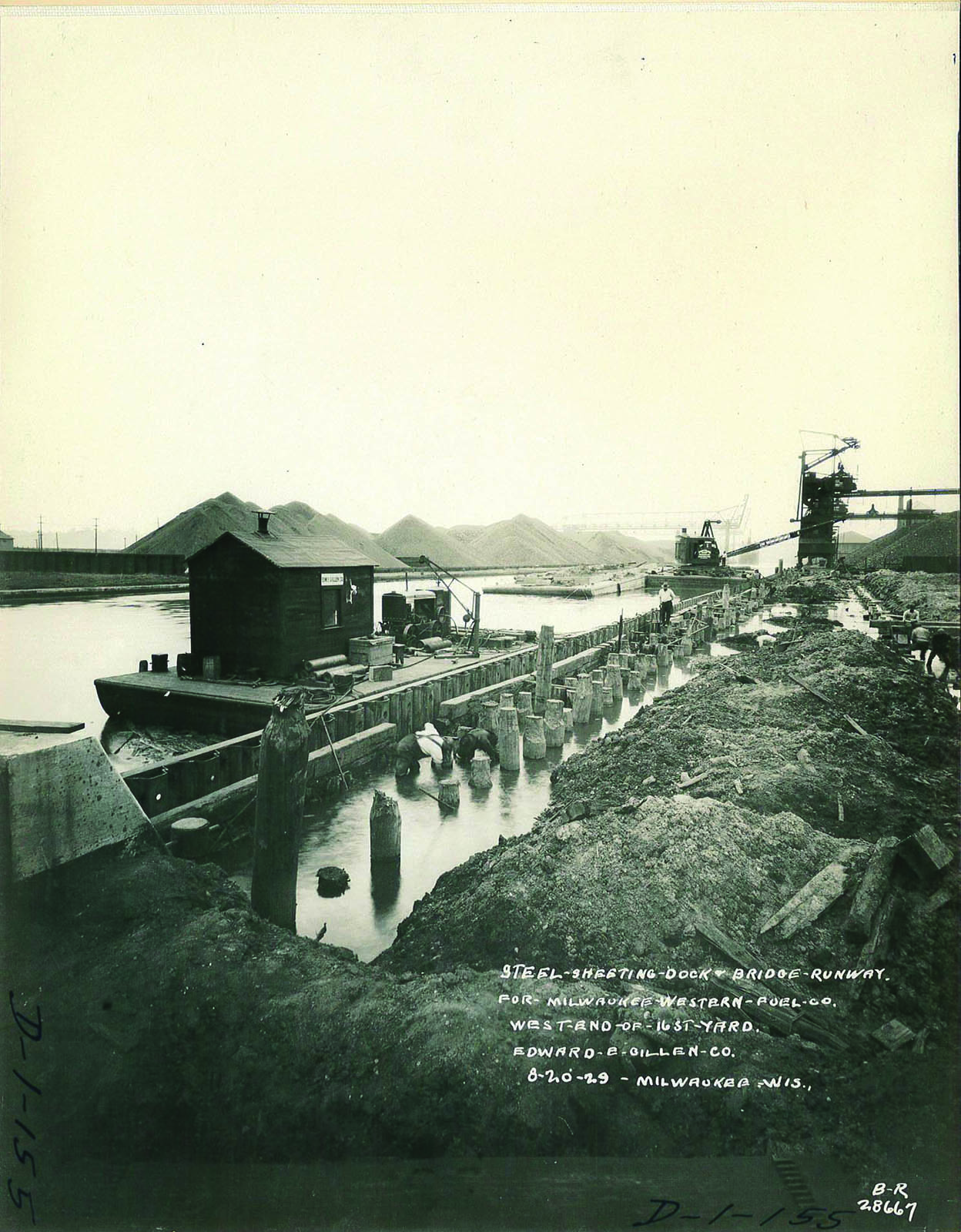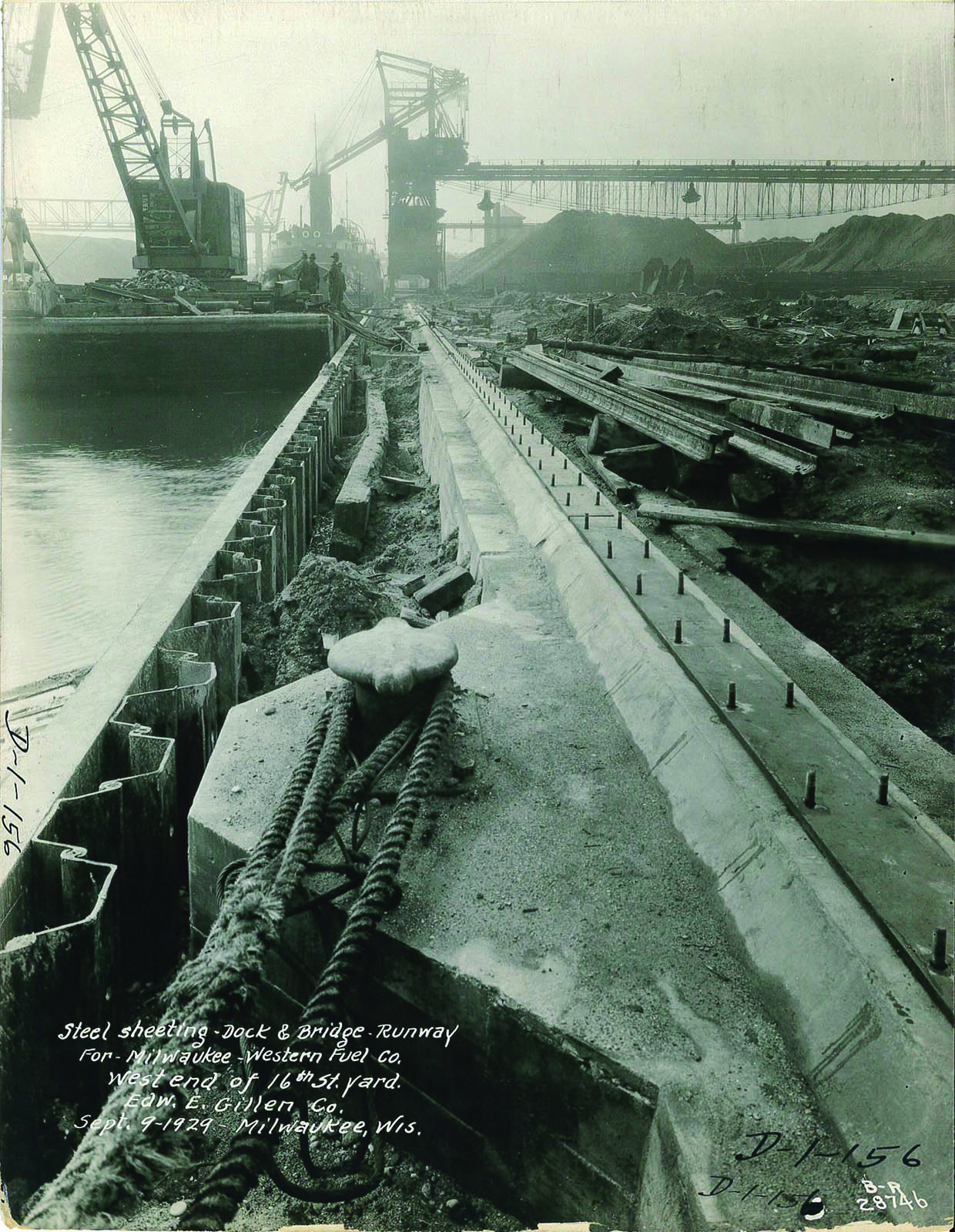 Milwaukee-Western Fuel dock, South Menomonee River, former site of Lakeshore Stone Company, 1933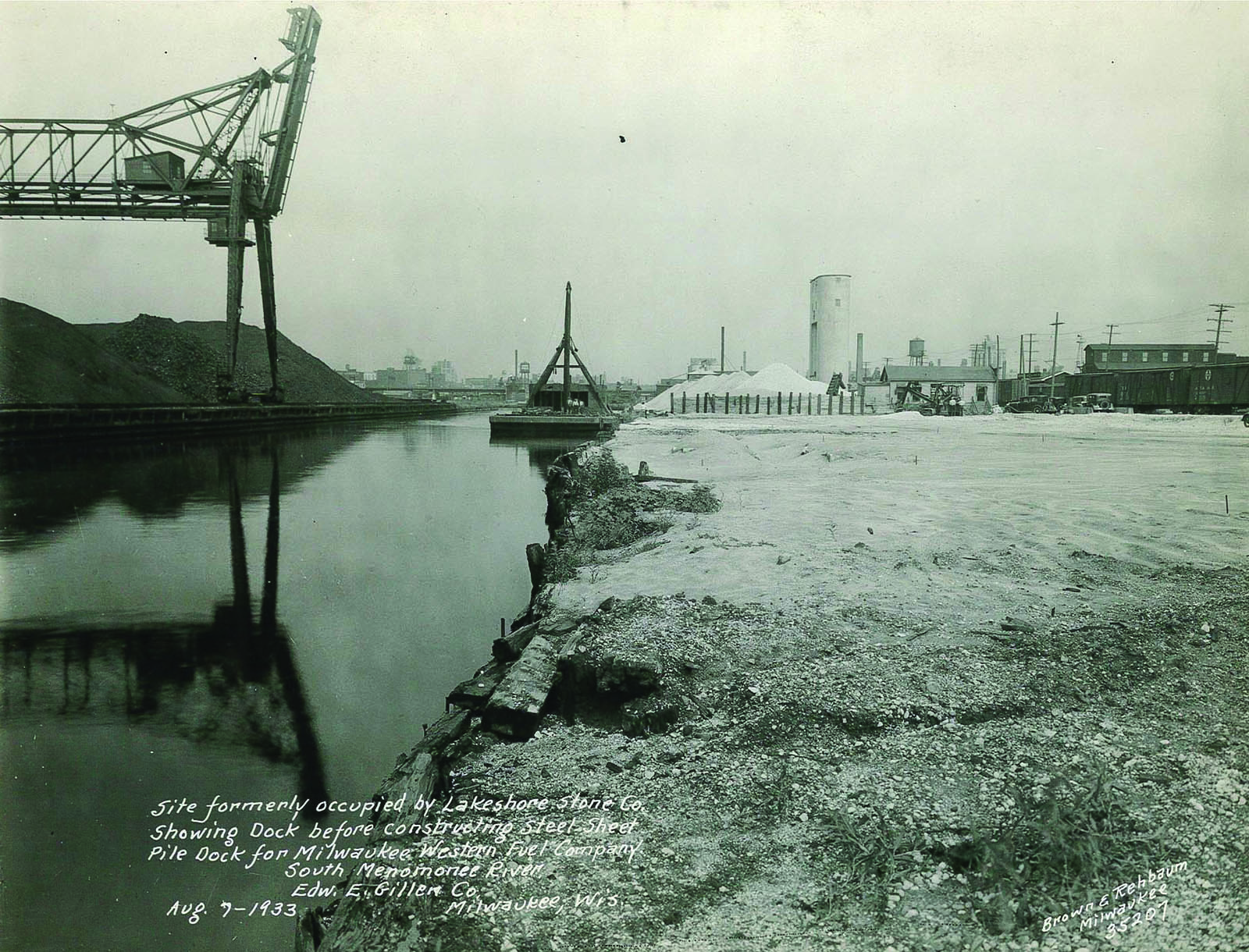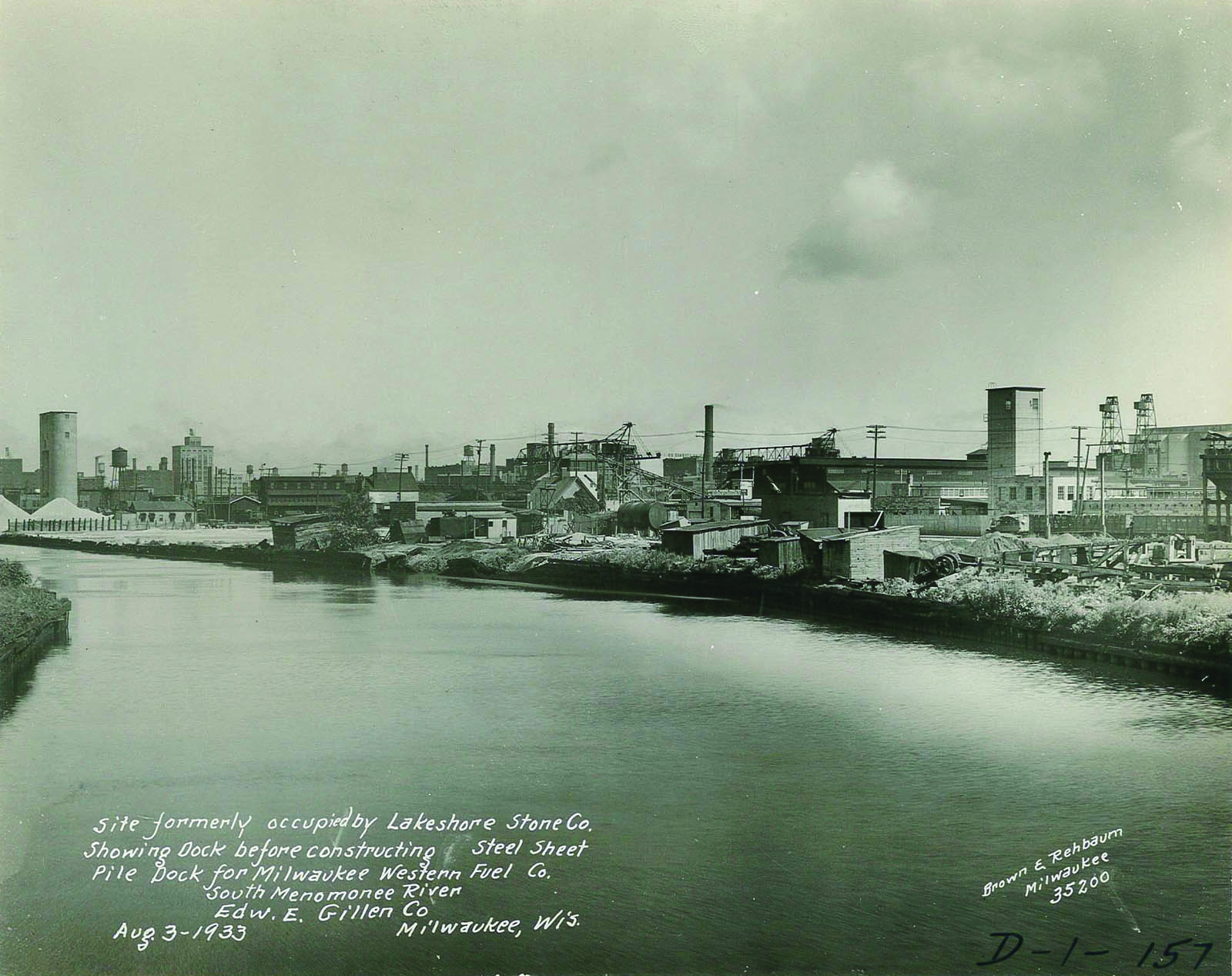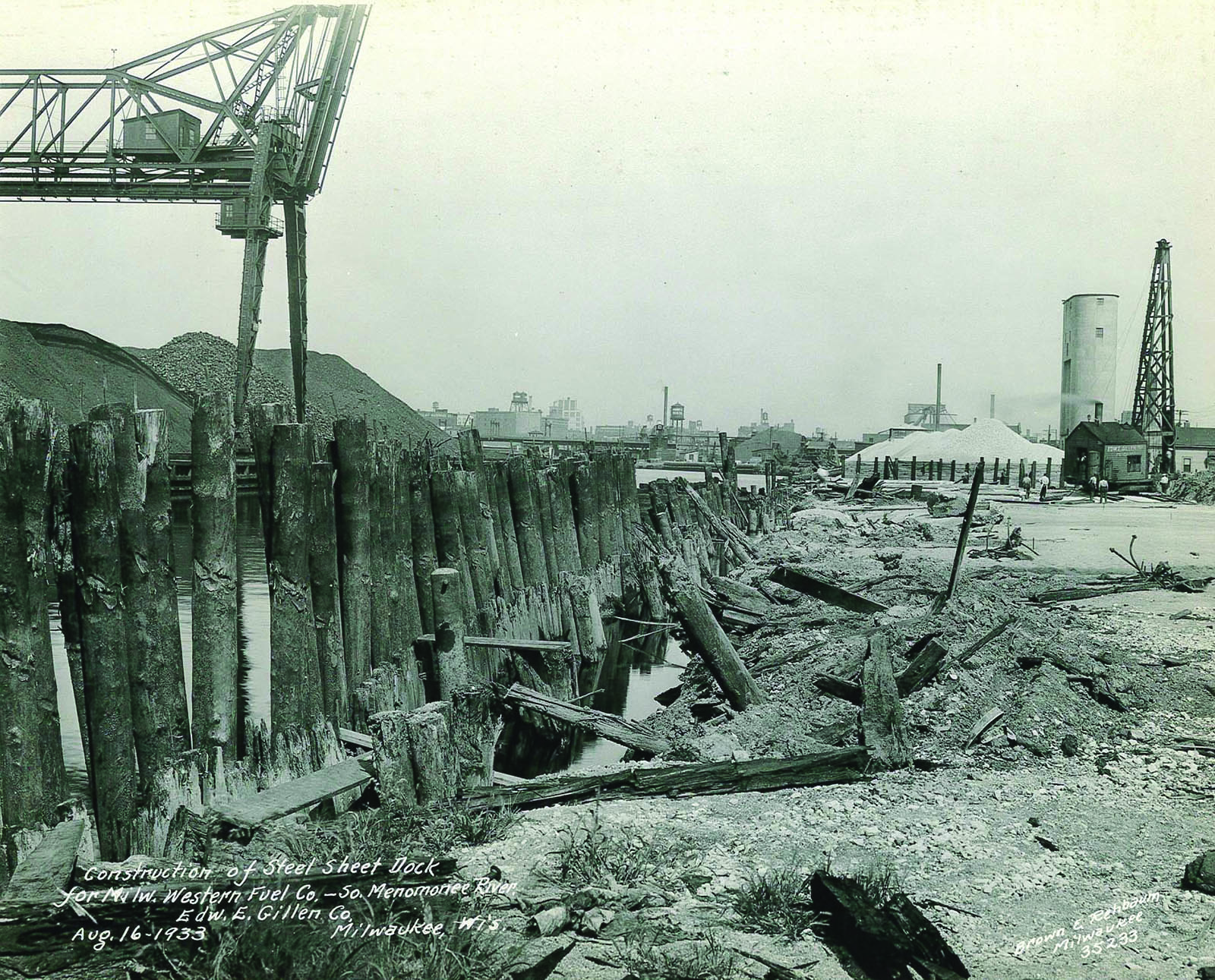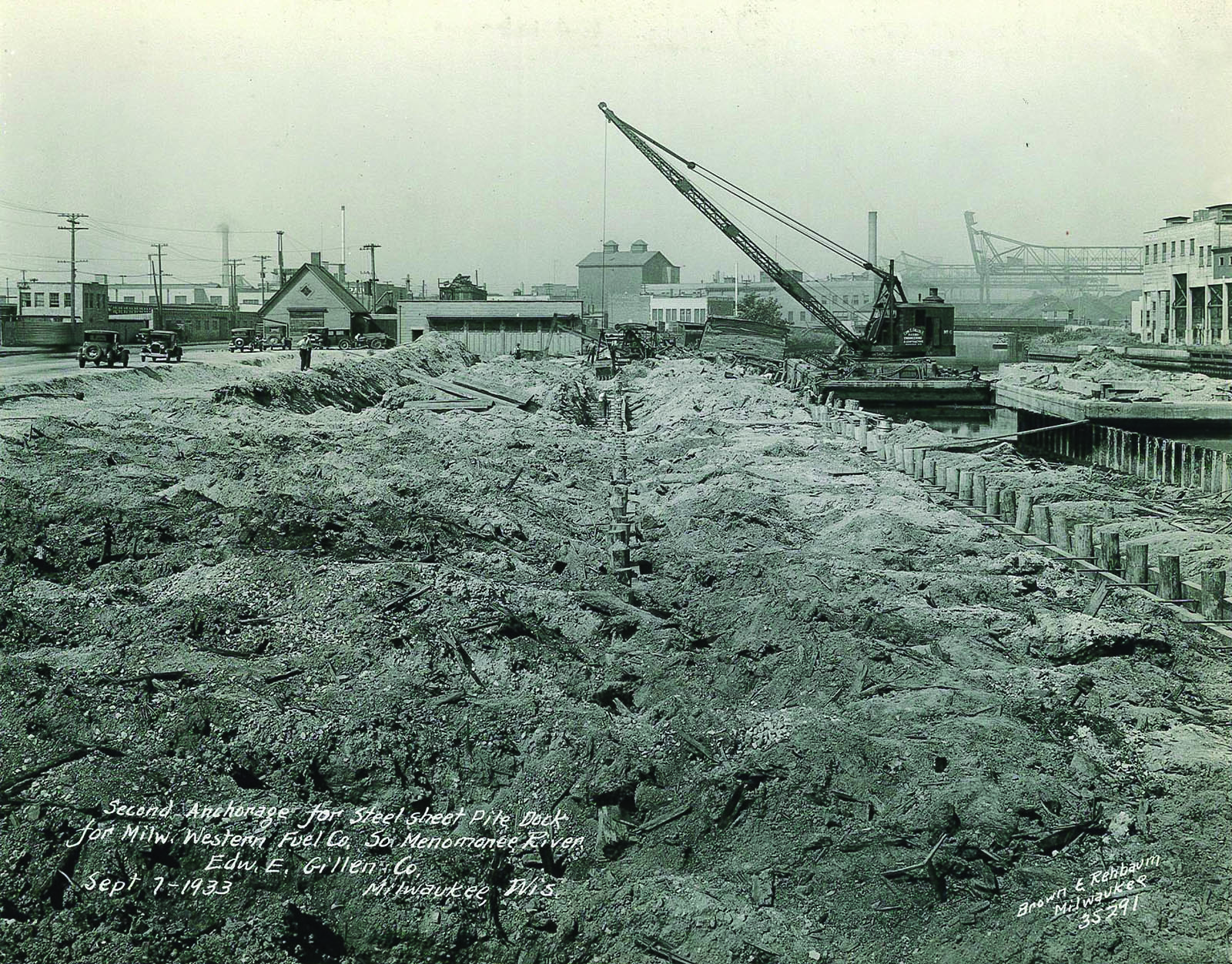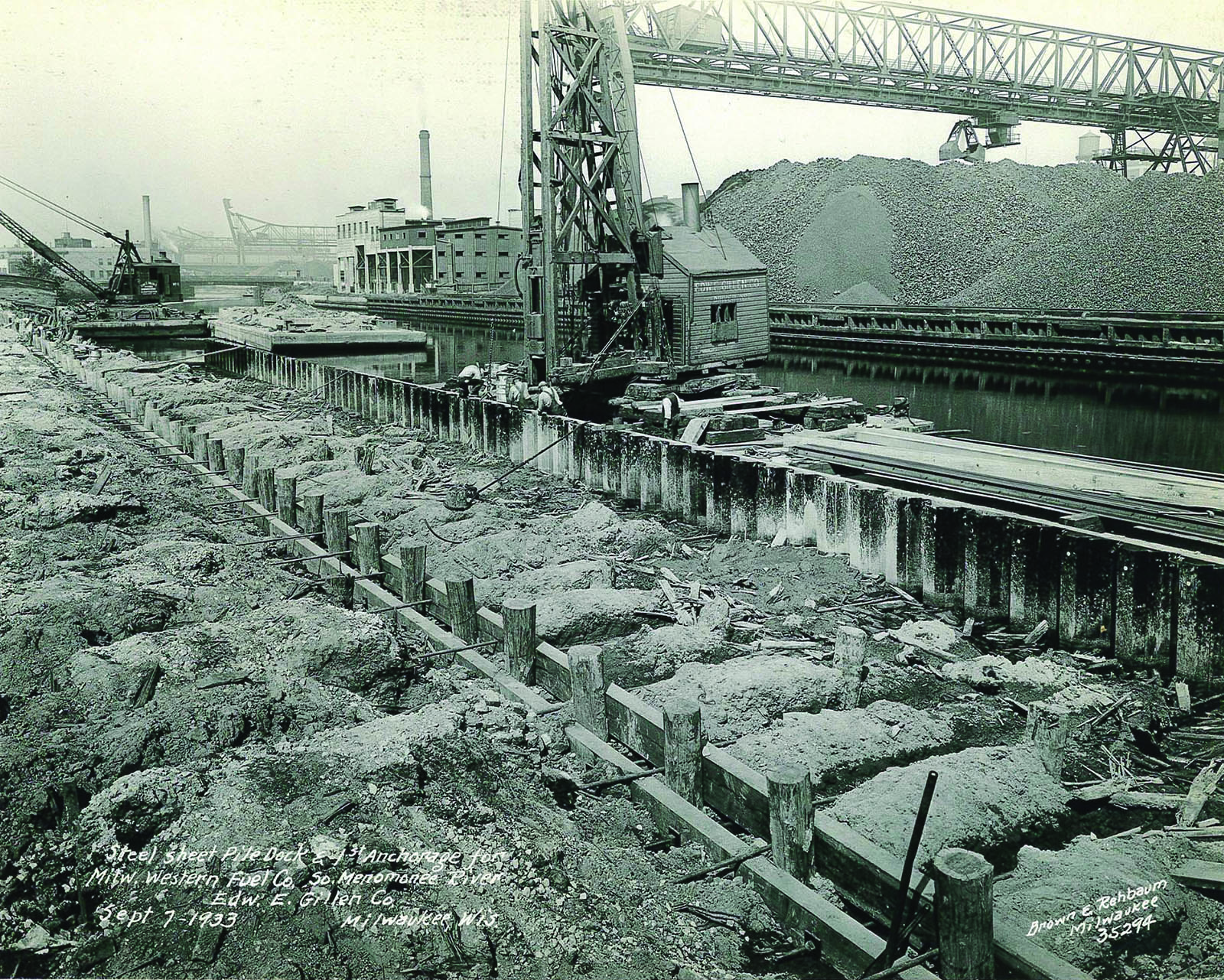 Milwaukee-Western Fuel dock, Kinnickinnic River at Greenfield Avenue, 1938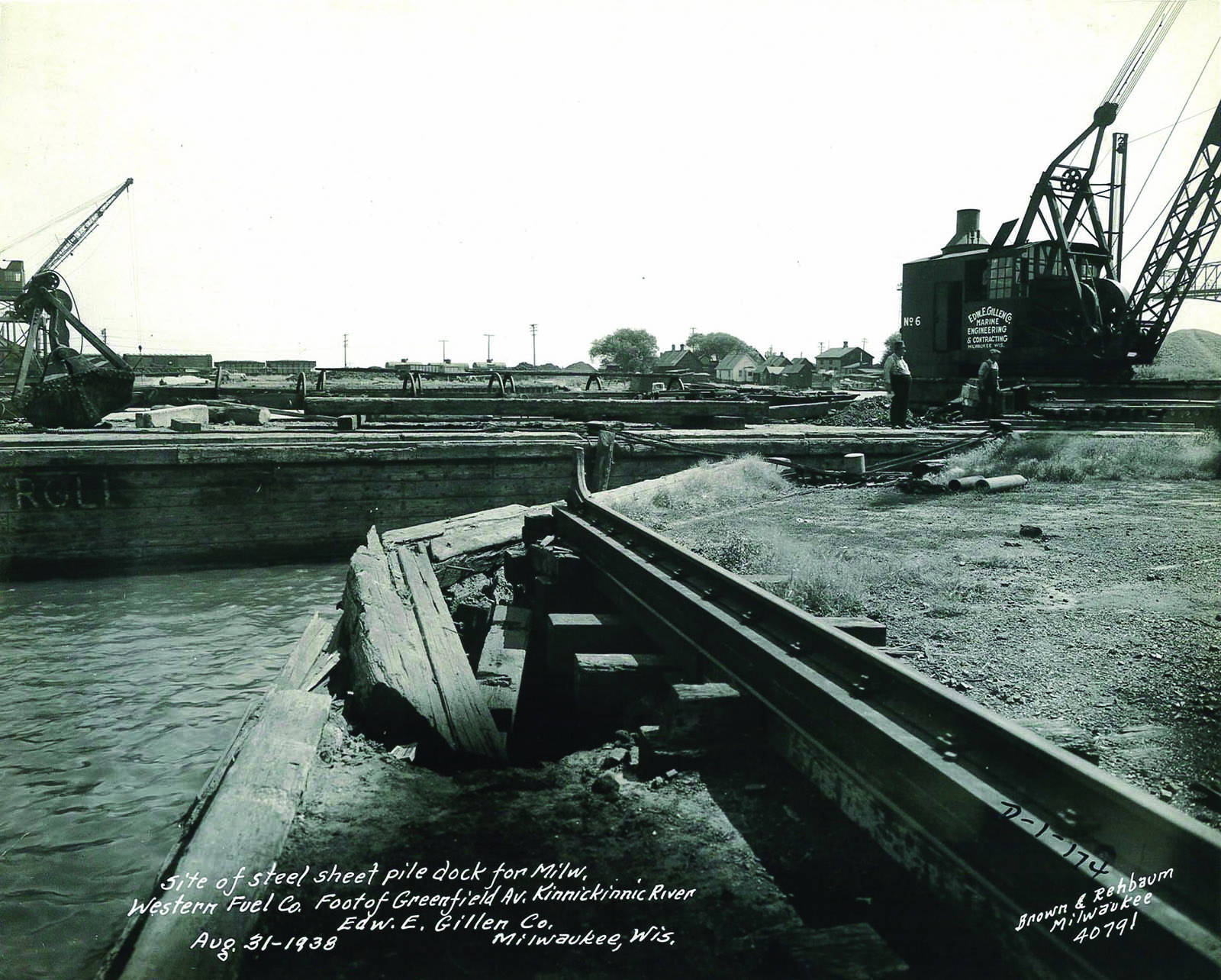 Pabst Brewery pile-driving, 10th Street & Juneau Avenue, 1948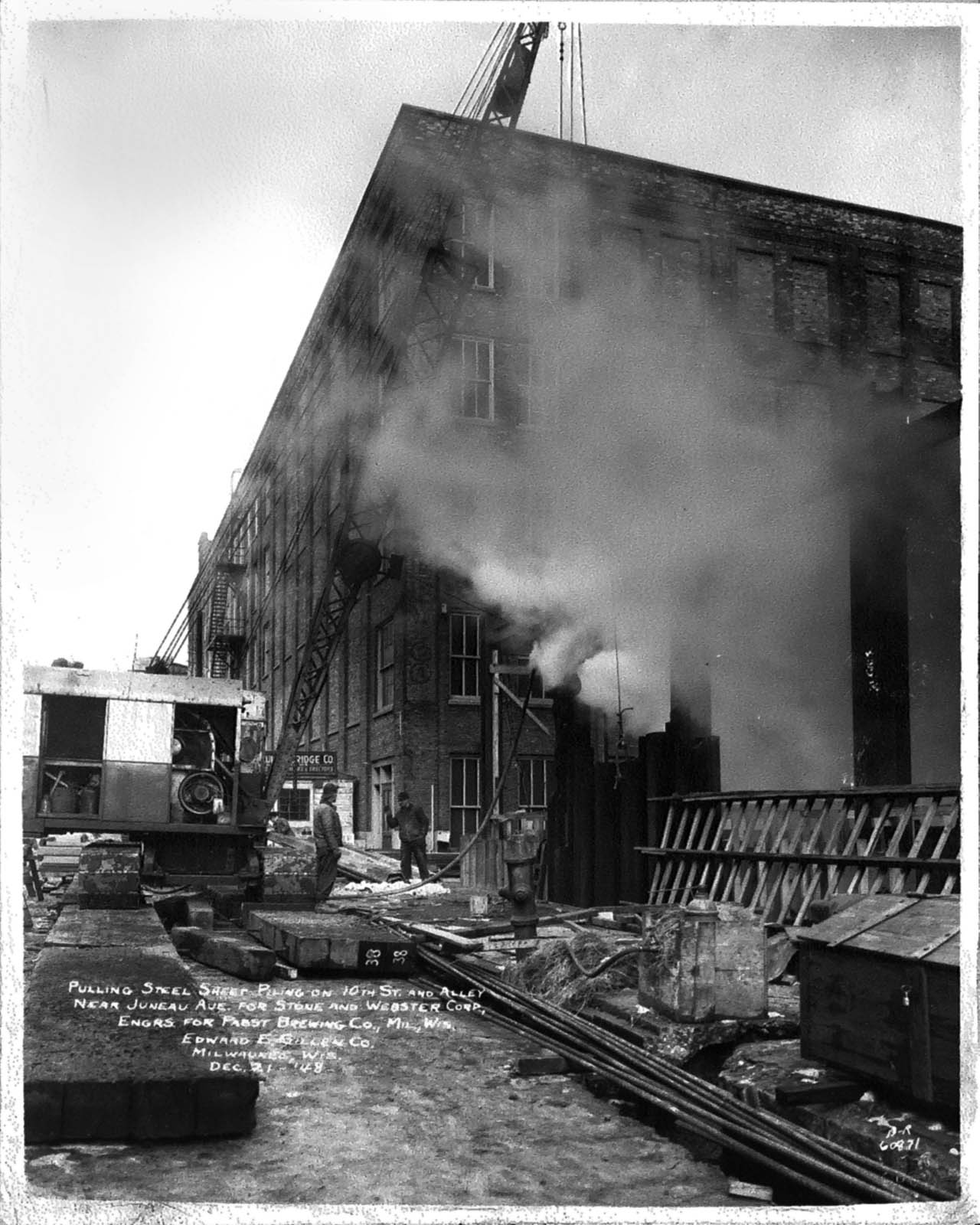 Jones Island sewage plant construction and winter storm damage, 1949-50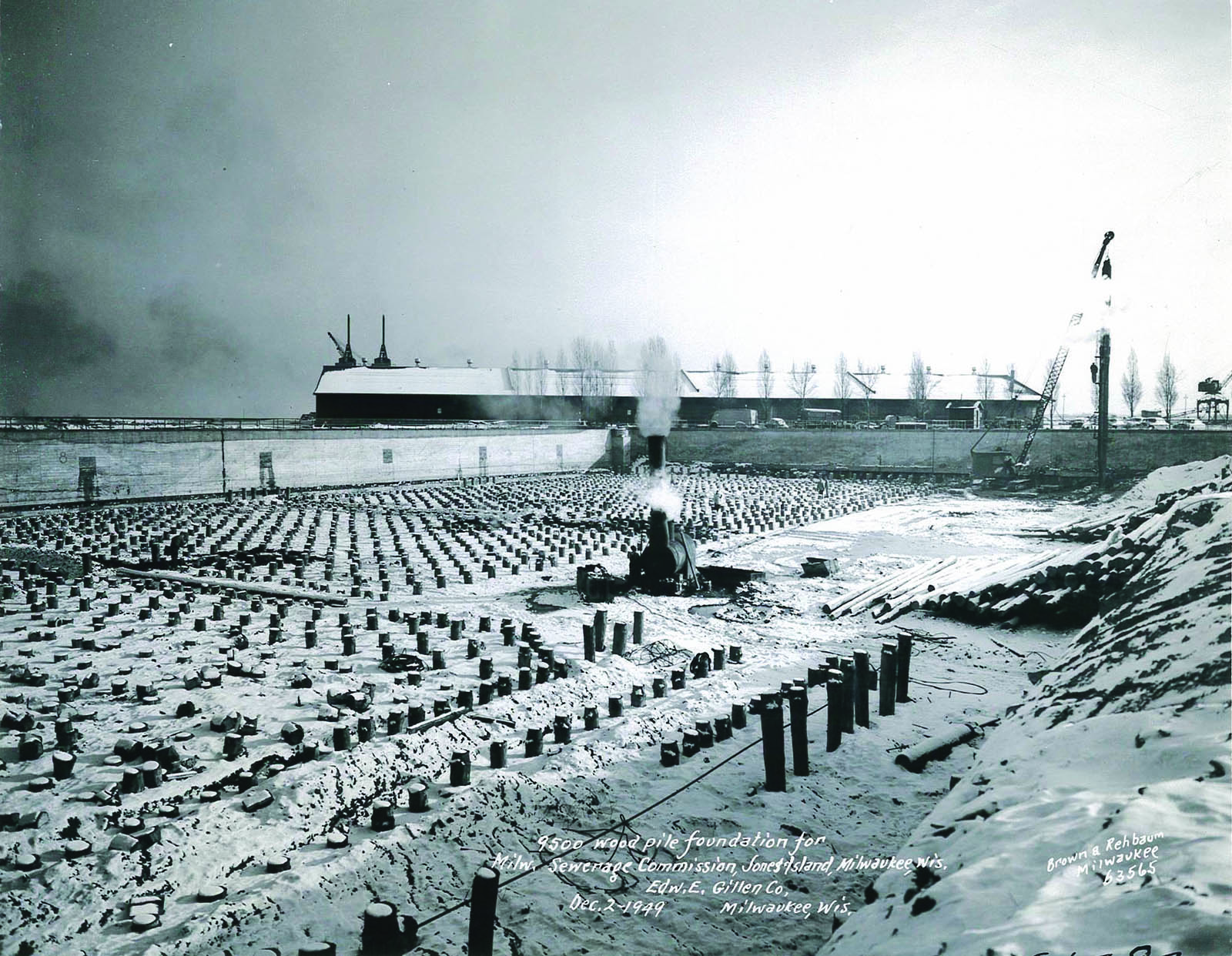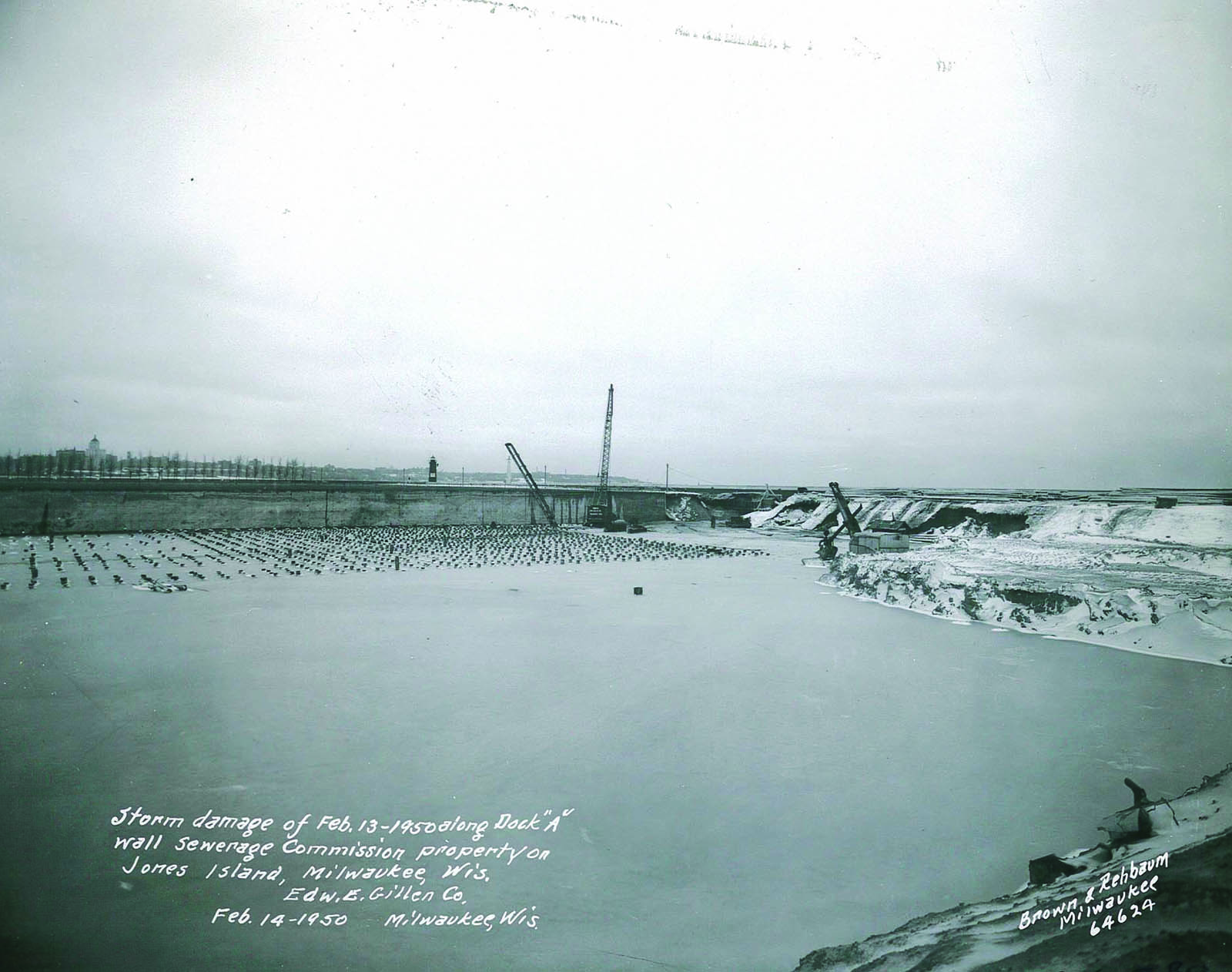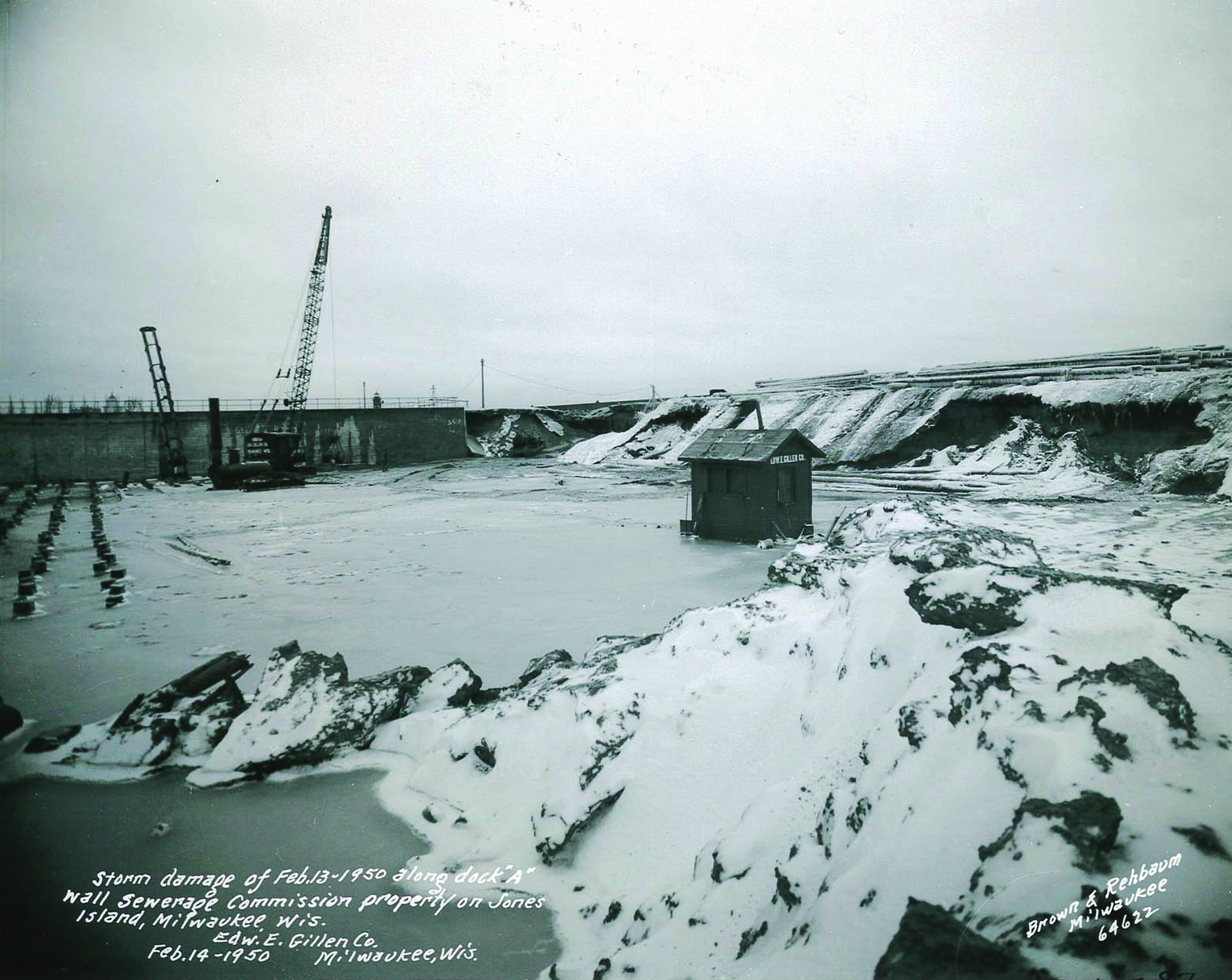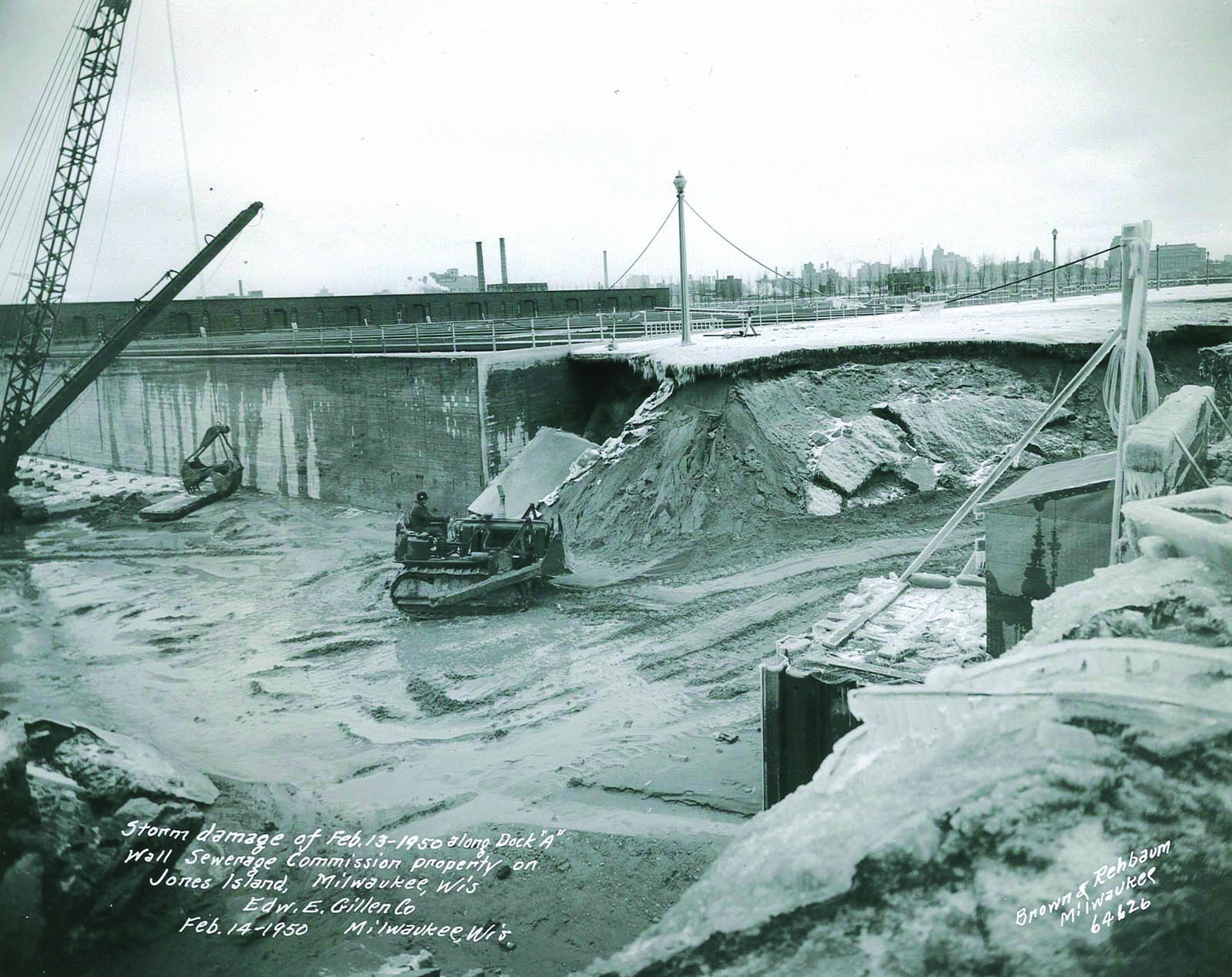 Born in Brooklyn, N.Y., where he lived until he was 17, Bobby received his BA-Mass Communications from UWM in 1989 and has lived in Walker's Point, Bay View, Enderis Park, South Milwaukee and on the East Side.
He has published three non-fiction books in Italy – including one about an event in Milwaukee history, which was published in the U.S. in autumn 2010. Four more books, all about Milwaukee, have been published by The History Press.
With his most recent band, The Yell Leaders, Bobby released four LPs and had a songs featured in episodes of TV's "Party of Five" and "Dawson's Creek," and films in Japan, South America and the U.S. The Yell Leaders were named the best unsigned band in their region by VH-1 as part of its Rock Across America 1998 Tour. Most recently, the band contributed tracks to a UK vinyl/CD tribute to the Redskins and collaborated on a track with Italian novelist Enrico Remmert.
He's produced three installments of the "OMCD" series of local music compilations for OnMilwaukee.com and in 2007 produced a CD of Italian music and poetry.
In 2005, he was awarded the City of Asti's (Italy) Journalism Prize for his work focusing on that area. He has also won awards from the Milwaukee Press Club.
He can be heard weekly on 88Nine Radio Milwaukee talking about his "Urban Spelunking" series of stories.