For most dog owners, dogs are family members and thus they want to bring them beyond the yard and into the world. Many businesses recognize this and have loosened up on their no-pets rules or even declared their establishment "dog-friendly."
Of course, not everyone likes being around dogs – just as not everyone likes being around children – so it's extremely important that if dog owners decide to take their pups into public they use common sense and adhere to a few non-negotiable rules.
First, decide if your dog would enjoy being in a public place and if they are comfortable with strangers. Even though it's dangerous and bad form, many people pet dogs before asking. Yet it's still completely on the dog owner to ensure that if someone does this, the dog isn't going to make a hoagie of their hand. In short, don't bring a dog into a store, bar or restaurant unless you're 100 percent certain your best buddy won't bite.
Also, leash or restrain your dog by putting them in a sling or stroller. Even if your lab Larry is as gentle as dandelion fluff, he's gotta be on a leash. Period.
Finally, this probably seems obvious, but ya gotta clean up after your pup. No piles on the floor tiles!
But enough lecturing. Let's get to the fun part: where to bring your dog for a food-or-drink-filled public adventure.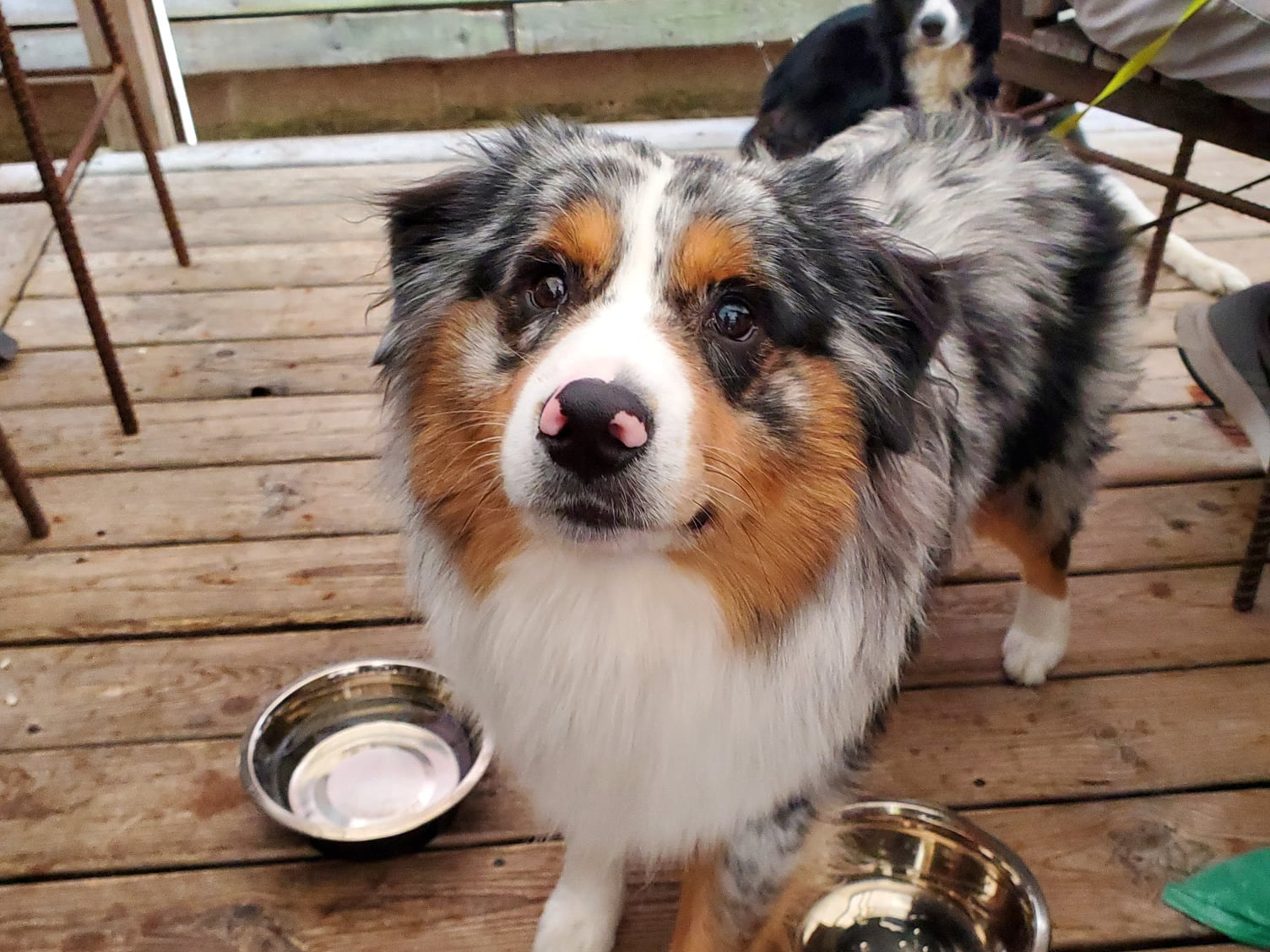 Art*Bar
722 E. Burleigh St., (414) 372-7880
facebook.com/artbarmke
It's fine to bring your pooch to this popular Riverwest Bar where coffee, alcohol and art is available for purchase. Indoor and outdoor seating is available.
The Backyard
2155 S Kinnickinnic Ave., (414) 751-4087
thebackyardmke.com
The Backyard has a huge, fenced patio that provides plenty of space for pups, as well as for those who'd rather not mingle with mutts.
Bad Moon Saloon
4035 S. Clement St., (414)
badmoonmilwaukee.com
This new South Side bar is motorcycle themed, but welcomes all walks of life – including those that walk on four legs.
Beer gardens
Most Milwaukee beer gardens are dog-friendly.
Black Husky Brewing
909 E. Locust St., (414) 509-8855
blackhuskybrewing.com
The Riverwest-based brewery is named in honor of the owner's dog, so it's no surprise the space is 100 percent dog friendly.
Bougey's
16760 W. Greenfield Ave., Brookfield, (262) 784-4092
bougeysbar.com
This bar and grill was named after a Weiner dog named Bougey, so needless to say but we will, it's dog-friendly.
Camp Bar
4044 N. Oakland Ave., (414) 962-5182
6600 W. North Ave., (414) 763-3793
525 E. Menomonee St., (414) 930-9282
campbarmke.com
Camp Bar locations are super dog friendly, but rules vary depending on location, so be sure to inquire before arriving.
Colectivo Coffee
Multiple locations throughout Milwaukee area
http://colectivocoffee.com/
Sip coffee with your pup by your side at any one of the popular cafe patios.
Fuel Cafe 5th Street
630 S. 5th St., (414) 847-9580
fuelcafe.com
"The Fuel" has a Fido-friendly patio.
The Highbury
2322 S. Kinnickinnic Ave., (414) 294- 4400
thehighbury.com
Pop in with the pooch to watch soccer or have a drink. Indoor as well as outdoor seating are available.
Hounds & Tap
W175N5645 Technology Dr., Menomonee Falls, (262) 293-6100
thehoundsandtap.com
The new facility offers daycare, boarding, grooming, self serve dog washing, an indoor/outdoor dog park and, last bit not least, a dog-friendly tavern.
The Iron Horse Hotel / The Yard
500 W. Florida St., (888) 543-4766
theironhorsehotel.com
The Iron Horse Hotel is dog-friendly throughout, but the rules are specific. Dogs are allowed in the lobby of the hotel – and servers will bring you food and drink there – but are not allowed in the indoor bar or restaurants. However, dogs are completely welcome in The Yard, the hotel's patio.
Natty Oaks
11505 W. National Ave., West Allis, (414) 543-2255
nattyoaks.com
Natty Oaks is so dog friendly that it has a patio and a paw-tio. Enough said?
The Newport
939 E. Conway St., (414) 486-1768
facebook.com/pages/Frankys-Newport-Lounge
The Bay View tavern is a great place to sit on the patio with your pooch and enjoy a beer or three.
The Roman Coin
1004 E. Brady St., (414) 278-9334
facebook.com/pages/The-Roman-Coin
The Roman Coin is a great neighborhood bar with moderately priced drinks and a very pup-friendly attitude.
Sobelman's
1900 W. St Paul Ave., (414) 931-1919
1601 W. Wells St., (414) 933-1601
milwaukeesbestburgers.com
Rover is welcome on either of Sobelman's patios.
Smoke Shack
smoke-shack.com
332 N. Milwaukee St., (414) 431-1119
Smoke Shack has a new pup-tacular happy hour called Pups & Pints, but reservations are necessary.
The Tonic Tavern
2335 S. Kinnickinnic Ave., (414) 455-3205
tonictavern.com
Feel free to bring your four-legged pal to this Bay View bar.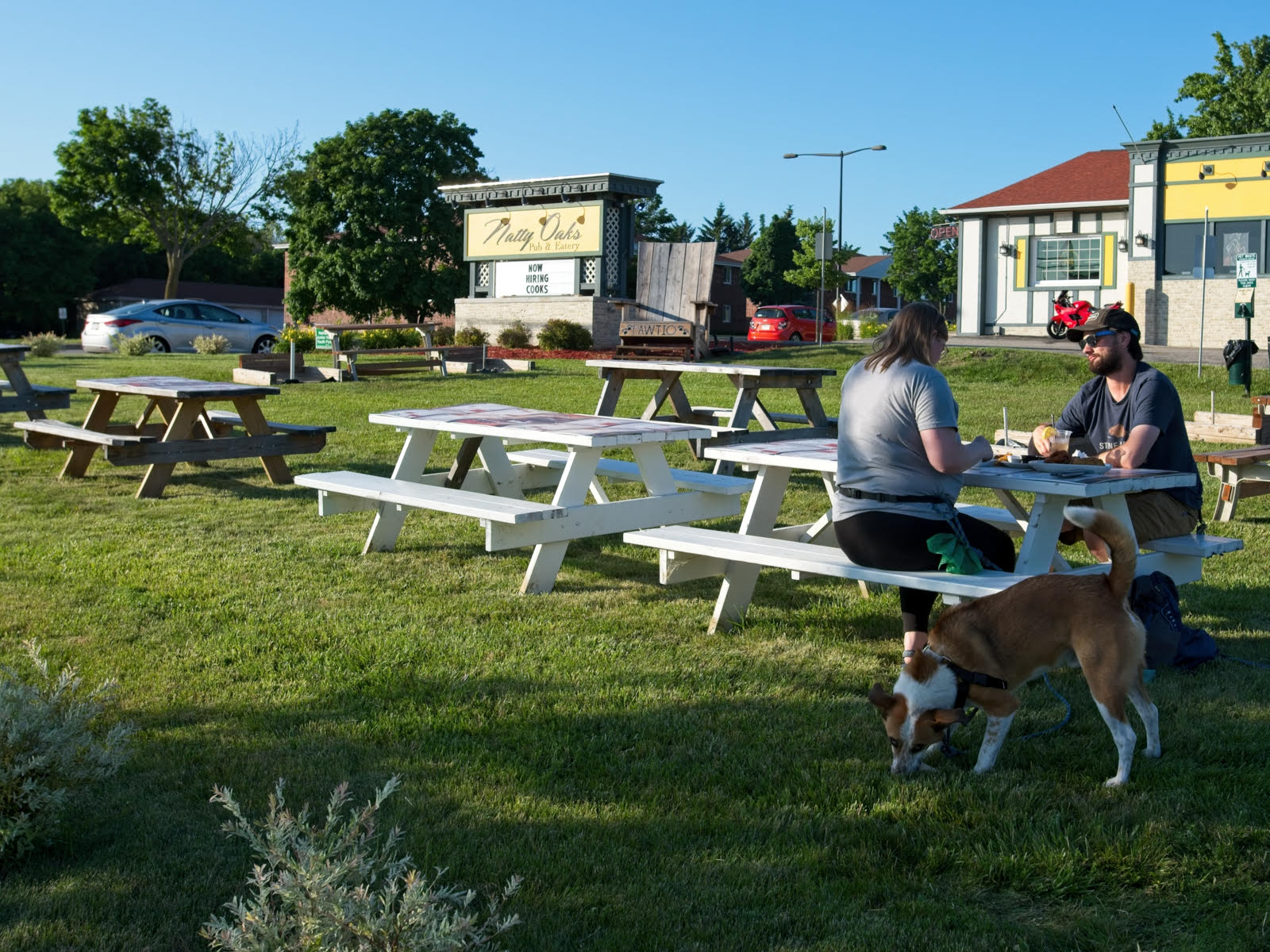 Would you like to see your dog-friendly bar on this list? Drop me a line: molly@onmilwaukee.com

Molly Snyder started writing and publishing her work at the age 10, when her community newspaper printed her poem, "The Unicorn." Since then, she's expanded beyond the subject of mythical creatures and written in many different mediums but, nearest and dearest to her heart, thousands of articles for OnMilwaukee.

Molly is a regular contributor to FOX6 News and numerous radio stations as well as the co-host of "Dandelions: A Podcast For Women." She's received five Milwaukee Press Club Awards, served as the Pfister Narrator and is the Wisconsin State Fair's Celebrity Cream Puff Eating Champion of 2019.