The leaves are falling, the temperatures are dropping and the celebrities are practicing their shocked faces. That's right: It's not fall, it's awards season – formally kicked off on Sunday night with the 73rd Primetime Emmys. Or perhaps the show should've been called "The Queen's Gambit, Ted Lasso and The Crown Tribute Hour" because that's what the night turned into, with those three programs mostly dominating the stage (with the occasional "Hacks" or "Mare of Easttown" cameo; what can they say, they love Jean Smart).
But who really won on Sunday night? And who really lost? And who really needed that "Queen's Gambit" speech to be approximately 28 minutes shorter? Let's discuss the night's winners and losers beyond just the trophies.
Winner: Netflix
Netflix dominated our screens last year while we were all stuck at home, so it would only make sense that they would dominate the TV awards too. Thanks to the combined efforts of "The Crown" (seven total wins, including Outstanding Drama Series) and "The Queen's Gambit" (a pair of trophies, including Outstanding Limited or Anthology Series), the Big Red Streaming Monolith scored the most wins of any network or streamer, finally won the coveted Outstanding Drama Series prize and tied CBS back in 1974 for the most Emmys won in a single year. And perhaps most impressive of all, they somehow got a win for "Halston." "HALSTON!" They may not have cracked the Oscars' biggest prizes quite yet, but at least they now seem to have the Emmys wrapped around their ba-dumming finger.
Loser: Seemingly everyone involved with "The Queen's Gambit"
Netflix's chess hit was one of the rare big winners on Sunday night – and yet why does it feel like everyone involved lost?
That's literally the case for star Anya Taylor-Joy, who missed out on Outstanding Lead Actress in a Limited Series/Movie to Kate Winslet in "Mare of Easttown." How do you give "Queen's Gambit" so many awards but not the breakout star and centerpiece performance of the whole dang thing? Baffling – but nowhere near as baffling as the speech from creator Scott Frank, grumblingly barrelling through the play-off music to finish his long, not particularly insightful speech. I'm all for letting people go long on the greatest achievements in their professional careers – but in Frank's case, he was just reading standard thanks off a paper, aka exactly why play-off music exists.
The show's second big speech, accepting Best Limited Series or Movie, wasn't quite as difficult a sit – probably because Scott Frank wasn't given a speaking part – but it wasn't much better either, with the producer awkwardly noting Taylor-Joy "put the sexy back into chess." Not sure that was supposed to be the takeaway from the show about the girl battling addiction and mental health issues! And when was chess sexy in the first place?
In conclusion, the show's co-star Moses Ingram said it best:
"Oh my god…this man…what the fuck?" https://t.co/TxwmXkTTgn pic.twitter.com/MUguQR3878 — Anna Peele (@bananapeele) September 20, 2021
Winner: "Ted Lasso"
It wasn't quite the "Schitt's" sweep of last year, but Apple TV+'s football favorite got dang near close, scoring four wins on the night including Outstanding Comedy Series and individual wins for Jason Sudeikis, Hannah Waddingham and the still very much non-CGI Brett Goldstein. If there's been backlash toward the pleasant sports comedy, it wasn't in attendance on Sunday night.
So fine, I'll finally start watching it! Stop asking!
Loser: Variety
As Vulture's Jen Chaney keenly asked: Do Emmy voters ... watch that much TV? Because judging by yet another very clustered and limited amount of winners Sunday night, it seems their DVRs and Netflix queue's are nowhere near as filled as they should be.
This isn't a complaint about who won persay: "The Queen's Gambit" and "Ted Lasso" are, by all accounts, worthy and buzzy winners, and while "The Crown" is a bit of old stodgy tea at this point, it is undoubtedly well-dressed and performed. But are they really so good as to deserve ALL of the awards? Are certain shows really worth claiming half or even more of a category's nomination slots? In a time where we've seemingly never had so much television all over the place – to almost their detriment, overloading viewers – why do the Emmy winners seem so limited?
(Frankly, this is a general awards show problem; the Oscars, too, have seemingly had a smaller pool of nominated movies than in the past, with voters hanging with their favorites – or their most accessible screeners – and honing their spotlights on a select few as opposed to granting broader attention to even more worthy projects.)
But the biggest problem is that it just makes for boring television, watching the same people from the same shows and movies coming up to collect seemingly their 47th award of the night. If a show's going to dominate an awards night, you want it to be something culturally monolithic and undeniable – something that feels special and historic to the audience. But that's just every year according to the Emmys – and if every year is historic and special, well, then none of them are.
Winner: "Hacks"
Every year at the Emmys, there's a show or two that nobody's heard of but scores some wins, earning some much needed buzz. There wasn't a lot of room for those kind of surprises on Sunday night, with giving "Ted Lasso" and "The Crown" everything, but one got to sneak through: "Hacks," HBO Max's well-lauded but not particularly well-known comedy show about an aging comedienne trying to stay relevant. Jean Smart scored a win for her biting star performance – a well-deserved win in its own right, as well as a nice nod to the Smart-aissance with spotlight turns in "Mare of Easttown" and "Watchmen" over recent years – while the streaming show also scored trophies for Best Comedy Writing and Directing. Did multi-nominee "Ted Lasso" split the vote in those latter two categories, letting "Hacks" sneak in for an upset? Probably. Did "Hacks" deserve to win anyways? Certainly. Was it a much needed taste of variety on the night? THANK GOD, YES!
Loser: Diversity in the spotlight
One of the biggest reasons why the Emmys' limited scope of winners felt so frustrating was those left out as a result: anyone who wasn't white. Despite a historic number of diverse nominees in the major acting categories, white performers swept up at the awards show while actors of color were always left in their seats. Once again, there's never been more television across a wide swath of demographics and representations – and rarely was that reality displayed on television's biggest stage.
As with most things, it's a multi-pronged problem as opposed to a single simple answer. Part of it may lie in the voting system, which can skew old and white – though, as Vox's critic Emily VanDerWerff points out, it's not like the old voting system was better in that regard. Part of it is on the networks and studios themselves for not giving diverse programs their best shot; Barry Jenkins' critically beloved mini-series "The Underground Railroad," for instance, was released in one big 10-episode dump by Amazon – not exactly the best approach for such a thoughtful, dense and emotionally intense work to gain traction with audiences or awards voters. And part of the problem is, again, the voters' general tunnel vision, locking in on a select few shows rather than spreading the love.
Once more, it's not that anyone who won Sunday night didn't deserve to be on that stage. (Though that "Halston" win is ... a choice.) It's that the current diversifying state of television – all of it – deserves to be represented on there too, not just in the seats clapping.
Winner: Conan
With Conan O'Brien ending his TV talk show, Sunday night marked potentially one of the last nights his show would score an award. Unfortunately he lost his one category on the night – Outstanding Variety Talk Series – to "The Crown" "Ted Lasso" "The Queen's Gambit" "Last Week Tonight," but he wasn't going to leave his possible final TV awards show without making a mark.
Conan is the best part of this show and he hasn't even been on stage. pic.twitter.com/jZfEFo6C5f — av clark (@annevclark) September 20, 2021
He first made some noise (quite literally) by hijacking the boring academy chairman's requisite address – aka every viewer's bathroom break – by howling "YAAS!" from the back of the room, leading to a bonus ovation from the crowd and a baffled Frank Scherma. But Conan wasn't done, continuing to stand in a rapt salute for the chairman's entire speech and providing a better case for the memorable power and joy of television than anything Scherma's soliloquy said. And he STILL wasn't done, later joining Stephen Colbert and his crew on stage to accept their award for Outstanding Variety Special (Live) – despite having nothing to do with their show whatsoever.
Lmao Conan O'Brien crashing the Stephen colbert Emmy acceptance #Emmys pic.twitter.com/eTAr1hgqdn — m (@4Mnee) September 20, 2021
In the end, Conan still came away a winner for taking the show as seriously as it deserves ... which is to say not at all.
Loser: "The Handmaid's Tale"
Of all the Emmy losers, no one lost more than "The Handmaid's Tale" – quite literally, both Sunday night and throughout history. The bleak Hulu drama, now on its fourth season, was nominated for 21 awards between the primetime show and the Creative Arts Emmys earlier ... and lost them all, breaking the record once held by "Mad Men" in 2012. Hey, pretty respectable company – familiar company as well for Elisabeth Moss, who starred in both and unfortunately had front row seats to two of television's biggest goose eggs.
Winner: "Hamilton" ... somehow ... again
Listen, we get it: "Hamilton" was a really good Broadway show, and the Disney+ filmed version was really good too. But at some point, unlike Alexander Hamilton, we have to say no to this – and we CERTAINLY have to stop giving it awards for stuff it may not even be. First it won theater awards back in its live days, then it won film nominations at the Golden Globes – and now it's winning as a TV movie. So which one is it!? Why not nominate it for some ESPYs while we're at it?
More important, I'll tell you what it's not: a 2020 or 2021 production! It was a filmed show from 2015 – so we're giving awards out to performances from more than half a decade ago now. In related news, I've rewatched "Citizen Kane" and decided it's the best movie of 2021.
Anyways, "Hamilton" has more than had enough; it's time to give some other stuff their shot.
Loser: Rita Wilson
One benefit of Zoom-called awards shows? No forced comedy bits – a lesson everyone unfortunately recalled the hard way watching the Emmys open up with a performance of the late Biz Markie's "Just a Friend" dedicated to a dancing man with TV screen for a head. (You see, because TV was our friend over the past year ... suuuure. What friend would curse us with Netflix's "Sexy Beasts" though?!) Host Cedric the Entertainer of course took the first verse, followed by rappers LL Cool J, Lil Dicky and (*checks notes*) (*checks notes again*) (*calls someone to make sure I haven't lost my mind*) Rita Wilson?
Amazingly, as cringe as that all was, she's still only the second most embarrassing rapper in the Hanks family.
Winner: This mystery person
Now that we're back to (somewhat) normal awards show ceremonies, we can enjoy one of my time-honored favorite traditions: the random stagehand who accidentally gets caught on camera.
who is she #Emmys pic.twitter.com/bNz1RvJ5WO — Vulture (@vulture) September 20, 2021
It's so much better than awkward Zoom glitches!
Loser winner: Kathryn Hahn
Despite having the biggest (arguably in terms of budget and buzz) nominees of the bunch, Disney+ didn't have the blockbuster night it was hoping for. Despite "WandaVision" and "The Mandalorian" scoring multiple nominations, the aforementioned "Hamilton" was the only winner on the evening.
So yes, that meant that perennial scene-stealer Kathryn Hahn, the bewitching villain from the debut MCU show, came away empty-handed – but Hahn still comes out a winner because a. she's Kathryn Hahn and b. she somehow made the world's largest belt look good.
It was Kathryn Hahn all along 😍 #EMMYs https://t.co/janvR9b6iu pic.twitter.com/FpRaPV8BGs — The Cut (@TheCut) September 19, 2021
Winner: The cast of "Schitt's Creek"
As pointed out before, the comedy segments throughout the night ranged in quality from "cringe" to "I'm drinking to distract from the cringe" – and even this bit, about a self-created prompter mishap, wasn't even particularly hilarious. But it was salvaged by the great cast of "Schitt's Creek" – last year's awards show behemoth – and the legendary comedic chops of Eugene Levy and Catherine O'Hara, who can make just about anything funny.
When that group that is OBVIOUSLY not prepared for their presentation decides to give it a shot … #SchittsCreek #Emmys pic.twitter.com/XFdtWwsez8 — Dave Hambleton (@virtualham) September 20, 2021
But also: Can we pump the breaks on calling this some sort of iconic reunion? The show just went off air a year ago! What's next: the long-awaited "Loki" reunion?
Loser: The direction during the in memoriam
The in memoriam segments of awards shows are supposed to a guaranteed slam dunk. You could be in the midst of giving "Cooking with Paris" all of your awards AND STILL make people sit in reverent attention and feel all the feels with a well-done tribute to the performers and industry people we've lost.
And yet awards shows can't seem to do it! The Oscars earlier this year hurried through their in memoriam lists like they had something else to do – and now the Emmys were the latest culprit, making the grave decision to often focus more on the musicians performing than the passed actors and TV icons they were supposedly paying tribute.
Winner: Michaela Coel
Michaela Coel's beautifully moving acceptance speech.@MichaelaCoel you just made me cry. Your show spoke to me so deeply.#Emmys #EmmyAwards pic.twitter.com/HDYCsTDlNu — Pau (@CubbyPau) September 20, 2021
In one of the rare moments of diversity actually being rewarded last night, Michaela Coel won the Emmy for Outstanding Writing for a Limited or Anthology Series or Movie – the first Black woman to ever do so – and gave an equally award-worthy speech about writing, allowing yourself to disappear to find what you actutally want to say and paying tribute to the survivors of sexual assault, all in about a minute. Take some notes, Scott Frank.
Loser: The bubble people from last year
If they weren't going to do an actual outdoors ceremony that would've made those in attendance and those watching at home more comfortable, the least they could do is bring back the bubble presenters from last year.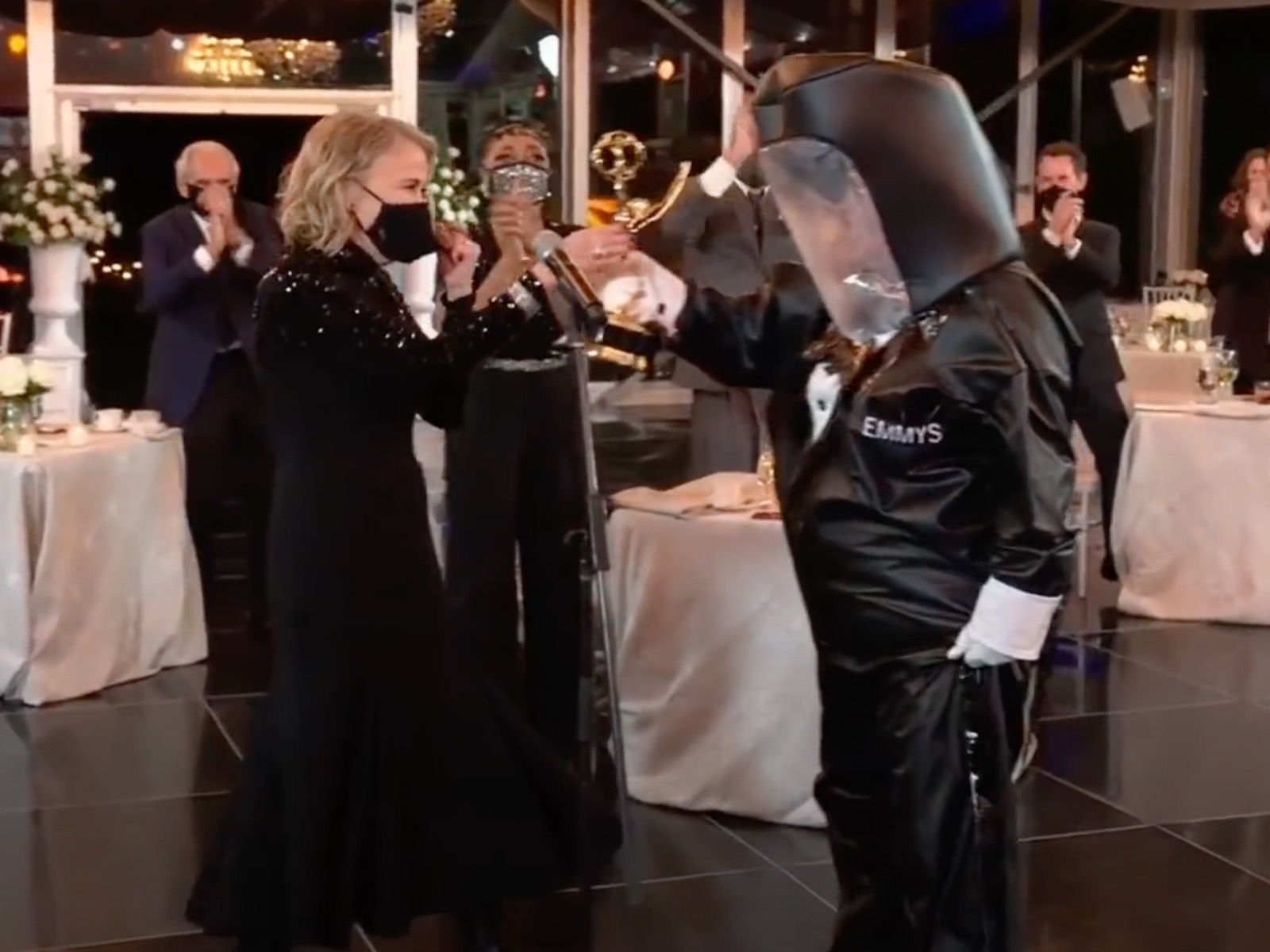 Where can I get one of those? I suddenly have my Halloween costume idea ...
As much as it is a gigantic cliché to say that one has always had a passion for film, Matt Mueller has always had a passion for film. Whether it was bringing in the latest movie reviews for his first grade show-and-tell or writing film reviews for the St. Norbert College Times as a high school student, Matt is way too obsessed with movies for his own good.
When he's not writing about the latest blockbuster or talking much too glowingly about "Piranha 3D," Matt can probably be found watching literally any sport (minus cricket) or working at - get this - a local movie theater. Or watching a movie. Yeah, he's probably watching a movie.