When Milwaukee native Shahanna McKinney Baldon took the stage at the Brooklyn Bowl in Williamsburg in September to sing the centuries-old Berdichever Kaddish at the "Hidden Melodies Revealed 15" Rosh Hashanah event, she did so in the voice of, and in tribute to, another Milwaukee African-American singer, Gladys Mae Sellers, aka Madame Goldye Steiner.
McKinney Baldon – who now lives in Madison, but was raised on the upper East Side and was active in the Milwaukee music scene with bands like Mood Groove and the recently revived Highball Holiday – has been studying the life and work of Sellers, who has been called the first African-American woman cantor.
You can see her performance in this video of the event, at the 2:02:00 mark.
McKinney Baldon is working to research Madame Goldye's life and work and also to raise money for a marker for the singer's unmarked Milwaukee grave.
"Like Madame Goldye, I, too, am a Black woman from Milwaukee who sings Jewish liturgical music," says McKinney Baldon. "I was so excited to learn of this pioneering artist and her Milwaukee roots, that I am dedicating myself to stewarding a reconnection of her story with the story of Black Milwaukee."
Born in 1889 in Illinois as Gladys Mae Sellers, Goldye was raised in Milwaukee and over the course of her career performed in Hebrew, Yiddish, Russian, German, French and English.
As a young adult, McKinney Baldon says, Sellers sang across the upper Midwest – in Milwaukee, Chicago, Minneapolis, Madison and beyond – sometimes with her then-husband, Albert Smack.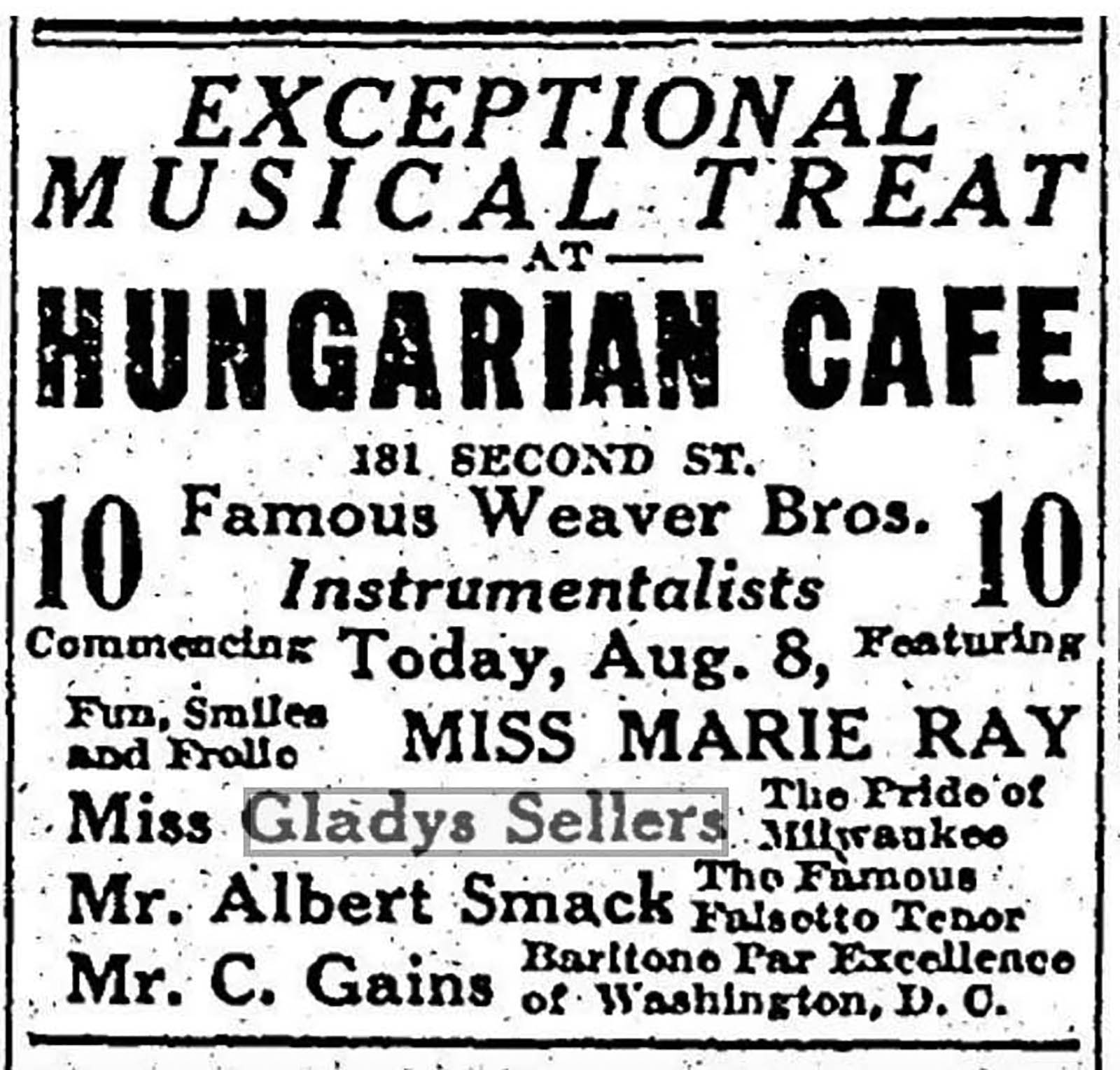 A 1914 ad in the Milwaukee Sentinel called Sellers, "The Pride of Milwaukee." Five years later, the paper reported that when black orchestra leafer Will Marion Cook was in town, he heard her sing and was impressed.
"At the conclusion of the evening concert, Director Cook was asked to hear one of the little colored ushers of The Pabst, Gladys Sellers, sing," the paper reported, condescendingly. "He was so pleased with the girl's voice that he at once made her an offer to join his orchestra as a vocalist and the offer was accepted."
In 1922, the Chicago Defender called Sellers, "Milwaukee's most popular songstress."
Sellers began her career singing a variety of music.
"The Smacks were active in St. Mark AME Church, singing and directing musical events there," McKinney Baldon says. "She performed on the early WAAK radio station broadcasts at Gimbels in Milwaukee in 1922-23, including singing with John Wickliffe's Ginger Band/Wickliffe's Ginger Orchestra.
"We are fortunate that there was an active Black press in this region during this period," she adds. "Because The Wisconsin Weekly Blade and the Milwaukee correspondent for The Chicago Defender reported regularly on Gladys' achievements through the early 1920s, we know of her having almost landed a Vaudeville touring gig, of her participation in a Wisconsin delegation to the national 50 Year Jubilee celebration of the Emancipation Proclamation in Chicago, and we know of her performances at important Wisconsin African American community events like a 1917 Milwaukee sendoff for Black soldiers going to fight in World War I, and the 1922 opening of a Black business in Madison – an event which included stereopticon slide viewing of images of 'thought forms of racial progress,' and an actual full baseball game."
Soon after, Steiner moved to New York, where she would remain for two decades.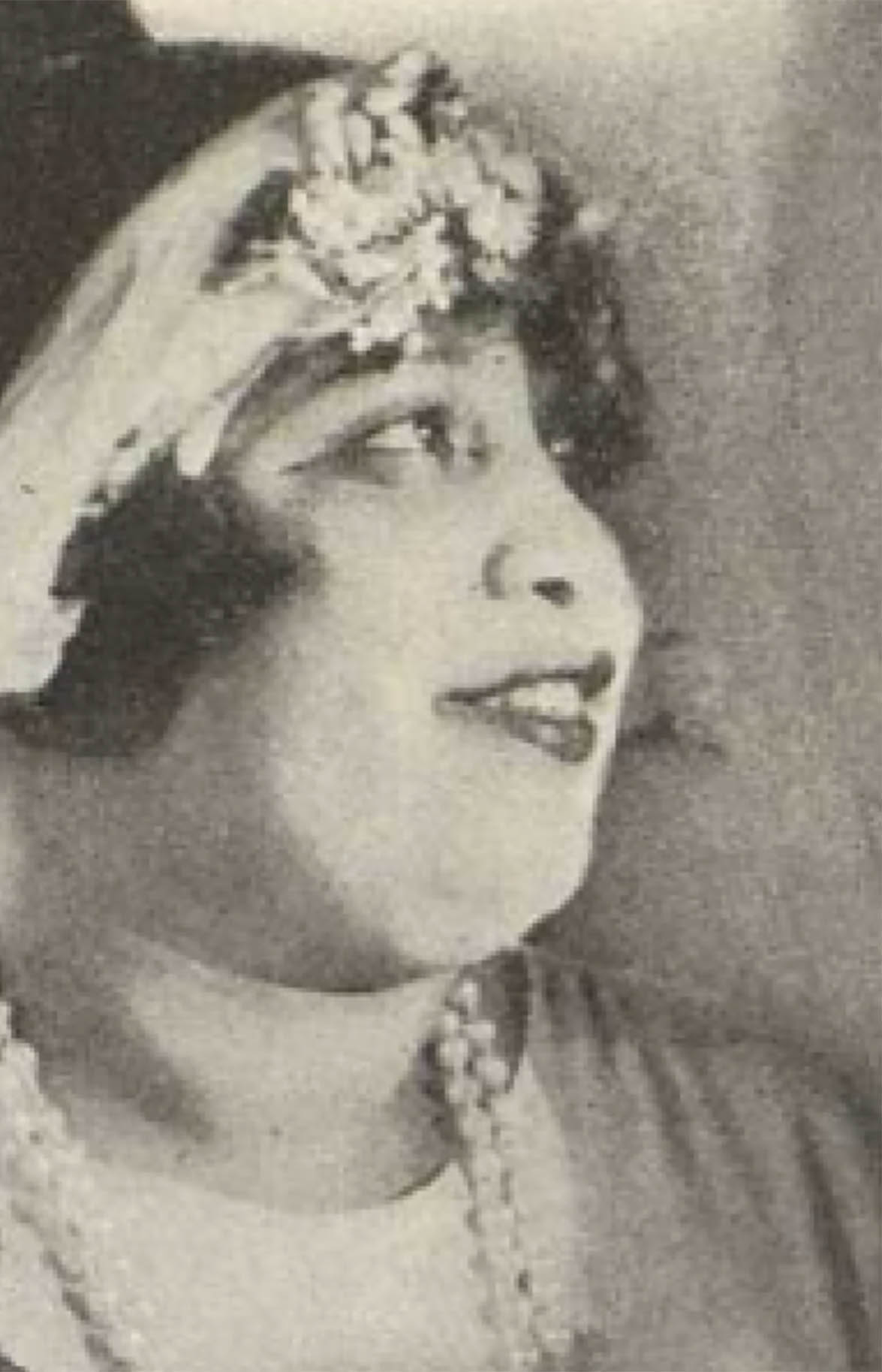 While out east, she sang Jewish cantorial music (khazones) and was just one of of a few African-Americans and apparently the only African-American woman to do so during what is called the "golden age of khazones."
"In this role," says McKinney Baldon, "she was billed as 'Di Shvartze Chasente' – 'the Black female cantor' in Yiddish. The term shvartze is deemed pejorative today."
According to Henry Sapoznik's groundbreaking research on Goldye, "The Yiddish theater and the subsequent outlets of vaudeville, recording, and radio led to a phalanx of women cantors singing in the traditional male style starting in 1920 with Madame Sophie Kurtzer. So with Goldye's 1924 debut, she would seem to be only the second-known woman cantor."
Unclear is the story behind her use of the Steiner surname. What is clear is that this biographical tidbit published in The Jewish Criterion of Pittsburgh and uncovered by Sapoznik is surely fantastical:
"Goldye, the colored cantor, one of the most beautiful women in Africa, was born in Abyssinia, Africa, 28 years ago. Once a tribal chief met her at the mines, and after hearing her sing his interest was so great that he sent her to Milan, Italy, to cultivate her voice.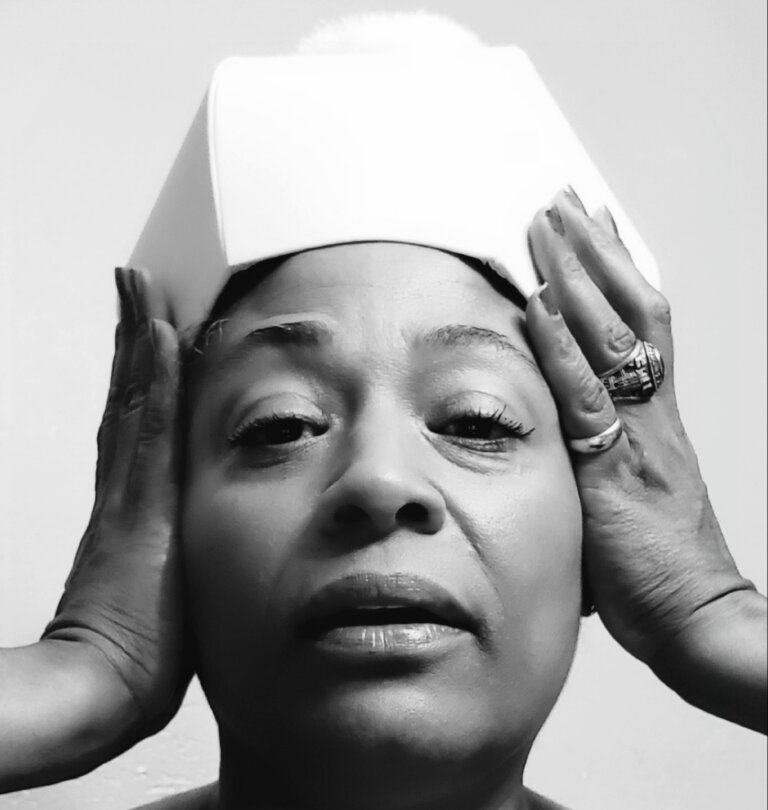 "Goldye is a member of the Jewish tribe known as 'Sheba of Gza.' They are a tribe of colored Jews in Africa. When Goldye returned from her studies in Italy she sang on a concert stage in Africa, as well as in the synagogue of her own people. Goldye sings in six languages – Hebrew, Yiddish, Russian, German, French and English. Goldye is a linguist, a poet and a composer. She is now visiting America for the first time in concerts that were never heard. [sic]"
Later in the 1920s, Sellers would perform on Broadway, in David Belasco's "Lulu Belle," and in "him," a play by poet e.e. Cummings. It was in the latter show that Saponzik says she was the, "first to perform the murder ballad 'Frankie and Johnny' on a major American stage."
Sellers later returned to Milwaukee with her second husband, Richard Armstead, McKinney Baldon notes, and they are both buried in unmarked graves at Mt. Olivet Cemetery on 39th and Morgan.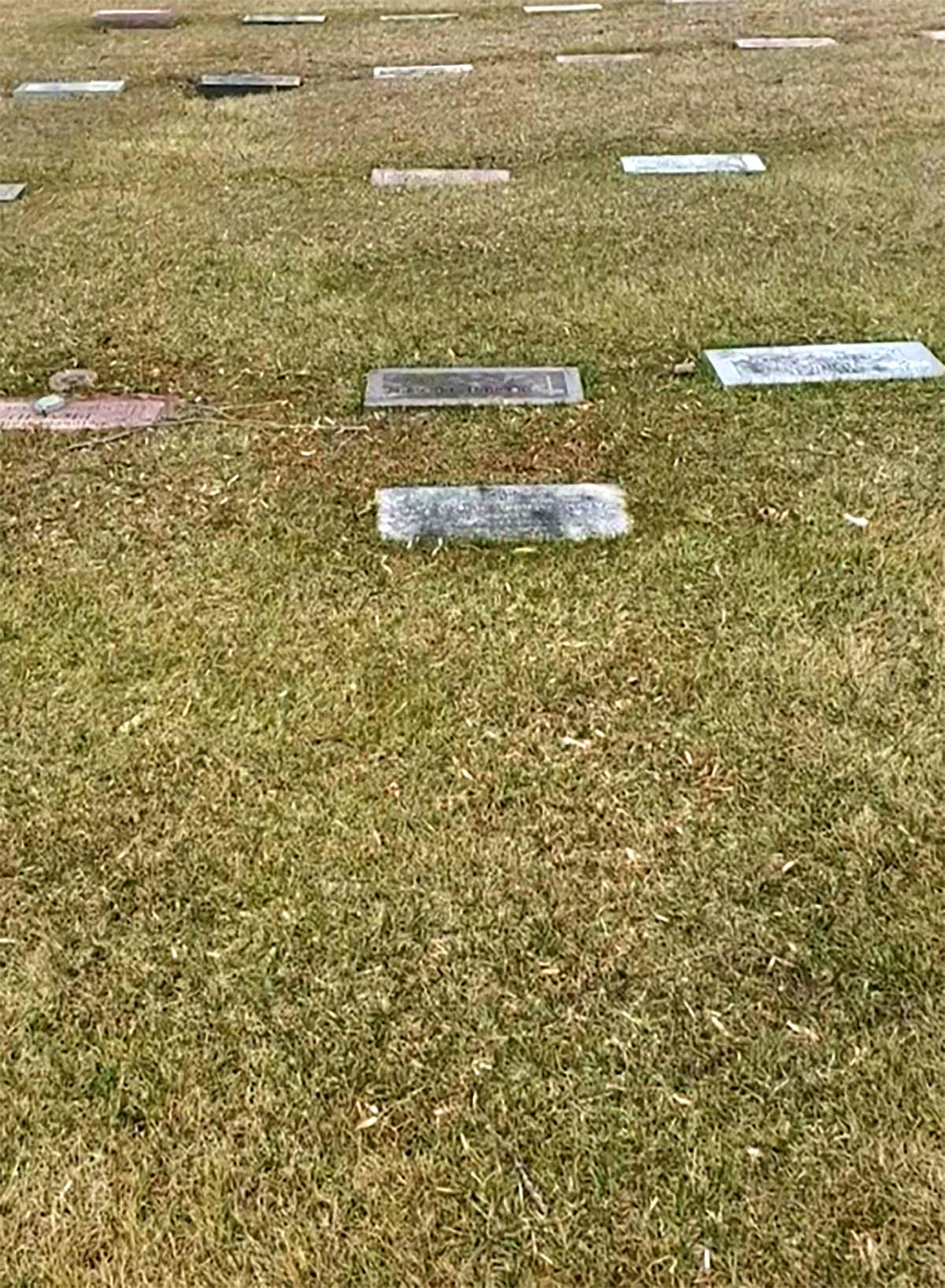 Now, McKinney Baldon is working with Wisconsin Black Historical Society to raise funds for grave markers for the couple.
"I am also working to historically reenact and interpolate her musical contributions here in Wisconsin. I see this work as a process of 'rematriation' of her story to the history of Black Milwaukee," says McKinney Baldon.
"My ultimate goals are to use Madame Goldye's story to increase understanding of life for African Americans in the late 19th and early 20th centuries, and also to use her story to connect across communities."
You can learn more about the project here, and you can follow her progress on Facebook, Twitter and Instagram @shebaofgza.
Born in Brooklyn, N.Y., where he lived until he was 17, Bobby received his BA-Mass Communications from UWM in 1989 and has lived in Walker's Point, Bay View, Enderis Park, South Milwaukee and on the East Side.
He has published three non-fiction books in Italy – including one about an event in Milwaukee history, which was published in the U.S. in autumn 2010. Four more books, all about Milwaukee, have been published by The History Press.
With his most recent band, The Yell Leaders, Bobby released four LPs and had a songs featured in episodes of TV's "Party of Five" and "Dawson's Creek," and films in Japan, South America and the U.S. The Yell Leaders were named the best unsigned band in their region by VH-1 as part of its Rock Across America 1998 Tour. Most recently, the band contributed tracks to a UK vinyl/CD tribute to the Redskins and collaborated on a track with Italian novelist Enrico Remmert.
He's produced three installments of the "OMCD" series of local music compilations for OnMilwaukee.com and in 2007 produced a CD of Italian music and poetry.
In 2005, he was awarded the City of Asti's (Italy) Journalism Prize for his work focusing on that area. He has also won awards from the Milwaukee Press Club.
He can be heard weekly on 88Nine Radio Milwaukee talking about his "Urban Spelunking" series of stories.