Earlier this year, the medieval castle looking building – all ominous in its dirty black cream city brick – at 1339 N. Milwaukee St. (aka 1330 N. Broadway) returned to the news, sort of, when the empty lot where it once stood was named as the future site of a six-story, 197-apartment development.
That 1896 building, which had most recently been home to the Milwaukee Center for Independence, was designed by Otto Strack, who was the preferred architect of Capt. Frederick Pabst.
Strack also designed much of the Pabst Brewery complex, which is why so many of those buildings have similar crenellations that make them look like fortresses.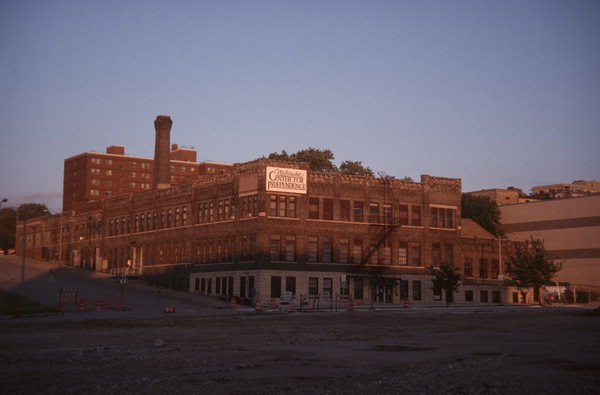 But the structure – which had numerous additions, including ones in 1905 and 1908 designed by Ferry & Clas (who drew the Pabst Mansion) – wasn't home to Pabst. Instead, it was the headquarters of Gugler Lithographic Company, which had a long history in Milwaukee.
The Gugler name was known far and wide, too, for everything from a famous portrait of Abraham Lincoln to hundreds of thousands of covers for The Beatles' so-called "White Album."
Gugler Litho, which specialized in stationery, envelopes, checks, billboard posters and more, also printed beer labels – among countless other things – and was, like Strack, a favorite of Pabst Brewing.
(Milwaukee Public Library's Krug Rare Books Room has 55 Gugler sample books in its collection.)
One of Gugler's most famous works locally was its 1898 bird's eye view panorama of the city as seen from City Hall tower.

The company was founded by German immigrant Henry Gugler.
Born in 1816 in Untertuerkheim, Wuerttemberg, Johann Heinrich (Henry) Gugler studied art and worked in metal engraving for two decades before emigrating to the United States in 1853, along with his wife and son Julius, who was 6 years old.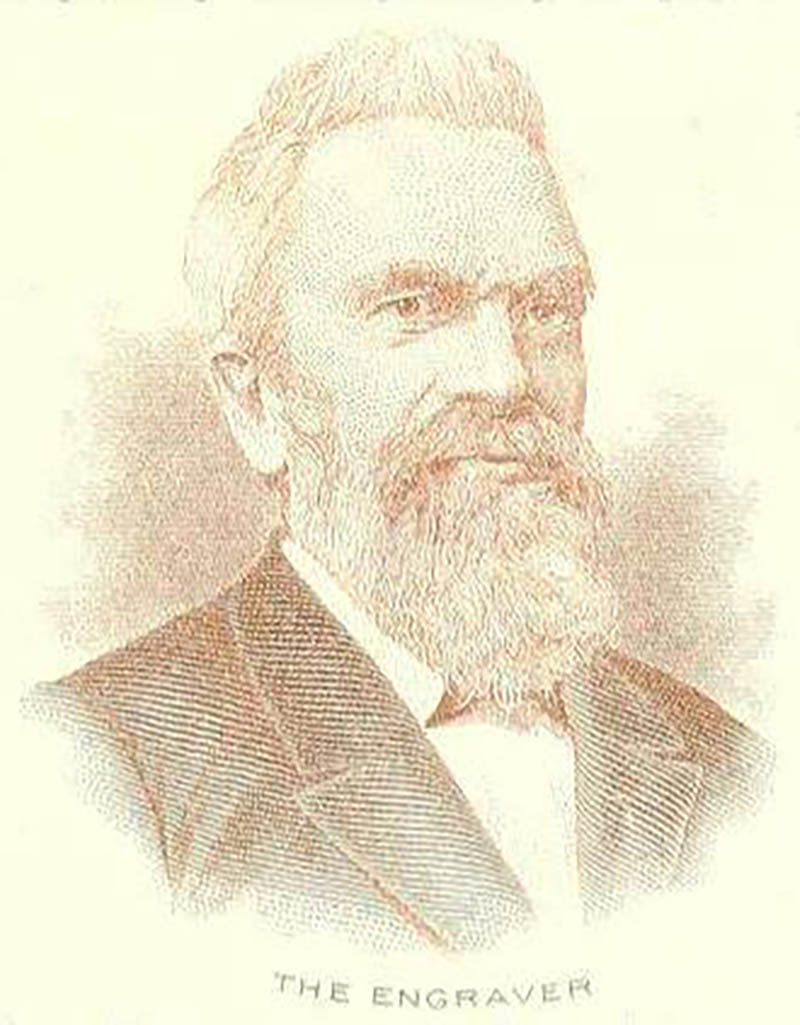 Back in Germany, Gugler had worked on cityscapes, book illustrations and zoological images. Having been invited to the U.S. by a colleague, Gugler, once in New York, had no trouble finding work, and after the outbreak of the Civil War, when $450 million in "greenbacks" were issued by the government, Gugler worked in Washington for the National Note Bureau, creating vignettes for financial documents of all kinds, including currency and bond certificates.
Gugler's work could be seen on paper money even into the 20th century, according to historian Harry H. Anderson, who noted that, "one vignette, showing a pioneer father, mother and child, was used for the $5 United States Treasury note, series of 1869, and for the $5 United States notes, series of 1875, 1878, 1880 and 1907.
"He used the likenesses of his own family as models for this work."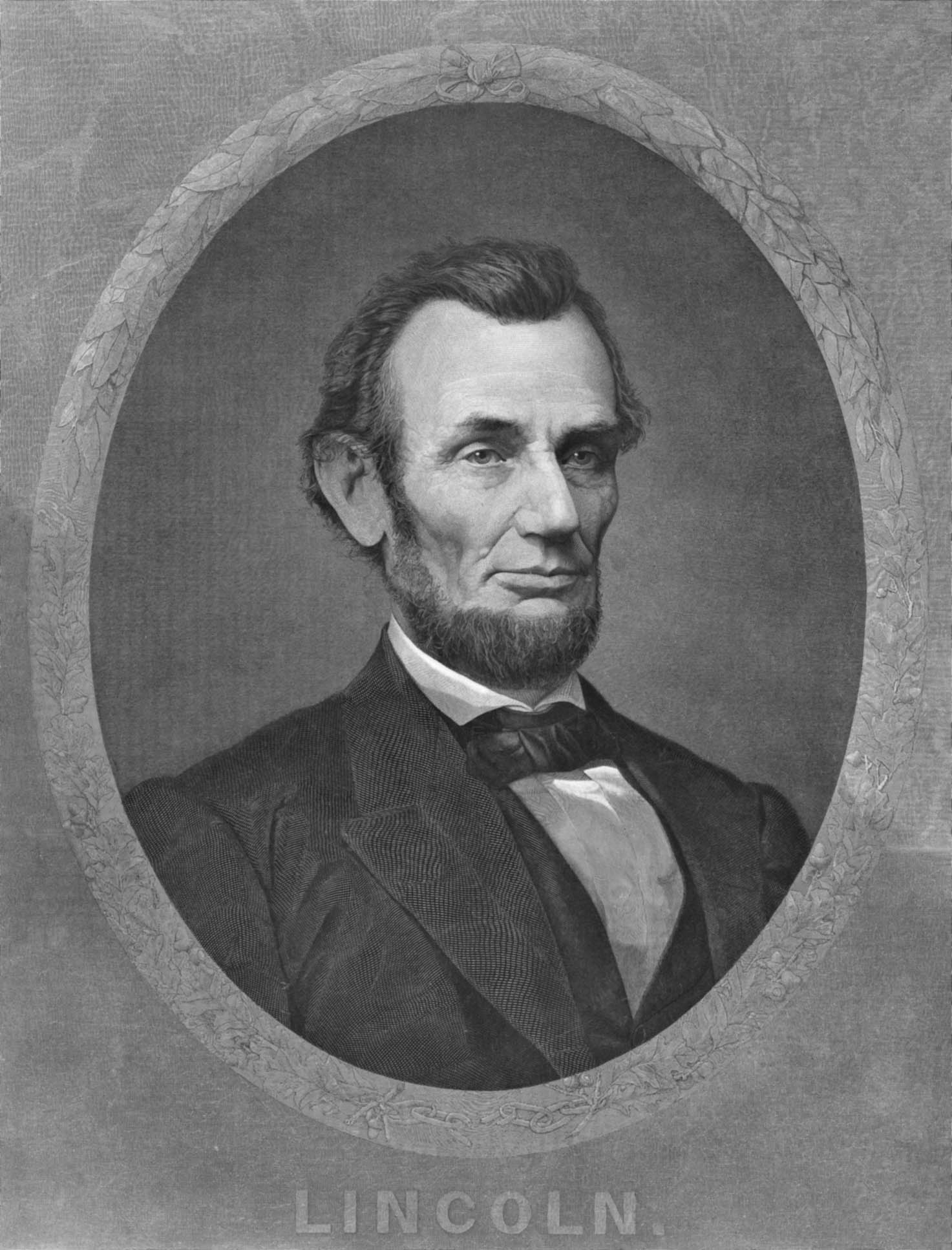 According to Anderson, who served as executive director of the Milwaukee County Historical Society for many years, "In the years immediately following Abraham Lincoln's assassination in 1865, artists throughout the United States strove to pay tribute with their skills to the memory of the martyred President.
"One of the finest works created during this period of mourning, or since, was a life-size head and shoulders engraving of Lincoln by Gugler."
The portrait (which is in the collection of the Milwaukee County Historical Society) was engraved on an eighth-inch thick steel sheet and is likely based on a Matthew Brady photograph that was copied by Illinois artist John L. Littlefield. Littlefield also worked at the Treasury and it is possible, posited Anderson, that Gugler met him there at their shared workplace.
Though the engraving was copyrighted in Littlefield's name, Gugler did the work, perhaps as a commission, and the prints made from it were executed by New York's William and Henry Pare Company.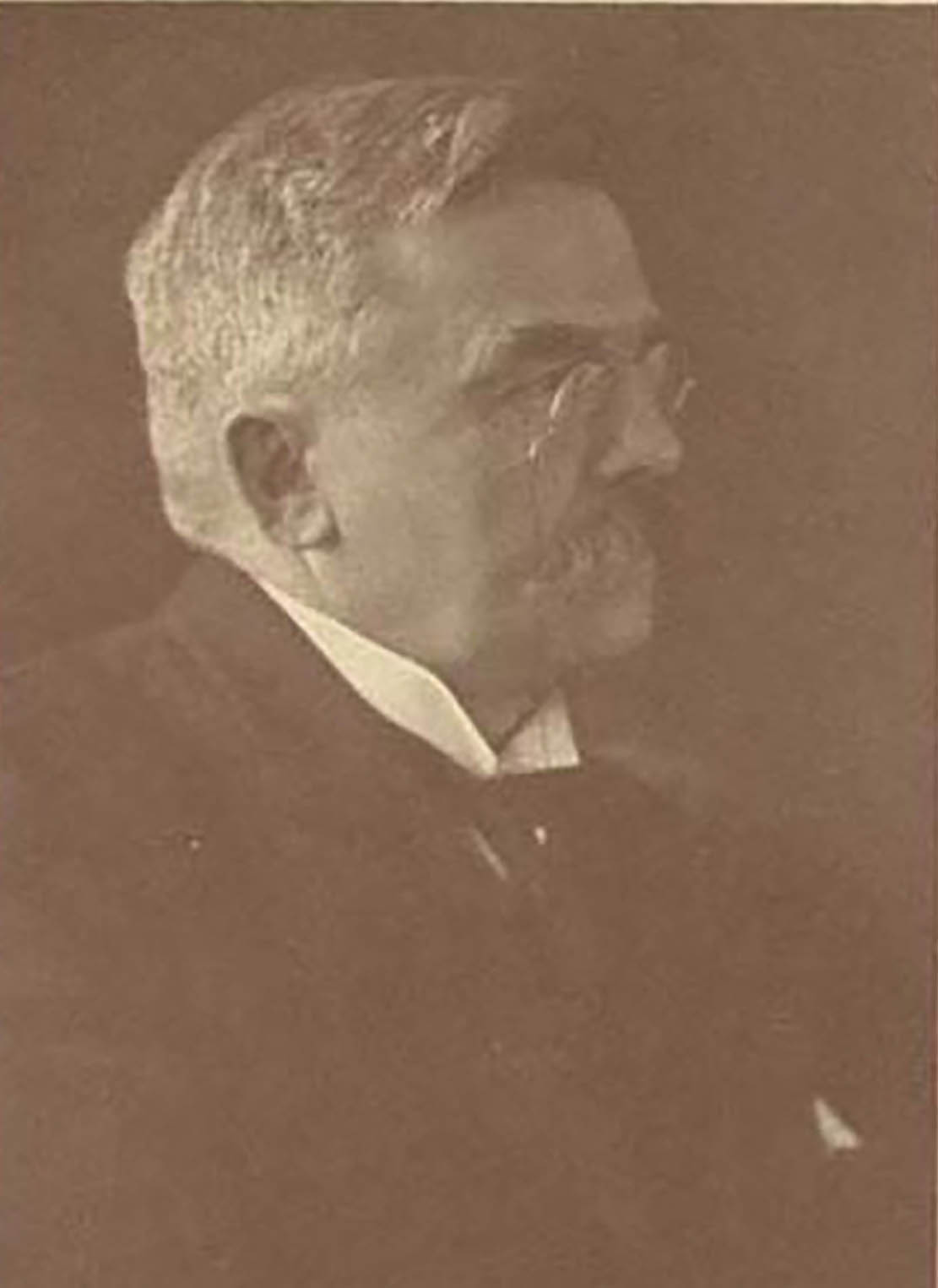 It was Julius Gugler who first came to Milwaukee in 1869 after having apprenticed at the age of 15 and worked in engraving in New York, Philadelphia and Cincinnati. He arrived here to work at Seifert and Lawton.
The younger Gugler is said to have brought to Milwaukee with him the first lithographic power press used in the city.
Two years later, the young Gugler also brought his father, who also worked at Seifert and Lawton, which was reorganized as Seifert, Gugler & Co. In 1873, Julius' brother Robert also began working in the trade.
In 1878, Henry and his sons Julius, Robert and Henry, Jr., started their own business, H. Gugler and Sons, though the father wouldn't live to see it thrive, dying two years later at the age of 64.

Their first location was on Huron (now Clybourn) between Water Street and the Milwaukee River, and the company later moved to Water and St. Paul, where it occupied two floors.
By the early 1880s, the company employed 55 and printed business cards, show cards, manufacturers' labels, business stationery and blank documents and more.
According to a historic designation report prepared by the City of Milwaukee, "Despite the Crash of 1893 and the depression that followed, the Gugler concern survived, admittedly with the help of one of, if not their largest accounts, the Pabst Brewing Company. It is believed from surviving artwork that Gugler handled all of the brewing giant's advertising and promotional work as well as business blanks, stationery, labels and other more utilitarian materials.
"The fact that Pabst was now the world's largest brewing company would have meant an enormous workload for Gugler given the national and international scope of Pabst's expansion into new markets, all of which demanded new promotional souvenirs, posters, pamphlets, advertising copy and other printed materials."
The company was doing so well by this time that it had taken over the entire building at Water and St. Paul, along with another four-story building behind it.
This growth led Pabst and Gugler to partner on the Milwaukee Street building, the building permit for which was pulled by the brewer, not Gugler.
According to Milwaukee brewery historian Leonard P. Jurgensen, the site had a long beer-related history.
"Odgen & Broadway, was the location of the Henry (Henrich) J. Stolz Brewery, which was established in 1849," he says. "Between then and 1896, that location is unique in the fact that it was home to more than 11 different brewers and brewing operation."
Jurgensen also notes that Gugler had occupied part of the complex before Pabst demolished and built anew there. And, he adds, when they did pull that permit for the new building, they did demolish all the old buildings (which in 1894, had been used by Pabst for stables and barrel storage, according to the Sanborn Fire Insurance Map).
"The brew house, which was constructed of brick, was incorporated into the new building for Gugler," Jurgensen says. "These new building were constructed over on top of much of the old brewery foundation, including the underground brewery lagering beer cellars."
The portion of the old building that Gugler had been renting, Jurgensen notes, was that brew house.
"The exact arrangement between Gugler and Pabst in the construction of this building is not known," the City of Milwaukee historic designation report noted. "It is likely that the volume of work generated by Pabst outstripped Gugler's now-cramped quarters in the Third Ward and the changing technology required a building with a more modern conveniences.
"Through a study of permits and fire insurance atlases, it appears that the new building for Gugler Lithographic replaced the old structures that once comprised the complex of the (Falk,) Jung & Borchert Brewery (which used this as a second site)."
Pabst bought out Falk, Jung & Borchert in 1892.
Gugler would occupy the building, which grew exponentially, ultimately filling nearly half the block, with additions in 1905, 1908, 1918, and 1927 (this one designed by Eric Gugler).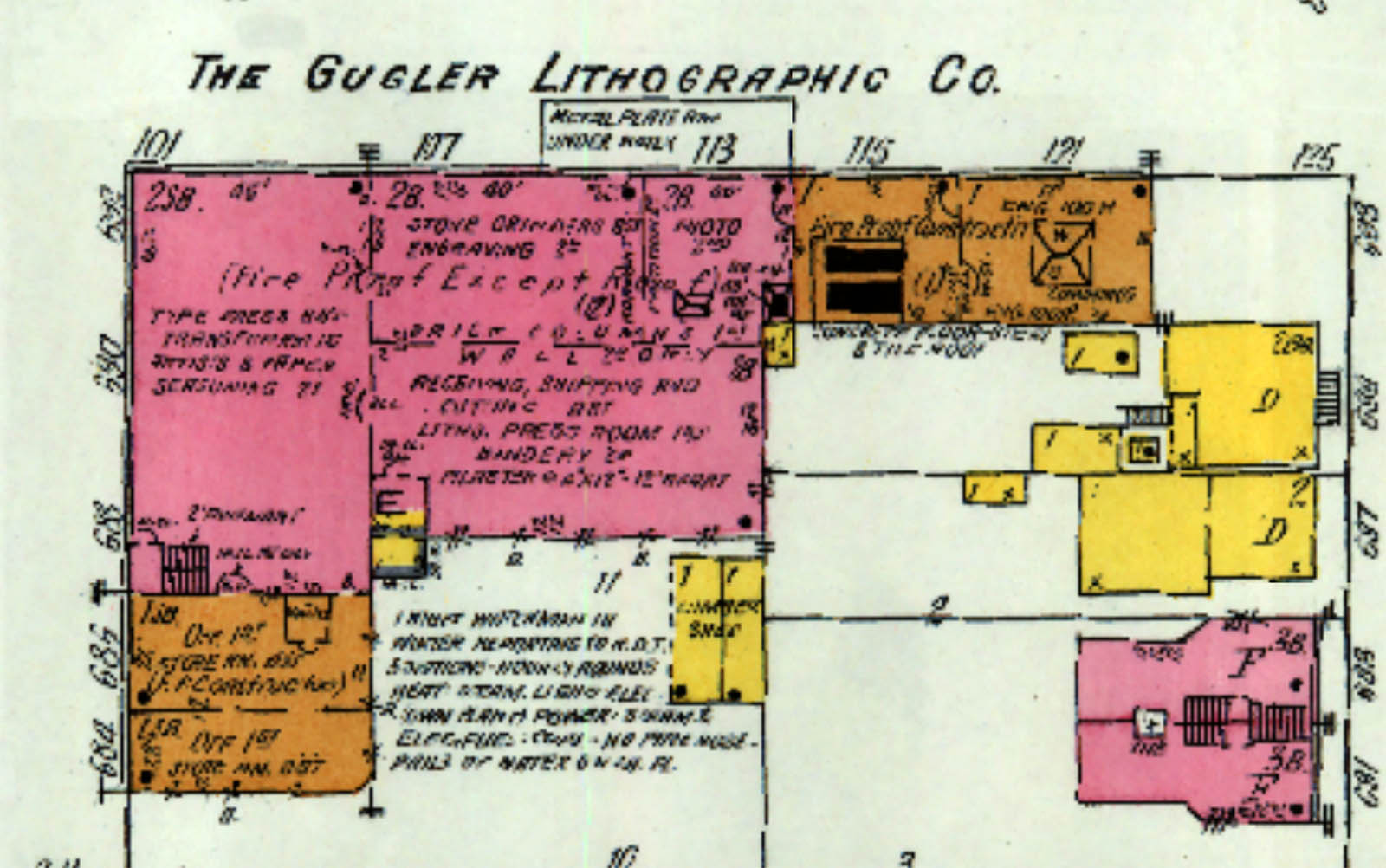 According to an environmental report of the site published this year, "Gugler Lithographic Co. ... utilized it for the production of printed goods from the 1890s through 1974. On-site operations included plate preparation and printing. A metal plate room was historically located under the sidewalk along East Ogden Avenue.
"The building was then occupied by Jewish Vocational Services (later Milwaukee Center for Independence), which utilized it for parts assembly and for supportive programs for persons with disabilities."
By the early years of the 20th century, Gugler had more than 100 employees, and by World War II it had grown into one of the largest printers in the state.
"Beginning in 1942, Gugler worked for the federal War Advertising Council to encourage voluntary compliance with rationing and service programs, inspire patriotism, promote home-front morale, and sell war bonds," according to the Wisconsin Historical Society.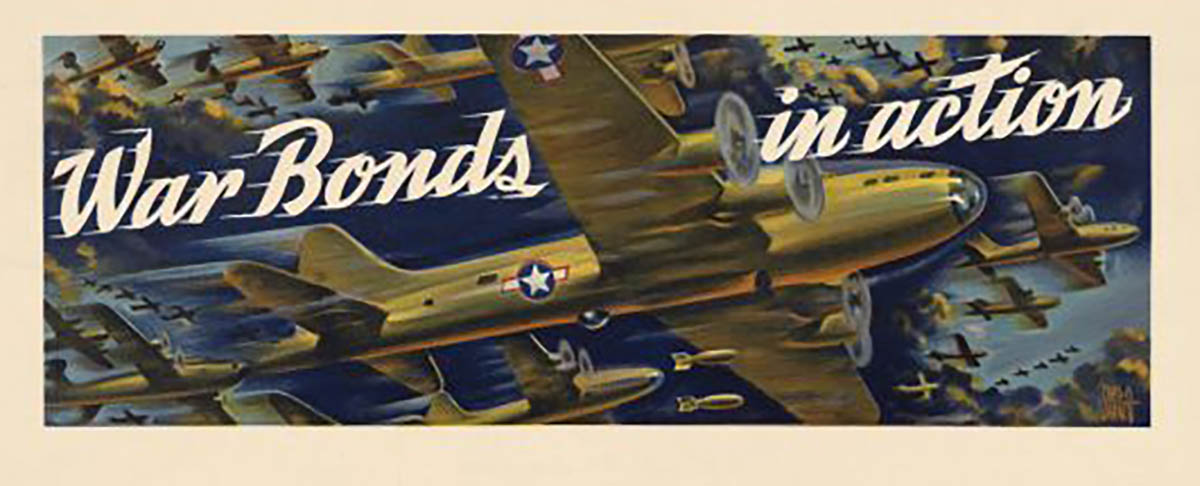 "Company president Oswald B. Gugler died in 1949 and his brother Ralph Gugler, a resident of New York City, became Chairman of the Board. A. E. Harris, who had begun as plant manager, now assumed the position of president," the city report said. "When Ralph Gugler died in 1956, Harris took over as Chairman of the Board and John B. Harris became president, thus ending nearly eighty years of Gugler family control."
In 1966, the business was purchased by The Journal Company and in 1973 a new plant, doubling the size of the Downtown facility was built in Brown Deer.
But before the move, Gugler landed the contract to print gatefold covers for The Beatles' self-titled 1968 double album that came to be called "The White Album."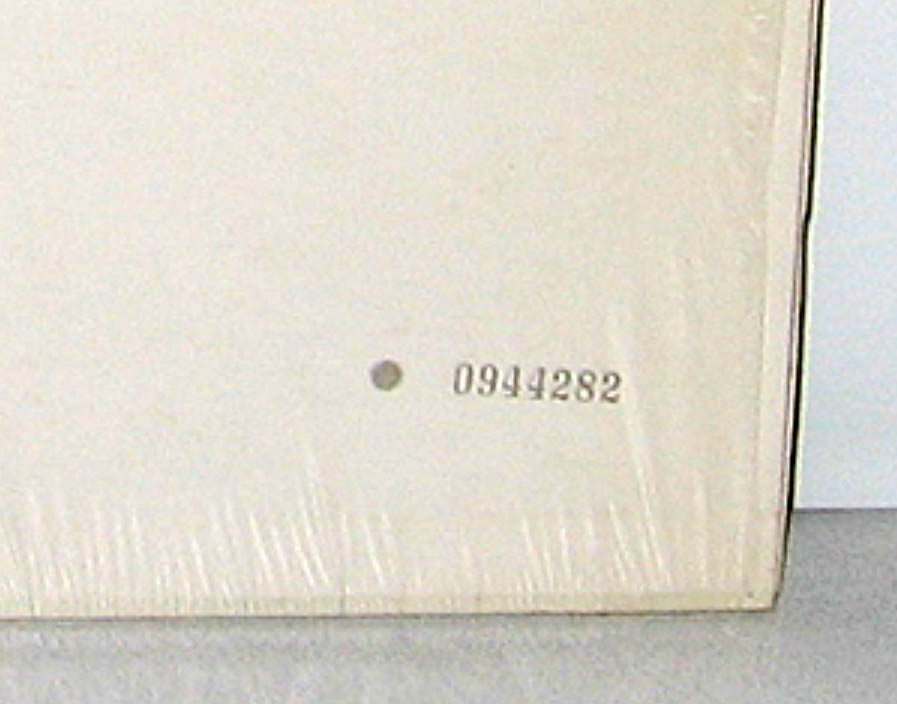 Gugler printed copies stamped in the range of 0590001 and 1349999, which were sent to Capitol Records pressing plants in Jacksonville, Illinois, and Los Angeles, California.
Other sleeves for the U.S. release of the record were printed by Bert Co. (numbers 26 to 590,000) and Queens Litho (1350000 to 2000000).
(Trainspotters note: Gugler covers had a dot preceding the number and Bert covers had an A.)
In 1978, the company was purchased by Northstar Print Group, and in 2005 it was sold to Multi-Color Corporation of Cincinnati and the Gugler name no longer appeared in the name.
That same year, the Downtown building – vacated by MCFI after its move to a new building at 2020 W. Wells St. – began to be demolished for a residential development proposed in 2004 that never materialized but that led to the clearing of the site.
"On Aug. 2, 2004, the City of Milwaukee issued 'razing' permit to SCS Of Wisconsin to demolish that historic structure," says Jurgensen. "Unfortunately, that included the long-forgotten remains of the former brew house, located in the center of that complex along Odgen Avenue and the beer cellars below it.
"(The) permit to raze the property ... was cancelled on Aug. 29, 2005, however a month later a second permit to raze the property was applied for on Sept 29. It was left 'open' for a short time; however, the permit was then granted to demolish all the buildings on the site."
Jurgensen, whose knowledge of Milwaukee brewing history – to say nothing of his collection – is immense, went to see the site for himself on Jan. 6, 2006.
"I was greeted with an unpleasant and disappointing view of a huge pile of masonry rubble and building debris," he says. "The Ogden Avenue buildings were in the last and final stages of demolition. All that was left were the partial remains of the basement and lower levels of the structure.
"While looking down through the fence that now surrounded the demolition site, the exposed traces of the east wall of an original underground cellar could still been seen. A visit on Jan. 18 revealed the exposed arch of a underground (under the building) brewery cellar, two levels below the street. The cellar was located on the property about 75 feet north of Ogden and about 100 feet east of Milwaukee Street and located at and below the site of the early brewery icehouse, mid-block on Ogden.
"I believe those cellars were the original brewery cellars of the Henry Stolz Brewery, dating back to 1848."
Soon after, the developer backed out and the site has been vacant ever since, leaving all that brewing and printing history lost forever.
According to a July 2022 news report, Chicago's LG Development Group planned to break ground at the 1.3-acre site by the end of this year on the new development, which will also include retail space and an outdoor pool. The 1.3-acre site was sold to LG in May for $5 million.
Born in Brooklyn, N.Y., where he lived until he was 17, Bobby received his BA-Mass Communications from UWM in 1989 and has lived in Walker's Point, Bay View, Enderis Park, South Milwaukee and on the East Side.
He has published three non-fiction books in Italy – including one about an event in Milwaukee history, which was published in the U.S. in autumn 2010. Four more books, all about Milwaukee, have been published by The History Press.
With his most recent band, The Yell Leaders, Bobby released four LPs and had a songs featured in episodes of TV's "Party of Five" and "Dawson's Creek," and films in Japan, South America and the U.S. The Yell Leaders were named the best unsigned band in their region by VH-1 as part of its Rock Across America 1998 Tour. Most recently, the band contributed tracks to a UK vinyl/CD tribute to the Redskins and collaborated on a track with Italian novelist Enrico Remmert.
He's produced three installments of the "OMCD" series of local music compilations for OnMilwaukee.com and in 2007 produced a CD of Italian music and poetry.
In 2005, he was awarded the City of Asti's (Italy) Journalism Prize for his work focusing on that area. He has also won awards from the Milwaukee Press Club.
He can be heard weekly on 88Nine Radio Milwaukee talking about his "Urban Spelunking" series of stories.