In its more than a century serving the city, Milwaukee Recreation has launched and run many successful programs. One of the longest-running is the annual Halloween event held at the beautiful Hawthorn Glen Outdoor Education Center, a haven of nature tucked away in the heart of the city at 60th and State Streets.
This year's event – the 30th! – is set for Friday-Saturday, Oct. 6-7, at the Glen, 1130 N. 60th St. Admission is $6, $3 for the Tyke Hike. Register online here. (Please see important check-in and parking information here.)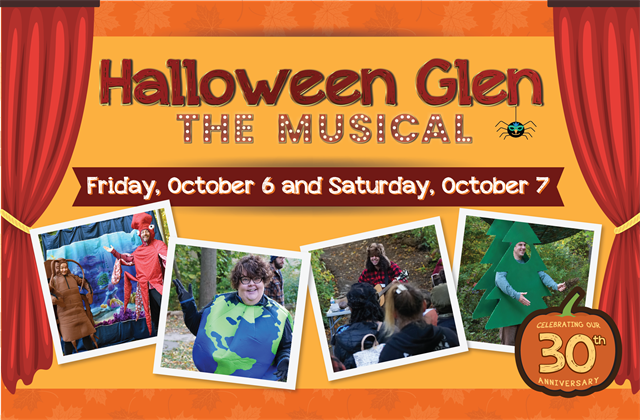 "We are excited to be celebrating 30 years of Halloween Glen,"said Recreation Manager Nicole Sponholtz. "This event is extremely special to us and what better way to mark the occasion than with our biggest bash yet! We invite the entire community to join us for 'Halloween Glen: The Musical.' It will truly be a memorable night."
The annual program for children ages 3 to 12 has had a non-stop run since it debuted in 1994. Not even a global pandemic could scare the wits out of Halloween Glen.
"We still were able to hold the event in 2020," says Lynn Greb, senior director of Milwaukee Recreation, a department of MPS. "Smaller group sizes, no busing, masks required, no concessions or cartoons, and a grab and go art project. Attendees were appreciative of the opportunity even though it was scaled back from what they were used to."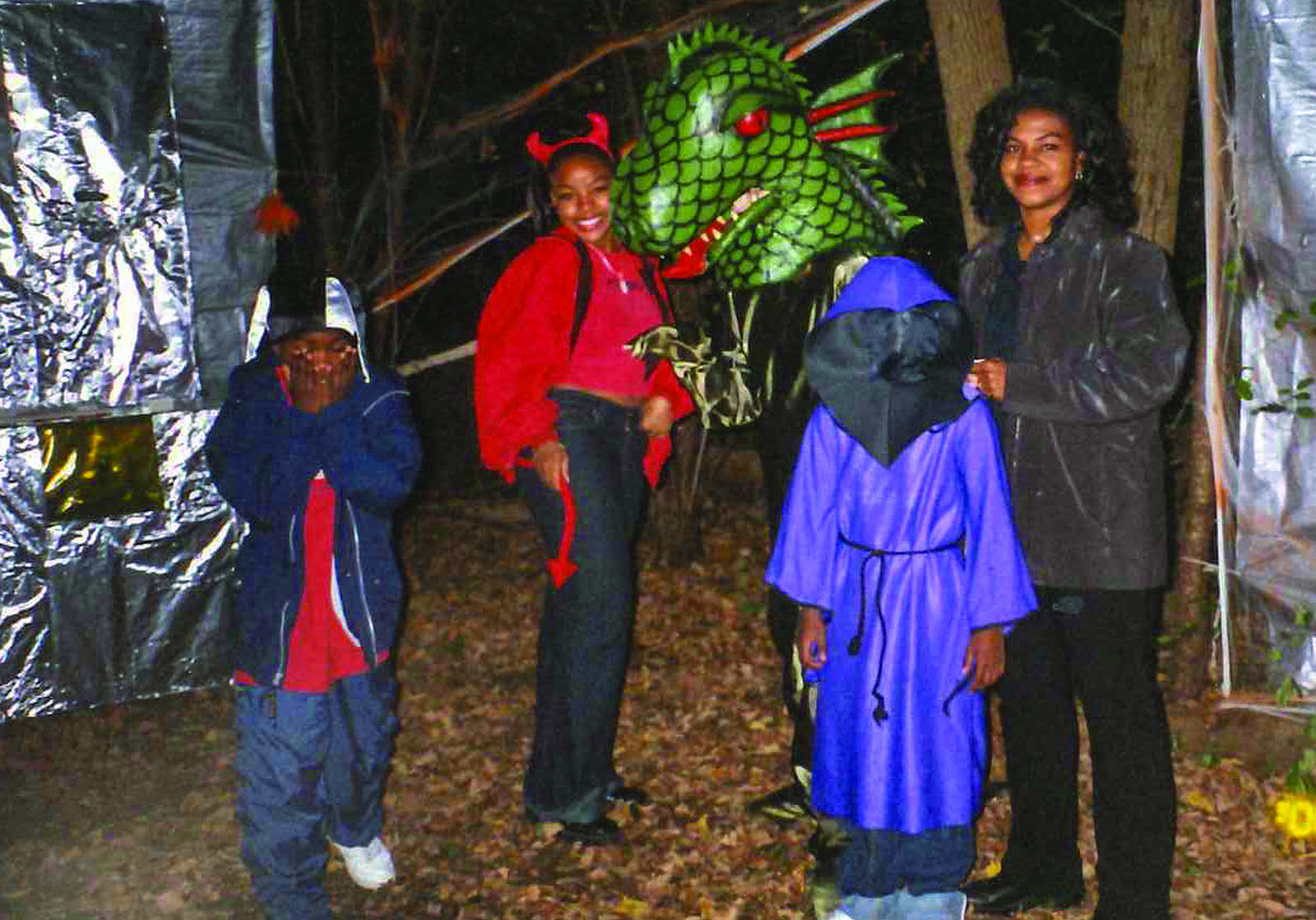 The event was, more or less, back to normal in 2021 as Halloween Glen celebrated its 28th installment. Even the shuttle buses from MPS Central Services Building on 52nd and Vliet Streets were up and running again.
Actors performed interactive, often humorous, educational skits at eight separate stops within the 23 acres of woodland, prairie and fen that surround the stunning Tudor Revival offices and exhibit building (constructed in 1938 as an animal shelter by the Works Progress Administration).
Guests hiked the paths to the different stations before taking part in autumn-themed activities. Along the way they were encouraged to star gaze as part of the year's theme: Living the Sky Life.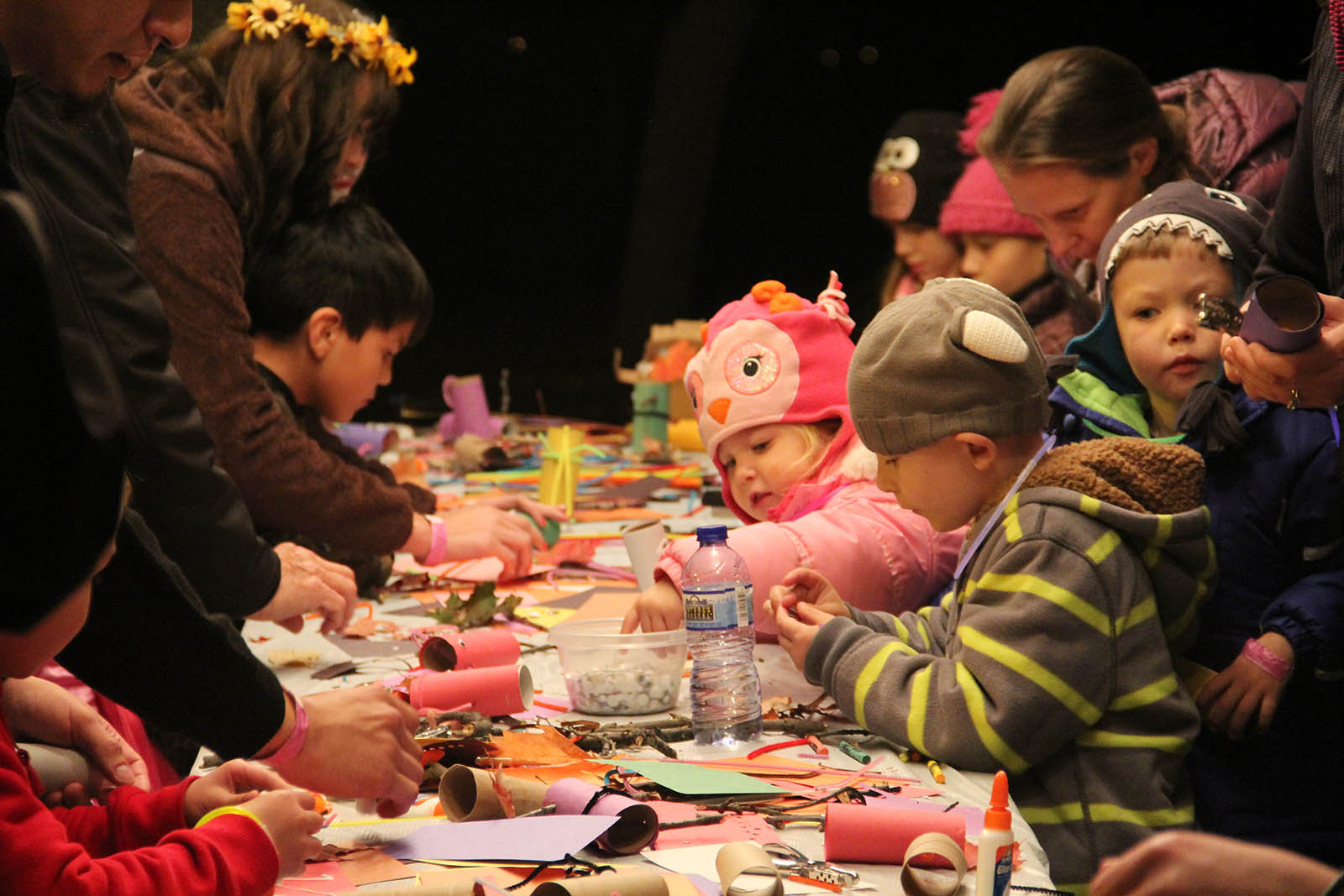 Afterward, there were classic Halloween cartoons featuring the likes of Casper the Friendly Ghost and Scooby Doo, refreshments like hot chocolate and hot dogs, and craft projects.
"We are eliminating indoor areas from the event and reducing capacities again," said Chris Beimborn – a self-described science educator, Halloween Glen script writer, former Halloween Glen actor, current actor coach and fan of Hawthorn Glen (as well as a part-time shark) – in advance of the 2021 event.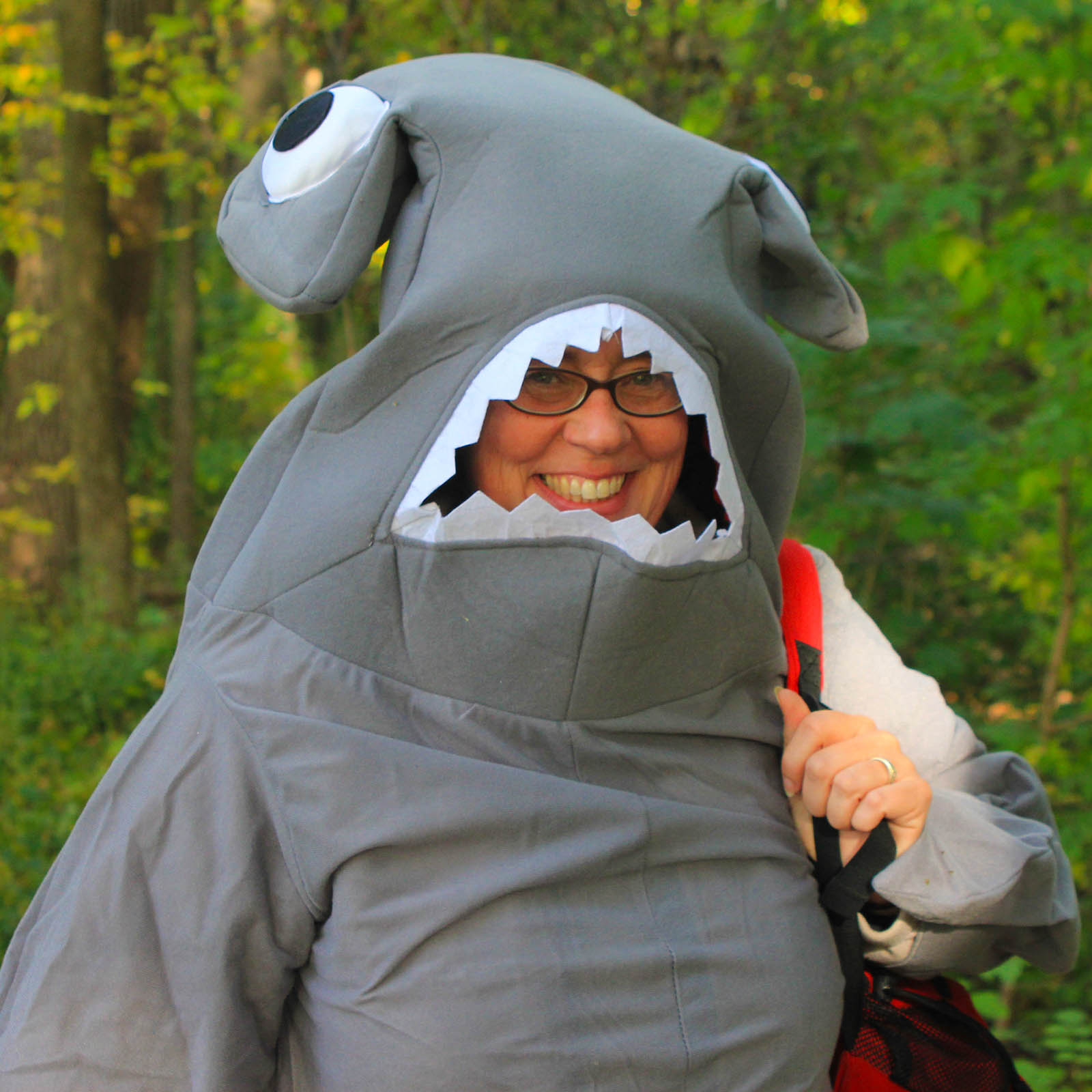 "And we see that people are signing up."
That kind of adaptation is nothing new. In fact, reacting to feedback from guests is what has helped Halloween Glen be so successful for so long.
Originally called Haunted Glen, the idea for the event was hatched by several Milwaukee Recreation staff members, including Outdoor Education Supervisor Forrest Johnson, who retired in 1998.
Greb recalls that the goal was to create both a special event and one that would help generate revenue for the department. To that end, a planning committee was organized and began to brainstorm ideas.
"At the time, some other nature centers in the region were having success with Halloween hikes and we thought it would be nice to have an event of that kind close to home for Milwaukee families," recalls Beimborn, who has been involved with the event almost since its inception.
"Initially there was talk about doing something at Oakridge Farm (a 200-acre working farm in Dousman owned by Milwaukee Public Schools), but given the distance from the city, we landed on Hawthorn Glen," Greb adds. "I'm not sure how we eventually got to an educational scary walk through the woods in the fall, but we can chalk that up to our creative team."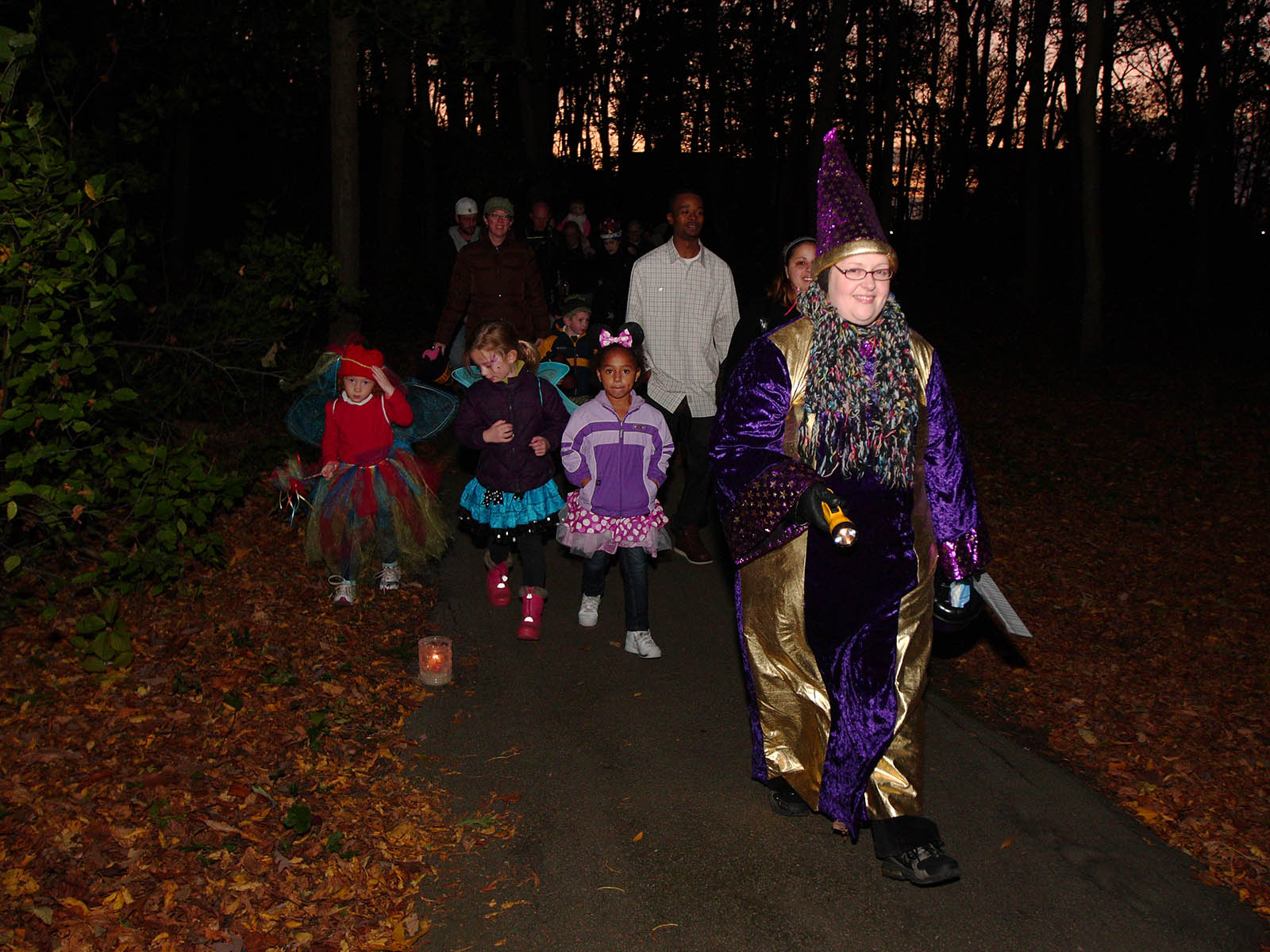 Organizing the first event wasn't easy, of course.
"Getting anything started from scratch is a big challenge," says Johnson.
Greb recalls that a small team handled everything, from planning to script writing and set decorating.
"Eventually we got smart and brought Chris Beimborn on board, as well as made it an all-staff event to distribute the work more evenly," she says.
Beimborn – a self-described science educator, Halloween Glen script writer, former Halloween Glen actor, current actor coach and fan of Hawthorn Glen – adds that there were still plenty of tasks to go around, some more fun than others.
"Every year, we assemble a large cast of actors and there are always challenges getting back-up coverage in case anyone gets sick or called away," she says. "The staff at Hawthorn Glen and Milwaukee Recreation work hard to transform the trails and prepare for the event.
"I am the person who gets called in to do all of the fun parts."
But the work paid off as Haunted Glen started off quite popular and continued to grow over the years. Within two years more than 650 attended and by 2009 that number had grown to nearly 1,000.
Before the coronavirus arrived and forced Milwaukee Recreation to impose capacity limits, the 2019 event hosted more than 800 attendees. Even with capacity limits and society's ongoing concerns about variants and breakthrough cases, 674 participated in 2021. Last year, there were 910 registrations.
"It took a little time to find its stride as the non-scary, natural alternative to haunted houses," says Beimborn. "The first year was a mixture of scary, strange, educational and silly stations.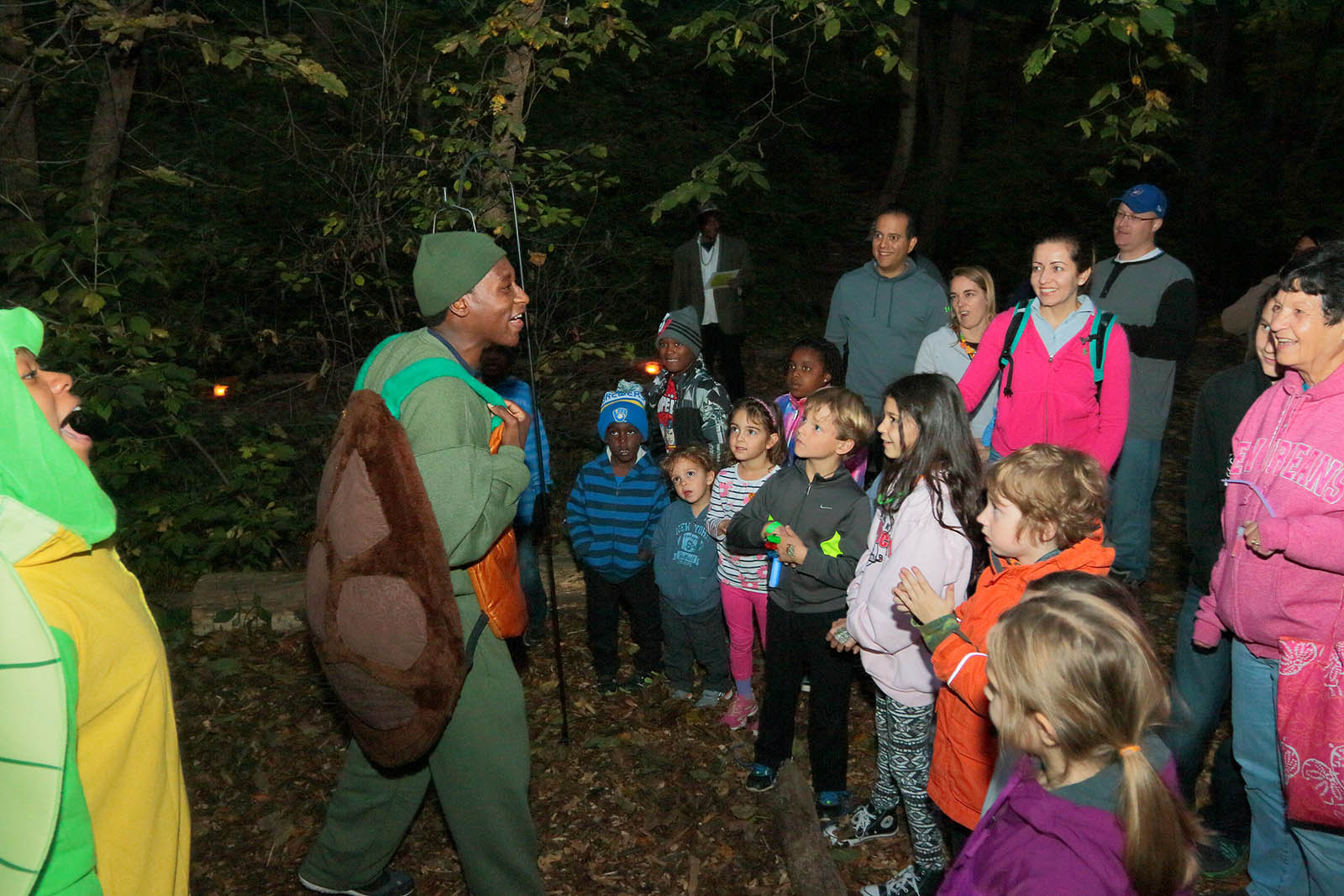 "The silly-plus-educational ones were a hit, but there was also enthusiasm for Halloween scares, so next we tried having only the last time slot be scary."
But, says Beimborn, some families with young children unwittingly signed for that time slot.
"As soon as you make a little kid cry, no one is having fun anymore," she says. "Now the only haunting sounds are those that follow our groaner science jokes."
So in 1997 the scariness was scaled back.
"The draw seemed to be more around the educationally, 'scary' nature of the event versus your typical haunted house experience of which there were plenty at the time," Greb says.
Adds Beimborn, "We have settled on a system of costumed characters and spectacle to grab the attention of the youngest visitors, science with audience interaction for the elementary schoolers and plenty of silly jokes for all."
A Tyke Hike was added in 2014 and has proved to be very popular.
"We learned that Hawthorn Glen's accessible trails make the hike something that the very young can do, even in a stroller," says Beimborn. "So it is very much an all ages event."
As time went on, Milwaukee Recreation staffers realized that holding Halloween Glen a few weeks before Halloween helped ease competition with other area Halloween events, which has also helped bolster attendance.
"The event continues to evolve so I wouldn't be surprised to see additional changes over time," adds Greb.
The feedback each year suggests Halloween Glen is as popular as ever, too.
Some examples: "We look forward to this event every year."
"It was a wonderful non-scary Halloween event. Fun and educational."
"Thank you for offering such a great alternative to a haunted house."
"So family friendly and a great value."
Those comments, along with the reactions and interactions at the event make it rewarding for Milwaukee Recreation staffers, too.
"We put all of our work into giving families a shared learning experience where they can show their creativity with their costumes and crafts and leave smiling," says Beimborn. "But we are upstaged by Hawthorn Glen itself and that may be the most powerful thing.
"A lot of people have never walked in a forest at night and might be wary of doing so. The candle-lit trails of the Halloween Glen are magical, and I think people leave the event feeling more at home with nature than they did before."
(NOTE: This article was written for Milwaukee Recreation's institutional history project. While the topic was provided by Milwaukee Recreation, the content was not.)
Born in Brooklyn, N.Y., where he lived until he was 17, Bobby received his BA-Mass Communications from UWM in 1989 and has lived in Walker's Point, Bay View, Enderis Park, South Milwaukee and on the East Side.
He has published three non-fiction books in Italy – including one about an event in Milwaukee history, which was published in the U.S. in autumn 2010. Four more books, all about Milwaukee, have been published by The History Press.
With his most recent band, The Yell Leaders, Bobby released four LPs and had a songs featured in episodes of TV's "Party of Five" and "Dawson's Creek," and films in Japan, South America and the U.S. The Yell Leaders were named the best unsigned band in their region by VH-1 as part of its Rock Across America 1998 Tour. Most recently, the band contributed tracks to a UK vinyl/CD tribute to the Redskins and collaborated on a track with Italian novelist Enrico Remmert.
He's produced three installments of the "OMCD" series of local music compilations for OnMilwaukee.com and in 2007 produced a CD of Italian music and poetry.
In 2005, he was awarded the City of Asti's (Italy) Journalism Prize for his work focusing on that area. He has also won awards from the Milwaukee Press Club.
He can be heard weekly on 88Nine Radio Milwaukee talking about his "Urban Spelunking" series of stories.