Oh. My. Gosh. What a night! When Jason Isbell and the 400 Unit were in Milwaukee at the end of January, I thought there was no way an Isbell show could get any better.
Man, was I wrong. Seriously wrong.
Thursday night at the BMO Harris Pavilion started with legendary blues man Walter Trout. And look, I'm not going to try and skirt my way through this one: I know pretty much zero about the blues, other than there are amazing blues artists and not-so-amazing blues artists. Trout, thankfully, fell into the former category. The guy made his guitar sing and pulled amazing performances out of his fellow bandmates with some crazy solos.
His story is almost beyond belief. Starts his blues career in 1969. Puts out over three dozen albums. Is friends with B.B. King. But then, four years ago, he lay dying in a hospital bed with a diseased liver, spending eight months on his back and losing 120 pounds. He suffered brain damage. He didn't recognize his wife or his kids. At the 11th hour, he received a miracle liver transplant ... only to suffer a setback with sepsis. And after all of that, he had to spend eight hours a day for a year teaching himself how to play the guitar again.
Which bring us to Thursday night. Trout's ability to make his guitar sing and scream and purr pretty much blew me away. Like I said, I'm not a blues girl, but unless you were dead, there's no way you weren't moving to Trout's groove.
His eight-song set was filled with extended play versions of songs old and new, bright and dark. His tribute song to B.B. King, "Say Goodbye to the Blues," was slow and sexy, but the lyrics were powerful and comforting. He pulled his son, Jon, on stage for "Gonna Hurt Like Hell," and he did this amazing version of "Almost Gone," a song from his "Battle Scars" album, about his experience to almost hell and back after nearly dying before his transplant.
The audience was so into it. There were some that were up and dancing the entire set. At the end, Trout asked everyone to please join the organ donation registry. There are approximately 120,000 people waiting for the miracle gift of a transplant and about 2,000 people a month die waiting. So, well, here it is: register. I know I'm going to.
Walter Trout and his band were a great lead-in for Isbell and the 400 Unit, who took the stage pretty promptly at 9:45. And seriously, during the break, I kept wondering to myself what could I say about Isbell tonight that I haven't already said? Really. What?
I mean, I've talked about how he's arguably the best songwriter of this century. How he writes about what he knows and not what he thinks people want to hear. How he's real, authentic and completely genuine. How he doesn't mince words and he gives it to you straight even if you don't want to hear it. I've told you how his songs can make you dance and make you cry – in the same song depending on the day. I thought I pretty much covered it.
And I honestly didn't think he could top what he did here in January. But I really did forget one key thing about that performance: namely, Amanda Shires – or the lack thereof. It didn't feel like the January show was lacking anything. I mean, yeah, I totally wished that Shires had been there. But the show felt complete and pretty much epic.
But on Thursday night at the BMO Harris Pavilion, there was a completely different kind of energy. The show was more laid back but also strangely intense. Maybe it was the outdoor venue. Maybe it was the audience, a summer Sconnie crowd versus a cold January one. Maybe Isbell felt more at home with Shires on stage with him. Shires and her fiddle did amazing things, and the play and chemistry between her and Isbell was ... palpable. Like hey, yeah, I know it was hot outside – but holy moly, it was HOT on stage.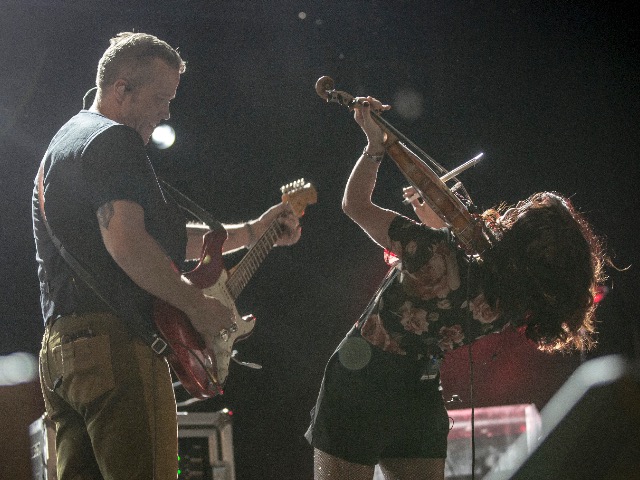 Whatever it was that was different, the show was fantastic.
With the crowd on their feet cheering, the band opened with a mellow version of "Anxiety," which led straight into "24 Frames." The crowd stayed on their feet and danced.
Isbell isn't one to have a lot of banter with the audience beyond thanking the audience for being there or saying that they're having fun on stage. It's really one of the reasons I like him: His music speaks for itself. And especially at Summerfest when sets are tight, it means more Jason Isbell and the 400 Unit.
A killer version of "Hope the High Road" and "Cumberland Gap," lead by Jimbo Hart on bass and Chad Gamble on drums, followed that. If – IF – we had one criticism from Thursday night's show, it would be here. Shires on fiddle does incredible things ... but for the first four songs, you couldn't really hear those incredible things. Minor. Very minor.
After that, they did probably my all time favorite Jason Isbell and the 400 Unit song, "Tupelo." I'm not sure why I like it so much. The beat, the music, the lyrics – it all just works.
There wasn't a moment that Isbell and his band lost the crowd. Not one. He had them up on their feet dancing and singing during "Last of My Kind" and "Codeine."
He covered a number of songs from his solo career, including a heartbreaking and beautiful rendition of "Cover Me Up," a tune Jason wrote for his wife, Amanda, about his battle overcoming addiction. He sang this, too, in January, but man, with her on stage singing it with him, it was like a gut-punch and a hug rolled into a sob – especially with Gamble's completely haunting toms in the background.
They brought out songs from old to new from the 400 Unit. And they even pulled out one song from Isbell's days in the Drive-By Truckers ("Never Gonna Change").
At 10:57, during "Never Gonna Change," there was, sadly, a mass exodus. Catching the buses, trying to avoid traffic, whatever the reason, I think those who left missed arguably the best song of the set and the one most people wait all night to hear: Shires and Isbell singing "If We Were Vampires." There's really nothing to say about it, except that it was perfection. Absolutely.
After nearly 90 minutes, Jason Isbell and the 400 Unit, long past their curfew, closed by thanking the crowd for supporting them.
But really, I think we should be thanking Jason Isbell, Amanda Shires and the 400 Unit for the shot of life they gave us all Thursday night. So hey ... thank you.
Setlist
"Anxiety"
"24 Frames"
"Hope the High Road"
"Cumberland Gap"
"Tupelo"
"White Man's World"
"Codeine"
"Last of My Kind"
"Traveling Alone"
"Go It Alone"
"Something More Than Free"
"Stockholm"
"Flying Over Water"
"Cover Me Up"
"Never Gonna Change"- Drive-By Truckers cover
"If We Were Vampires"
Moving to Milwaukee in 1998, Lora quickly adapted to and embraced big city living. A graduate of Carthage College and Marquette University Law School, Lora clerked for the Hon. Diane Sykes at the Wisconsin Supreme Court, worked as a litigator in private practice, and most recently was employed as a development officer for the MACC Fund.

In all of her experiences, time was focused on writing which has been a passion since junior high school. A series of food service industry jobs both before and after law school taught her that bringing out the human side in any story is key to great storytelling and good writing.

A die-hard east side girl, you'll usually find Lora down by the lake or on the Oakleaf. She's an avid photographer, and sometimes storm chaser.

Hobbies include biking, gardening, cross country skiing, swimming, blogging, and of course working on her fictionalized autobiography--fictionalized, because whose life is really interesting enough to fill 400 pages?

She's in IMDb. Look her up.