On Sunday, Nov. 27, in observance of the 80th birthday of guitarist Jimi Hendrix, we are re-sharing two stories we wrote about his appearances in Milwaukee. This is one of them. The other can be found here.
Can you believe that barely four years elapsed between Jimi Hendrix's London debut and his death there?
It was a long musical road compressed into but a short alleyway of time. During that time Hendrix performed in Milwaukee on two occasions and the, ahem, experiences couldn't have been more different.
When Hendrix arrived with his band The Experience for four shows across two nights at Frank Balistrieri's The Scene nightclub in the Antlers Hotel on 2nd Street Downtown, he had recently released his second record.
"Axis: Bold As Love" still found the groundbreaking guitarist pushing the boundaries of rock and roll – and indeed the electric guitar – within the format of the three- or four-minute traditional song structure.
But 1968 and 1969 were extremely active for Hendrix and his sidemen and by the time The Jimi Hendrix Experience returned to Milwaukee for a performance at the Milwaukee Auditorium – now the Miller High Life Theatre – on Friday, May 1, 1970, much had changed.
In 1968, the group released "Electric Ladyland," earning it the biggest commercial success of its brief career. But by the beginning of '69, bassist Noel Redding had become disillusioned and left the band in spring.
Replaced by Billy Cox, the Experience had a triumphant performance at Woodstock in August, including an immediately iconic rendition of "The Star Spangled Banner." Forty-two years later, Guitar World would call it the greatest performance of all time.
The Jimi Hendrix Experience onstage in Milwaukee, 1970.
(PHOTO: Dan Shmitt / Rob Lewis Collection)
And more was changing. Hendrix formed a new group with Cox and drummer Buddy Miles called Band of Gypsys, which in early 1970 released an album recorded live on New Year's Day 1970, showing that that the guitarist was eschewing the concise pop song format for longer excursions, born from jam sessions that drew heavily on the blues and featured more introspective lyrics.
The self-titled album that resulted garnered mixed reviews at the time, but has, over the decades, cemented a more positive reputation.
However, by the time "Band of Gypsys" arrived in shops on March 25, the trio had already broken up and Hendrix reconstituted the Experience with Cox and original drummer Mitch Mitchell and began recording a new album called, "The Cry of Love."
And on April 6, just two weeks after the release of "Band of Gypsys," the Milwaukee Journal announced in just a couple lines that The Jimi Hendrix Experience would bring its Cry of Love Tour to the Milwaukee Auditorium in 24 days' time.
The concert was promoted by Madison-based Concept Nine, Ltd., run by future Cheap Trick manager Ken Adamany – who Brew City blues guitarist Jon Paris calls a, "Wisconsin legend" – who also booked Hendrix to play the following night at the Dane County Coliseum.
The concert poster, designed by Brad Cantwell, featured the same artwork as the newspaper ad.
The design was used in multiple cities. (PHOTO: Steve Orth/Facebook)
The shows were part of a 37-date American and European tour, promoted by New York's Concerts East, that started on April 25 and 26 in Inglewood and Santa Barbara, California, followed by four days off before the Wisconsin gigs.
Both shows here were opened by Madison band Oz, not to be confused with Paris' Milwaukee band OX.
Indeed, Paris says that his group lobbied hard with Adamany – who had also booked Hendrix into Madison's The Factory nightclub – which he ran (and where he booked Otis Redding to play one fateful night in December 1967) – back in '68, and had worked with Charles Gottleib on organizing the Auditorium appearance – to get the coveted opening slots, adding, "but it was not to be. It was disappointing."
While Milwaukee's media establishment noted the upcoming appearance, it didn't expend much ink writing about it. The Sentinel waited 10 days after the Journal to even announce the show in the morning paper, then mentioning it once more in a single sentence on April 25.
At the same time, fans were lining up to buy tickets at their local Sears stores and the Auditorium box office on Kilbourn Avenue, or via snail mail from Adamany in Madison for a whopping $4, $4.50 and $5.50.
As the show approached, the Journal ran a small ad for it on April 19 – designed by Brad Cantwell, says Hendrix expert Rob Lewis – and on the 29th carried a review of "Band of Gypsys," which – in related news – has been recently reissued in a lavish vinyl edition with a great pressing, a poster and a booklet full of info and photographs.
Spin it and you'll be reminded that before launching into the first song, "Machine Gun," Hendrix mentioned Milwaukee, dedicating the anti-war song, "to all the soldiers that are fighting in Chicago and Milwaukee and New York, oh yes, and all the soldiers fighting in Vietnam."
In the Journal review, which bore the headline, "Jimi Hendrix Wields Machine Gun Guitar," staffer Pierre-Rene Noth wrote, "A question guaranteed to ignite lively debate among rock fans is: Who is the best rock guitarist around? No matter how you vote, one of the names most mentioned will be that of Jimi Hendrix."
When May 1 arrived, anywhere from 3,000 to 10,000 fans – depending on the source, though the truth was likely somewhere in between since the capacity around that time was a bit over 6,000 – filed into the Auditorium's main room, Bruce Hall.
Hendrix performing at the Auditorium. (PHOTO: Courtesy of Steve Stoddard)
"There were definitely a lot of fans there," recalls Paris, "but I couldn't say whether or not it was sold out."
Though there were violent outbreaks at shows in Berkeley and New York among some who believed the concerts ought to be free, the Milwaukee show appears to have passed without incident ... at least nothing worthy of reaching the daily newspapers.
Before the gig, bodyguard Vic Buff told Lewis that Hendrix relaxed with some wine, "maybe he had a joint, (a) bottle of Pink Pussycat wine. He liked wine. He wasn't a heavy doper or heavy drinker. He wanted to have some faculties ... but do something to loosen up."
And then, Hendrix and company played a roughly hour-long set in the big hall, opening by saying, "Hello, how are you feelin'? Pretend that you got a nightclub in here," and then launching into "Spanish Castle Magic" and nine other songs:
Spanish Castle Magic
Lover Man
Hear My Train a Comin'
Ezy Ryder
Freedom
Message of Love
Foxy Lady
The Star-Spangled Banner
Purple Haze
Voodoo Child (Slight Return)
"I did catch Hendrix's sets at The Scene," says Paris, "and a few months later Jerry Harrison and I caught him in Chicago, and then I was there for The Auditorium gig. We got to witness Hendrix's progress from clubs to theaters to concerts in just two years.
"What struck me was some of the newer material, like 'Freedom' and 'Ezy Ryder' ... more like serious musical compositions, not just three-minute songs. I think a lot of people wanted to hear Hendrix's hits – 'Foxy Lady,' 'Purple Haze,' etc,. and they did do some of those, but you could see that Hendrix was trying to stretch out musically."
Hendrix interacted a few times with the audience, later on noting that everyone appeared to have been sitting down, thanks to a security force that worked hard to send eager fans in the aisles back to their seats and – unsuccessfully, based on what some recall – quash the smoking of weed.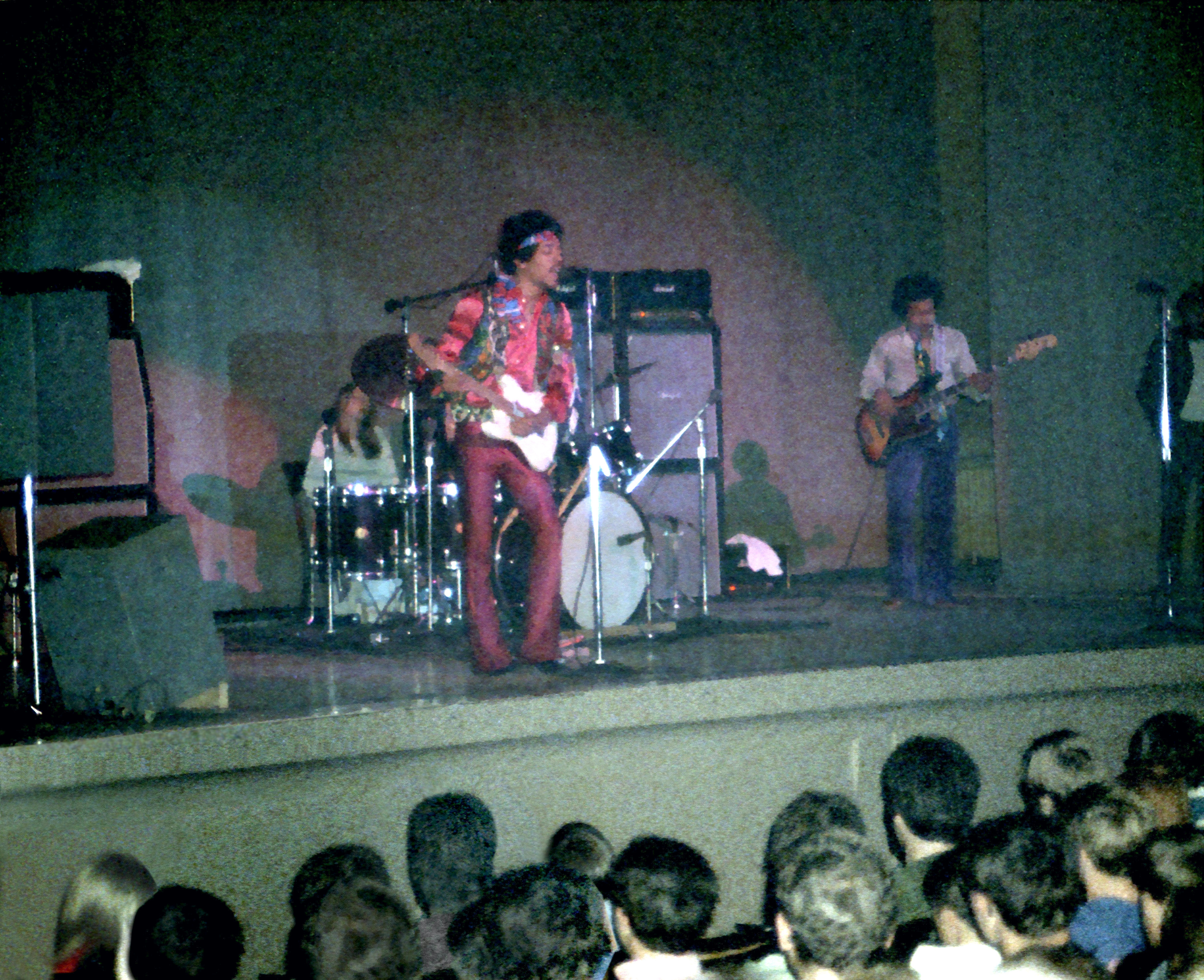 In an interesting side note, says Lewis – who has written extensively about Hendrix and about Milwaukee's The Scene nightclub, too – some folks who attended the show recalled a woman occupying a chair onstage next to the drums at both the Madison and Milwaukee shows.
"I was barely able to make her out in my photos," Lewis says. "The elusive fact was that the woman onstage was Lynn Collins, Mitch's wife. She was pregnant and Mitch didn't want to leave her behind, hence he brought her on the road with him. Sitting next to her husband's drum kit was not a part of the act."
You can hear audio of the performance here:
According to Lewis, "a fair quality audience tape reveals lively playing with a shorter set list, but much new material. In describing Hendrix's unique guitar techniques (legendary Milwaukee guitarist) Sam McCue observed that 'Jimi would open up the amp, all the way up, and use dynamics with his hands. It was all in his hands. He rarely touched the controls, except to change pickups'."
Paul Tenpenny was 17 years old when he took his seat in the 12th row, center.
"It was great, he looked like a rainbow in his outfit," recalls Tenpenny, who was a senior at Don Bosco at the time. "It was cool seeing him. It was a good show for me; I liked it. I would have paid 100 times the cost of the ticket.
"He improvised every song; he never sounded exactly like the records."
If fans were impressed, most of the media was less so, having, as was the norm in those days, staffers with little understanding or appreciation for rock and roll.
In the Sentinel, Patti Colla wrote that what Hendrix played might not even be called music:
"Rock singer Jim (sic) Hendrix called the tribe together Friday night. About 3,000 responded, choking the Milwaukee Auditorium to its seating capacity. ... You may not like Hendrix. You might not even want to classify his sound as music. But after an hour of it – if your ear drums haven't collapsed – the vibrations get to you.

"Most of those in the definitely under 30 crowd stuck closely to their seats, puffing their mod 'peace pipes.' Trying to enforce the 'no smoking' ordinance turned out to be an impossible task. Guards continuously had to prod a few of the young people back into their seats, away from the stage and Hendrix. The black singer-guitarist had a red, white and bluish purple scarf tied around his Afro styled hair. The group went wild with 'Easy Ryder' (sic). Some got up and began to do a snake dance. By 'Foxy Lady' it went out of its mind into pure, primitive passion. Hendrix invited everyone to stand for an acid rock version of 'The Star Spangled Banner.'

"Sweat glistened on his face, his eyes barely open. A group rushed to the front of the stage, some trying to touch Hendrix. Others held their hand clenched in a fist, or in the 'V' sign of peace. Then Hendrix said it was over – that he had to be in Madison the next day. Fury broke loose as the kids shouted for 'moooooore' in one long scream, repeated again and again. But it was over and though a few stamped their feet up and down, they eventually streamed out into the cool and relatively quiet night."
Even Milwaukee's counterculture bible, The Kaleidoscope reported a less than stellar evening:
"Hendrix concert Friday the 1st was a tired affair on Jimi's part," wrote an unnamed reviewer, "absolute minimal involvement with the city and audience being performed for and it's sad to see one of the greatest sliding around in a rut and reduced to 'doing gigs' or whatever motions Jimi was going through. Crowd didn't like the short set and the indifference, either, and after the curtain closed there were a coupla minutes when they might have swung in the direction of trashing the Auditorium – the energy swell didn't reach upward enough, how ever, and we were left with piss-off and astonishment vibes dissipating out on the street."
The Journal's Jerold J. Jackson, groaned:
"Noise, noise, noise. It was that kind of experience Friday night when the blues-rock sound of Jimi Hendrix and his group blasted through the Milwaukee Auditorium. Several thousand fans sat in aisles and stood on seats throughout the performance, responding enthusiastically as Hendrix picked a guitar and sang. But Hendrix came off as a tired, noisy blues rock singer. His voice strained as he sang. The show seemed to be without feeling."
Jackson complained that Hendrix dared to blend "white" music and "black" music, saying:
"Hendrix tried to combine the sound of white rock music with that of the black blues, and the attempt was disappointing. Rather than create one sound or the other, Hendrix is lost somewhere in between. The overamplification of the instruments and the mod style of flashy clothes gave the performance an air of phoniness. Perhaps the real Hendrix sound will come out in a couple of years."
The sole bright spot was a review – with a photo of Hendrix taken at the show – in the African-American newspaper The Milwaukee Star, which enjoyed the performance and took the Journal reviewer to task:
The Milwaukee Star, May 9, 1970. (PHOTO: Justin Thomas Brown/Facebook)
"Labels are a drag," wrote Dave Novick. "It's always easier to categorize people, objects, life styles and types of music than it is to try and understand them. Jimi Hendrix is a case in point. A black man, singer and guitarist, his popularity and success is largely the result of white adulation. Many blacks have never heard of him while some white teens have large posters of him on their walls. Others put him down, as they do The Fifth Dimension and Tina Turner, for not playing what they consider 'black music.' On the other side of the fence, the same mentality has blocked talents like James Brown from the popularity they deserve in the general marketplace.

"Hendrix and his newly reformed Experience played for about an hour last Friday night to an overflow crowd at the Milwaukee Auditorium. It was not a good concert in terms of poor acoustics, not long enough set and the bad vibrations that come from buying $4.50 ticket for a seat two city blocks away from the stage.

"Hendrix, however, sang well and played well. What he did to the national anthem, a notoriously bad song from a musical standpoint, was the nicest thing that happened to it in a long time. If the Daughters of the American Revolution (the first one, that is) hear about it, the brother will be persona non grata in Milwaukee's municipal auditorium, should he want to return.

"Ten thousand of 'tomorrow's leaders' dug it, though. A daily newspaper critic panned the artist for what he consider his not playing 'black music' or 'white music' but unsuccessfully straddling the fence between. No so. Hendrix plays and – and whatever it is – he plays it well. It's too bad there were only a few hundred blacks in the audience to enjoy it."
If Milwaukee's show was a let-down for some, there were contributing factors, says Lewis.
"Jimi was not feeling well, but didn't cancel," says the rock and roll historian. "To make matters worse, the acoustics in the Auditorium were unworkable and created an overall incoherent sound. Although Jimi was feeling sick, he tore through the set with his usual vigor, grandstanding his showmanship. After the concert he collapsed and went back to his hotel (NOTE: Hendrix stayed at the Ramada Inn on 6th and Michigan, where he also stayed in 1968)."
According to Lewis' website, Hendrix detoured to The Scene before calling it a night.
"He often liked going to a club to see a band, or sit in, after a concert," Lewis writes. "The Scene was a familiar place as (Hendrix) had played there in 1968. Milwaukee music promoter and manager of The Scene, Benedetta Balistrieri, remembered ... 'Ken Adamany and Charles Gottleib came over to The Scene. ... We expected to see Jimi at The Scene that night and he stopped by. I remember seeing Jimi walk up the staircase into the bar area. He remembered me instantly and was "excessively friendly" when he grabbed me! I always felt we were good friends and I welcomed him back to the club. It was a happy moment, but brief'."
After sitting at a table near the front of the club for a time with his bodyguard Vic Buff, listening to Soup guitarist Doug Yankus sit in with Manitowoc band Grease, Hendrix left.
But not before Buff recalled seeing a waitress squirt something from a syringe into Hendrix's drink, he told Lewis.
"Two minutes later we were making tracks out of there. It wasn't a safe place to be. He was just a little high and all of a sudden ... oh, there is Jimi Hendrix. ... He was there to soak in the sound and the environment, not to be the environment."
Balistrieri never got to say goodbye.
"I was unaware of his leaving the club so soon," Balistrieri told Lewis, "and assumed I would see him again later on."
Back at the hotel, Hendrix didn't seem to find his bed too quickly, either, according to Buff, who told Lewis, "there was a good amount of alcohol back at the hotel room, because I made a stop at the store earlier that day. But Jimi took off to a party somewhere. I saw him the next day before he headed out of town."
"I assume Jimi got a good night's sleep (at some point) because the following day in Madison was one of the best shows on the tour, and the recording was spectacular," Lewis says.
After Milwaukee and Madison, the U.S. tour dates continued, with a show in St. Paul next. The American leg ended in Hawaii on Aug. 1 and then the band spent much of August working on "The Cry of Love" LP, before launching the European leg with the famous Isle of Wight performance on Aug. 31.
The tour ended in early September at Germany's Love & Peace Festival and less than two weeks later, Hendrix was found dead in London.
Jerrold Jackson's suggestion that "the real Hendrix sound (might) come out in a couple years" was rendered moot and the rock and roll world mourned.
The reports of the guitarist's death in the Milwaukee newspapers noted his May 1 appearance without further comment. But the fans remembered.
"I consider myself lucky to see him; he was special," says Tenpenny. "The future looked bright for him."
"The Cry of Love" record was released posthumously in early 1971 – and included "Freedom" and "Ezy Ryder" – with many more to follow in the years since.
And while Hendrix's flame was extinguished early, his influence has proved not only only foundational in rock and roll, but also enduring. But, as is the case with so many lost so young, like Otis Redding and Janis Joplin, we can only wonder what innovation Hendrix still had to offer.
"It's really tragic," says Paris, "that he couldn't have been given the artistic freedom to keep growing."
Born in Brooklyn, N.Y., where he lived until he was 17, Bobby received his BA-Mass Communications from UWM in 1989 and has lived in Walker's Point, Bay View, Enderis Park, South Milwaukee and on the East Side.
He has published three non-fiction books in Italy – including one about an event in Milwaukee history, which was published in the U.S. in autumn 2010. Four more books, all about Milwaukee, have been published by The History Press.
With his most recent band, The Yell Leaders, Bobby released four LPs and had a songs featured in episodes of TV's "Party of Five" and "Dawson's Creek," and films in Japan, South America and the U.S. The Yell Leaders were named the best unsigned band in their region by VH-1 as part of its Rock Across America 1998 Tour. Most recently, the band contributed tracks to a UK vinyl/CD tribute to the Redskins and collaborated on a track with Italian novelist Enrico Remmert.
He's produced three installments of the "OMCD" series of local music compilations for OnMilwaukee.com and in 2007 produced a CD of Italian music and poetry.
In 2005, he was awarded the City of Asti's (Italy) Journalism Prize for his work focusing on that area. He has also won awards from the Milwaukee Press Club.
He can be heard weekly on 88Nine Radio Milwaukee talking about his "Urban Spelunking" series of stories.