Don't let the warm, mild-mannered demeanor fool you, Milwaukee Preservation Alliance Executive Director Jeremy Ebersole is passionate about historic preservation in Milwaukee.
From the moment he arrived a few years ago, he thrust himself into efforts to preserve the Domes, the Old Soldiers Home and Forest Home Library and other local landmarks.
In the ensuing years, he's become even more enamored of his new hometown and has continued to fight to save historic buildings in the area, including more recently the old Columbia Hospital on the upper East Side, the chestnut grove at the Marcus Center and a row of puddlers' cottages in Bay View.
We caught up with Ebersole via email as he was heading out of town on vacation to ask him about his background, his work here in Milwaukee and more.
Enjoy this Milwaukee Talks with Jeremy Ebersole, one of the nicest – and most dedicated – guys in town.
I know you're not really new here anymore, but why don't you tell us a bit about the road that led you here?
I grew up outside of Akron, Ohio, and always felt very sad about the generic sprawl we kept building while we had perfectly beautiful existing places that had so much more character but were not being cared for because the community didn't always recognize their value. That started my love for places that were a "someplace" rather than an "anyplace."
My road to MPA in particular has been winding. My background is in Communications and Peace Studies, and after an earlier career in higher ed administration and some international volunteer work I found a home with the National Park Service's National Heritage Areas program in Pennsylvania and New England. I enjoyed that work for many years before returning to grad school to study Historic Preservation at the University of Oregon.
Upon graduation in 2020, I was fortunate to have the opportunity to return to the Fresh Coast in Milwaukee and build on the great work MPA has been doing!
Has preservation always been something you've been passionate about?
Yes, but I was out of college before I knew it had a name! I loved road trips as a child and have a particular passion for roadside attractions, neon signs and Modernist design from the mid-20th century. I traveled Route 66 in college when I was living in Los Angeles for a summer just because it felt like the authentic way to travel. That trip was a lynchpin in my development and showed me so much unique American character.
Years later, I discovered the National Trust for Historic Preservation and realized there were other people and in fact an entire movement and profession of people who loved the character or older places with great stories as much as I did. After living in Vermont and visiting Europe and seeing the incredible sense of place that is possible when communities centered preservation, I was sold and knew I wanted to help other communities benefit from their heritage places as well.
Tell readers what exactly Milwaukee Preservation Alliance does.
MPA's mission is to make preservation mainstream in Milwaukee. We work in the city and surrounding area to connect the public and decisionmakers with resources to preserve the places they care about and share the extraordinary benefits – cultural, historic, environmental, economic, equity and more – of doing so. We've been around since 2003 and were all-volunteer for most of our existence.
Our current staff of 1.5 and incredible board and friends work extremely hard. Folks may be most familiar with our biggest efforts – the Soldiers Home and Domes. We have had both buildings listed as National Treasures and added to the National Trust for Historic Preservation's 11 Most Endangered list. With the VA and many partners, we successfully advocated for the reuse of the Soldier's Home's Old Main which opened last year after 30 years of vacancy as housing for homeless veterans. We just introduced free guided walking tours there on weekends through September and have a free walking tour app as well. We're still working on identifying and facilitating new uses for the vacant and endangered chapel, theater and Governor's Mansion as well.
It's an incredible property from just after the Civil War with beautiful buildings and a unique history. At the Domes, we've been working for years to help find long term preservation solutions for what is certainly one of Milwaukee's architectural gems and the only place in the city where residents can get the many health benefits of access to green space year round.
We work with the County and others to advocate for funding to restore the Domes and enliven the surrounding Mitchell Park and ensure that demolition is never considered as a path forward. We also keep the public apprised of the threats and ways they can make their voice heard. We do this kind of public outreach, organizing, and advocacy whenever buildings that are important to the community need resources and have worked on or led campaigns to save the Forest Home Library, Bay View puddlers' cottages and historic Columbia Hospital in recent years.
Finally, we provide programs throughout the year from our recent talk on Latinx history in Milwaukee to fun and casual happy hours to more technical programs like financial strategies for rehabilitating small commercial properties. Many of our programs are available on our website for free as well. We're here to be a resource!
When you first got here and I guess even now, what are your thoughts on how Milwaukee rates in terms of historic preservation?
The work that MPA has done prior to my arrival to save some incredibly important places, fight for Historic Tax Credits, and so much more, is astounding for an all volunteer organization. The work that you, Historic Milwaukee, the historical societies, John Gurda and so many others have done to raise the consciousness of our history and sense of place is unlike anywhere I've ever lived. Where else has an official public urban spelunker and historian like Milwaukee?!
We've kept a lot of our older buildings, and it's noticeable. Tourism studies show that people are coming to Milwaukee because of our older buildings. But there's always room for progress, especially with recognition of the importance of 20th century places. We lost an effort to preserve the Dan Kiley landscape at the Marcus Center a few years ago. When we worked to save the 1966 Forest Home Library from demolition, we lost but brought national attention to the value of our mid-century buildings here.
Docomomo-US, the national Modernist preservation organization, did a feature on Milwaukee, and a new local chapter of Docomomo was born. Local newspaper articles followed asking if buildings from the 1960s could be historic, and we saw that as a victory, raising the consciousness of why places from the more recent past can be historic. Places from 40-70 years old are always especially endangered, but they can't become as old as our beloved Cream City brick if we tear them all down!
Additionally, while we've done a great job of celebrating our history, I think we can improve on taking the next step of actively preserving the places that matter to us. If we value Milwaukee's distinct sense of place, we need to take action to protect it better with policy, incentives, and advocacy. We need preservation to be the default development choice!
Based on what you've learned has our commitment changed, for the better or the worse?
It's a mixed bag. We as a community are having serious conversations about the value of mid-20th Century architecture in a way that we weren't when I arrived. We even have our first Modernist building individually listed on the National Register of Historic Places (the M&I Bank building beside the new BMO Tower). And we successfully listed the historic Columbia Hospital as a local historic site and got ARPA funds to restore rather than demolish City-owned foreclosed houses, which are huge wins. And the world noticed our preservation ethic when Old Main at the Soldiers Home was restored as housing for veterans and their families at risk of homelessness after 30 years of vacancy.
People are noticing that preservation can be an incredible win-win. But we're still working to save the Mitchell Park Domes after 7 years. If one of our most treasured landmarks is still in danger, it's hard to say we have a commitment to preservation in Milwaukee. We lost the Forest Home Library in 2020 despite an equally suitable available site for the proposed development just blocks away on an empty lot.
And despite strong support for designating a row of Bay View puddlers' cottages, they are still not protected (though still standing!). We recognize the value of many of our iconic buildings, but we need to do better at remembering the environmental, economic, and heritage value that all buildings provide before we are truly able to make the most of these unique assets for all Milwaukeeans.
Are there any places that were gone by the time you got here that you wish you'd have been able to fight for?
Every theater that has been knocked down in Milwaukee ever! Where I came from in Portland, they have more operating historic theaters per capita than any other large city in America, and it's a big part of their vibrant cultural identity. We have more than many cities in Milwaukee supported by a strong film scene, but what if Wisconsin Avenue still had the bright lights it once did and we had a true theater district? Speaking of bright lights, I did my thesis on neon sign preservation and I wish I could have helped save the incredible signs I've seen in historic pictures of our Downtown.
And I'd be remiss if I didn't mention our train stations. It's such a shame to have lost both Lake Front Depot and Everett Street Station. Railroads played a prominent part in Milwaukee history, and these buildings could have been reused and been major economic engines here the way they have been in so many other cities. I would have loved if we'd saved some of our old amusement parks that used to be all along the lake and rivers too. Green Bay has done a great job of keeping theirs, and it's such a fun place!
What have been your biggest projects since you've been here? I'm guessing the Soldiers Home and the Domes.
The Soldiers Home and Domes continue to be our biggest individual efforts. Preservation is often a long game, but we've certainly been incredibly excited to see the amazing success last year with the restoration of Old Main and five other buildings on the campus as housing for veterans and their families at risk of homelessness. The project has brought national attention to Milwaukee and won the highest awards available for a preservation project from the Wisconsin Historical Society and the National Trust for Historic Preservation.
We're extremely proud of that success, which was only accomplished with a number of incredible partners, from the State Historic Preservation Office and National Trust for Historic Preservation to The Alexander Company and Center for Veterans Issues to the many, many veterans and individuals who contributed in different ways. We're continuing to work hard to secure the same success for the still vacant and endangered chapel, theater and Governor's Mansion.
We've been hard at work on the Domes since 2015 as well. We're proud to have received an award from Docomomo-US, the national Modernist design preservation nonprofit, for our work on the Domes and other Modernist structures in Milwaukee, but efforts to ensure the Domes have a sustainable future in Milwaukee are ongoing. They are in good shape structurally, but they need maintenance and a commitment from the County, who owns them, to pursue repair and take demolition off the table. Otherwise deferred maintenance will continue.
They're too important to lose, not just for their architecture but the place they hold in the hearts and minds of everyone who has experienced them over the past 50-plus years. They're unique in the world. Just as importantly, they provide the only place in Milwaukee where people can access the health benefits the green space provides year round.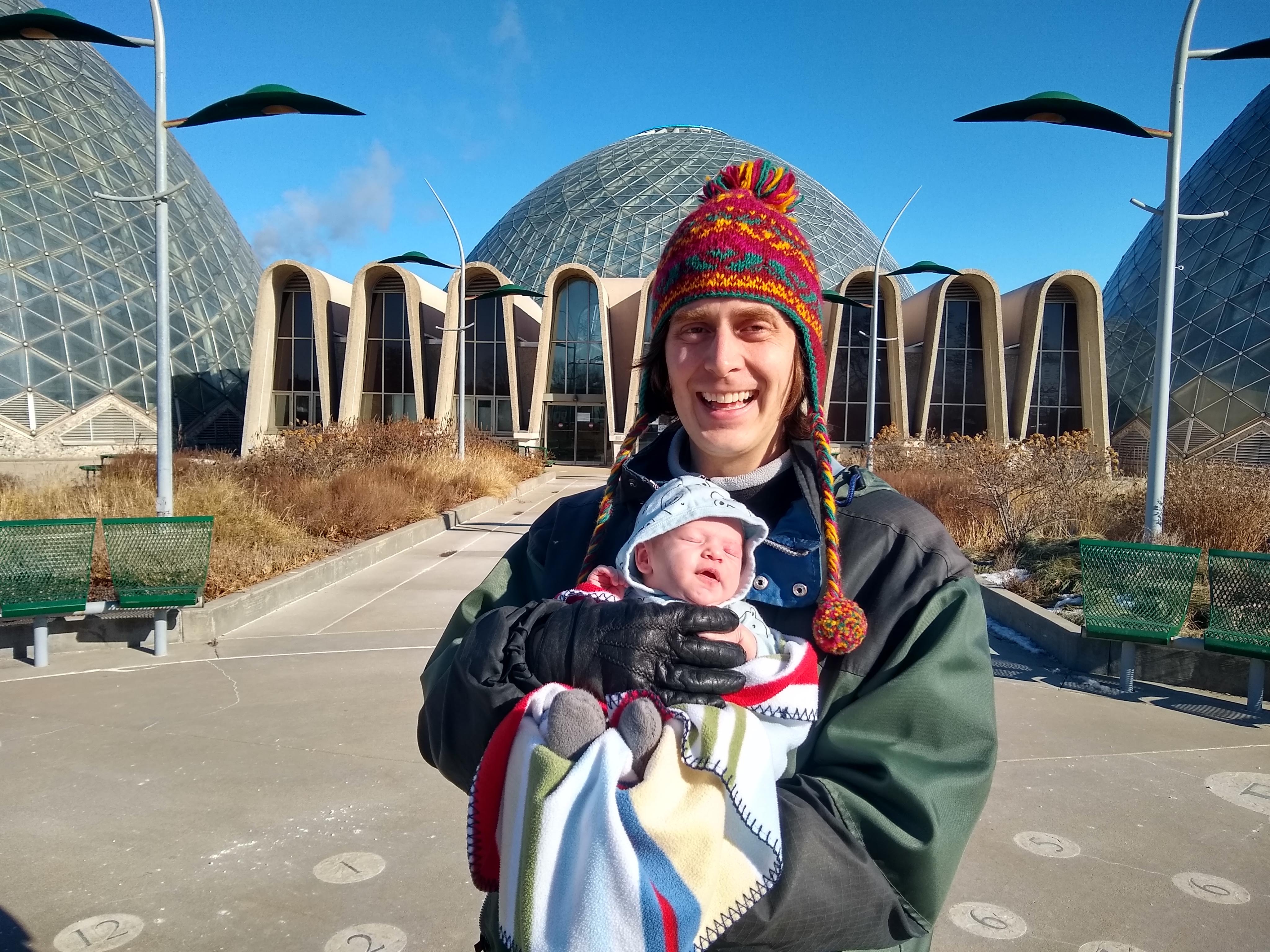 Check out our website at milwaukeepreservationalliance.org/save-our-domes for some quick and easy things anyone can do to make a huge difference for the future of the Domes. Every resident of the County can make a difference by writing to your supervisor today and letting them know the Domes are important to you!
There have been some that haven't had the same profile, too, right? I'm thinking along the lines of the Forest Home Library.
Yes, there was a coalition of us who worked very hard to save the Forest Home Library, which was just a beautiful mid-century building, and the earliest use in the area of this very cool material called Corten Steel, which weathers to a stable rust-like appearance. We had separate assessments done showing that the building could be reused successfully for multiple new uses and encouraged the proposed medical center to relocate just a few blocks away on an empty lot.
Ultimately, the proposed historic designation that could have saved it did not pass the Zoning, Neighborhood & Development Committee at the City, but it raised a lot of awareness and helped create a local Docomomo chapter here in Wisconsin, which is now a partner with MPA in advocating for Modernist resources.
More recent efforts to designate the former Columbia Hospital building on the UWM campus were successful, and the community showed up in force to save this important community asset.
Even the Columbia Hospital may end up coming down following a recent
court case that ruled the City doesn't have the authority to require the State to abide by the local preservation laws in this instance.
We also took a strong stand in support of the designation of a row of Bay View puddlers' cottages last year. And we're always getting involved in smaller ways with buildings and places all over the city when individuals or property owners reach out to us for assistance in understanding how to reuse or preserve their own building or one that is important to them.
(NOTE: The Columbia Hospital situation is fluid and potentially rapidly changing, so it's possible that things have changed since we spoke to Ebersole about it.)
What are the places at the top of mind and to-do list these days? Columbia Hospital? What else?
The Columbia Hospital is a going concern, with the State Board of Regents and the City of Milwaukee embroiled in a legal question. The University, as a state entity, questions its obligation to follow local preservation ordinances, and the judge sided with the state in this instance. The City has until mid-August to appeal and is meeting with the Historic Preservation Commission on August 1 to discuss this possibility.
As it stands now, it unfortunately appears as though it may be more difficult for the City and thus the people of Milwaukee to have a say in the future of the State-owned buildings in our community going forward. We have been communicating with a potential buyer for the building as well as others nationwide interested in the case and are continuing to work toward a preservation solution.
We are also always considering writing or supporting other nominations for local historic designation that may be in the works throughout the city.
We also continue to keep our eye on the incredible A.O. Smith Research Building, with its gorgeous Art Deco lobby and possibly the first multi-story glass curtain wall in America. This City-owned property on the northside has some great reuse happening around it, and we have high hopes that it will be preserved as well.
The State Office Building, with its gorgeous mid-century murals – the subject of a fantastic program we hosted last year which is available on our website – is also a concern as the State prepares to move out sometime in the future.
We're also hoping to find more ways to call attention to populations and parts of the city that have incredibly meaningful places but may not have traditionally had access to the same kind of investment as downtown or other areas. We hosted a great program, which is up on our website for anyone to watch, on Latinx Milwaukee and historic preservation, for example, and want to be more active in recognizing places of diverse heritage.
We try to be involved in proactive preservation as much as possible through planning efforts and policy so the value of our historic places are recognized before they're in danger.
Finally, we always have interesting programs in the works. Along with our annual December member gathering, we're working on some special tours of parks in Milwaukee, a building documentation workshop with our parters at the Association for Preservation Technology and UWM, and a very fun slightly spooky October program. We're also celebrating our 20th anniversary next year and are working on some exciting ideas to honor that important milestone. Never a slow moment!
What do you see as possible futures for a place like Columbia?
Columbia Hospital could become any number of things. The memorandum of agreement with the community stipulates that it not be used for young undergraduate housing, but it was signed with an understanding that it would be used for something, not demolished. Those I've spoken to in the neighborhood who were part of the agreement indicated that other types of housing for upperclass students, grad students, or even seniors, could be feasible.
Affordable housing is also a continued community need. Along with Historic Tax Credits, some of these uses could access other government subsidies to help with the cost as well. If the university is willing to engage with neighbors and the community to partner on preservation solutions, there are many of us waiting to help.
There is even a buyer who has expressed interest in restoring the building
in line with the community and university needs. We're continuing to work to see this win-win solution come to fruition.
Are there some threatened places that are currently flying under our collective radar that you'd like to see get more support?
Our city's historic places of worship are a treasure. As in many places around the country with shrinking congregations and access to financial resources, it can be challenging to maintain these beautiful and important buildings. I've been getting more and more calls from churches that need a lifeline.
As a community, we can come beside places of worship and work to supplement their religious use with other important community services, performance spaces, practice space, and more to keep them lively all week long and bring in needed revenue. In many communities, places of worship are a cultural cornerstone, and their survival is important not just to the physical character of the community but the cultural heritage as well.
Central United Methodist at 25th and Wisconsin is an incredible Brutalist building designed to be as green and energy efficient as possible, which we don't always associate with this heavy concrete style but was often true. 1970s and '80s Brutalist buildings like this all over the city, like the central post office, far too often fly under the radar.
I'll also shout out the Forest Home Cemetery, which is not threatened, but is a real gem that I think is under-recognized. So much of Milwaukee's charm lies not in its grand buildings but the common places - the little restaurants serving authentic ethnic cuisine, the local mom and pop stores, the religious buildings and community centers, and magnificent public parks – that form the everyday lived experience of most Milwaukeeans.
And our domestic architecture is just incredible. Milwaukee's older homes, many of which retain much of their original woodwork, are an incredible asset, not to mention the countless old schools, warehouses, and other industrial buildings that have found new life as apartments and condos.
Do you have a favorite Milwaukee building?
I'm a huge fan of commercial architecture, neon signs, diners and the like, so naturally Leon's is a standout, though I'd also shout out Kitt's on the North Side, which is also gorgeous. But honestly, I really don't think it gets any better than the Domes.
Designed by a local architect, Donald Grieb, patented, and never repeated, they are the perfect, unique Milwaukee building providing not only great architecture but serving a critical need providing year round access to green space to the community. They just make me smile every time I see them, and even more so when I visit them!
Born in Brooklyn, N.Y., where he lived until he was 17, Bobby received his BA-Mass Communications from UWM in 1989 and has lived in Walker's Point, Bay View, Enderis Park, South Milwaukee and on the East Side.
He has published three non-fiction books in Italy – including one about an event in Milwaukee history, which was published in the U.S. in autumn 2010. Four more books, all about Milwaukee, have been published by The History Press.
With his most recent band, The Yell Leaders, Bobby released four LPs and had a songs featured in episodes of TV's "Party of Five" and "Dawson's Creek," and films in Japan, South America and the U.S. The Yell Leaders were named the best unsigned band in their region by VH-1 as part of its Rock Across America 1998 Tour. Most recently, the band contributed tracks to a UK vinyl/CD tribute to the Redskins and collaborated on a track with Italian novelist Enrico Remmert.
He's produced three installments of the "OMCD" series of local music compilations for OnMilwaukee.com and in 2007 produced a CD of Italian music and poetry.
In 2005, he was awarded the City of Asti's (Italy) Journalism Prize for his work focusing on that area. He has also won awards from the Milwaukee Press Club.
He can be heard weekly on 88Nine Radio Milwaukee talking about his "Urban Spelunking" series of stories.