This article is written in patrnership with Noel Indoor Light Park & Christmas Market.
Hardworking elves flipped the "on switch" at Noel Indoor Light Park & Christmas Market and the massive sparkle zone will be a-blaze with holiday spirit through Jan. 2, 2022.
Every year, the all-ages extravaganza sets up shop in cities across North America, and this year chose the Wisconsin State Fair Expo Center as one of its locations.
Noel Indoor Light Park & Christmas Market features mammoth light displays, unparalleled selfie and family photo opps, approachable characters from fairies to the Grinch, interactive activities, snacks, drinks, live music, shopping and more.
We stopped by recently and discovered a sackful of reasons why we'd go back, with or without our kids.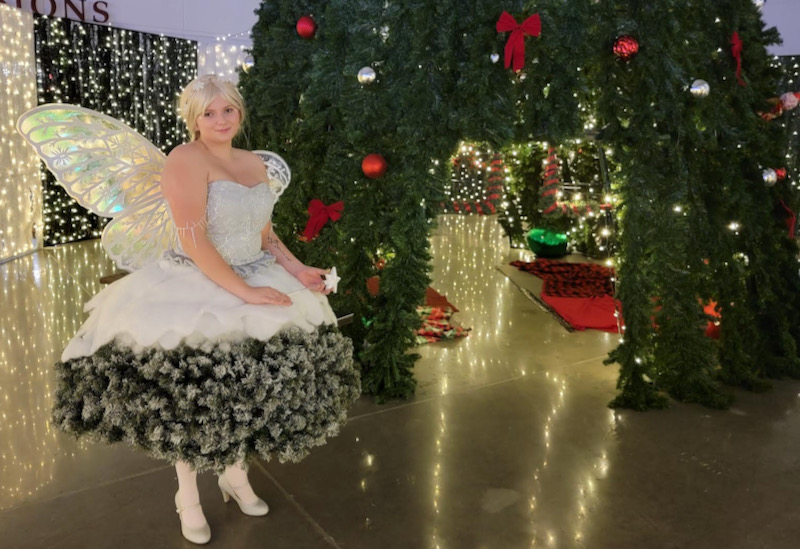 1. It's indoors.
Whereas many holiday displays and events are stationed outside, Noel Indoor Light Park – as the name implies – takes place inside the toasty Expo Center, which means no cold fingers or frozen toes and guests can spend hours enjoying the scene.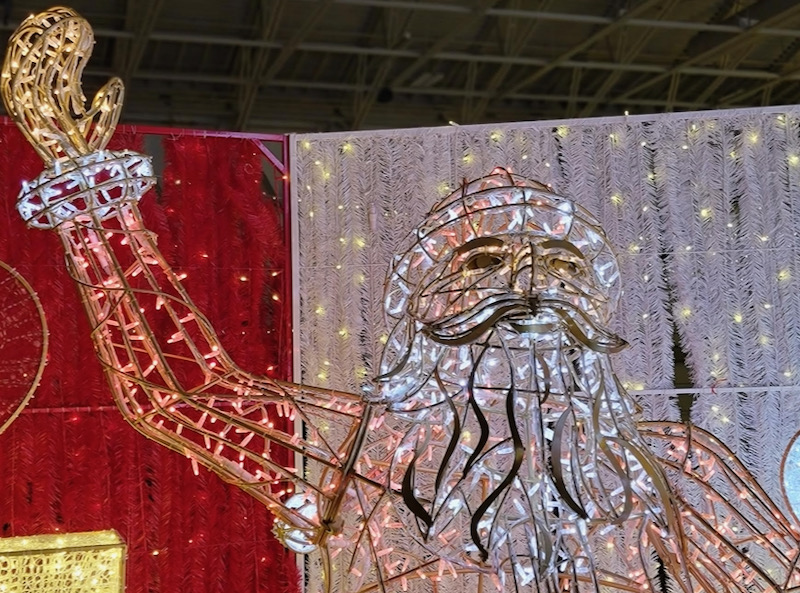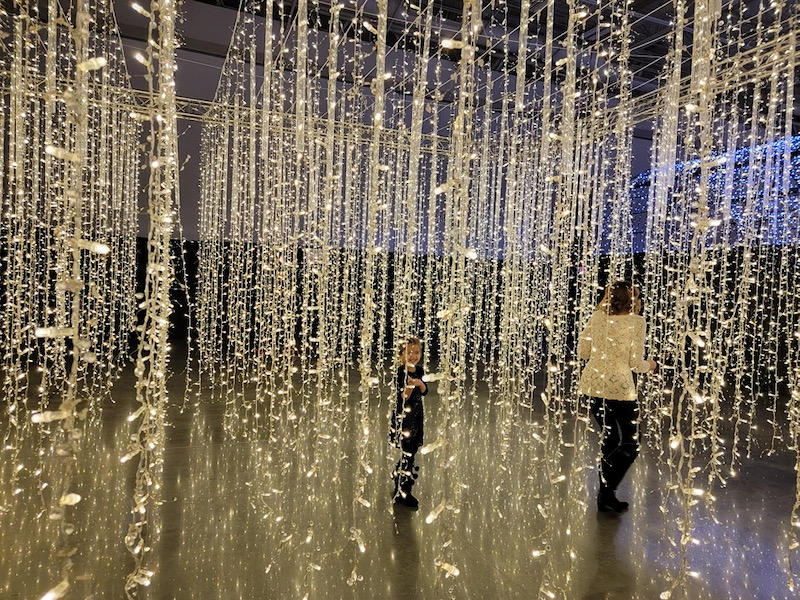 2. It's easy to access.
The event parking lot is very near the Expo Center and there's a coat area to make the visit even more comfortable. It was a nippy 30 degrees the night we went, so the short distance from car to event was much appreciated.
3. It's huuuuge.
The Wisconsin State Fair Expo Center is 100,000 square feet and almost every inch is transformed into a magical sanctuary of light, imagination and interactive experiences. A 250-foot-long light tunnel offers guests multiple different paths to explore, each one leading to more holiday joy and adventure. Plus, the experience naturally lends itself to exercise, which means more steps for adults and, hopefully, sleepier kids at bedtime.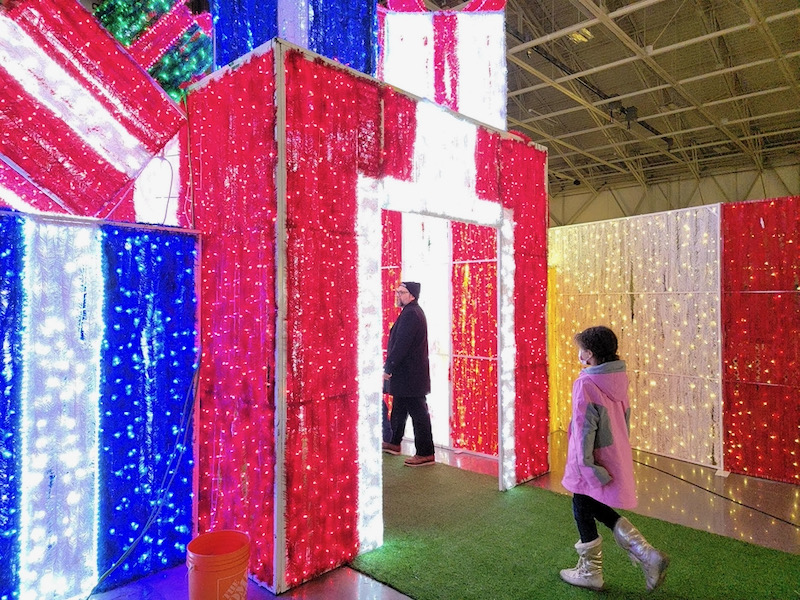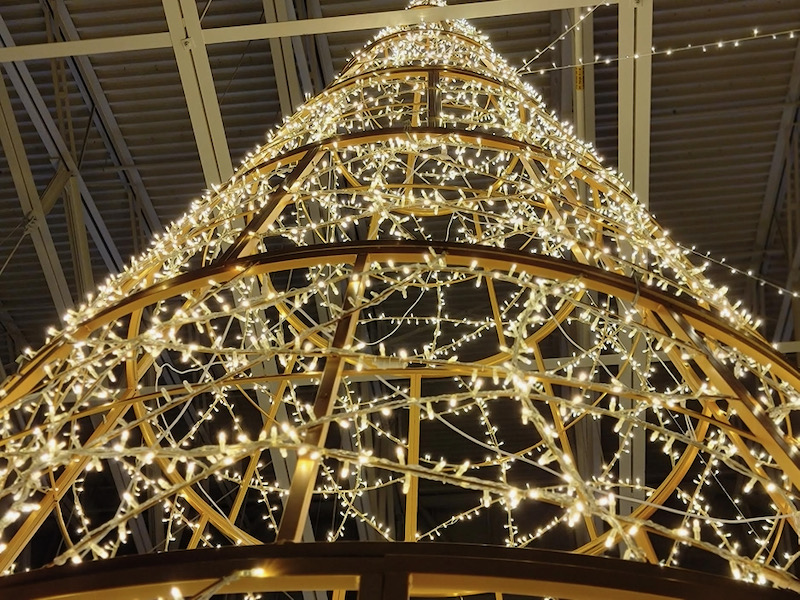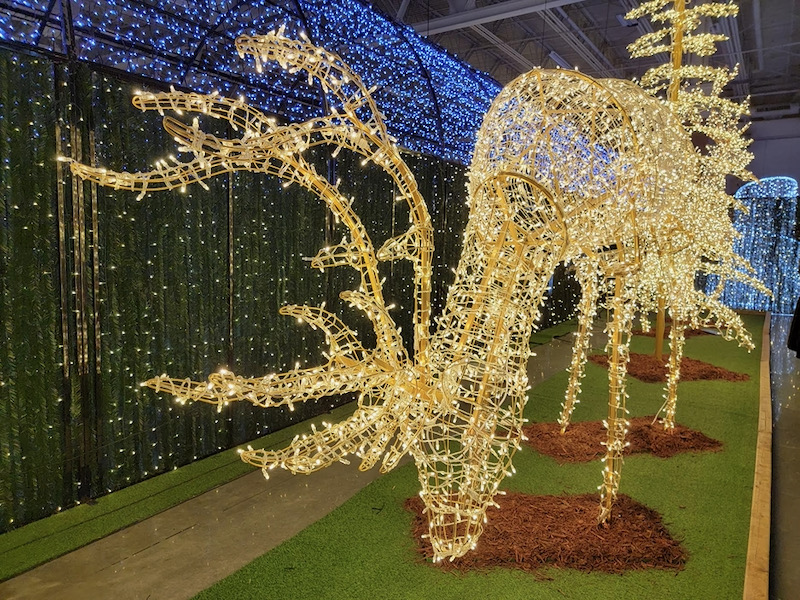 4. It's artistically unique.
The impressive light displays depict classic Christmas imagery like Santa and snowflakes, but more interestingly, unique creatures like a soaring eagle, horn-headed narwhal, a stunning fox and way-larger-than-life moose. There's also a 50-foot-tall Christmas tree that we climbed inside to take a breather.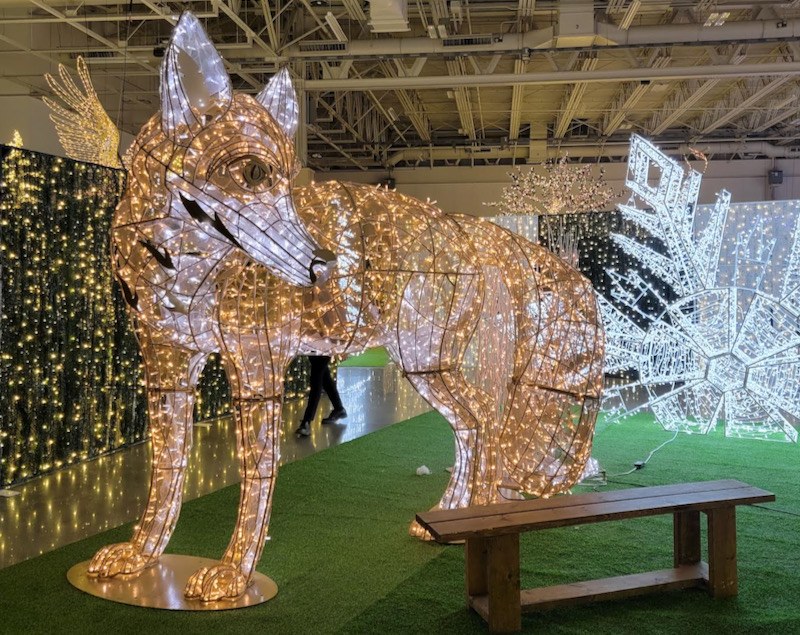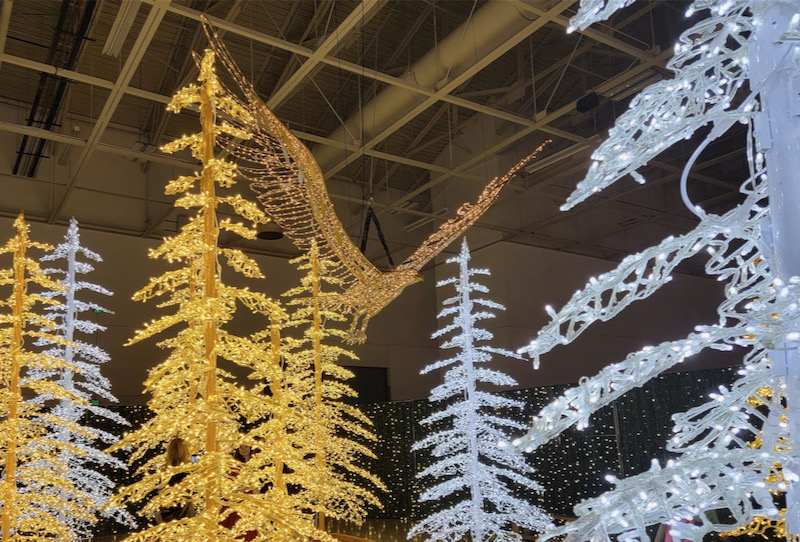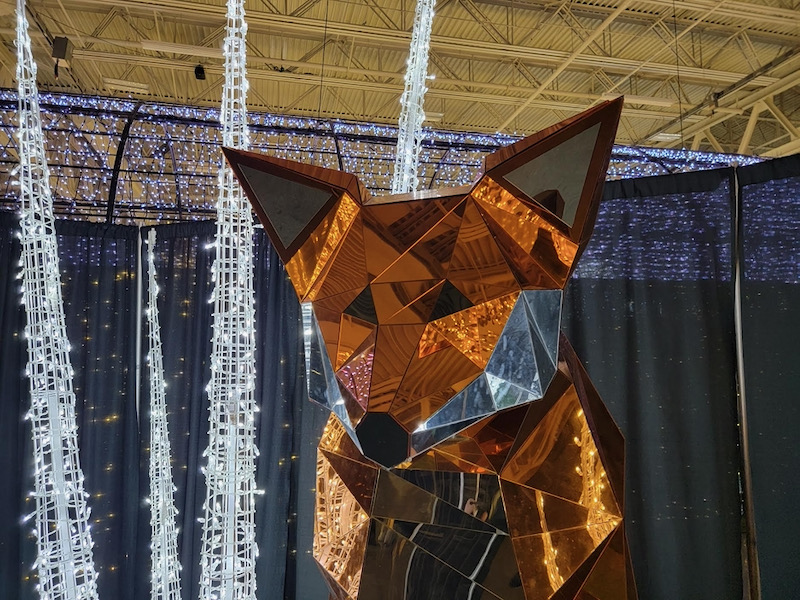 5. It's extremely interactive.
Some of the light displays feature playground equipment, plus there's an inflatable slide, face painting, large stuffed toys to play with and staffed art stations. We were tempted by the slide, but decided to let the kids have dibs.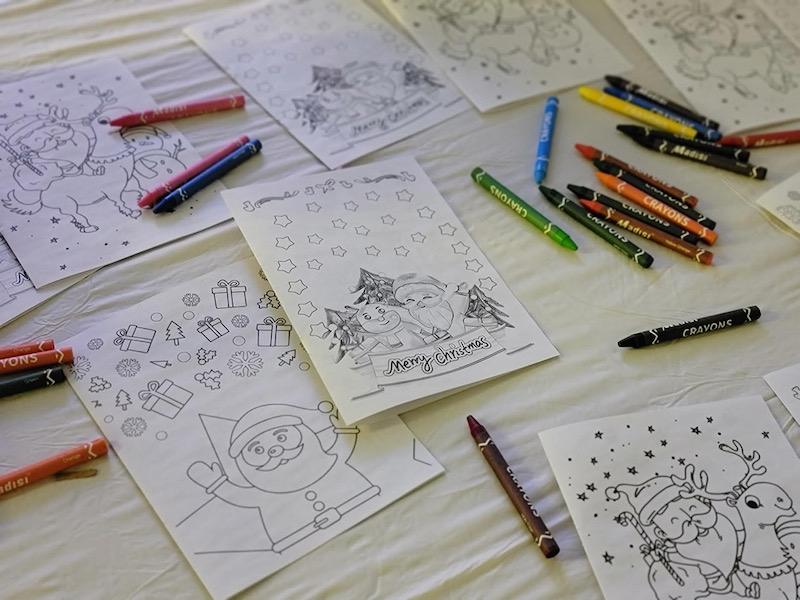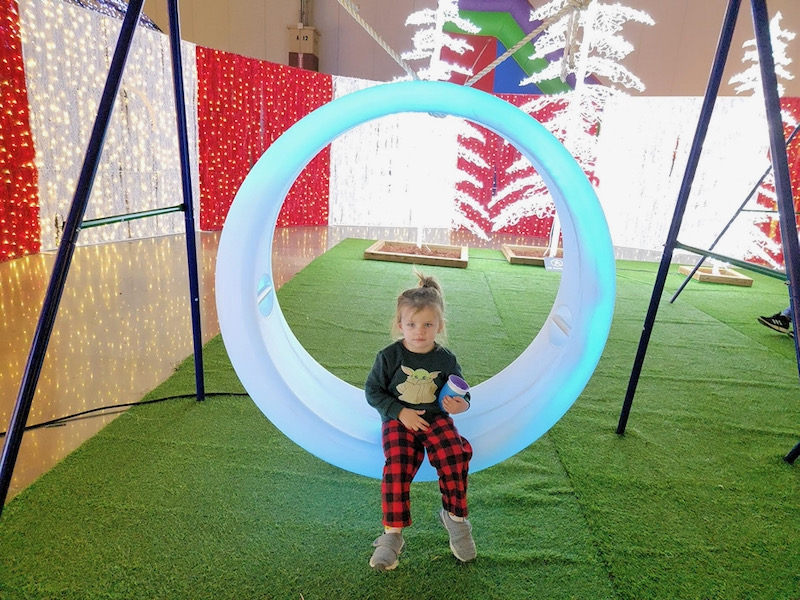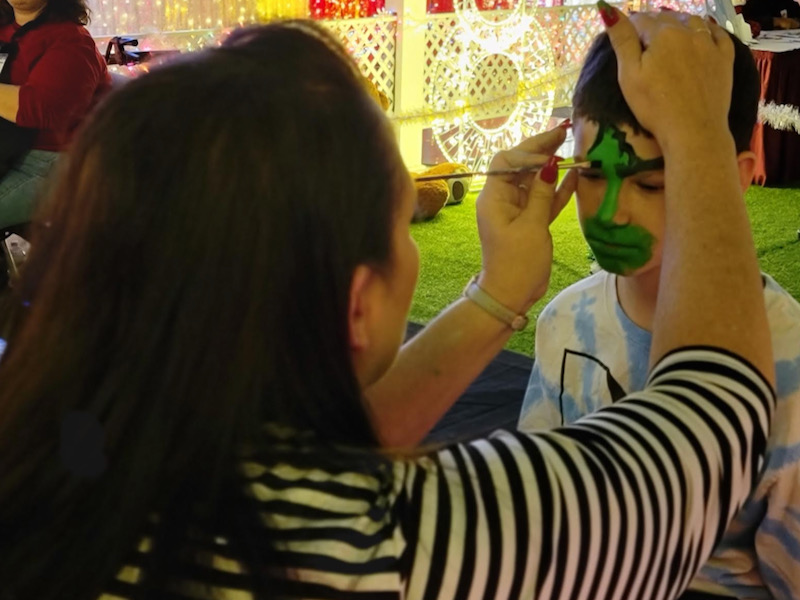 6. It's full of live characters.
Live characters eager to interact with guests – especially kids – make the Noel Indoor Light Park experience even more immersive and fun. Winged fairies, tiara-wearing princesses, playful elves, crabby Grinch and a sweet Santa ready to listen to Christmas wishes are all on site.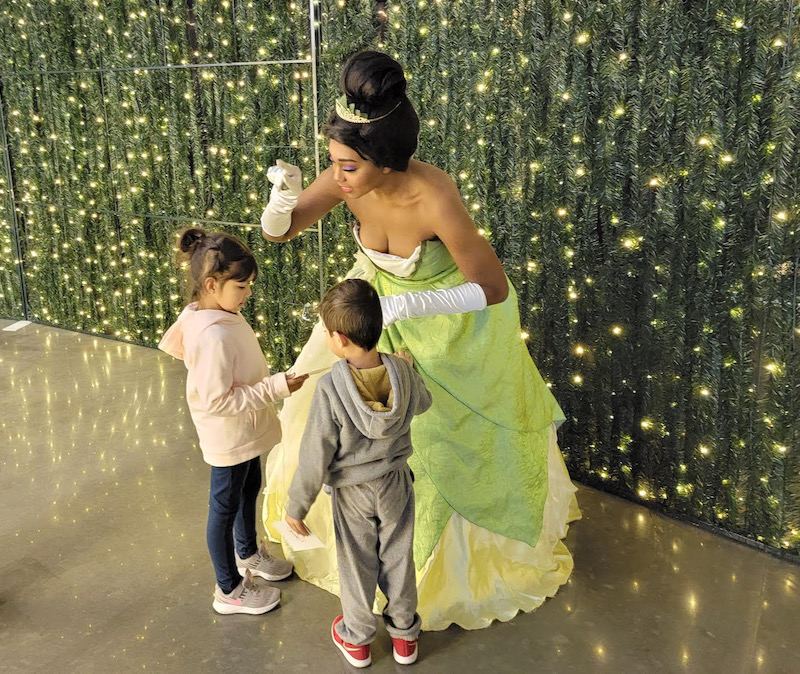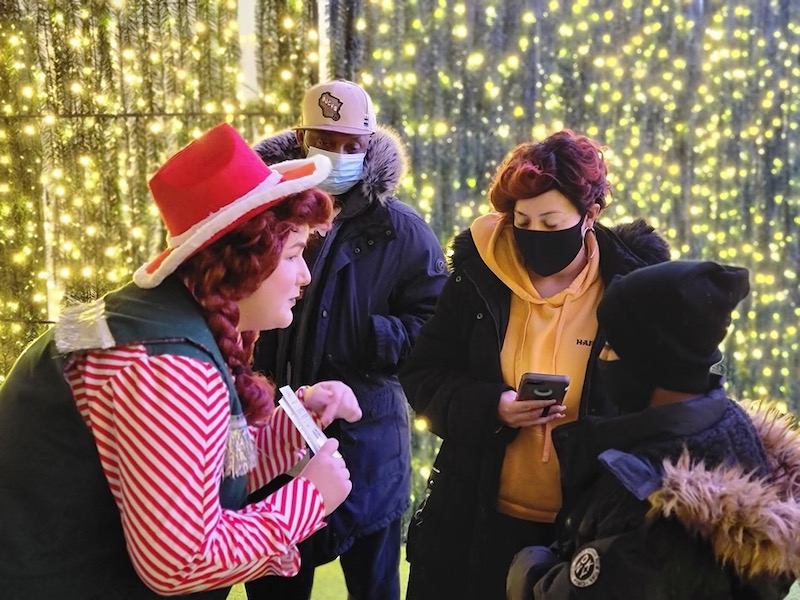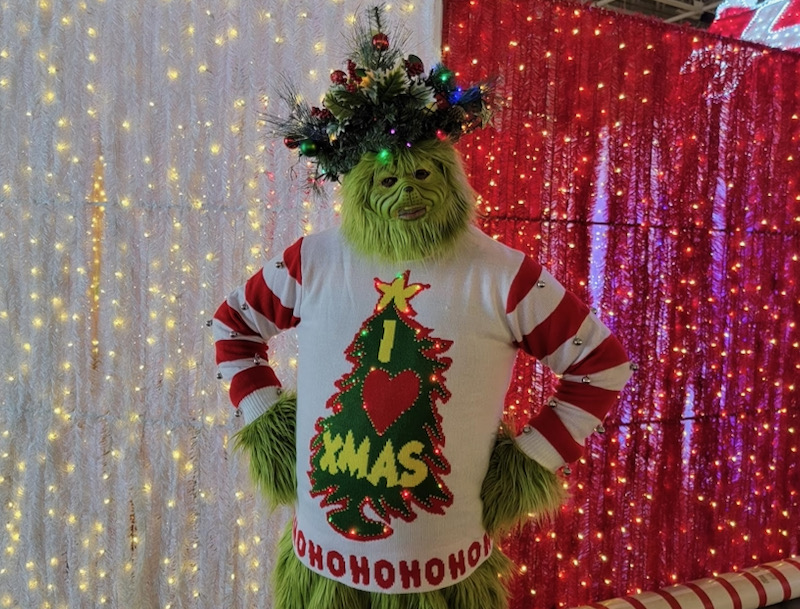 7. It's selfie/photo opp heaven.
It's nearly impossible to leave Noel Indoor Light Park without the perfect new profile pic for social media or a Christmas-card-ready photo of the entire fam. We definitely snapped a couple of good ones.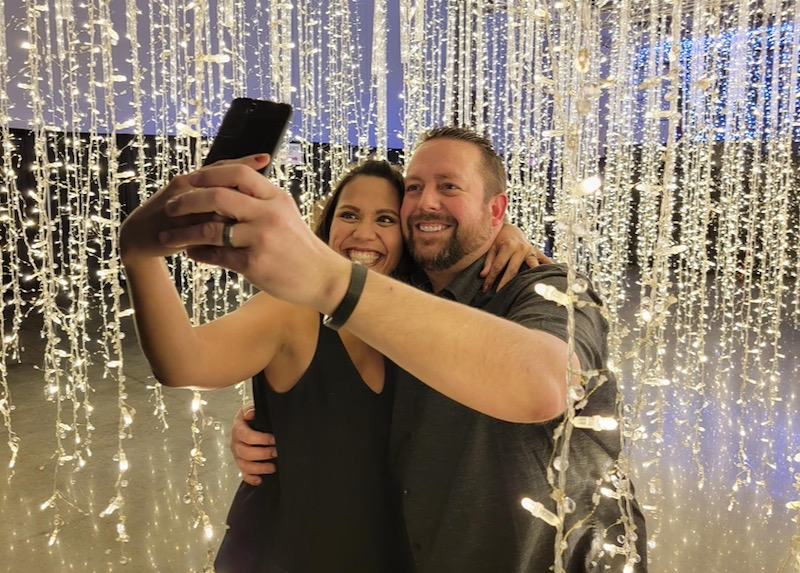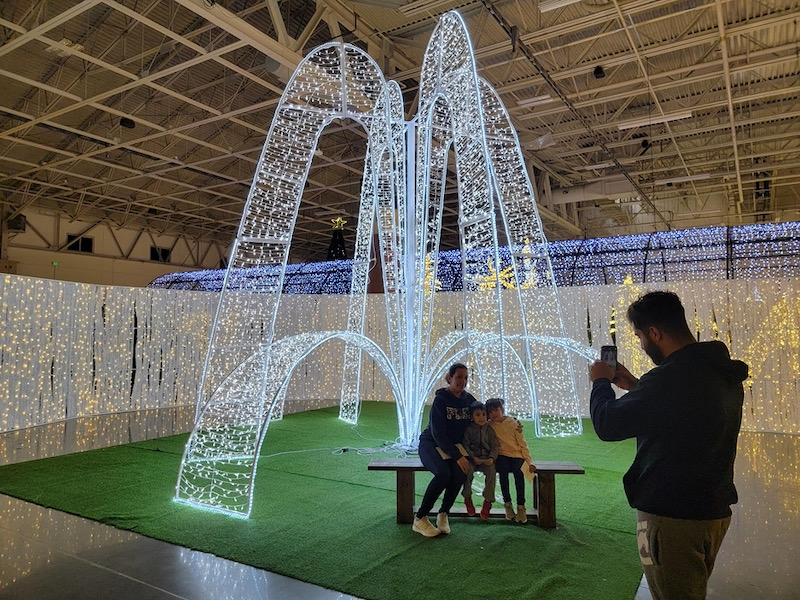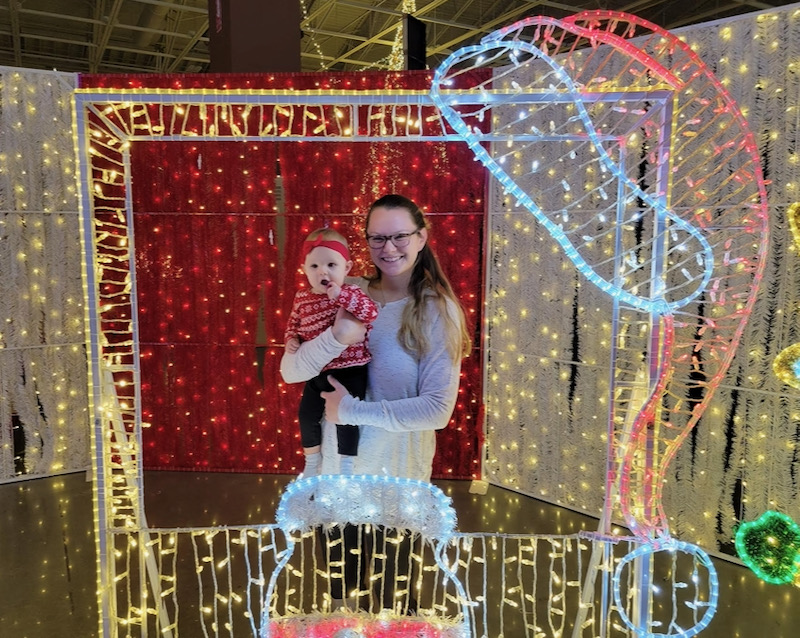 8. It's stocked with gifts.
The Christmas Market features dozens of different vendors selling mugs, jewelry, decorations, clothing, coffee, candy, cribbage boards, crafts, trinkets, treats, tea and more.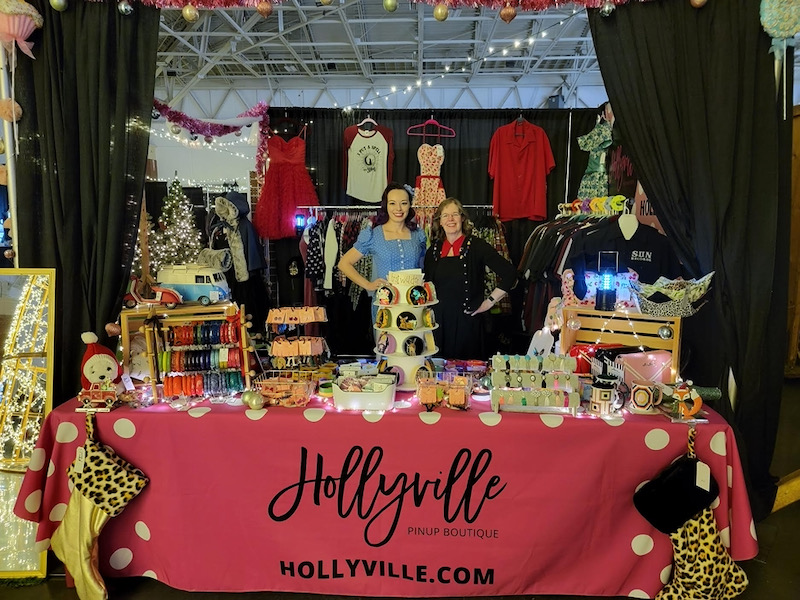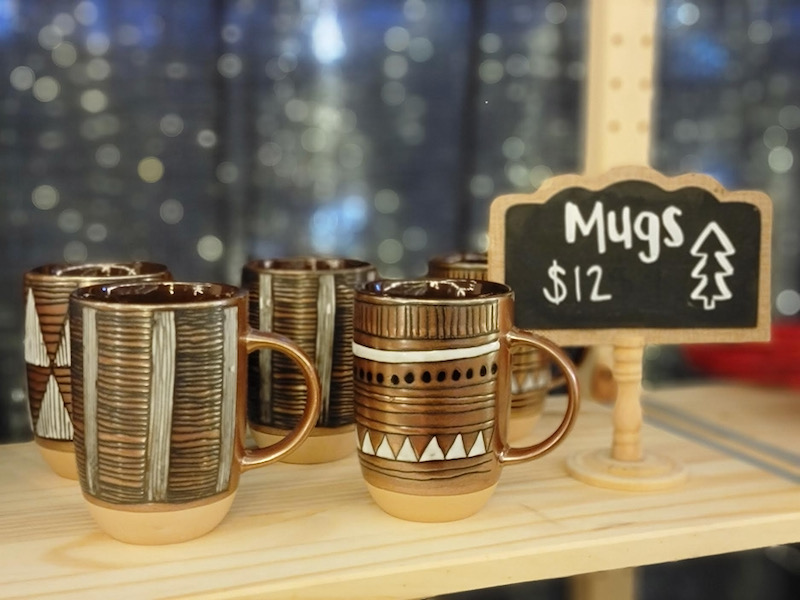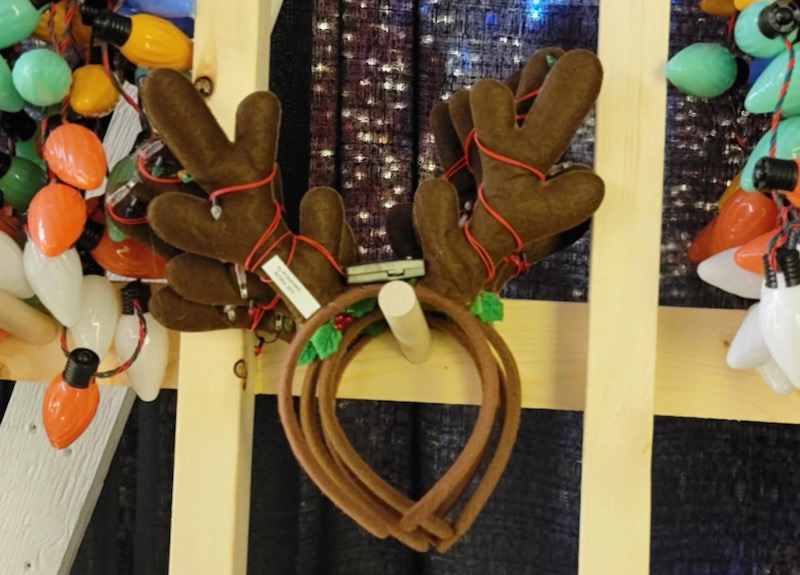 9. It's piping live music.
Live music is part of the Noel Indoor Light Park experience. We enjoyed listening to carols on the piano in the cafe area and more live music is on deck for the future:
Monday, Dec. 20 to Sunday, Dec. 26
Monday, Dec. 20: Mike Duo, Louis, and Sam Duo
Tuesday, Dec. 21: Myles Hayes and Louis
Wednesday, Dec. 22: Patrick Van Bibber, Tinker and Dicken's Carolers
Thursday, Dec. 23: Val Sigal, Tinker, Tim Wright and Andrew David Weber
Friday, Dec. 24: Tobias, Cat's Pajamas and Dicken's Carolers
Sunday, Dec. 26: Andy, Riley and JGold
Monday, Dec. 27 to Sunday, Jan. 2
Monday, Dec. 27: Dan, Barbara Stephan & Peter Mac, and Dan Lepien
Tuesday, Dec. 28: Dave Adler, Catelyn and Dan Lepien
Wednesday, Dec. 29: Ben. S, Mike Duo, and Barbara Stephan & Peter Mac
Thursday, Dec. 30: JGold, Tobias and Kurt Cowling
Friday, Dec. 31: Ban. S, Dave Adler and Marco
Saturday, Jan. 1: Dan K., Kurt Cowling and Tobias
Sunday, Jan. 2: Hello Cello, Catelyn and Barbara Stephan & Peter Mac

X

10. It's a benefit for important causes.

Santa is on site and accepting donations for Waukesha families affected by the parade tragedy.

X

11. It serves up drinks and snacks.

There's simple and satsifying sips and noshes at the Noel Indoor Light Park. Treats include kettle corn, cookies, peanut butter bars, slushies and MORE. There's also a full bar for grown ups with seasonal libations. We were served by a jolly, Santa-esque bartender.

X

X

12. It's family and friend time at its best.

Noel Light Indoor Park provides the ideal setting for a romantic date night, precious family time or the chance to slow down and hang out with your favorite people. But most importantly, it gives us a chance to feel the peace and joy of the season. And we just can't get enough of that these days.

X

X

Ticket prices range from $20-30 depending on age and day of the week. Discounts for seniors and students; Kids 3 and under are free. Buy yours here.

Molly Snyder started writing and publishing her work at the age 10, when her community newspaper printed her poem, "The Unicorn." Since then, she's expanded beyond the subject of mythical creatures and written in many different mediums but, nearest and dearest to her heart, thousands of articles for OnMilwaukee.

Molly is a regular contributor to FOX6 News and numerous radio stations as well as the co-host of "Dandelions: A Podcast For Women." She's received five Milwaukee Press Club Awards, served as the Pfister Narrator and is the Wisconsin State Fair's Celebrity Cream Puff Eating Champion of 2019.