It's almost hard to believe when you're just a couple blocks away on the zoomingly busy Lisbon Avenue that nearby there is a quiet leafy enclave that is one of a very select few single-block historic districts in the City of Milwaukee.
Landmarked by the city in 2001, the 47th Street Bungalow Historic District is a collection of 24 single-family homes built between 1922 and 1928 that are in some ways homogeneous but simultaneously individually interesting.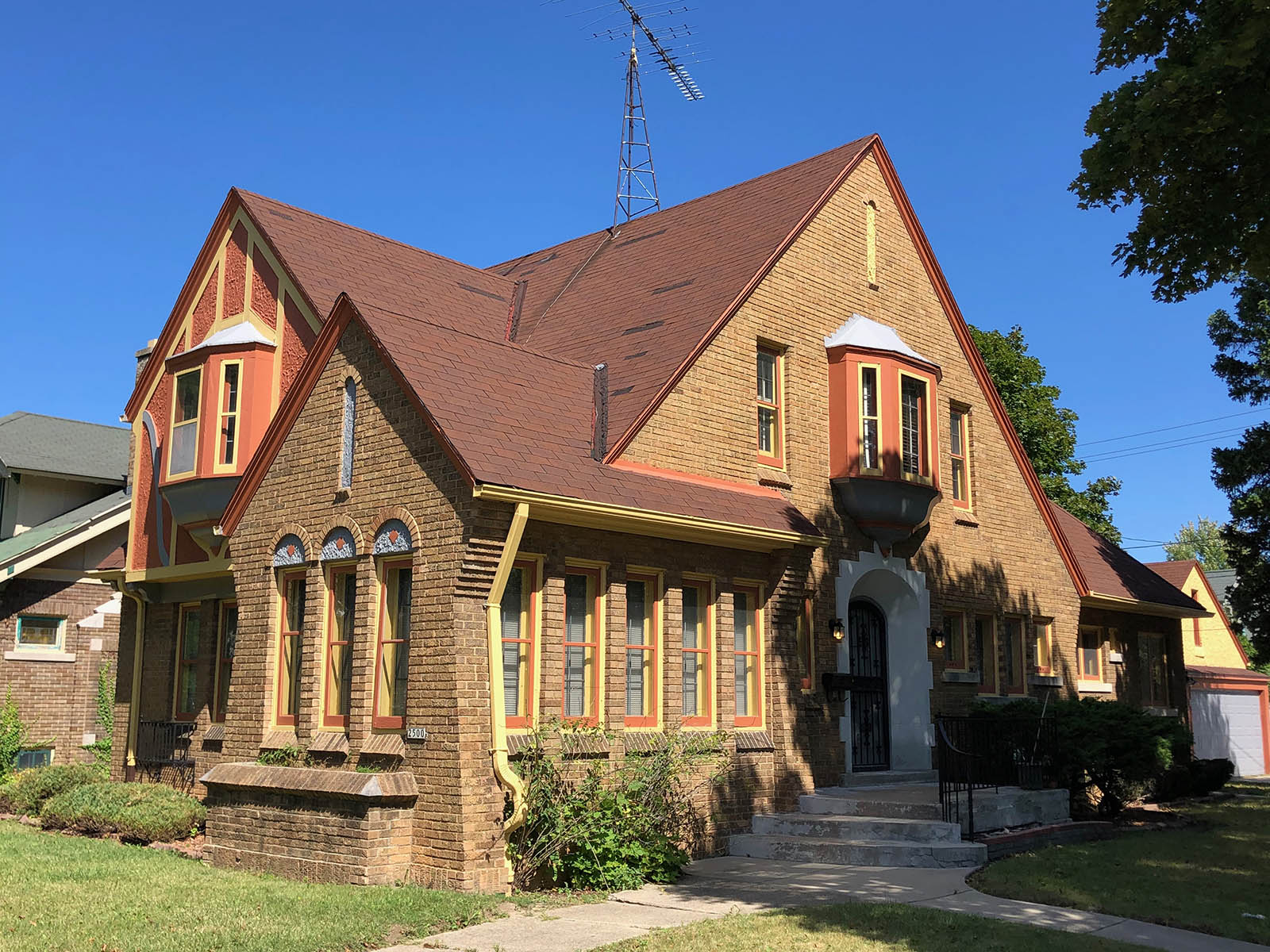 The fact that they are all well-kept, too, makes for a beautiful block – with a diverse group of residents – in the heart of the Sherman Park neighborhood, which boasts many fine homes on many blocks.
While there are collections of lovely houses on blocks all across the city there are some things that combine to make the 2500 block of North 47th Street special (and not just the secret Prohibition rooms that I'm told some of the houses have).
First, there were only private, single-family duplex homes on the block, none reaching higher than two stories. (Two were later converted to duplexes.)
Although most of the homes are bungalows, they don't all look alike. The designs by architects Paul Bennett, Herman Bruns and George Zagel & Brother are eclectic and interesting, interweaving elements from a variety of diverse styles from Tudor to Mediterranean. And yet they feel like one big happy family.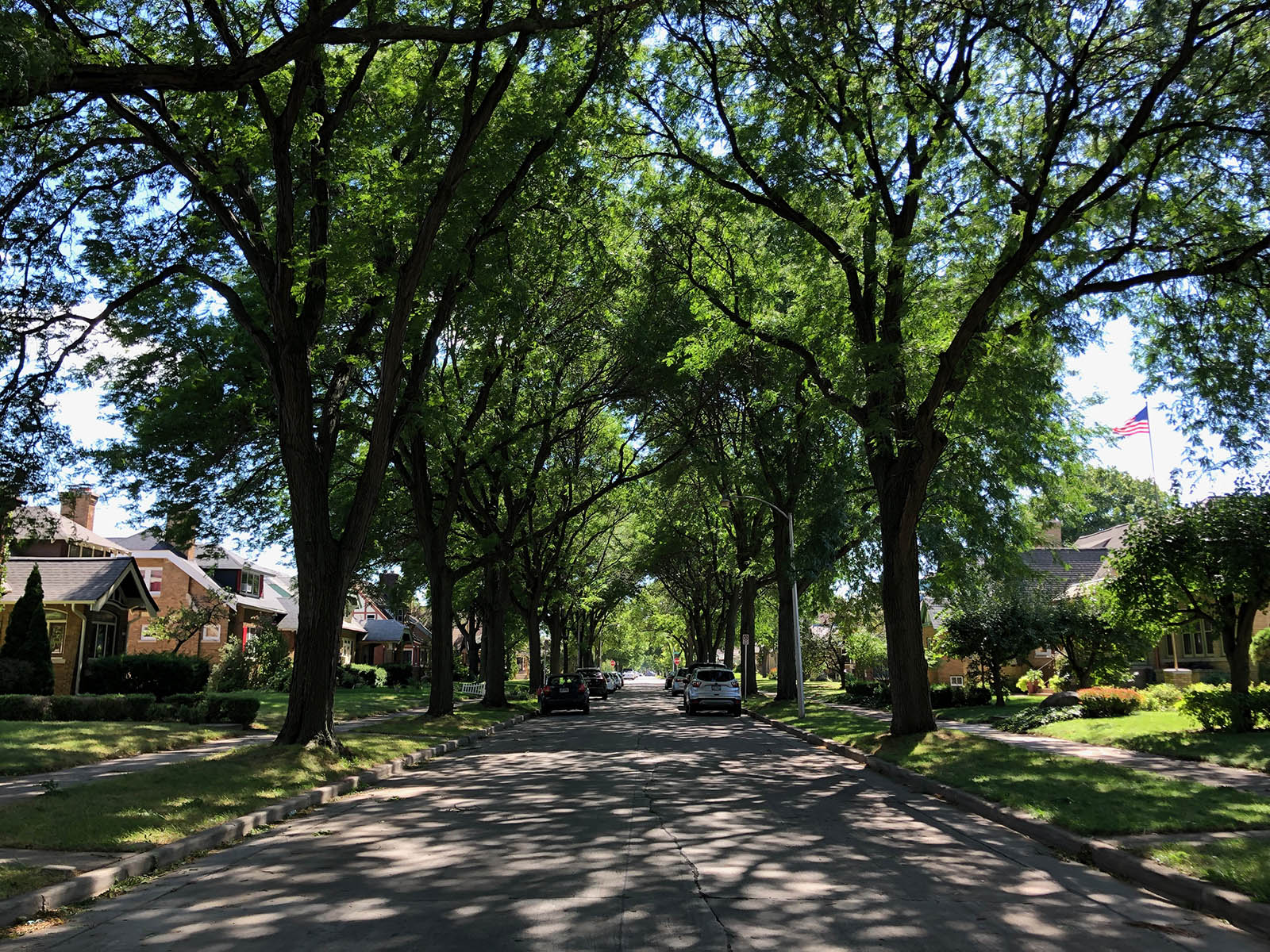 This unity was achieved through planning, with deed restrictions that stipulated single family homes – with a minimum cost – that had to meet specifications for numerous details, including setbacks, front porch size, entry door location, front berm height, a garage location on the site and landscaping.
Fences were banned between the houses, driveways out to 47th Street were also no-nos and the homes could only be private, owner-occupied and residential. No business or professional uses were allowed.
In addition, the lots on the block were 50 feet wide, rather than the more typical 40 feet, which allowed for a roomier feel and slightly lower density.
"(These) would insure an attractive, park-like setting for substantial, well-designed buildings," noted the historic designation report prepared by the City of Milwaukee's Historic Designation Report.
"These covenants were instituted privately, by the developer, and were not imposed by the City of Milwaukee, which was just beginning to institute its first zoning code at the time. Unlike other deed restrictions for subdivisions in this area of Sherman Park, race was not a factor in the covenants."
The report added that the restrictions were not only a means of luring buyers of means, but then helping to ensure the property values and investments in improvements.
"Until the zoning code was fully implemented in the 1920s," the report noted, "property owners could construct whatever they wished to on their land. A residential area could be overrun with boarding houses, saloons, livery stables and factories."
Harsh and exclusive as the rules might seem, a century later, this block of 47th Street remains stunning. The restrictions worked.
Of the 24 homes on the block, 19 have garages built in styles that match the houses. And, the report said, "all but two (of the houses) retain most of their original architectural detailing, windows and cladding. Very little exterior alteration has occurred, even to the garages, although permit records show evidence of bath and kitchen remodeling."
Two houses were, despite restrictions, later converted to duplexes, but, added the report, "this has not altered their exterior appearance."
The block sits on land that had been part of the Town of Wauwatosa. It was purchased in the 1890s by the Milwaukee Park Commission and parts of the land acquired became Washington and Sherman Parks.
This block actually straddles the border of two of the more than 20 subdivisions platted on the land.
The east side of the street is the First Continuation of Jackson Park, a 1911 rejiggering of Jackson Park, which was laid out in 1892, and owned by the Jackson Park Land Company.
The west side is in the 1920 Jefferson Heights subdivision owned by the Norma Land Company.
Take a walk down the street and you won't see much evidence of this political demarcation, but you will understand why the City's report boasted, "This collection of fine residences forms the epitome of bungalow design in Milwaukee. The scale, proportions and use of costly building materials on what was considered a modest house type exemplifies the popularity of the bungalow even among persons who had considerable income.
"The relative small area of development, one block, and the short time period in which all the buildings were constructed, seven years, contribute to the uniformity of appearance that makes this block stand out from its neighbors."
Here is a listing of the homes in the district, with construction dates and architects/builders, as provided by the City of Milwaukee. I hope you'll use it to visit the block and enjoy its distinctive beauty.
Of course, please remember that the homes are all private residences and should be viewed from the sidewalk.
East side of the street
2500 North 47th Street: Dr. Edward J. and Frieda Luntz House (1926) Charles Huebbe, builder

2500 N. 47th St.

X

2510 North 47th Street: Charles T. and Gertrude Rosenbaum House (1926) Charles H. Behnke, builder
2516 North 47th Street: Adolph and Katherine Damkoehler House (1926) Henry Torke, builder
2524 North 47th Street: Carl F. and Hilda Garny House (1922) Charles F. Behnke, builder

2524 N. 47th St.

X

2528 North 47th Street: Herman A. and Erna Harder House (1926) Henry R. Mayer, builder
2536 North 47th Street: Dr. Hilmar G. and Grace Martin House (1926) Henry Torke, builder
2544 North 47th Street: Adam and Anna Freiburger House (1923) Fischer & Zwicke, builder

2544 N. 47th St.

X

2550 North 47th Street: Charles H. and Matilda Olroge House (1928) Majestic Builders Inc., design attributed to H. Lewis Mertens
2556 North 47th Street: Oscar E. and Isabel Quast House (1923) Oscar Quast, builder
2564 North 47th Street: Joseph P. and Elsie R. Conrad House (1923) Joseph P. Conrad, builder

2564 N. 47th St.

X

2570 North 47th Street: Raymond and Lillian Strehlow House (1927) R. H. Bierman, designer

2570 N. 47th St.

X

2576 North 47th Street: Edward F. and Emily Schirmer House (1924)
West side of the street
2503 North 47th Street: Charles H. and Ella Vollmar (1924) George Zagel & Brother, architect, Charles Behnke, builder

2503 N. 47th St.

X

2509 North 47th Street: Charles F. and Amanda Behnke House (1924) George Zagel & Brother, architect
2517 North 47th Street: Gustav E. and Dorothea Strandt House (1923) Herman Bruns, architect

2517 N. 47th St.

X

2525 North 47th Street: Fred V. and Lulu Benz House (1927) Herbert F. Behnke, builder

2525 N. 47th St.

X

2531 North 47th Street: Adolph J. and Elsa Lippold House (1926) Paul Bennett, architect
2537 North 47th Street: Herman C. and Ida Harloff House (1927) Willian Keierleber, contractor
2543 North 47th Street: Fred C. and Alvina Barkow House (1927) Albert Lassanske, builder

2543 N. 47th St.

X

2551 North 47th Street: Jesse Owen and Mary A. Franklin House (1922) George Zagel & Brother, architect

2551 N. 47th St.

X

2557 North 47th Street: Alfred H. and Selma Greiwisch House 1924) Peter Graf, builder

2557 N. 47th St.

X

2563 North 47th Street: George F. and Lillian Koehler House (1926) Harry Mewes, builder

2563 N. 47th St.

X

2571 North 47th Street: John J. and Elsa Dietz House (1927) Val Schramka, builder
2579 North 47th Street: Peter and Mary Hirt House (1924) Peter Hirt, builder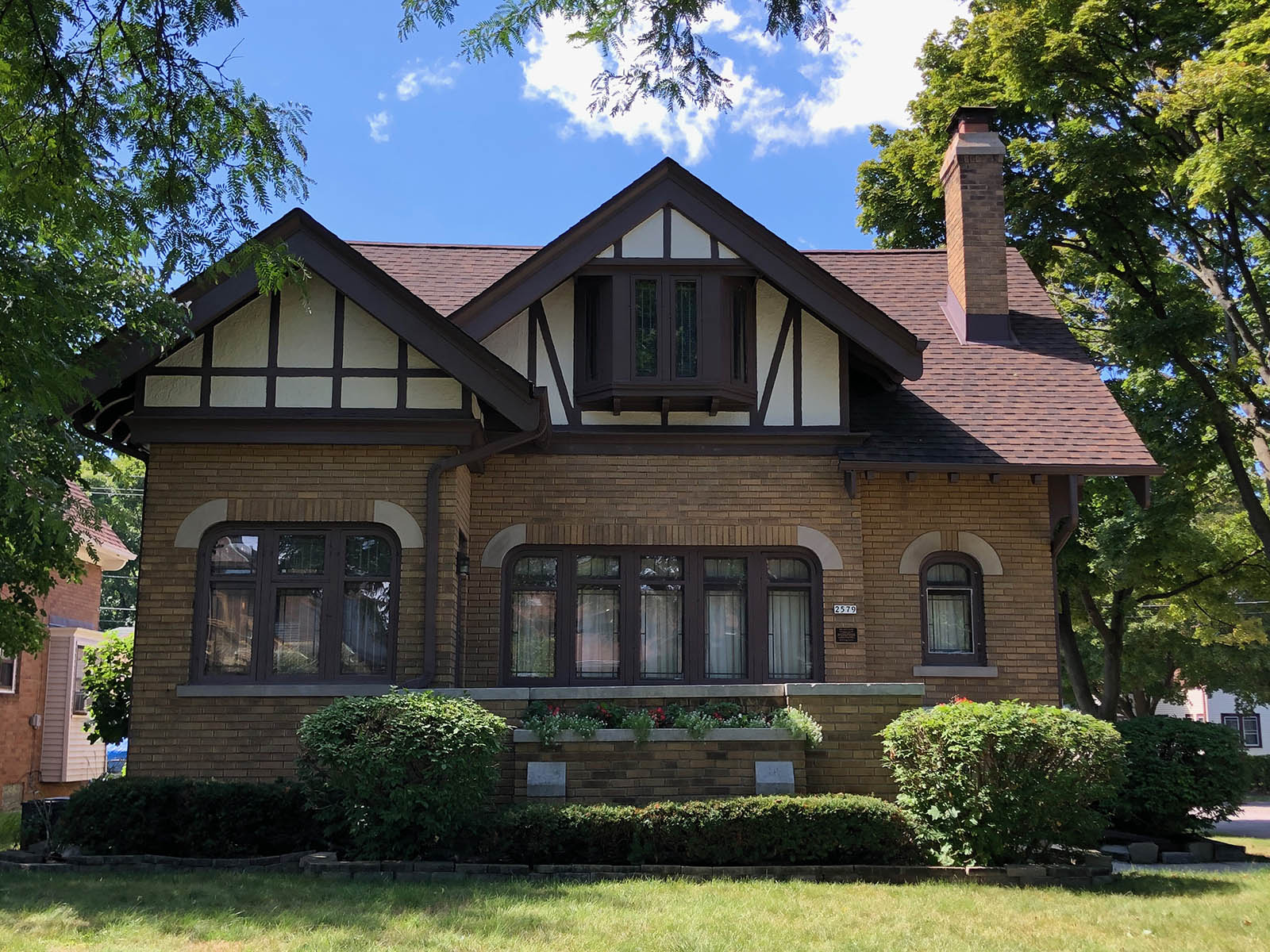 For more detailed descriptions of the homes and their builders, see the full historic designation report here.
Born in Brooklyn, N.Y., where he lived until he was 17, Bobby received his BA-Mass Communications from UWM in 1989 and has lived in Walker's Point, Bay View, Enderis Park, South Milwaukee and on the East Side.
He has published three non-fiction books in Italy – including one about an event in Milwaukee history, which was published in the U.S. in autumn 2010. Four more books, all about Milwaukee, have been published by The History Press.
With his most recent band, The Yell Leaders, Bobby released four LPs and had a songs featured in episodes of TV's "Party of Five" and "Dawson's Creek," and films in Japan, South America and the U.S. The Yell Leaders were named the best unsigned band in their region by VH-1 as part of its Rock Across America 1998 Tour. Most recently, the band contributed tracks to a UK vinyl/CD tribute to the Redskins and collaborated on a track with Italian novelist Enrico Remmert.
He's produced three installments of the "OMCD" series of local music compilations for OnMilwaukee.com and in 2007 produced a CD of Italian music and poetry.
In 2005, he was awarded the City of Asti's (Italy) Journalism Prize for his work focusing on that area. He has also won awards from the Milwaukee Press Club.
He can be heard weekly on 88Nine Radio Milwaukee talking about his "Urban Spelunking" series of stories.