Five years ago, Valeria Key was diagnosed with alopecia after dealing with thinning hair and trying to get answers from dermatologists and scalp specialists.
"This was difficult news for me. In our society, especially for women, our hair is our crown," says Valeria. "I didn't want to hear that my hair would never grow back, but eventually I said to myself, 'This is not who I am. I am a whole person. It's just something I have to deal with.'"
At first, Valeria spent thousands of dollars on sew-ins and wigs because she couldn't imagine going into public without them. Then, her daughter-in-law told her about a Milwaukee-based henna artist, Anita, who used all natural products and had experience with people who have alopecia.
"I did some research on Anita's business (Hands of Henna By Anita) and found out her henna is made completely from natural ingredients which was extremely important to me," says Valeria. "I was interested, but didn't reach out to her immediately."
Henna is made from a small shrub found in hot climates in places like India, Pakistan, Morocco, Egypt and the Middle East. The leaves, twigs and flowers are ground into a powder, mixed with hot water, put into a cone similar to a frosting sleeve and then applied by an artist to the skin.
Months later, Valeria's cousin lost her hair from chemotherapy treatments and asked Valeria to "go out bald" with her.
"I couldn't say no. But I knew that if I was going out bald, I was going to henna my head first. And so I Instagrammed Anita," says Valeria.
Valeria admits she was apprehensive at first as to how the henna paste would affect her skin, so Anita suggested they test a small area and see how her head reacted. Valeria did not experience irritation from the henna and so Anita freehanded a design that completely adorned her scalp.
"Basically, she made my head a canvas," says Valeria.
Valeria's first public outing with her cousin was a success and she has continued to go out regularly.
"I have not worn a wig since," says Valeria, who gets a fresh henna design every 3-4 weeks. "Until Anita started henna-ing my head, I never would have had the confidence level to go out without covering up."
During some sessions, Valeria suggests a design and other times lets Anita just go with the flow.
"Every time I get a new design I somehow like it even more than the last one," says Valeria.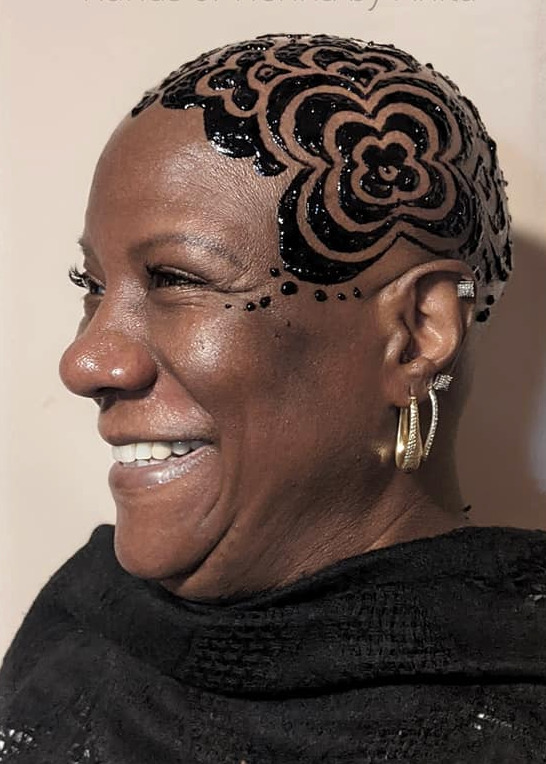 Anita started her business in 2008 and proides henna "tattoos" for birthdays, weddings, bachelorette parties, festivals, special events, book clubs, private gatherings and one-on-one sessions. She has worked throughout the United States, India and Spain, but resides permanently in Milwaukee's Riverwest neighborhood.
Anita began henna-ing women with alopecia in 2014 when she volunteered with Rocks for Locks, an organization that provides free henna for people with the disease.
"I find it to be an honor and a privilege every time I get to henna anyone, but particularly women going through hair loss," says Anita. "These women, like Valeria, are so enthusiastic and brave. Throughout the process, I've also had the pleasure of becoming friends with her and always look forward to our honest, filterless conversations and her insights on everything."
Valeria's feelings about Anita are mutual.
"Anita's skills and creativity are beyond anything I could imagine, but most importantly, she really cares about me as a person, my feelings about the designs, and how they are being received by other people in my life," she says.
One of the unexpected positive aspects of Valeria's bold look has been how much it's inspired other women.
"I have met so many bald women over the last 10 months. Some of the women I already knew, but never knew they were bald, too," says Valeria. "I've had women come up to me with tears running down their eyes and say, 'I'm losing my hair and I never knew what I was going to do with my head, but now I know.'"
Alopecia is caused by hormones, aging and genetics. Although it's more common in men, about one-third of women experience hair loss at some time in their lives. Among postmenopausal women, as many as two-thirds suffer hair thinning, bald spots or female-pattern baldness.
"I'm not the first woman to ever get my head henna'd, but the response I'm getting from women who once felt hopeless or didn't have confidence gives me hope," says Valeria. "They help me concentrate on the positive and remind me I'm not the only woman living this life."
Follow Hands of Henna by Anita on Facebook and Instagram.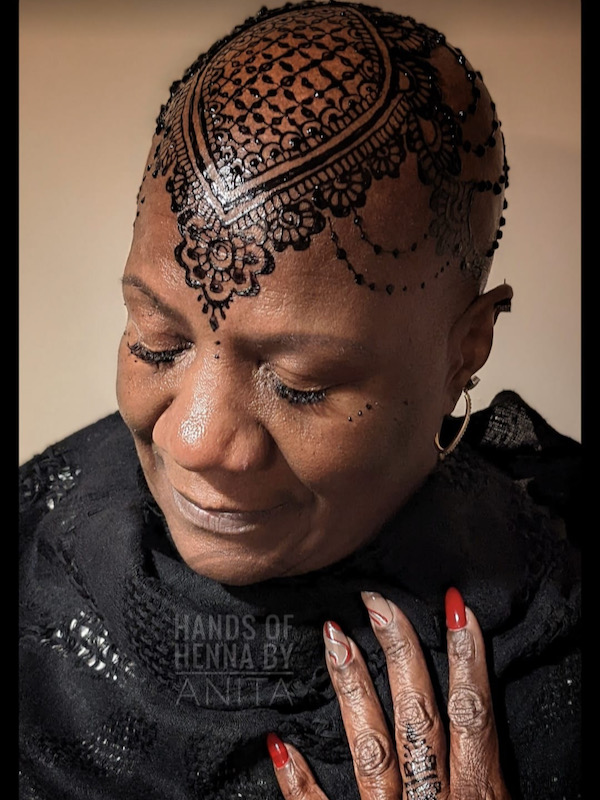 Molly Snyder started writing and publishing her work at the age 10, when her community newspaper printed her poem, "The Unicorn." Since then, she's expanded beyond the subject of mythical creatures and written in many different mediums but, nearest and dearest to her heart, thousands of articles for OnMilwaukee.

Molly is a regular contributor to FOX6 News and numerous radio stations as well as the co-host of "Dandelions: A Podcast For Women." She's received five Milwaukee Press Club Awards, served as the Pfister Narrator and is the Wisconsin State Fair's Celebrity Cream Puff Eating Champion of 2019.