Snuggle up with some holiday cheer as OnMilwaukee shares stories of everything merry and bright in the spirit of the season.

Brought to you by Noel Indoor Light Park & Christmas Market and MillerCoors.
If you grew up celebrating St. Nicholas Day – often called St. Nick's – you are part of an elite group of merrymakers. Although it's a tradition in many parts of the world, in the United States it's only popular in a handful of cities, all of which have a strong German influence, including Greater Milwaukee; Evansville, Indiana; Cincinnati, Ohio; Fredericksburg, Texas; Newport News, Virginia; and St. Louis, Missouri.
In Milwaukee, the tradition usually involves children – and sometimes adults, too! – leaving out shoes or stockings on St. Nick's Eve, which is Dec. 5. On the morning of Dec. 6, they wake to find their shoes or stockings filled with treats and gifts.
Families have many different practices and interpretations as to who St. Nick is. It's believed Saint Nicholas was a Christian bishop who helped the needy during the time of the Roman Empire. But after that, the lore is open for interpretation.
"St. Nick doesn't have a storyline like Santa. We all know Santa lives at the North Pole, and he hitches his reindeer to the sleigh on Christmas Eve and then delivers presents all night long," says Ben Funk, who practiced St. Nick as a kid and later took to the role for his own two children. "But who is St. Nick? Is he some kind of do-gooder? One of Santa's friends?"
When Christal Meredith moved to Milwaukee from Louisiana in 1996, she had never heard of St. Nick. After friends told her about it, Meredith originally found it peculiar, but when she had a son five years later, she decided to adopt the tradition.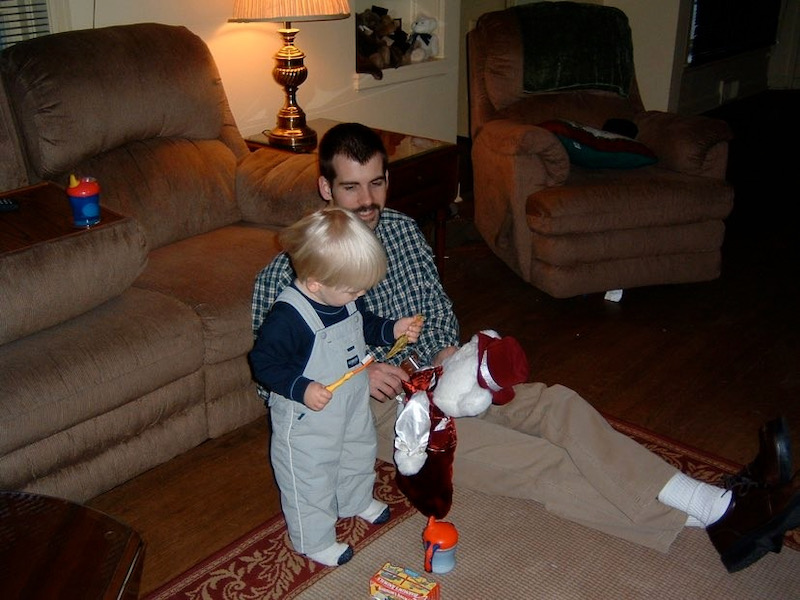 "I didn't want him to feel left out if he did not receive a stocking. I still to this day celebrate it even though he's 18 and probably always will," says Meredith. "It's become a family tradition, especially now that I consider myself a Wisconsinite having lived here for so long."
Some Milwaukee kids who didn't grow up celebrating the early-December holiday developed St. Nick envy and later made a point to celebrate it with their children. Such is the case with Rick Charlie.
"My now ex-wife and I both grew up with the same resentment and decided our children were going to be visited by St. Nick," says Charlie.
Two decades later, Charlie continues to fill stockings for his now-grown kids even though the magic isn't as prevalent.
"At one time it was one of the most joyous days for my kids, and I spoiled them like crazy. The stockings were like five feet long, filled with every Christmas candy novelty I could find. Plus Lego, Barbie stuff, small toys," says Charlie. "My middle daughter has an entire drawer of just Christmas socks. This will be the first year she won't get any, but only because she's getting Christmas scrunchies instead."
Funk says he "adjusted for inflation" and leaves more in his kids' shoes – which they always put on the stairs for St. Nick before bed – than he received as a child. However, he still keeps it simple with candy and trinkets from the dollar section at Target.
"I remember getting a Pac-Man change pouch, and Pac-Man was new at that time, so I thought it was pretty cool," he says. "My kids get stuff that's a little fancier, but still, it's not a huge investment of time or money. It really makes their day so why not go for it?"
Traditionally for many, St. Nick brought chocolate, nuts and oranges, which were highly coveted treats at one time in the Midwest.
Ruth Johnson was born in Milwaukee in 1940 and celebrated St. Nicholas Day her entire life, first with her parents and later with her two sons.
"My mother would give each of us six kids one of her old nylons, and the next morning it was stretched out and filled to the top," says Johnson. "For us it was riches. The primary treat was at the toe, always a big, beautiful orange. Back then you didn't just go to the store and buy a bag of oranges, so it was a big deal."
Johnson's childhood stocking was also filled with an apple, maybe a tangerine, nuts and ribbon candy.
"Everything was unwrapped then, so sometimes the ribbon candy would stick to the nuts, but we didn't care," she says.
Johnson's mother always hid their stockings to add to the fun.
"My mother treated us so wonderfully on the morning of St. Nick. After we found our stockings, she'd make breakfast pancakes and there was so much laughing and talking," she says.
When Jessa Lane plays St. Nick for her four children she always hides a book for each child which they have to find from a riddle. She also gives the kids a candy they have never tried before (usually obtained from World Market), a chocolate Santa, an orange, a pair of underwear or socks and, as they got older, useful items like a compass or small flashlight.
"It's not really about the gifts, it's the memories. What I remember about celebrating St. Nick as a kid is my sister and I would have to sit on the landing halfway down the stairs, vibrating with excitement. When mom said 'go!' we were allowed to run down for our stockings," says Lane.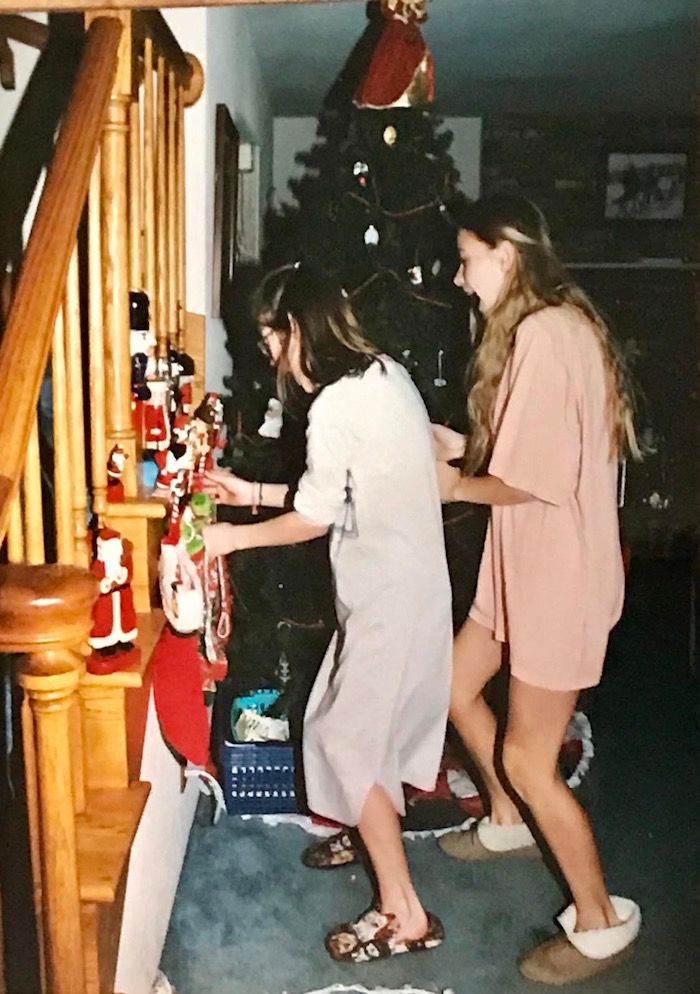 Teri Regano's mother changed her St. Nick offerings as Regano aged.
"When I got older, she started to leave pieces of her jewelry for me. A nice ring or earrings in a little box, always at the toe of the stocking," says Regano.
Regano remains a believer of St. Nick to this day, and usually celebrates with drink specials at her Brady Street bar, Regano's Roman Coin.
"I'm bummed St. Nick's is on a Monday this year. The bar is closed on Mondays," she says.
The date is often a point of confusion for many parents. They can't remember if the stockings go out on the night of the 5th or the 6th, or sometimes they forget altogether and are reminded by their kids.
"My mom would always get the date wrong," says Robin Koutecky, who grew up on Milwaukee's South Side. "She owned a bar, and her customers would mention it, and so she would put fruit and change and maybe a candy cane in a tube sock nailed to the wall."
Cheryl Janicki and her siblings received two stockings for St. Nick, one from their parents and one from their aunt and uncle, who did not have children.
"We tended to get better stuff from our aunt and uncle. They shopped at American Science and Surplus and would find really weird stuff for us. They'd also always put a lump of coal in our stockings, along with the toys and candy, as a gentle reminder that although we were good kids, we had been sassy at times throughout the year."
Nick Berg's Czechoslovakian grandmother told him the story of St. Nicholas every year which included a cautionary tale about what was left for unruly children.
"In her story, St. Nicholas was an angel and he would leave candy and treats if you were good, but if you were naughty, the devil would leave a potato in your stocking," says Berg. "Being a lover of all things potato, I never really considered that a punishment."
Although St. Nick's is primarily practiced by Christians, for many Milwaukee families it is non-denominational and a way to jumpstart the holiday season.
"My mother used to tell us St. Nick loved children and he didn't want any to go without," says Julie Mayhew. "My husband and I don't have kids yet, but I always hang stockings for our pets. I'm certain St. Nick loves pets, too."

Molly Snyder started writing and publishing her work at the age 10, when her community newspaper printed her poem, "The Unicorn." Since then, she's expanded beyond the subject of mythical creatures and written in many different mediums but, nearest and dearest to her heart, thousands of articles for OnMilwaukee.

Molly is a regular contributor to FOX6 News and numerous radio stations as well as the co-host of "Dandelions: A Podcast For Women." She's received five Milwaukee Press Club Awards, served as the Pfister Narrator and is the Wisconsin State Fair's Celebrity Cream Puff Eating Champion of 2019.