Fresh peach season is drawing to a close, but the owner of Tree-Ripe Fruit Co. wants you to know that his Georgia peaches are unlike anything you've ever bought in a grocery store.
That's because this small fruit company, led by third-generation owner Tiernan Paine, looks at produce differently than a grocery store does. He says a commercial farm views fruit as a commodity that will go into storage at the farm, then off to a distribution point or two via truck … and then finally to the grocery store.
"That peach could be weeks old," says Paine, whose grandfather started the business back in 1990. "There is nothing wrong with that peach at the start, but the process doesn't allow the peach to turn out the right way. With our peaches, we do whatever we can to get them into our customer's hands as fast as possible."
And the way Tree-Ripe makes that happen is by dispatching mobile peach trucks that set up shop at farmers' markets, Farm & Fleet parking lots, malls, high schools and Elks Lodges throughout Wisconsin and around the Midwest. He says customers make it an annual tradition to seek out the trucks every year.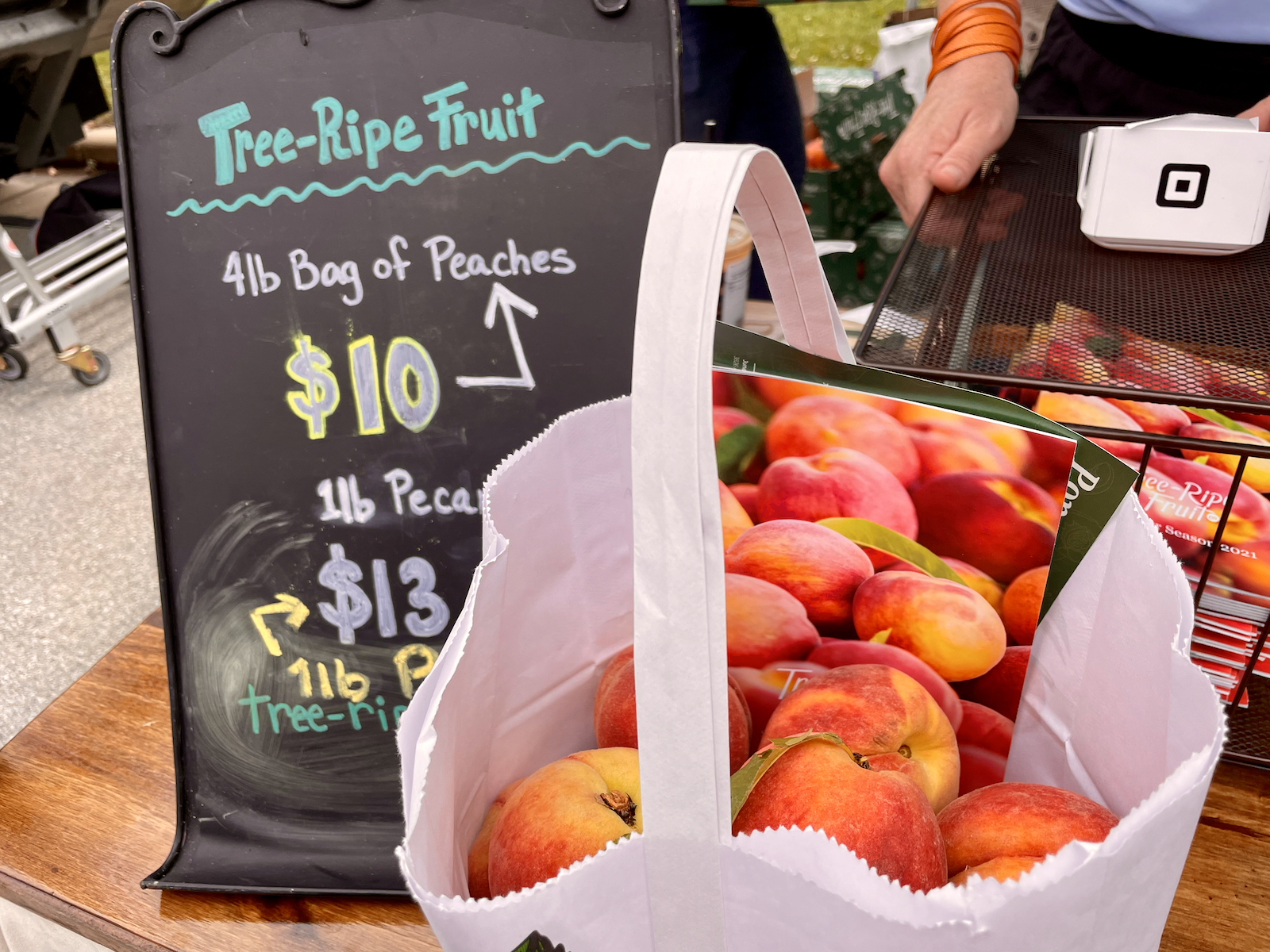 Says Paine, "Our approach to quality and delivery speed is something no grocery store can offer, which is why our fruit tastes better. We let our fruit ripen on the tree for days or weeks longer than grocery stores do so it can develop its full flavor the way it's supposed to. Because we can deliver to our customers within days of harvest, we never have to put fruit in 'cold storage,' selling the freshest fruit possible."
And I can vouch for these peaches. I took home a bag from the Shorewood Farmers Market last month. When you buy them, the peaches are not quite ripe, but in a few days, they soften to something sweet and wonderful. I'm not sure I'd call the experience life-changing, but they're easily the best peaches I've ever had.
But they most certainly don't come from Wisconsin.
"If you've ever experienced winter in Wisconsin, you might have a better understanding of why Tree-Ripe Fruit Co. has been around for 30 years, and why people keep coming back for our fruit every season," says Paine. "My grandfather knew that even in the coldest of Wisconsin months, where nothing would grow, Florida citrus farmers were hard at work growing the world's most fantastic fruit. He knew that if he could bring that fruit directly to places like Wisconsin, people would not only love it, they would appreciate how special tree-ripened fruit could be."
From that history in Florida citrus, Paine's grandfather moved into the peach business, because he, too, was disappointed with fruit that wasn't fresh enough. That meant building relationships with farmers who are similarly obsessed with quality, who take care of their trees, lands and workers.
"We have been working with Pearson Farms for over 20 years. They allow us to say when and how the fruit is picked, packed, etc. The whole process is very involved. We work together all winter long to make each peach season is as seamless as possible," says Paine.
Interestingly, Tree-Ripe Co. peaches are only slightly more expensive than what you'll find in a grocery store, and while it may not be as convenient to plan one's pie-making around a truck's schedule, the company also does a robust delivery and eCommerce business. At the moment, Paine says he's not looking to open a brick-and-mortar location.
"We have kicked around the idea for a few years and it is something that is always in the back of your mind," he says. "We don't have any immediate plans for a retail store, as it is a departure from our current model. We love that we bring the product to your town – delivering it right to our customers."
And even though the company says it's sold some 30 million pounds of fruit over the years, this is still definitely a mom-and-pop business in the produce space. They have recently expanded their territory to include St. Louis, Kansas City and Omaha.
Says Paine, "The produce industry is a monster – it is enormous. I love that we carved out something different and creating an extraordinary experience with special growers and fruit. We are trying to stay focused on our mission – to help our customers experience the best fruit they will ever eat."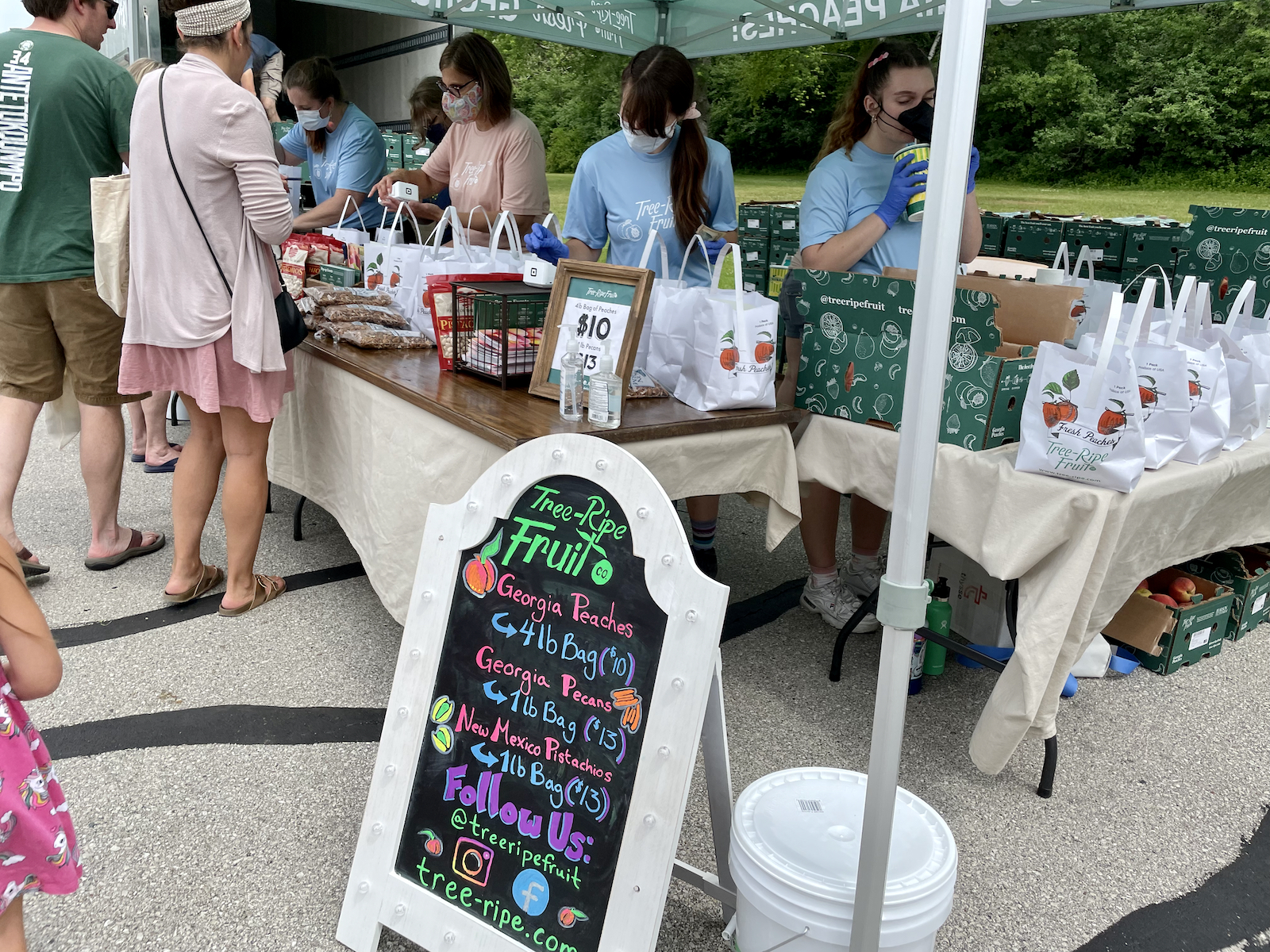 But after all these years, does Paine still enjoy eating peaches? He says he does.
"This is my 28th peach season, but it doesn't get old. I probably eat more peaches than anyone in the state of Wisconsin. August tends to be some of the sweeter ones of the season, and my favorites, so there are some nuances with the varieties that keep them delicious. However, with that being said, at the end of the season, I look forward to 10 months without peaches."
And that's when Tree-Ripe Fruit Co. switches to its other produce.
"Our fruit was founded on Florida citrus, so that has been a big part of our business. We put the same time and energy into every product." After peaches, pecans and blueberries, they move into pears, apples and citrus.
For someone who has worked among small family business his whole life, he remains passionate about educating consumers on how fruit is supposed to be grown.
Says Paine, "When I got to be an adult, I didn't know anything except running my own business and unsure what I wanted to do. So, like many, I took the time to travel and see the world. The more time I spent away from it, the more I missed it. I tried other things, but it kept pulling me back. The level of excitement and passion our customers show for our product is contagious."
Tree-Ripe Fruit Co. is very active on social media – "The reaction of that first bite is so visceral, the customer's face tells the story," says Paine – but their website lists all the peach truck stops in their territory, as well as delivery info. If you act quickly, you can grab some of the sweetest, freshest peaches you'll ever eat … until next summer's crop hits the market at the end of June once again.
Andy is the president, publisher and founder of OnMilwaukee. He returned to Milwaukee in 1996 after living on the East Coast for nine years, where he wrote for The Dallas Morning News Washington Bureau and worked in the White House Office of Communications. He was also Associate Editor of The GW Hatchet, his college newspaper at The George Washington University.
Before launching OnMilwaukee.com in 1998 at age 23, he worked in public relations for two Milwaukee firms, most of the time daydreaming about starting his own publication.
Hobbies include running when he finds the time, fixing the rust on his '75 MGB, mowing the lawn at his cottage in the Northwoods, and making an annual pilgrimage to Phoenix for Brewers Spring Training.