TYME keeps on slippin' into the future.
Nearly 20 years after the disappearance of the TYME machine from the Milwaukee landscape, Landmark Credit Union is bringing it back, albeit in its own shades of blue rather than the original red and white.
The Milwaukee-born "automatic teller" brand will adorn the credit union's new TYME Advanced ATMs across its network of 35 branches in Milwaukee, Waukesha, Washington and Ozaukee Counties.
Landmark, which is licensing the name and logo from Pulse, will also issue TYME branded debit cards.
Three of the new ATMs were installed in mid-September at the credit union's Oak Creek branch, 8129 S. Howell Ave., but were not yet TYME branded. Those will get TYME logos on Oct. 14.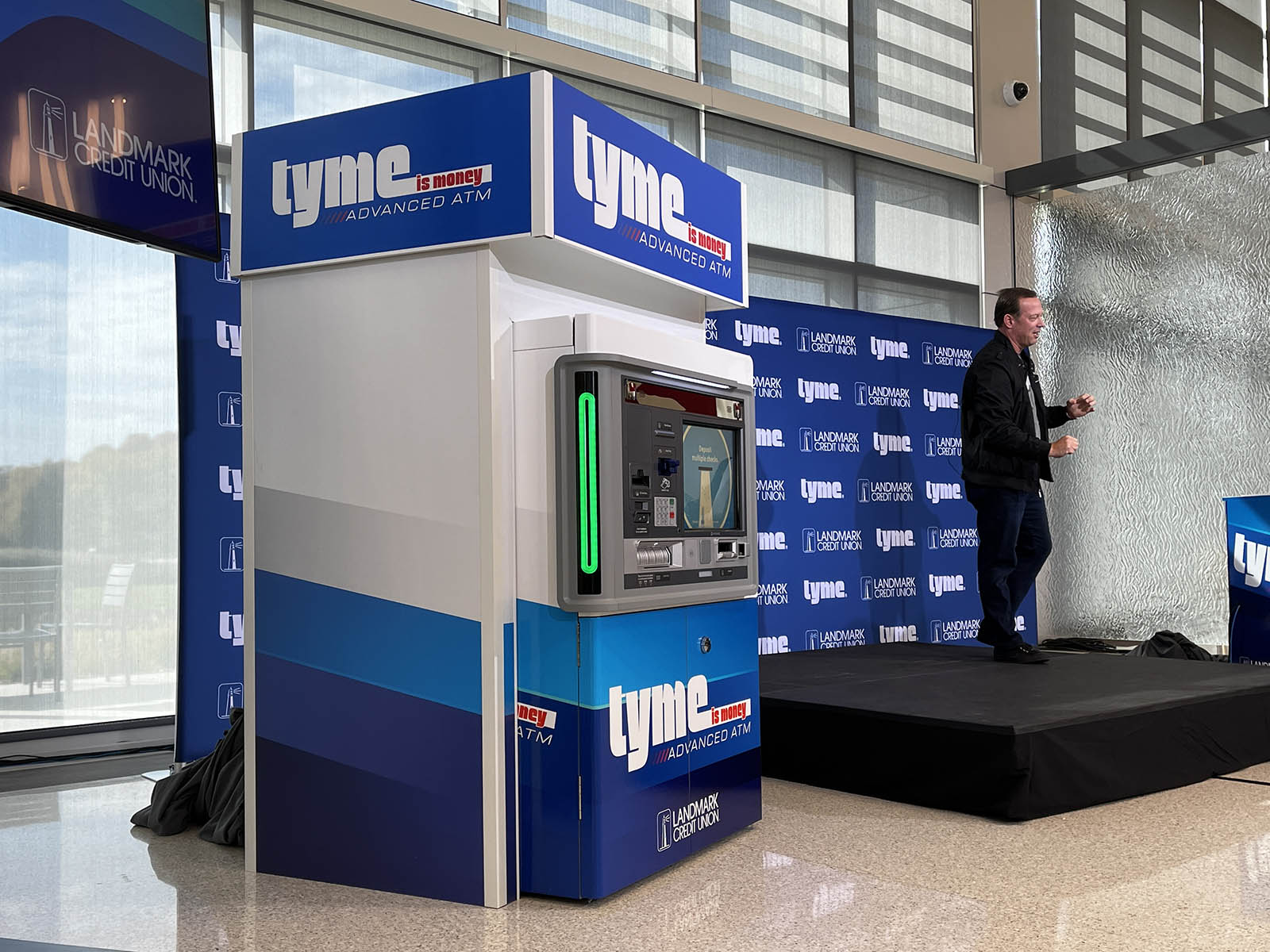 On Oct. 25, three more will be installed at the Germantown branch at N96 W17480 County Line Rd.
In November, eight branches in Bay View, Brookfield, Burlington, Oconomowoc, Racine and West Bend will get the machines. In December, ATMs will be installed at branches in Racine, West Milwaukee and on 27th Street in Milwaukee.
The remainder of Landmark's locations will have the new TYME machines in 2023.
These new ATMs have a number of features including the ability to deposit multiple checks and multiple cash denominations, and checks and cash together in one transaction. They also offer the options to transfer funds between accounts, make loan and credit card payments and request Virtual Teller assistance.
TYME – an acronym for "Take Your Money Everywhere" – was the name of a $1 million interbank Wisconsin ATM network organized in 1975 by First Wisconsin National Bank, Marshall & Ilsley, Marine Bank of Milwaukee, and Midland National Bank and that soon expanded to include banks from Michigan's Upper Peninsula and Florida. It was one of the first electronic funds transfer (EFT) networks in the nation.
Marine Bank VP John David Squier was one of the driving forces behind TYME and he urged the other banks to sign on, earning him the nickname, among some, of "Father TYME."
But consumers – trying to wrap their heads around the technology – had questions about security and other issues, such as whether or not they'd lose the ability to stop payment as they could with a written check payment. Some referred to the network as a "checkless checking system."
Consumer advocacy groups sought mandatory printed receipts – "analogous to today's canceled check," wrote the Journal – limited liability due to lost or stolen cards, instantaneous posting of deposits and other features.
Retailers, on the other hand, pushed back on rules that they believed would force them to make their in-store machines available to all banks, not just their own bank.
Interestingly, a similar, but different, system was already up and running at retail. The Cash Plus system, launched in 1975 by a group of Wisconsin savings & loans allowed member customers to withdraw from or deposit to their savings accounts via about 40 terminals in retail stores.
pic.twitter.com/iSbMon6cQO — Bobby Tanzilo 🌻 (@BobbyOnMKEcom) October 13, 2022
While soon we'd figure it all out, and would find that we couldn't live without ATMs, the Sentinel could read that the future was now, writing that the arrival of ATMs was, "the first shot (fired) in an electronic revolution. But officials of the TYME program ... admit that the revolution wil begin very quiety."
That first shot was, according to ATM Marketplace, M&I Bank's J. Frederic Ruf, who was on the TYME board of directors and was later head of WHEDA (Wisconsin Housing and Economic Development Agency), has the distinction of being the first to use a TYME machine, withdrawing $20 from a First Wisconsin National Bank ATM on Water Street in Downtown Milwaukee on Dec. 1, 1976.
TYME rolled out with 75 banks and two S&Ls participating and organizers had also expected to have as many as 40 ATMS installed in Milwaukee area grocery stores – including Pick 'N Save, Sentry, Jewel, A&P and Kohl's – by February.
By 1979, TYME was so successful that its founding banks recouped their initial capital investment. Three years later it notched a million transactions in a single month, a feat that was doubled in 1986.
In November 1983, TYME was the first to install a card reader at a gas pump – in Milwaukee, at the Hometown station (now the site of a UWM dorm) at 1436 E. North Ave.
Earlier that year, it was also involved in the creation of Nationet, the country's first nationwide ATM/POS network.
In 2001, TYME celebrated its 25th anniversary and, at the "tyme," had 27,000 ATMs and point-of-sale locations in Wisconsin, Minnesota, Illinois and Michigan, and had processed more than a billion transactions during its lifetime.
By then, TYME machines also sold stamps and had the option to get cash back with retail purchases (which launched in grocery stores in early 1984) ... remember that all of this felt new and revolutionary at the time because it was.
We used the phrase "TYME machine" so often, we never even thought about it's double meaning. I know I got a few baffled looks when asking for the nearest TYME machine while traveling.
In 2002, TYME merged with the Pulse network, which boasted more than 80,000 ATM locations and nearly a half-million POS locations.
Two years later, it was the end of TYMEs.
Gone – seemingly forever – were the white cards and signage bearing the immediately identifiable red Neil Bold TYME logo.
More than a dozen years later, the name was featured in OnMilwaukee's "10 old Milwaukee names we can't stop saying" article because many of us still had to stop ourselves referring to ATMs as TYME machines.
And now they're back.
"As we were planning to upgrade the ATMs in our branches with next gen ATMs, we knew we wanted them to be distinctive both from a visual and brand perspective and easily identifiable by our members," says Brian Melter, Chief Experience Officer for Landmark Credit Union.
"We decided to pursue TYME because it was a part of the fabric of Wisconsin and was an engaging way to bring back an iconic brand while also showcasing the latest ATM technology that delivers modern capabilities and conveniences that we believe our members will really appreciate."
Landmark says it processes more than 100,000 ATM transactions, involving millions of dollars, monthly.
"We felt having TYME machines would spark great memories that would make visiting a Landmark Credit Union branch and using these machines a bit more fun," says Melter.
Born in Brooklyn, N.Y., where he lived until he was 17, Bobby received his BA-Mass Communications from UWM in 1989 and has lived in Walker's Point, Bay View, Enderis Park, South Milwaukee and on the East Side.
He has published three non-fiction books in Italy – including one about an event in Milwaukee history, which was published in the U.S. in autumn 2010. Four more books, all about Milwaukee, have been published by The History Press.
With his most recent band, The Yell Leaders, Bobby released four LPs and had a songs featured in episodes of TV's "Party of Five" and "Dawson's Creek," and films in Japan, South America and the U.S. The Yell Leaders were named the best unsigned band in their region by VH-1 as part of its Rock Across America 1998 Tour. Most recently, the band contributed tracks to a UK vinyl/CD tribute to the Redskins and collaborated on a track with Italian novelist Enrico Remmert.
He's produced three installments of the "OMCD" series of local music compilations for OnMilwaukee.com and in 2007 produced a CD of Italian music and poetry.
In 2005, he was awarded the City of Asti's (Italy) Journalism Prize for his work focusing on that area. He has also won awards from the Milwaukee Press Club.
He can be heard weekly on 88Nine Radio Milwaukee talking about his "Urban Spelunking" series of stories.