The Packers are back in the playoffs – and back facing a familiar foe on Saturday night with the San Francisco 49ers. There's a lot to discuss, debate and analyze in the lead-up to this massive 2020 NFC Championship rematch: How will the Packers rebound against a team that absolutely boat-raced them last time in the playoffs? Will the Packers be able to stop their ground attack this time? Will they finally get a proper revenge from their last postseason encounter? Will the Packers' special teams woes pick the worst possible time to actually matter? And last but not least: How incredible is the name "Jaquiski Tartt"?
But what about the most important question: Who's got the better famous fans?
As we've done in previous big games, we're using a rigorous scientific process – aka wholly arbitrary match-ups – and only the finest peer-reviewed subjective opinions to discover which team has the best celebs in the stands. The winner gets the Lombardi Trophy and the title of Super Bowl champions.* So let's get down to answering the most pressing question facing our nation right now!
*Not true; wholly unrelated outcomes
Rap battle
Lil Wayne vs. E-40 and ScHoolboy Q
Lil Wayne: Perhaps the most famous of all Green Bay's celebrity fans, Weezy became a Packer backer in the '90s thanks to the team's Super Bowl visit in his native New Orleans, which made the green and gold unavoidable in his childhood home. Since then, he hasn't been a quiet supporter, officially remixing Wiz Khalifa's song "Black and Yellow" into a Packers anthem and even taking the field a few seasons ago to lead Lambeau in "Roll Out the Barrel."
The above video inaccurately says he's performing the national anthem ... but actually, that sounds about right.
E-40/ScHoolboy Q: Lil Wayne's not the only rapper releasing mixtapes and songs in honor of his favorite football team, as the Bay Area rapper E-40 gave his own team a hip-hop anthem last season.
Let's go @49ers !!!!!!!!!!! https://t.co/Hos0ad60VU — E40 The Counselor (@E40) November 11, 2019
And while he hasn't quite gone as far as E-40, ScHoolboy Q hasn't been shy about his particular football affiliations.
8-0 @49ers !!!! Don't talk to me — ScHoolboy Q (@ScHoolboyQ) November 1, 2019
Verdict: Two would normally beat one – but Lil Wayne is the more famous rapper of the three, plus he achieved one of the great dreams of sports fandom: He got to defend his favorite team right to Skip Bayless's bad-taking face – MULTIPLE TIMES. Point: Packers
"SNL" smackdown
Will Ferrell vs. Andy Samberg and Dana Carvey
Ferrell: If you're supposed to bark twice if you're in Milwaukee, apparently you're supposed to lead a stadium full of people in a polka song if you're in Green Bay. At least, that's what the famed "Anchorman" funnyman did at a Packers-Lions spat back in December of 2012 when he donned the G and sang "Roll out the Barrel" along with the Lambeau faithful.
Samberg/Carvey: The Niners have a matching set of "SNL" fans, as the SF native Dana Carvey was gifted an admittedly slick San Francisco jacket for his fandom several years ago.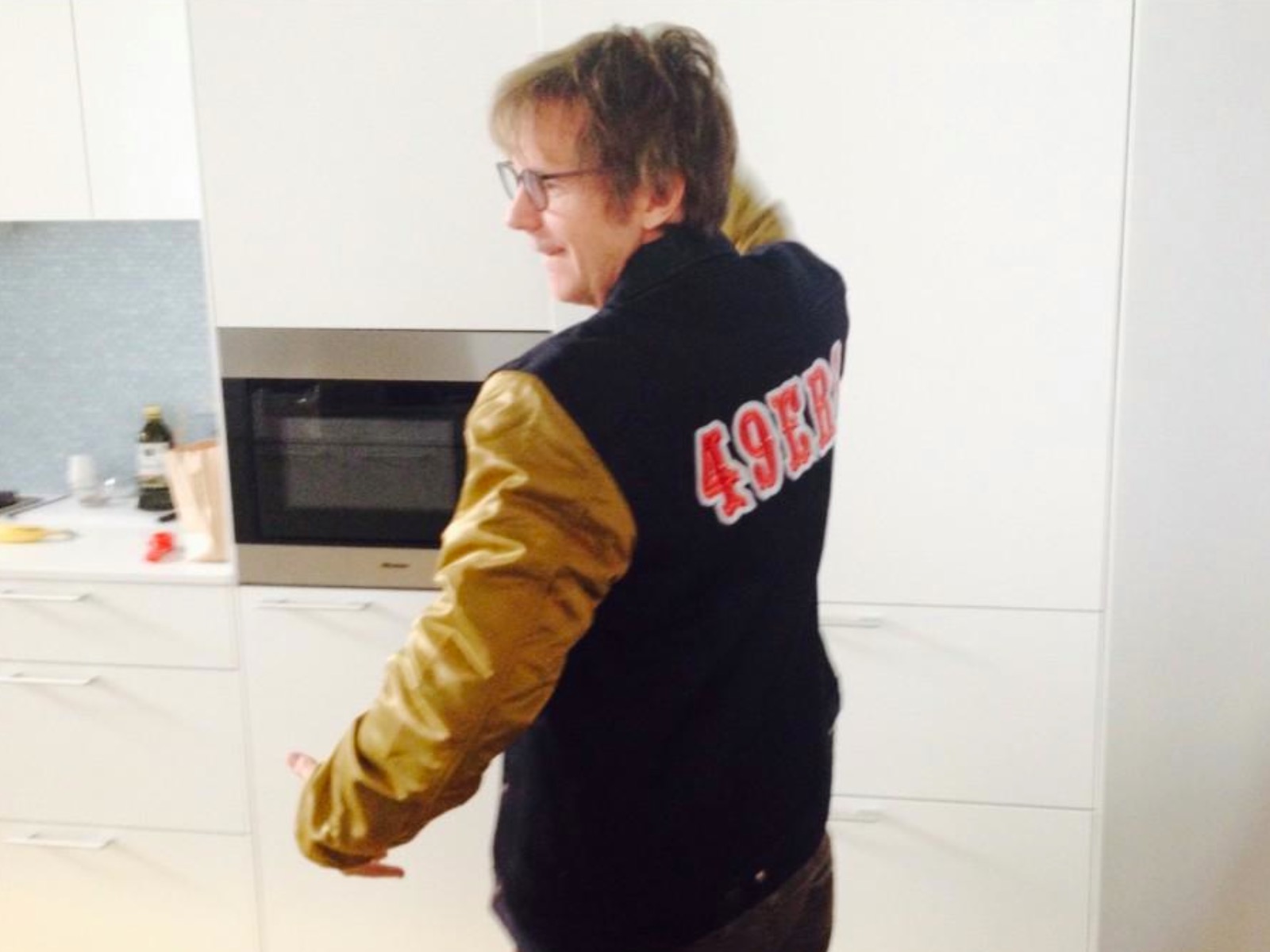 (PHOTO: Dana Carvey Facebook)
Then there's Adam Samberg and The Lonely Island who ... were gifted the same jackets for their support around the same time for their love of 49ers sportz. Some sort of denim bribery afoot here?! No, Samberg truly loves the Bay Area football team – and particularly hates their Seattle rival. At least we can agree there.
Verdict: If we're being completely honest, there's admittedly not a lot of other evidence for Ferrell's Packers fandom than this moment – and he's notorious for dive-bombing sports teams across the nation (including, and I'm so sorry, the Cubs), so this might be more a sign of Green Bay's terrific PR team than his fandom, no matter how much wearing cheese on his head seems very much his bag. The two beats one in this case. Point: 49ers
"Richard Jewell" ruckus
Paul Walter Hauser vs. Clint Eastwood
Hauser: Even though he hails from Detroit Lions country – or maybe that should say BECAUSE he hails from Detroit Lions country – the star of "Richard Jewell," as well as the scene-stealer from "I, Tonya" and "BlacKkKlansman," gravitated toward Aaron Rodgers and the Packers as his team of choice, once savoring a Packers playoff victory by celebrating at noted L.A. Packers bar Mom's, according to a now-deleted Instagram post.
Eastwood: Hauser's iconic director, on the other hand, is a fan of the scarlet and gold rather than the green and gold thanks to growing up in and around San Francisco – a fandom he's apparently passed down to his son, fellow actor Scott.
Verdict: Eastwood's undoubtedly the bigger star – and considering he's almost three times Hauser's age, he's undoubtedly been a Niners fan for longer. OR HAS HE!? According to his son, his affiliation's bounced between 49ers and Raiders over the years. OUTED AS A TURNCOAT – and by his own son! Point: Packers
Marvel mash
Ryan Reynolds vs. Jeremy Renner
Reynolds: There's no NFL team in Canada (yet ...), so apparently the Canadian star of "Deadpool" and "6 Underground" picked the Packers as his team thanks to the recruiting power of Aaron Rodgers and Brett Favre.
One of my all time heroes. My father would have flipped to see this. Thanks @Favre4Official pic.twitter.com/emWoysMtZo — Ryan Reynolds (@VancityReynolds) February 6, 2016
Plus, according to some eyes, if they ever make a Hollywood movie about the 2019-20 Packers, Ryan Reynolds would apparently make a dead ringer for Green Bay head coach Matt LaFleur. I don't see it ... but if they made the movie, I would see it.
Renner: The Hawkeye actor's been busy with his new Disney+ show and perhaps trying to rekindle his failed app. But when he has free time, he spends it rooting for his beloved Niners – at least according to his Twitter, where you can find plenty of posts featuring his 49ers fandom.
Let's get in done today. Go niners @JohnLynch49ers pic.twitter.com/ClqBezwqxu — Jeremy Renner (@Renner4Real) January 11, 2020
Hey, whatever keeps him away from a music recording studio.
Verdict: Reynolds is the bigger name, but considering how many tweets he's posted in 49ers gear and general photos that exist of Renner rooting on the Niners and even hanging in the home team locker room, Hawkeye beats Deadpool in the case of who's a bigger fan. Renner even delayed his arrival to the "American Hustle" premiere to watch a big game against the Seahawks. That's commitment – and that's a point. Point: 49ers
News knockout
Chuck Todd and Greta Van Susteren vs. Huey Lewis
Todd/Van Susteren: The "Meet the Press" host has his dad to thank for "brainwashing" him into becoming a Packers fan – a task he's now trying to pass down to his own son. He's previously admitted to never getting to Lambeau Field yet, but considering his Sunday mornings seem pretty busy, we'll give him a pass – especially since, when he came to town recently to deliver a speech and earn the Sacred Cat award at the Milwaukee Press Club's annual Gridiron Dinner, he came dressed with a Packers tie.
In the name of being fair and balanced, the Packers also claim former Fox News host Greta Van Susteren as one of their fandom for easy-to-solve reasons: She's a Wisconsin native, born and raised in Appleton before going to college in Madison. So no wonder she's got takes like these:
Huh? Isn't it immoral not to be a Packer fan? "How I became a Green Bay Packers fan" | Journal Sentinel https://t.co/cXBrVzPAHD — Greta Van Susteren (@greta) August 18, 2018
Lewis: While there's no word on where the News stands, not only is Huey Lewis a fan of the San Francisco 49ers, but the 49ers are fans of Huey Lewis. Hall of famers Joe Montana and Dwight Clark went out of THEIR way to get the '80s pop rocker to sing the national anthem for their games – a gambit that worked well for everybody as the "Hip to be Square" singer became the team's go-to anthem performer, singing at pretty much every major home game for the franchise.
Verdict: No matter your political leaning, nobody likes the news these days – but everybody loves Huey Lewis and the News. Plus, Lewis is basically the reason why celebrities are allowed on the sidelines nowadays. That's the power of love (for your football team). Point: 49ers
Comedy clash
Denis Leary/Larry the Cable Guy/Ellen vs. Rob Schneider/Owen Wilson/Alison Brie
Packers: Leary may seem like an East Coast/Boston guy ... and he is, but apparently he splits his loyalties between the Patriots and the Packers. As a kid, he meant to mess with his Pats-loving brother by pulling for the Pack, but in the end, he ended up messing with his own head and becoming an actual Packers backer in the process. And since the Pats made a very un-Pats-like early playoff exit this year (*plays world's smallest violin*), that leaves only one of his teams to root for now.
Speaking of split loyalties, comedian and former daytime talk show icon Ellen Degeneres also has love in her heart for two teams: the Saints but also the Pack – so she almost certainly leans yellowish gold over shiny gold tonight. Meanwhile, Larry the Cable Guy (who may want to look into changing jobs to Larry the Streaming Guy at this point) also is a self-professed Packers fan.
49ers: The "Deuce Bigelow: Male Gigolo" star is a massive San Francisco sports fan – so much so that, when the 49ers were scuffling just a few years ago, the comedian talked about potentially buying the team. Who knew the residuals from "The Hot Chick" were so good!?
Meanwhile, they may not have offered to purchase the team away from bad owners, but Owen Wilson's been seen roaming the San Francisco sideline while "GLOW" and "Community" star Alison Brie has taken to Twitter with here Niners appreciation. Jeff Winger will NOT be happy to hear about this, Annie!
That was ugly. But we'll get 'em next time @49ers!! I believe in youuuuu!! — Alison Brie (@alisonbrie) September 16, 2013
Verdict: In a meeting between Larry the Cable Guy and Rob Schneider, no one wins. But thankfully there's other options here to help out – and even more thankfully, the Packers get the edge because only one side has a celebrity that's known by just her first name. Point: Packers
Pop star punchout
Justin Timberlake and Harry Styles vs. Katharine McPhee
Timberlake/Styles: The pop star and Memphis native previously noted in an interview with People that he was a Packers fan – though admittedly, it sounded more like peer pressure or a hostage situation than true fandom. However, he proved his true place in Packers fan lore when, before his halftime show performance at Super Bowl LII, he was asked which team he would be rooting for – the Philadelphia Eagles or the New England Patriots – and he made the correct choice.
"#GoPackGo" - @jtimberlake pic.twitter.com/d6nf4KjBWV — Green Bay Packers (@packers) February 1, 2018
Meanwhile, Styles may come from a country obsessed with the other type of football, but when it comes to the American version, the former One Direction heartthrob's heart belongs to the Packers of all teams – so much so he's gotten a tattoo and even did this on our rival's turf.
GO PACKERS @Harry_Styles pic.twitter.com/5cPOzpDuW2 — neha⁷ (@namugng) September 4, 2015
McPhee: The former "American Idol" competitor and recent "Waitress" lead on Broadway represented the 49ers on the sidelines of their 2012 Super Bowl appearance against the Baltimore Ravens.
Verdict: My apologies to Katharine McPhee, but as much as we are fans of "Smash," this one isn't even fair. Point: Packers
Baller bash
Anthony Davis, Giannis and Joel Embiid (?!) vs. James Harden and Andre Iguodala
Packers: Of course, you would assume Giannis would be a fan of his adopted state's favorite football team – and just like on the basketball court, he does not disappoint, even sassing back former teammate and Niners fan D.J. Wilson:
https://t.co/CzmDNI8ykN pic.twitter.com/eV4rVWjH8X — Giannis Antetokounmpo (@Giannis_An34) January 13, 2020
What's more surprising, however, is that Chicago native and Lakers star Anthony Davis was at a recent Packers-Seahawks playoff game representing Green Bay on the sidelines. So how does a Windy City guy playing in Los Angeles become a Packers fan of all teams? An excellent sense of taste, for one – duh – but also apparently Davis was friends with some Packers players, and when it came time to pick a team to follow, he went with them. We'll take it.
Also, this happened:
GO PACK GO — Joel Embiid (@JoelEmbiid) January 13, 2020
Is this some sort of four-dimensional chess level of trash talk I don't understand? Anyways, this all obviously means that Embiid and Davis are coming to play for the Bucks. Obviously.
49ers: He may have started his NBA career with a different numerical team (the Philadelphia 76ers), but Andre Iguodala's favorite team shares the same city as his best and current team: the Bay Area. During his days past and present with the Warriors, he was a regular sight on the sidelines – and even in the press booth, helping take over the Niners' social media.
We in here world! -ai9 pic.twitter.com/v9YPKXyJa4 — San Francisco 49ers (@49ers) August 26, 2013
And while the Houston Rockets' star James Harden was once Iguodala's rival in the Western Conference, the two agree on their favorite football team as Harden, an L.A. native, roots for the Niners – whether on social media or on the sidelines of an actual game.
Verdict: Giannis and Davis win because, unlike James Harden, people actually enjoy watching them play basketball. Point: Packers
"Dancing with the Stars" duel
James Van Der Beek vs. Kristi Yamaguchi
Van Der Beek: According to an interview with Rich Eisen, even though he hails from Patriots country, because his native team tried to lump his home state of Connecticut into becoming Boston, he thumbed his nose at the Pats and went with the Pack – so much so that wearing #4 in "Varsity Blues" was a nod to the ol' gunslinger Brett Favre. An excellent choice, Dawson – JOEY SHOULD'VE PICKED YOU!
Yamaguchi: The famed ice skater knows a thing or two about gold – after all, she won a gold medal at the 1992 Albertville Winter Olympics. But unfortunately, when it comes to choosing between the green and gold or the scarlet and gold, Yamaguchi – a Bay Area native – goes with the latter.
Verdict: Since this is a "Dancing with the Stars"-based battle, we'll let the dance floor decide – and in that case, while James Van Der Beek landed in a respectable fifth place, Kristi Yamaguchi won her whole damn season. Who could've guessed a person trained in moving gracefully while wearing thin blades on ice would be such a good dancer?! Point: 49ers – oh no, don't cry, Dawson!
A meeting of the models
Hailey Clauson vs. Marisa Miller
Clauson: Swimsuits and Green Bay don't generally go together, but Sports Illustrated swimsuit model Hailey Clauson is a welcome exception as the Thousand Oaks, California native is a big Packers fan, discovering football and the Pack with the help of her boyfriend and his family in the best way possible: a trip to Lambeau Field. Her off-the-field love story has stayed firm, and so has her on-the-field love story with the Pack, routinely repping the most fashionable look of all: the green and gold.
Miller: The famed Sports Illustrated and Victoria's Secret model models the scarlet and gold on Sundays – and has since she was a little girl, following the 49ers with her dad during the team's glory years and staying well on the bandwagon ever since.
Verdict: Clauson and Miller are both clearly true fans who make their respective teams' gear look real good – but only one gets to claim that they're such a fan of their team that they were named by the NFL as an official spokesperson. Point: 49ers
Rocker rumble
Joan Jett vs. Miranda Cosgrove
Jett: It shouldn't come as a surprise that a punky rocker would fall in love with a team due to their lack of polish and dirty dedication to their job – and that's how it happened with Joan Jett. According to an interview with the Green Bay Press Gazette, it was seeing grimy images from the famed Mud Bowl in 1966 that made her fall in love with the Pack. Green Bay was playing the Cleveland that day, so lucky her she picked the right team and dodged the bullet of being a Browns fan.
Cosgrove: Before she was a Disney Channel star, Cosgrove was Summer Hathaway, helping her class sneak out of school and win the Battle of the Bands in the Jack Black classic "School of Rock." That counts as a pretty rock star move – and she also counts as a pretty big Niners fan, repping the team as an L.A. native because, heck, they've only had football teams there for about five minutes. (And everyone still thinks the Chargers are in San Diego.)
Proud to be supporting the @49ers today! Show your love by posing in your team jersey and tagging #NFLFanRecord pic.twitter.com/QvXtID1iMh — Miranda Cosgrove (@MirandaCosgrove) September 5, 2014
Verdict: No offense to the band manager of The School of Rock, but Joan Jett is easily the bigger rock star and therefore gets the win. Plus, "I Hate Myself For Loving You" might as well have been Packers fans' unofficial anthem to Aaron Rodgers after this past season. Point: Packers
Thespian throwdown
Jodie Foster/Tony Shalhoub/Bradley Whitford vs. Hayden Panettiere/Bella Thorne/Aaron Paul/Danny Glover/Jennifer Garner
Packers: While she may be L.A. born and raised, when it comes to football, Dr. Clarice Starling is a Packers fan – or so she admitted to Conan O'Brien on his show back in 2016, even donning a cheesehead in the process. She also, however, admitted that she can be a fickle fan, abandoning her teams if they start doing poorly. Hopefully she didn't bail on the Packers bandwagon over those final bad McCarthy years ...
Tony Shalhoub almost certainly didn't considering the "Monk" actor actually hails from Green Bay and likely bleeds styrofoam cheese like the rest of us Wisconsinites – so much so, he talked about his Packers connections for a solid portion of his episode of Marc Maron's popular "WTF" podcast. And speaking of Sconnie natives, Deputy Chief of Staff Josh Lyman himself Bradley Whitford is a notable cheesehead.
Aaron Rodgers celebrated a helluva service in Church of the Lambeau today. Wow. — Bradley Whitford (@BradleyWhitford) November 10, 2014
49ers: San Francisco is a favorite for the starlets, as "Nashville" star Hayden Panettiere and once Disney channel star Bella Thorne both represented the (now only) Bay Area football team – and, in the former's case, her friend Patrick Willis. And speaking of the former linebacker, he's also close with another star in the stands: Danny Glover, a Golden Gate native.
Meanwhile, since there's no football team in Albuquerque – nor in his home state of Idaho, though there is a blue football field, so that's something – Aaron Paul of "Breaking Bad" fame adopted the 49ers. Woulda thought he'd roll with a team with more blue in its color scheme, but his choice! And then there's Jennifer Garner, whose 49ers love survived Ben Affleck and his Boston fandom. And that's the love that truly matters.
Verdict: It seems only fair that this famous fan fight would come to an epic battle royale of a conclusion. And best of all, it comes out with the Packers on top. After all, which side's won an Oscar – oh wait, TWO Oscars? That's right: the Packers. And which side has a Tony award? Another win for the Packers. Bella Thorne's 2017 Teen Choice Award nomination for Choice Movie Ship may carry a lot of heft, but it's Green Bay with the win over the West Coast. Point: Packers
And so, the final tally puts the Packers on top of the 49ers, 7-5. Hopefully the on-the-field result on Saturday night turns out the same way – though maybe a bit more high-scoring.
As much as it is a gigantic cliché to say that one has always had a passion for film, Matt Mueller has always had a passion for film. Whether it was bringing in the latest movie reviews for his first grade show-and-tell or writing film reviews for the St. Norbert College Times as a high school student, Matt is way too obsessed with movies for his own good.
When he's not writing about the latest blockbuster or talking much too glowingly about "Piranha 3D," Matt can probably be found watching literally any sport (minus cricket) or working at - get this - a local movie theater. Or watching a movie. Yeah, he's probably watching a movie.