Whenever I'm asked what my favorite concert was, my answer is typically the same: Chris Stapleton as a part of a double bill with Alabama Shakes at the Amp during Summerfest 2016. So that's where my bar was set for the Grammy-winning country blues singer's return to the Big Gig on Thursday night – a bar that I figured would be impossible to top.
You see, it wasn't just that Stapleton was incredible that night back in The Before Times – because he was – but as one who was mostly there originally for Alabama Shakes and didn't really know that much about the country singer at the time, the performance came with a sense of awe-inspiring surprise and discovery that no show would seemingly be able to duplicate. In fact, there was part of me nervous that Thursday night's return – his first on the lakefront since opening for the late great Tom Petty in 2017 – would be a mild disappointment, unable to live up to that particularly special experience from five years ago, like trying a favorite dish a second time that can't measure up to the idealized memory.
I was wrong. Gloriously, gloriously wrong.
All those concerns were a waste of my brain's time as Stapleton and company once again delivered another absolute spellbinder of a show, a two-hour performance of raw and rockin' mountain man blues, epic and intimate, that both seared and soothed the soul.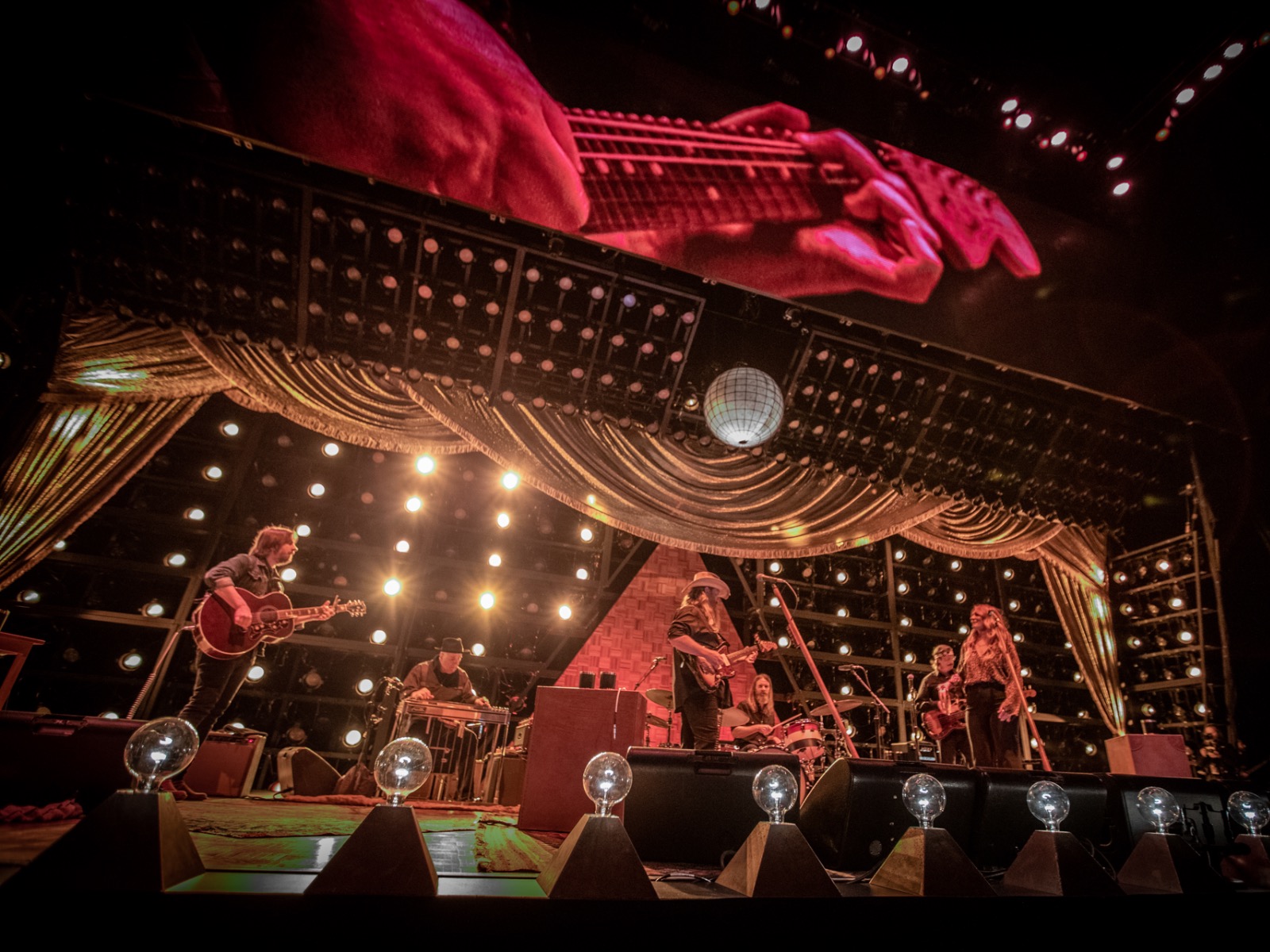 Stepping out in front of a practically filled American Family Insurance Amphitheater crowd, Stapleton opened the evening up alone with the tender acoustic ballad "Whiskey and You," lit solely from behind by one lone spotlight turning him into an enigmatic shadow. While few other songs on Thursday night would be that subdued or sparse, it set the tone for what to expect the rest of the show: nothing flashy or big on frills, just excellent music and stunning soulful, peerless musical storytelling.
The show opened up after that melancholy introduction, with Stapleton's band joining him on stage and the stage itself glowing to full life – a wall of lights shifting from warm reds, blues, oranges and yellows in front of a wood-paneled triangle and a color-changing orb hanging like a moon over the proceedings – for the driving "Nobody to Blame," the wide-as-a-canyon sound of "Parachute" and the riled-up "Second One to Know." The last of the bunch came complete with a thrilling Stapleton guitar solo, the singer vigorously strumming out a riff like he was trying to start a blaze on stage.
Thankfully no fire department intervention was required, as Stapleton took some time to have his first of few chats with the crowd, saying hello and calling out Summerfest as "one of our favorite places in the whole wide world to play" before heading into "Starting Over." He didn't talk much throughout the night, instead taking his time between songs to quietly reset and letting the notes and emotions thoughtfully linger throughout the crowd. Stapleton was in no rush – and neither was the audience. As if there could be somewhere better to be.
The night did come with one unusually charming interaction, as after the stompy and strutty "Hard Livin'," a small yellow sign claiming "Bergy is here" caught Chris and his wife/fellow vocalist Morgane Stapleton's attention – so much so that the person holding the sign was summoned to the front of the pit so the two could learn more about this mysterious "Bergy." So who or what was "Bergy"? The audience never quite got a definitive answer; it wasn't the actual person or anyone in attendance, and while the rumor was that it was perhaps a pet dog – inspiring Stapleton to slip into his touching tribute to his dearly departed pupper, "Maggie's Song" – past setlists say that number typically comes in around this part of the show anyway. No matter the case, the person got an instantly autographed sign, and the audience got an intriguing and memorable mystery. (Update: Mystery solved – according to a post from the sign holder in the Facebook comments of this review.)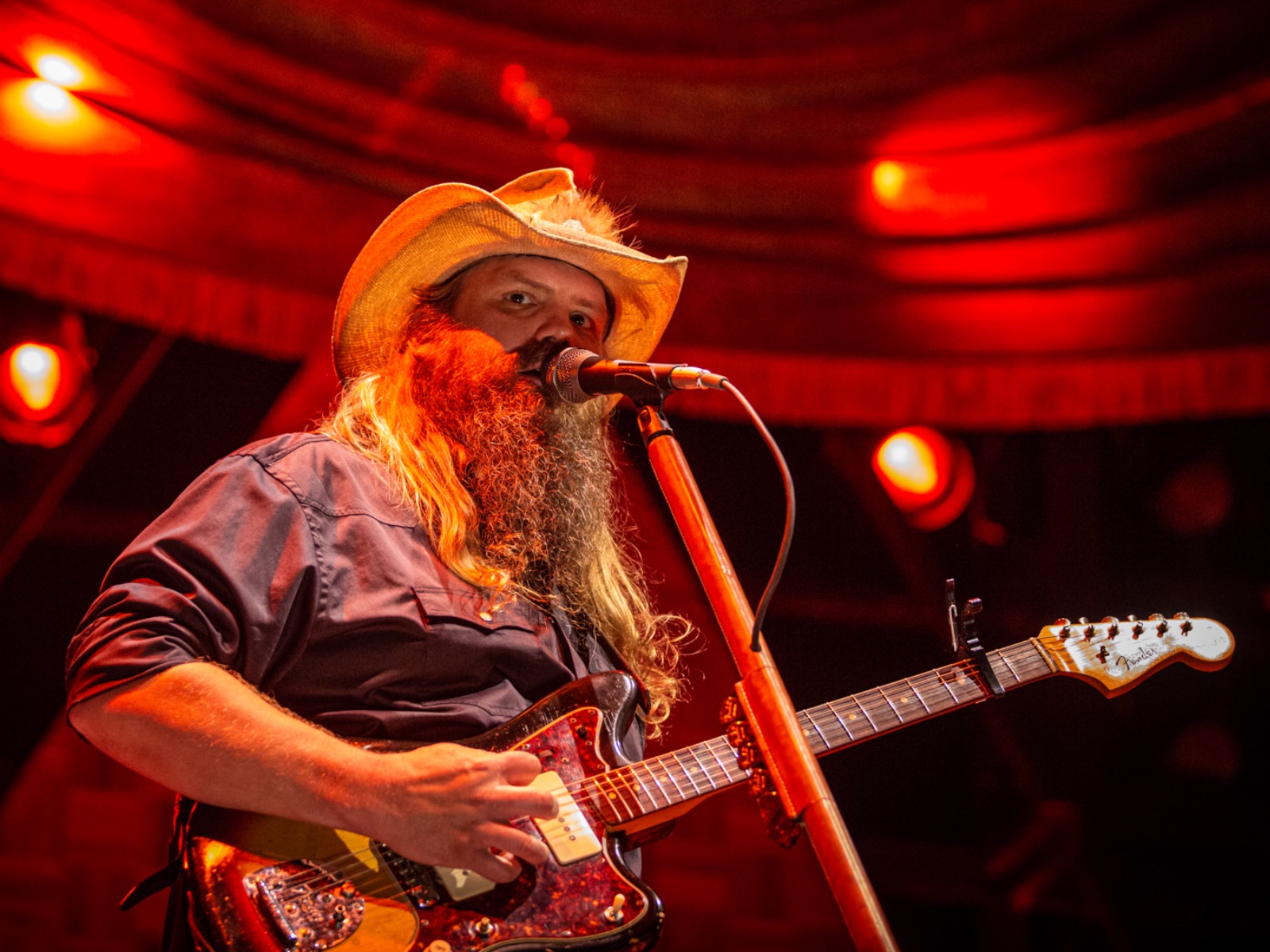 Other that those few interactive moments, Stapleton saved his voice for the songs themselves – a fair deal. And even years into a career in the spotlight, his voice still surprises and stuns when you hear it, pouring out like whiskey that comes with plenty of sharp burn while also so much smoother than you expect. His vocals can soulfully pierce the air on tunes like "Devil Always Made Me Think Twice," before melting into tight and lush harmonies on the very next song, "Millionaire." They can simply serve a sweet song like his ode to Maggie or majestically tumble and waterfall across notes like bourbon on the rocks during the chorus runs of his main set closer, the drunken love groove of "Tennessee Whiskey," or the blues of "Sometimes I Cry," a molasses-like slowburn that explodes into a volcanic lament – raw and gorgeous, no matter the tune.
The musical car chase of "Arkansas" led into "You Should Probably Leave," featuring incredible unspoken chemistry between the two married vocalists. They may have stood several feet apart on stage, but their love-locked stares during that song made them feel inches apart, with the locked-in harmonies throughout the night to match. Stapleton then followed up "Cold" with two old-school blues rock tunes, "Midnight Train to Memphis" and "Worry B Gone," before leaping into a bit of a surprise: a dabble into "Free Bird." The Lynyrd Skynyrd Southern rock classic served as an intro into "The Devil Named Music," but it was still a fun twist – and Stapleton is one of the few performers who could get away sticking his toe into the iconic crowd favorite without it playing like a stunt or a cliche.
The soulful jam of "I Was Wrong," the slow emotional eruption of "Sometimes I Cry" and the haunting, yearning sound of a lap steel guitar solo in "Might As Well Get Stoned" marked some final highlights before Stapleton and company wrapped things up with the heart-wrenching love song "Fire Away" – complete with a beautiful starry light display from the crowd, lighting up the stage all on their own – "Broken Halos" and "Tennessee Whiskey."
Oh 👋👋👋👋 Milwaukee! @ChrisStapleton @Summerfest 😎

Vid: @aManAboutFilm pic.twitter.com/YXZ7KMIb5L — OnMilwaukee (@onmilwaukee) September 10, 2021
If there was a lowlight to be found on Thursday night – and really, you'd have to nitpick hard to do so – it came next: the encore. Not the encore songs themselves: "Traveler" is a beautiful country blues song, and "Outlaw State of Mind" is simply put incredible, a thrashing and crashing and gloriously rumbling thunderstorm of a climax that has the audience leaving with giggles of rock-induced glee. No, it's the whole encore rigamarole: the band performatively leaving the stage, the audience slapping their hands together, both parties knowing they're coming back out but just waiting for the inevitable. Unless it's a true, unplanned and earned encore situation, let's leave this tradition in The Before Times where it belongs.
But as if a silly, small quibble like that (especially when followed by "Outlaw State of Mind") could impact an incredible show like Thursday night. I walked into the Amp slightly nervous my pristine memories of Stapleton back in 2016 – so of that particular personal moment and experience – would possibly take a ding. Instead, I walked out with new glowing memories to add right next to the old.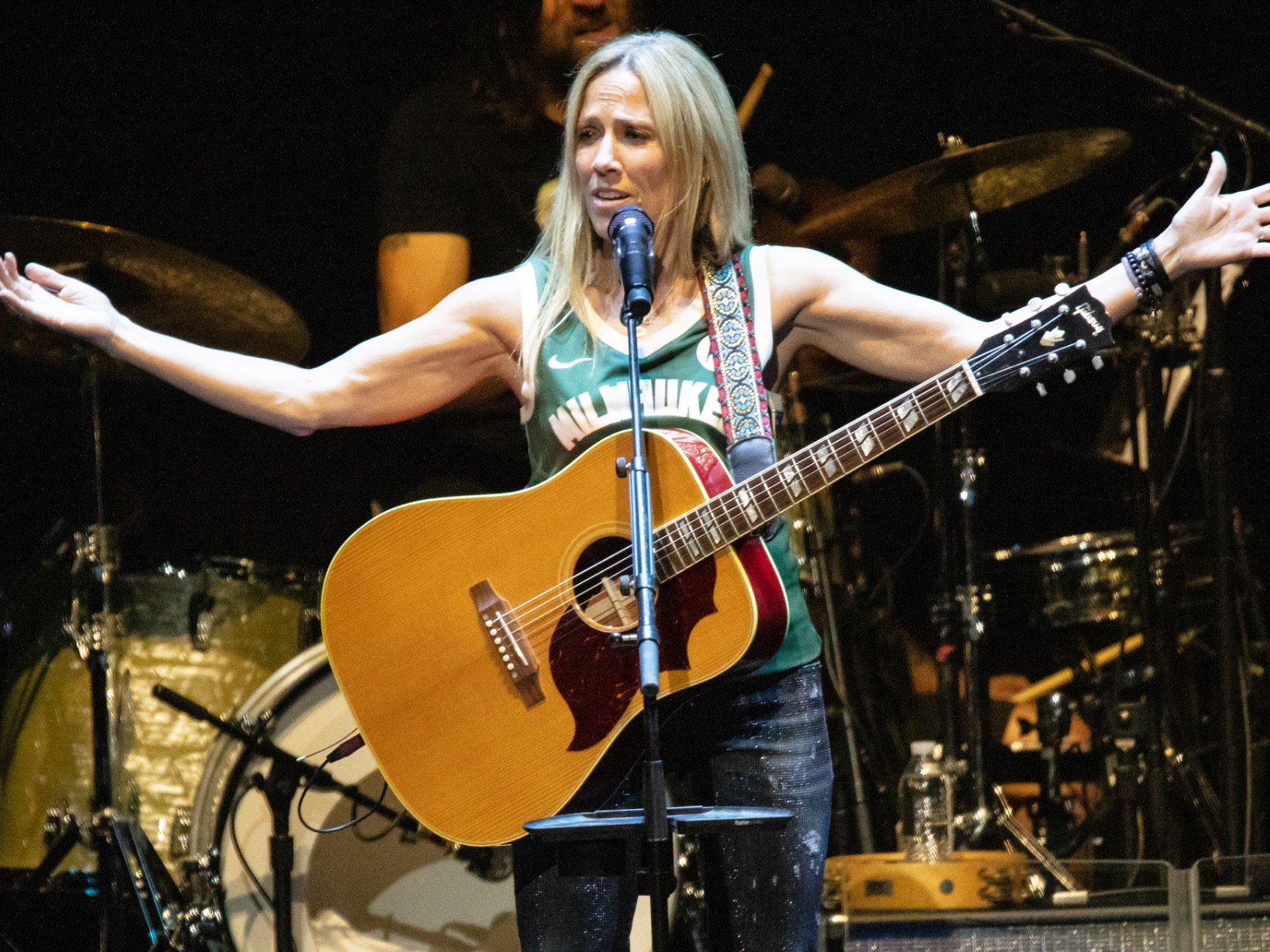 The second overqualified opener in as many nights, Sheryl Crow got the evening started right with a generous, soulful and summery collection of her many radio hits – including "Everyday is a Winding Road," "All I Wanna Do," "The First Cut is the Deepest," "A Change Would Do You Good," "If It Makes You Happy" and, the most summery of them all, "Soak Up the Sun." But clearly the biggest hit of the night was her love for the Bucks, made famous during the team's championship run and further represented on Thursday night with the Americana rock star wearing a Khris Middleton jersey and a Bucks (and Brewers) reference mixed into "Strong Enough."
Near the end of the night, she tried to win Brew City over even more with a twangy rendition of Jerry Lee Lewis' "What Made Milwaukee Famous" – a very loose one where it seemed pretty apparent the lyrics were on the stage floor, but a noble and well-appreciated attempt nonetheless. Honestly, though, she already had us won over with the Middleton jersey. But even without that, though, this hearty appetizer of a set would've been a crowd-pleaser – another satisfying and memorable piece from a pretty much perfect night.
Setlist
Chris Stapleton
"Whiskey and You"
"Nobody to Blame"
"Parachute"
"Second One to Know"
"Starting Over"
"Devil Always Made Me Think Twice"
"Millionaire"
"Hard Livin'"
"Maggie's Song"
"Arkansas"
"You Should Probably Leave"
"Cold"
"Midnight Train to Memphis"
"Worry B Gone"
"The Devil Named Music" (with "Freebird" intro)
"I Was Wrong"
"Sometimes I Cry"
"Might As Well Get Stoned"
"Fire Away"
"Broken Halos"
"Tennessee Whiskey"
Encore
"Traveler"
"Outlaw State of Mind"
As much as it is a gigantic cliché to say that one has always had a passion for film, Matt Mueller has always had a passion for film. Whether it was bringing in the latest movie reviews for his first grade show-and-tell or writing film reviews for the St. Norbert College Times as a high school student, Matt is way too obsessed with movies for his own good.
When he's not writing about the latest blockbuster or talking much too glowingly about "Piranha 3D," Matt can probably be found watching literally any sport (minus cricket) or working at - get this - a local movie theater. Or watching a movie. Yeah, he's probably watching a movie.