Enjoy this flashback story that originally posted in 2015. Dretzka's is still open today and well worth a visit.
The door to Dretzka's Department Store, 4746 S. Packard Ave., is heavy. When opened, a bell jingles. It alerts Andrew Tamsen, the fourth-generation owner, who is most likely perched at the tucked-away counter. Often he is listening to a crackly AM radio. Sometimes he is snoozing.
Take a deep breath. Walk in. Feel overwhelmed by the sight of stuff from floor to ceiling. Tall ceilings.
During our last visit on a chilly Saturday morning, there didn't seem to be any heat, but the incandescent lighting was going full blast.
Dretzka's smells like a thrift store, but it's not a thrift store. It's crammed with "new" items mostly from the '60s and '70s, with some items from the '50s and '80s. There are even a few modern overstock items like Main Stay brand bathmats from Walmart.
"It's mostly stock that didn't sell over the years," says Tamsen.
Our eyes darted from headless mannequins modeling high-waisted women's underwear to a sign reading "slacks" over a selection of polyester men's pants to racks of children's clothing recognizable from old school Sears photos that featured a fake background of trees in autumn or a flower garden.
The list of items goes on and on. Dusty clocks, yellowed greeting cards – many without envelopes – aprons, towels, throw pillows, knick-knacks, nurses uniforms, cheerleading outfits, Cudahy sweatshirts, a massive purple stuffed monkey, hairnets, life-sized "Star Wars" cut-outs, housecoats, galoshes (or "rubbers" as grandpa called them), faded contact paper, plaid suit coats in oranges and browns and royal blues, a massive selection of hats and bottles of white creme shoe polish with peeling labels and separated liquids.
And this is only the first floor.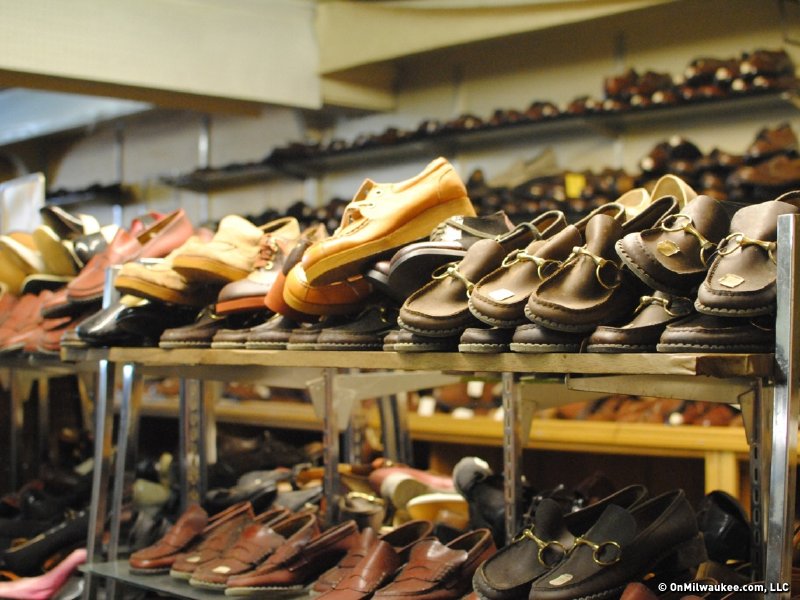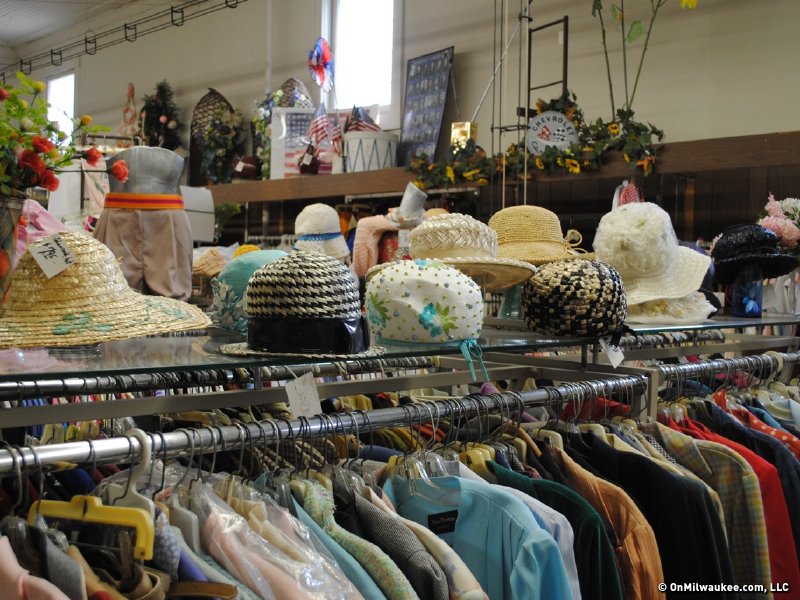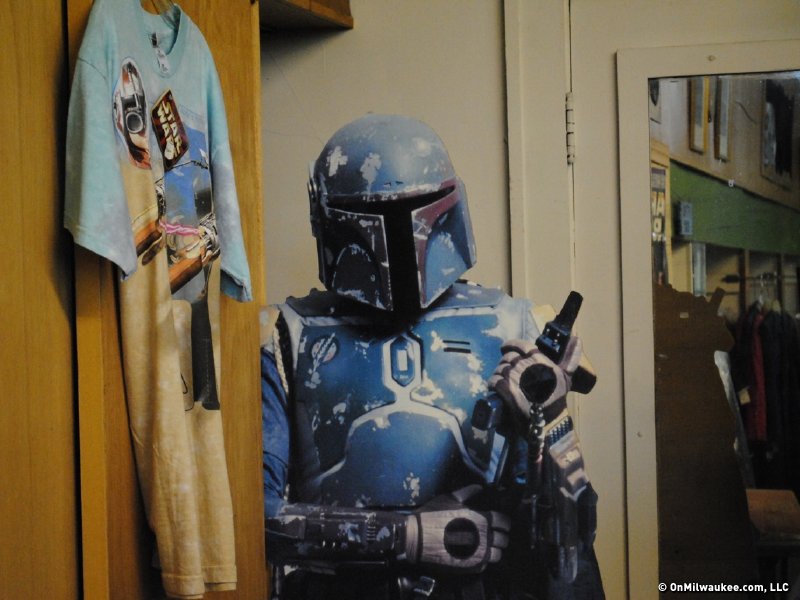 There's a second floor, that has many items, but no electricity. It's filled with furniture, a floor-model television, manual typewriters, rolls of carpeting, ancient cash registers, fallen-over fake Christmas trees, a rusty artificial fireplace and terrifying baby "walkers."
There's also a basement that's jammed with baskets and baskets of buttons – 10 cents each – along with glassware and aisle after aisle of shoes. Many are moldy and there are 10 or 20 pairs of the same style in all different sizes. So many "Mr. Rogers" tennis shoes; so many yellow clogs.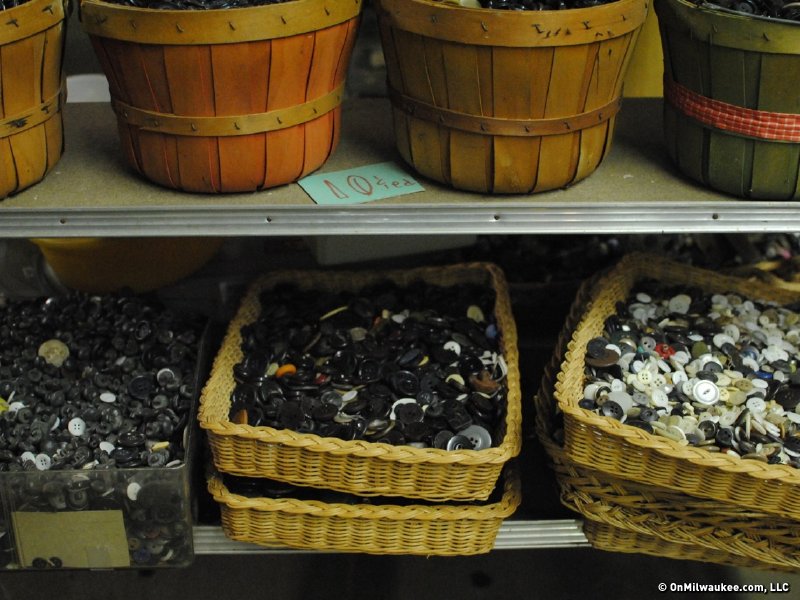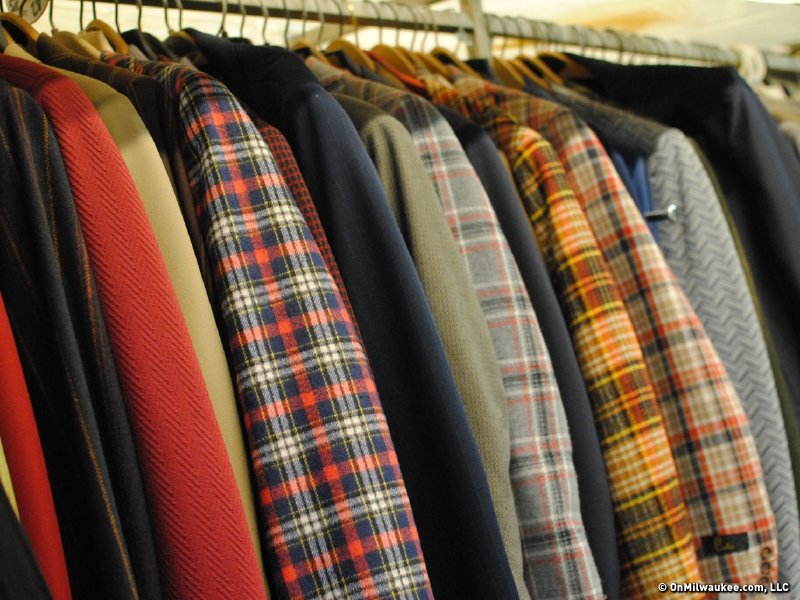 "It's hard to keep track of all the inventory," says Tamsen. "Some people find stuff to buy I didn't even know we had."
Dretzka's opened in 1902 and is currently run by Tamsen and his mother, Mary Alice Tamsen (nee Dretzka). Tamsen's grandfather, Al, started the business and his uncle John ran it for many decades until he passed away.
Overall, Dretzka's is both depressing and outstanding. It's filled with treasures, it's laden with junk. The once-thriving store is more like a scene from "Hoarders" now. But beauty remains in the details. Price tags with the cents sign. Coveted old-school fonts in their original form. Knick-knacks remembered from the living rooms of relatives long gone.
Maybe to fully appreciate Dretzka's, one should approach it more as a living museum of mid-century clothing and household items rather than a shopping destination. But then again, few escape a trip to Dretzka's without buying at least one quirky item.
The prices, although negotiable according to Tamsen, are just as quirky as the stock. Leather shoes are tagged $6.95 but a nothing-special dresser was marked $449.
Milwaukee's Carole Ross started going to Dretzka's about 10 years ago. She sometimes visits with her mom.
"I was looking for a furry hat with pom-pom ties that a friend of mine told me about. And I found one and bought it," says Ross. "Honestly, it creeps me out pretty bad, but I like to go there just for the sheer shock value. I can't say I like going there, but then again I've gone back several times."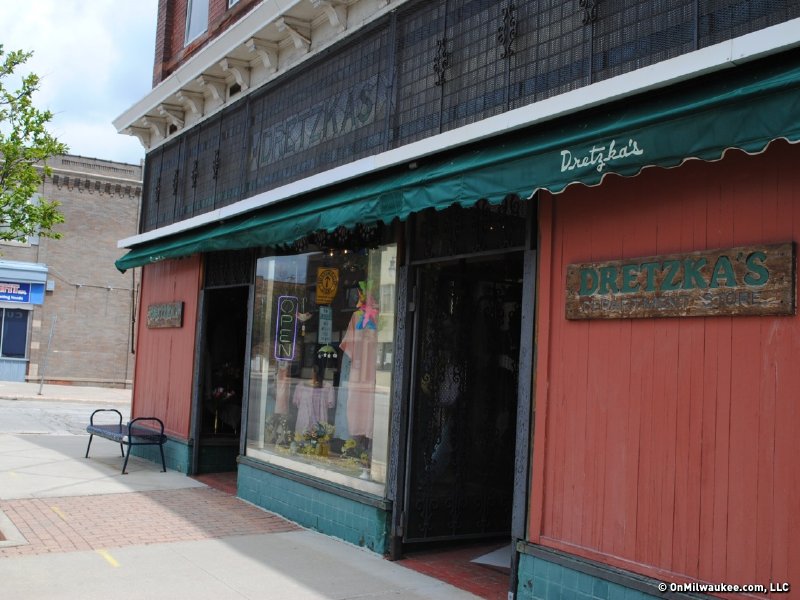 So how has Dretzka's managed to stay open?
"We have local customers who have been dedicated over the years. They still come in," says Tamsen. "And we get new people, too. People come in for the retro qualities."
Tamsen says a lot of new customers were fans of the now-defunct Goldmann's Department Store that was on Mitchell Street.
A few years ago, Tamsen launched a small online store that sells about 50 items, mostly old school undergarments, pajamas and smocks.
"It's a nice little side business. I took an order this week from a lady in Michigan. She bought 20 things," he says. "We want to keep Dretzka's running as long as we can. As long as we can pay the bills, we'll be here."

Molly Snyder started writing and publishing her work at the age 10, when her community newspaper printed her poem, "The Unicorn." Since then, she's expanded beyond the subject of mythical creatures and written in many different mediums but, nearest and dearest to her heart, thousands of articles for OnMilwaukee.

Molly is a regular contributor to FOX6 News and numerous radio stations as well as the co-host of "Dandelions: A Podcast For Women." She's received five Milwaukee Press Club Awards, served as the Pfister Narrator and is the Wisconsin State Fair's Celebrity Cream Puff Eating Champion of 2019.