This content is in partnership with Milwaukee Symphony Orchestra. Get your tickets now - and see you there!
What better way to say goodbye to the ghost of 2022 than to hang out with some of the most famous ghosts in pop culture history? That's the Milwaukee Symphony Orchestra's plan, celebrating the new year by crossing entertainment streams and playing alongside the iconic supernatural comedy "Ghostbusters" for a trio of performances on Dec. 30 through Jan. 1.
Debuting in June of 1984, the Bill Murray classic was groundbreaking in its use of big-budget special effects and high-tech artistic creativity. And while there won't be a literal giant marshmallow man stomping around the Bradley Symphony Center, the MSO's performances will be high-tech highwire acts in their own right, aiming to harmoniously join all the pieces of a live orchestra, a film, the snappy dialogue, the sound effects and immersive stage lighting into one seamless cinematic experience. Done wrong, or even just off a little bit, and the night could turn into a disaster of biblical proportions – human sacrifice, dogs and cats living together, mass hysteria.
So, who you gonna call?
No, not Ghostbusters. Instead, to pull off this cinematic and symphonic feat, the MSO calls Tristan Wallace, the technical production manager and live audio supervisor with the orchestra – and, conveniently enough, a massive "Ghostbusters" fan, complete with a little Stay-Puft Marshmallow Man figurine perched on his sound board during our recent visit.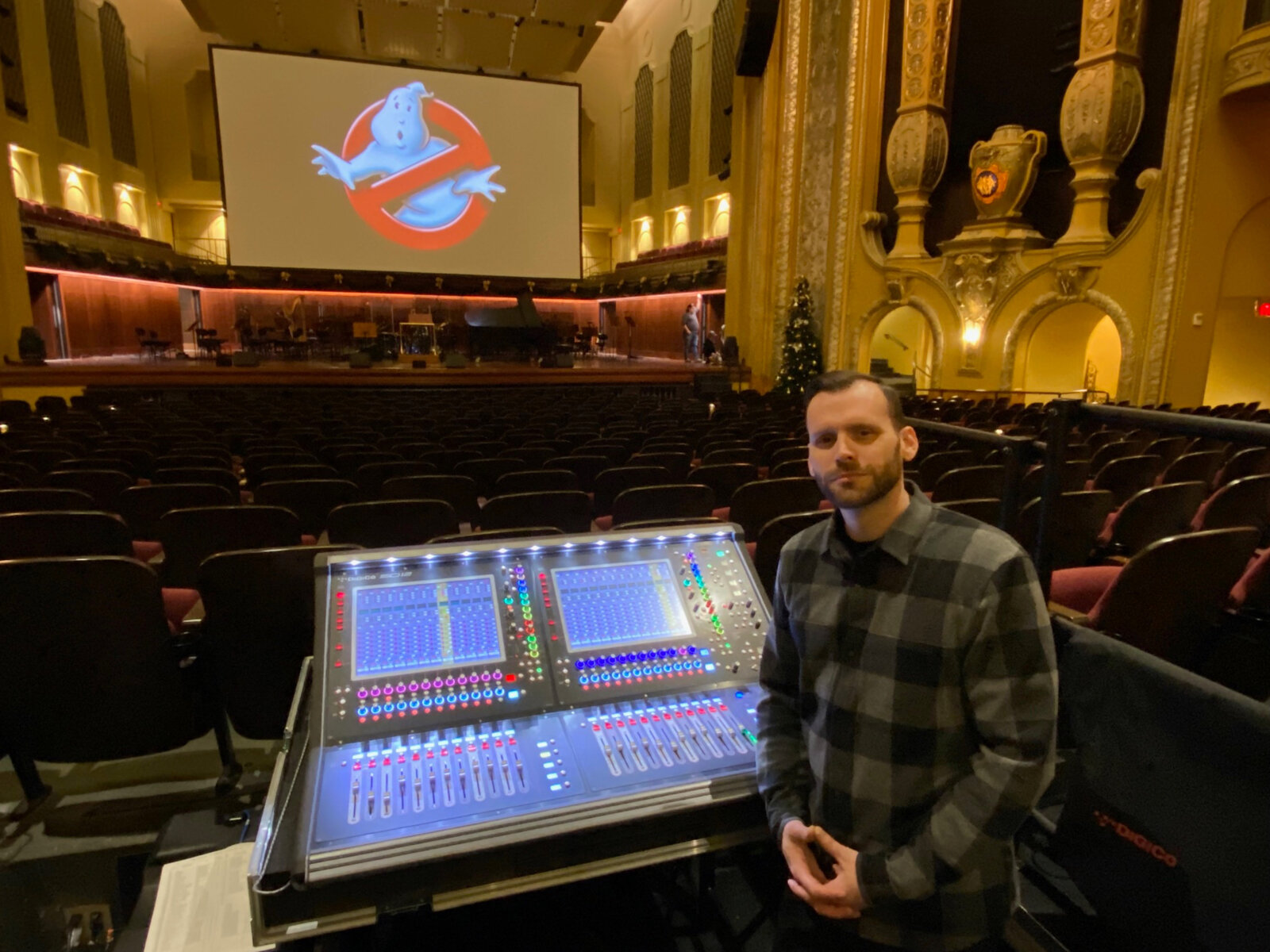 "I'm a big movie fan – especially this movie," Wallace said. "This movie came out a year after I was born. I'm probably the biggest Bill Murray fan you'd ever see. I love the marshmallow man; ever since I was a little kid, I just thought that was the coolest thing when it comes to life. There's a little bit of eeriness, but they make it cheeky – I love it. And it's timeless. This came out in 1984, and we're still enjoying it today. To me, that's what great art is all about: persistence through time and lasting through generations."
A lot of work, though, goes into making this undead caper come to life – especially with this unique live presentation. For instance, the screening itself actually runs simultaneously on two perfectly aligned projectors, so if one fails – say, if Slimer and company start messing with the bulb – the other can keep the show going. In order to make the experience even more immersive, the MSO's "Ghostbusters" showings will also feature atmospheric ambient lighting throughout the film – say, a green aura when the guys face off with Slimer.
"Just another element to make the experience more enjoyable and something a little more unique than just watching the film, another layer to that onion of what we can add to the experience," Wallace noted.
That's all before even mentioning the orchestra's essential input. No, they won't play Ray Parker's famous theme song – but the MSO will provide the live score for the rest of the movie, a key part of summoning the movie's beloved spooky and silly energy. And it's Wallace's job to tune up, line up and balance it all.
"All the dialogue needs to be audible in every seat in the house," Wallace explained. "We're watching a film. If we don't hear our guys say, 'Chill out, I'm a scientist,' we missed our punchline and that's why we're all here. So it is paramount that we make sure the dialogue tracks, the effects track comes through clean and balancing it with the orchestra."
To do so, Wallace communicates and coordinates with the conductor – Resident Conductor Yaniv Dinur, in the case of the "Ghostbusters" performances – who, during the screening, will have a monitor on stage with time codes, click tracks and other key information to keep his place in the film. Before and after the show, the two discuss the audio mix and how the elements all sound and interact in the space. Then, during the screening, instead of his usual spot in the booth in the back of the hall, Wallace will bunker down in a small indent in the middle of the audience to monitor the audio live with his sound board: a DiGiCo SD12 able to control just about every part of the sound design across two screens and an intimidating number of multi-colored glowing knobs and levels. Egon would be impressed.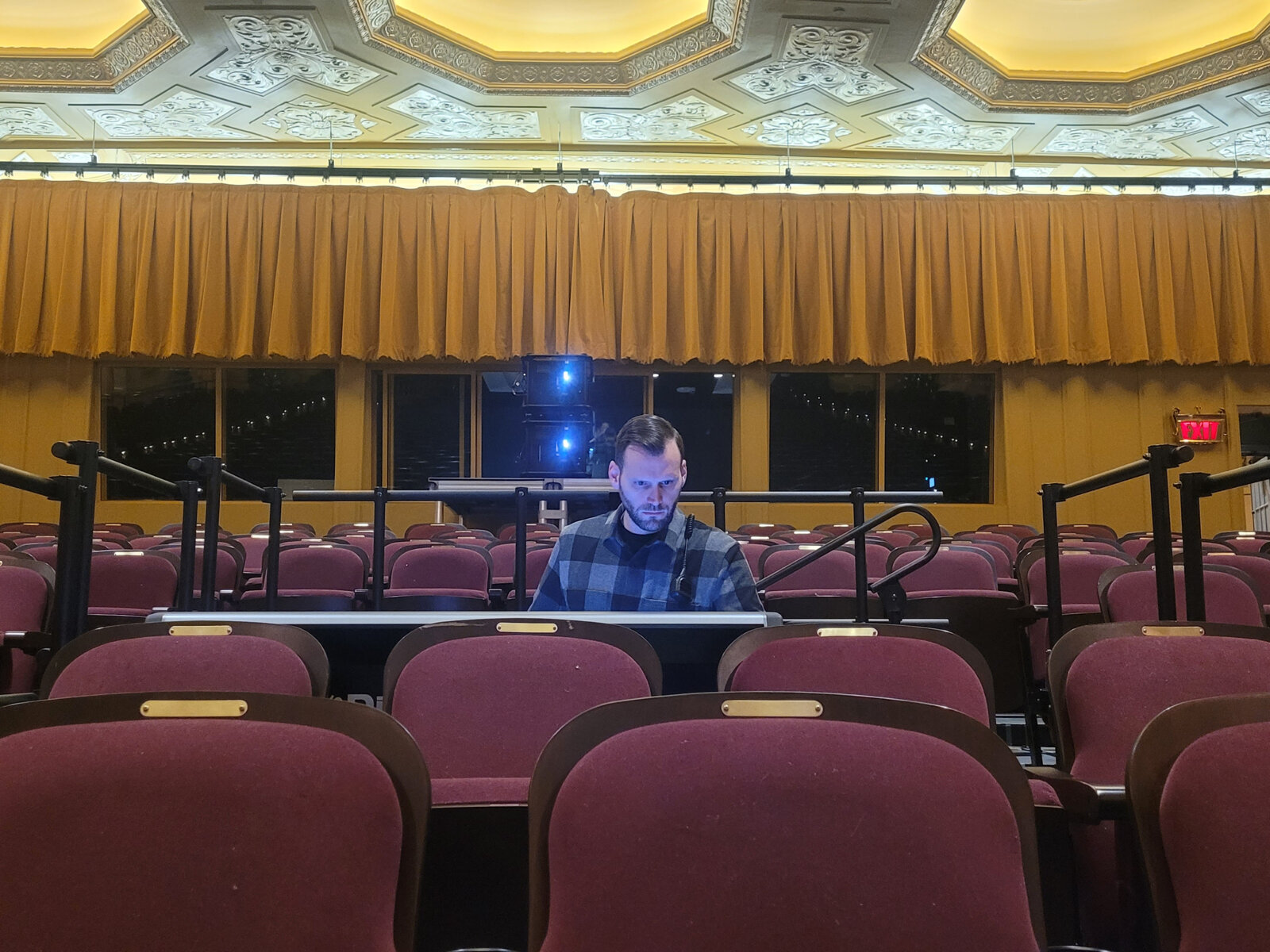 The heavy audio artillery and prime positioning are unique to the "Ghostbusters" shows and other similar MSO live screenings – because, unlike the orchestra's more traditional performances, there's amplification involved. For performances of the classics, Wallace noted, there are no microphones – the audience is hearing purely the orchestra and how the sound bounces and envelops through the hall. For film screenings like "Ghostbusters," however, with the number of components involved and finessed blending required, Wallace and the MSO use microphones to control the sound as best as possible – in the case of next weekend's performances, almost 100 microphones with one for each instrument and all individually monitored by Wallace at his high-tech hub.
"When I have 96 microphones at the same time, I need to be able to grab and adjust and manipulate as fast as possible," he explained. "When we amplify, this room is so incredible. It's one of the greatest sounding halls I've ever experienced in my career, and I'm so proud that this is my house gig. But there is a lot of work that goes into adjusting that, to be able to have a louder orchestra without it getting out of control."
While he has his fancy soundboard, one of Wallace's greatest weapons for harnessing the sound for a movie screening is actually quite old school – and hidden in plain sight. The golden curtains in the back of the hall? They're not just for show and regal aesthetics – in fact, they're "baffles," or sound absorbers helping to contain the sound's activity. You wouldn't see them at a classics performance since the audience is there to hear the unadulterated orchestra and the acoustics off the hall – but for a show with so many moving audio parts, like "Ghostbusters," the curtains come out to give Wallace more control.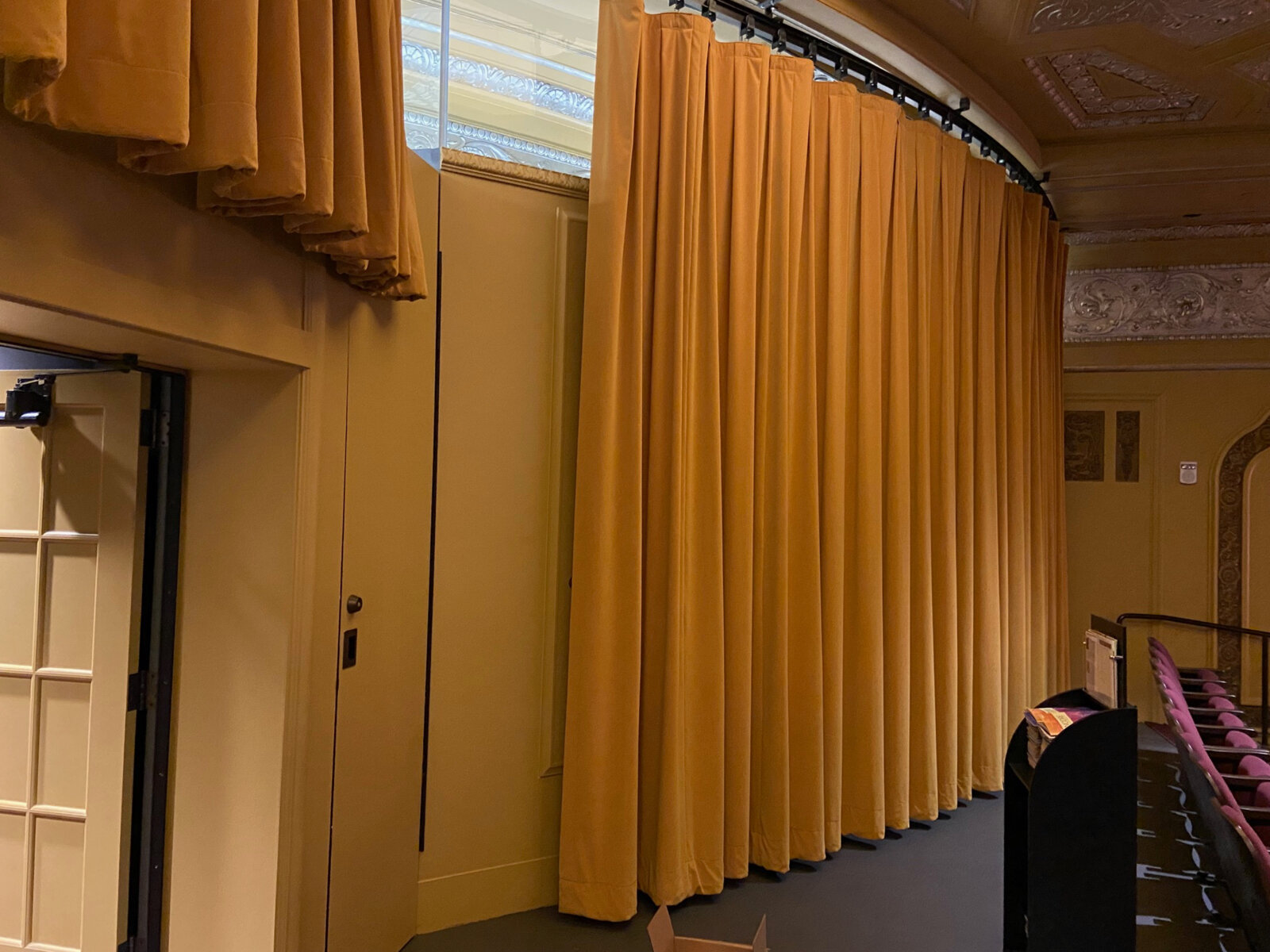 "If the sounds hit these walls, it's going to be reflective; it'll hit the surface and bounce off," Wallace explained. "When we pull out the curtains, it slows those sound waves down and now they become absorbent. It hits this and stays here rather than bouncing out. This is how we control the difference between amplified and unamplified shows. When they're unamplified, we'll stow the curtains so we have more reflection – but when it's this much louder, we need to control that reflection and that's why we put these dampeners out."
There are even more baffles tucked away around the gorgeously renovated and refreshed space, ready to be used for shows just like the live "Ghostbusters." The black felt rectangles and squares found in the back of the balcony? Baffles. The cavernous arches on either side of the stage? Yep, there are giant banner-like baffles in there as well, ready to furl and unfurl when needed. The wooden bars surrounding the stage are doors hiding sound-suppressing curtains as well, pushed aside for classics but pulled out in secret. Even the seats themselves serve as baffles, helping contain the sound as well as helping Wallace and the conductor preview how things may sound with a crowd.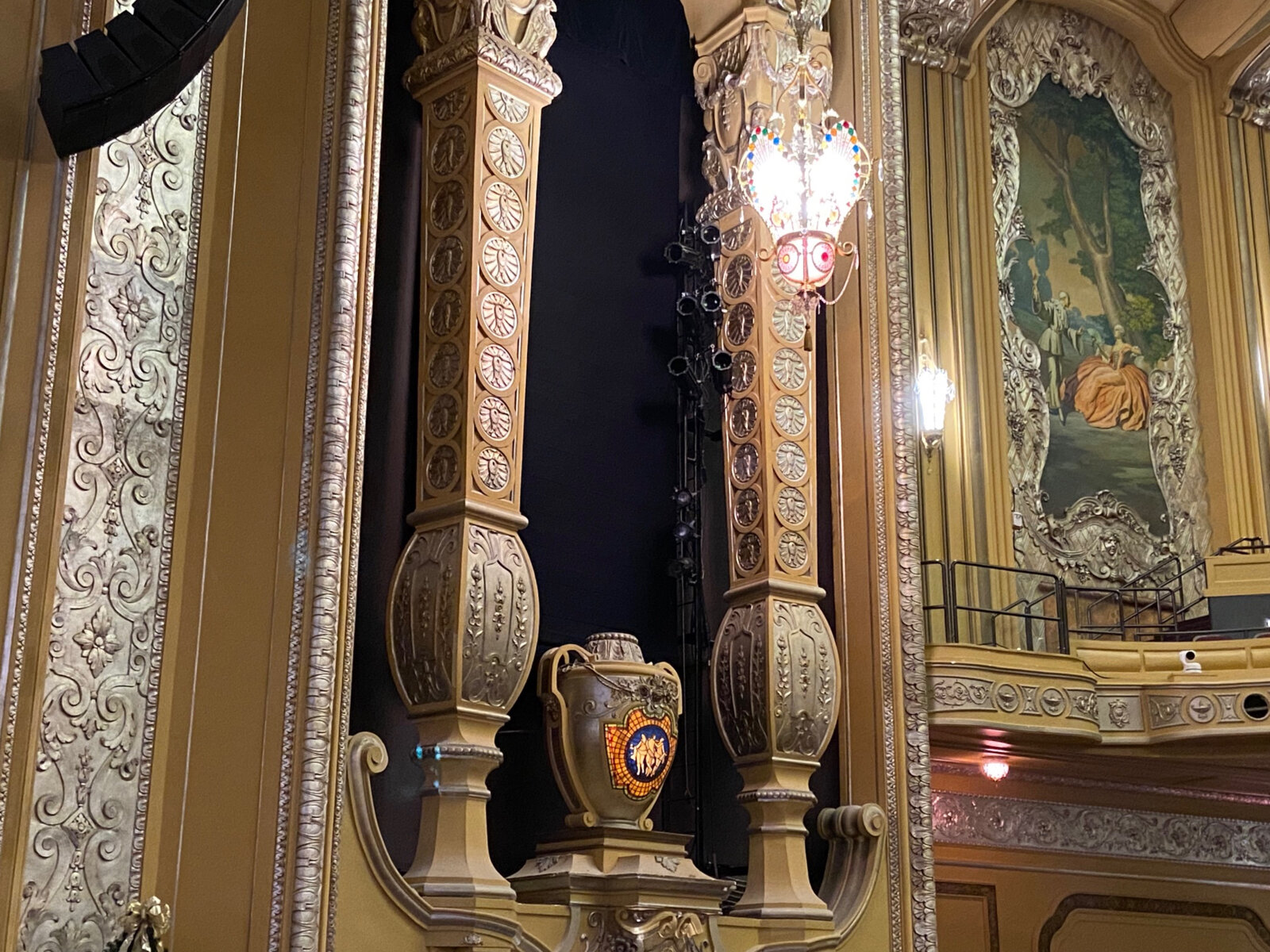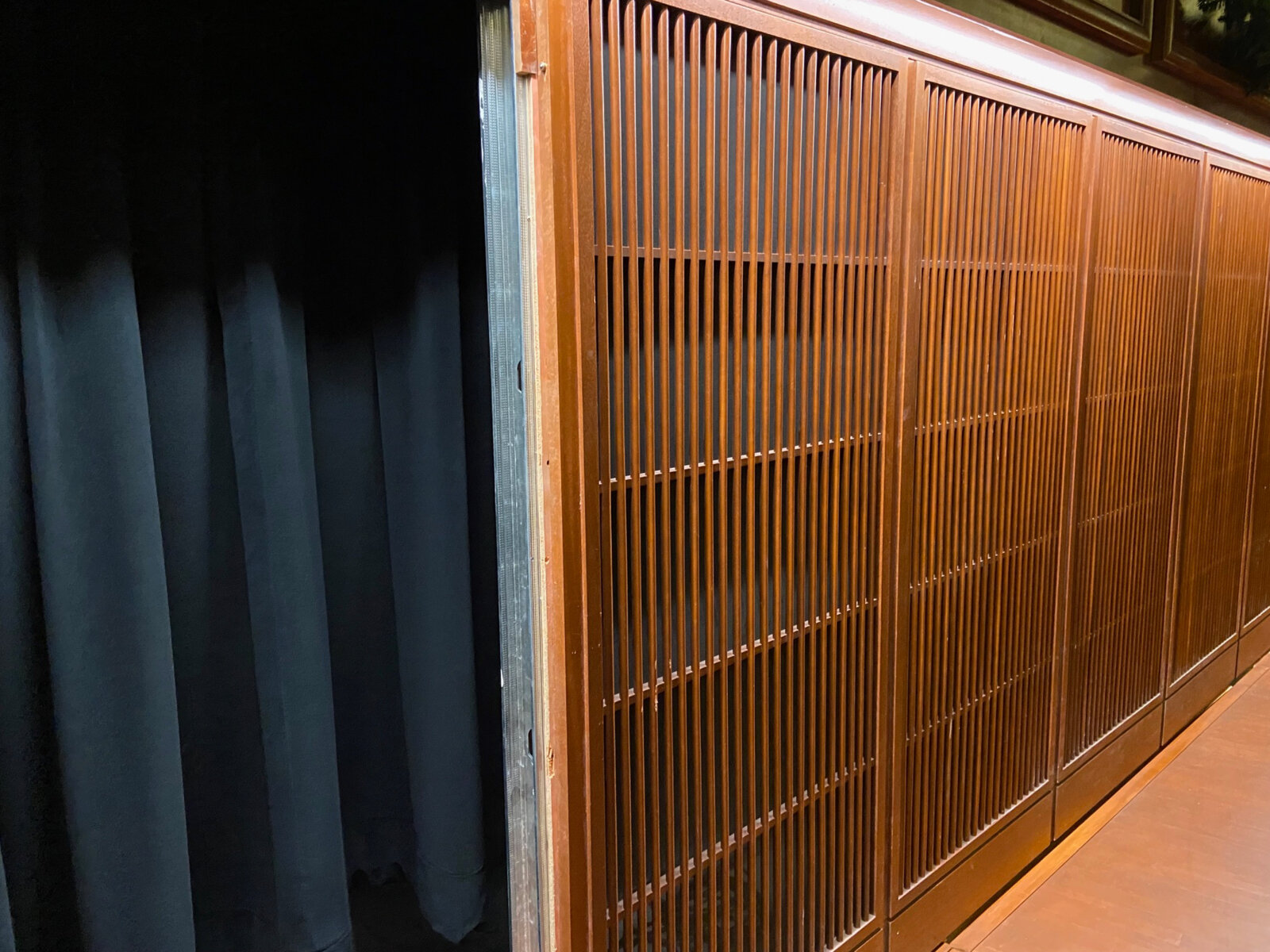 Between combining a movie and an orchestra, balancing traditional sound solutions with the latest in audio tech, it's a unique production for the MSO –and not just because most MSO performances don't feature footage of a slimy green supernatural creature gnoshing on hot dogs and room service. But like his on-screen everyday heroes in "Ghostbusters," Wallace is the guy to call. In fact, the MSO's technical production manager and live audio supervisor was recently profiled as one of the nation's top production executives by Marquis Who's Who – even if, for Wallace, a job well done often means a job unrecognized.
"I've always joked that the reason all of us wear black in the tech world is because, if you notice us, we're not doing our job properly," he said. "We are in the shadows in the wings, making sure this feels like you're just watching a show and enjoying it, not thinking about these things."
So after enjoying the on-screen specters at the Bradley Symphony Center next weekend, thank the human specter who made it all sound as good as possible – all while staying hidden a lot better than Slimer, Gozer and company.
"Ghostbusters" with the Milwaukee Symphony Orchestra will take the Bradley Symphony Center stage and screen on Friday, Dec. 30 at 7:30 p.m. as well as on Saturday, Dec. 31 and Sunday, Jan. 1 at 2:30 p.m. For information on the show and to purchase tickets, click here.
As much as it is a gigantic cliché to say that one has always had a passion for film, Matt Mueller has always had a passion for film. Whether it was bringing in the latest movie reviews for his first grade show-and-tell or writing film reviews for the St. Norbert College Times as a high school student, Matt is way too obsessed with movies for his own good.
When he's not writing about the latest blockbuster or talking much too glowingly about "Piranha 3D," Matt can probably be found watching literally any sport (minus cricket) or working at - get this - a local movie theater. Or watching a movie. Yeah, he's probably watching a movie.