The coronavirus pandemic has changed our everyday life, but it doesn't need to change who we are. So, in addition to our ongoing coverage of the coronavirus, OnMilwaukee will continue to report on cool, fun, inspiring and strange stories from our city and beyond. Stay safe, stay healthy, stay informed and stay joyful. We're all in this together. #InThisTogetherMKE
If ever we could use some good, hearty comfort food, now is that time.
That makes the publication of local author Jeanette Hurt's latest book, "Cauliflower Comfort Food: Delicious Low-Carb Recipes for Your Favorite Classics," perfectly timed.
The paperback, published by Ulysses Press/Simon & Schuster, is packed full of easy to follow recipes for some unique takes on an oft-maligned, but versatile, healthy and delicious veg, as well as creative ways to "sneak" more vegetables into your diet and your kids'.
We caught up with Hurt – who published a book about cider a few months back – to ask her about the book and to get a few of those recipes to whet your appetite.
OnMilwaukee: How important is comfort food right now?
Jeanette Hurt: I think comfort food is extremely important right now. People need to be comforted, and right now, it is one of the few comforts we can make, savor and feel comforted by in our own homes.
How does cauliflower fit into the world of comfort food? Especially when so many people THINK they don't like it or that it smells up the house?
On a lot of different levels. First, if you want to be comforted, but you also want to sort of still be healthy, it fits the bill. It also is a fantastic carb substitute for those who can't eat gluten, who are doing keto or paleo or who are just simply trying to increase the amount of veggies they're eating. As a carb substitute, it doesn't taste like you're missing the carb when you eat it - it tastes pretty much like the carb. I – and my family, which includes a 10-year-old boy – eat a lot of cauliflower pizza, and my husband and son never complain that it doesn't taste like regular pepperoni pizza. Cauliflower pizza is pizza first, made from cauliflower second.
As for the smell, if you boil it or steam it, it's going to be a heck of a lot more aromatic than if you roast it – if you roast it, it will smell much, much better! Roasting any veggie makes the veggie taste better – it brings out the natural sugars and caramelizes them.
Another thing, for example, if you're going to make a rice dish and you're not a huge fan of cauliflower, but you are trying to eat healthier, just replace part of the rice with cauliflower rice. Once the dish is cooked – fried rice, rice pilaf, etc. – the cauliflower rice will blend in with the dish's flavors.
What are some of the things to love about cauliflower?
If you have kids and you're trying to sneak in veggies, throw in a cup or half a cup of riced cauliflower into things like meatloaf or meatballs or even cookies – if you puree it, they won't know it's there, and you get an extra nutritional punch without really doing anything.
I fell in love with roasted cauliflower a few years back when we were on vacation in St. Louis, and we went out to dinner at this small plates restaurant, where they served a whole roasted cauliflower with herbs, spices and some crumbles of chèvre on top. It was amazing, and I had never had cauliflower like this before. Now, lots of places serve similar dishes (as takeout these days), and it's not that hard to make.
Roasted cauliflower is just fantastic, and it's probably my favorite way to cook cauliflower.
As a cruciferous vegetable, it's a nutritional powerhouse. In years past, its cousin broccoli took all the nutritional glory, but now, cauliflower is white hot, pun intended.
What made you want to focus a book on this veg?
As I said, I started to get into cauliflower a few years back, before it became so popular. Over the last couple of years, I've developed cauliflower recipes for some of my recipe development clients, and then last spring, when I met an editor at Ulysses Press at a writers conference and learned they were looking for someone to write a cauliflower cookbook, it was a match made in cauliflower heaven.
And while I have had a few friends say my family must be sick of cauliflower, we aren't, actually. I have a head of cauliflower in my vegetable drawer ... I'm planning to grill it this weekend if the weather holds up. I think it will taste delicious dipped in homemade chimichurri sauce.
Here are some recipes to help you deepen your appreciation of cauliflower:
Cauliflower "Potato" Pancakes
These pancakes have the texture – and taste – of potato pancakes. They're savory, and they taste great by themselves or topped with a dollop of sour cream and/or apple sauce. Besides being a great breakfast, they're also a great accompaniment to fried or baked fish.
Makes: 4 servings
Prep Time: 5 minutes
Cook Time: 30 minutes
4 eggs
1 cup Cauliflower Rice, excess water drained
1 cup grated cheddar cheese
4 teaspoons minced dehydrated onion
1 teaspoon garlic powder
1 teaspoon sea salt
olive oil spray
1. Whisk the eggs in a large bowl until frothy.
2. Whisk in the cauliflower rice, cheese, onion, garlic powder, and sea salt until well-combined.
3. Heat the olive oil in a nonstick or cast-iron pan 2 minutes over high heat—until nice and hot.
4. Pour a quarter of the batter into the center of the pan, using a spatula to catch egg dribbles and push them back into the pancake.
5. Cook on high for 2 minutes, then reduce heat to medium and cook for 1 more minute.
6. Flip and cook for another 2 minutes, again using a spatula to push egg dribbles back into the center of the cake.
6. Flip and cook for 1 minute, then flip again and cook for 1 minute.
7. Remove the first pancake from the heat, and repeat the process three more times for remaining cakes.
VG—vegetarian
GF—gluten-free
K—keto
LC—low-carb
P—paleo
Cauliflower Mac and Cheese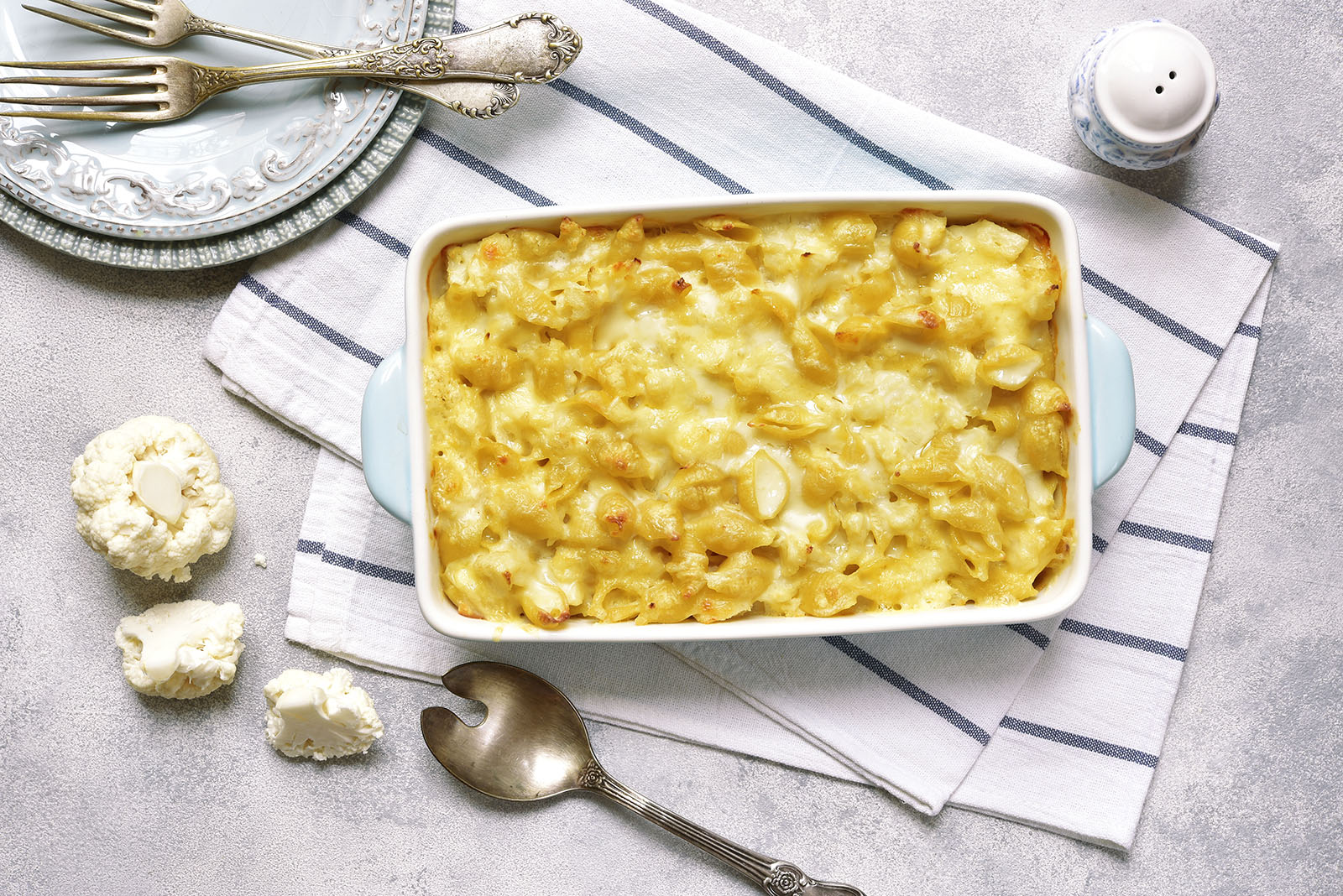 This is pure, unadulterated comfort in a bowl. And you can choose whether to add actual noodles to this or not – it tastes amazing either way.
Makes: 6 cups with pasta; 4 cups without pasta
Prep Time: 10 minutes
Cook Time: 30 minutes, plus 20 minutes for making pasta
1 cup dry pasta
1 recipe Roasted Cauliflower Florets (page XX)
1 recipe Béchamel Sauce (page XX)
1 teaspoon Dijon mustard
4 cups grated cheese, divided
sea salt and freshly ground white or black pepper, to taste
1. Preheat the oven to 350°F.
2. Cook the pasta according to package directions and set aside.
3. Toss the pasta with the roasted cauliflower and transfer to a ceramic baking dish.
4. Meanwhile, make your Béchamel Sauce, and when the sauce coats the back of the spoon, stir in the Dijon mustard and slowly add 3 cups of cheese by the handful.
5. Season the sauce with sea salt and freshly ground pepper to taste if it needs more seasoning. Pour the cheese sauce over the cauliflower and pasta, and top with remaining cup of cheese.
6. Bake for 30 minutes until browned on top.
Note: Even if you use pasta, this can be keto and paleo friendly. Cybele's makes a pasta completely from green lentils, cauliflower, and parsnips, and it works exceptionally well in this recipe.
Mac and cheese always tastes better if you use high-quality cheese, and if you use more than one type of cheese. Cheeses that work well include cheddar, Gouda, all Swiss cheeses, and mozzarella. Great (or grate!) add-in cheeses for zips of flavor include Parmigiano-Reggiano, Pecorino Romano, fresh chevre, and blue cheeses. Parm and other hard Italian cheeses taste amazing when sprinkled on top, too.
If you don't want black flecks of pepper to be seen, use white pepper instead.
VG—vegetarian
GF—gluten-free
LC—low-carb, if no pasta
Creamy Cauliflower Soup
This is nirvana in a bowl. Rich and creamy, this soup is perfect for warming up on a cold winter's night.
Makes: 6 servings
Prep Time: 5 minute
Cook Time: 15 minutes
3 cups roasted cauliflower florets, plus 2 florets reserved and cut into slices
1 medium yellow onion, roasted
3 cups vegetable stock
1 cup heavy cream
¾ cup freshly grated nutmeg
½ teaspoon sea salt
¼ teaspoon freshly ground pepper
1. In a food processor fitted with a standard blade or a high-speed blender, puree the cauliflower and onion with the vegetable stock until smooth.
2. Pour the mixture into a large stockpot and heat on the stovetop over medium-high heat for about 5 minutes. Stir in the cream and cook until simmering, about 6 to 8 more minutes.
3. Season with the nutmeg, sea salt, and pepper, and cook for an additional 2 minutes.
4. Warm the remaining florets in the microwave for about 30 to 60 seconds, and place a single cut floret into each bowl of soup to serve.
VG—vegetarian
GF—gluten-free
K—keto
LC—low-carb
P—paleo
Born in Brooklyn, N.Y., where he lived until he was 17, Bobby received his BA-Mass Communications from UWM in 1989 and has lived in Walker's Point, Bay View, Enderis Park, South Milwaukee and on the East Side.
He has published three non-fiction books in Italy – including one about an event in Milwaukee history, which was published in the U.S. in autumn 2010. Four more books, all about Milwaukee, have been published by The History Press.
With his most recent band, The Yell Leaders, Bobby released four LPs and had a songs featured in episodes of TV's "Party of Five" and "Dawson's Creek," and films in Japan, South America and the U.S. The Yell Leaders were named the best unsigned band in their region by VH-1 as part of its Rock Across America 1998 Tour. Most recently, the band contributed tracks to a UK vinyl/CD tribute to the Redskins and collaborated on a track with Italian novelist Enrico Remmert.
He's produced three installments of the "OMCD" series of local music compilations for OnMilwaukee.com and in 2007 produced a CD of Italian music and poetry.
In 2005, he was awarded the City of Asti's (Italy) Journalism Prize for his work focusing on that area. He has also won awards from the Milwaukee Press Club.
He can be heard weekly on 88Nine Radio Milwaukee talking about his "Urban Spelunking" series of stories.