Two years ago, Megan Brown met a guy. And after an ill-advised, condescending, misogynistic question, she introduced him to her much-deserved, pun-rific wrath.
it's so insulting when dudes try to quiz me about sports soooo i had a little pun fun ⚾️❤️ pic.twitter.com/s1X0qJagrp — megan brown (@thatgirlondeck) March 29, 2016
It's a hilarious and, for any woman who's had her fandom questioned simply for being female, extremely satisfying interaction – one that took off across Twitter before going as far as MTV to Mashable to UPROXX and more. But the biggest twist in this viral tale of a stupendous social media smackdown?
This New York-based digital media expert – a senior accounts director at Turner PR, as well as a social media and reputation manager for athletes – isn't a Yankees supporter or a Mets stan but, of all teams, a Milwaukee Brewers fan.
Of course, once we discovered this factoid – one that's not hard to find with a quick skim of her Brew Crew-crazed Twitter profile – we just had to ask Brown some questions about her Brewers fandom, being a Milwaukee fan in Yankees-Mets country and her terrific viral takedown. (And definitely not about whether or not she knows the teams in the NL East.)
OnMilwaukee: So how does a New Yorker become a Milwaukee Brewers fan?
Megan Brown: So I'm originally from the Midwest. I grew up in Indianapolis, and the Indianapolis Indians used to be the affiliate for the Brewers in 2000, so I saw Ben Sheets and J.J. Hardy and Bill Hall and a bunch of guys who came through there. Then my brother is the biggest Cubs fan, and we kind of had a sibling rivalry going. So of course I was never going to be a Cubs fan.
How was it growing up a baseball fan in Indiana, where you don't have a major league team in the state?
The one great thing is that my parents always supported me and my brother playing sports as kids. So I was on some little league teams and things like that. But as you get older, it's a bit more difficult because sports radio, they love talking about – of course – basketball. I love basketball too – I like the Pacers and the Hoosiers – but baseball doesn't get a lot of love. I even complained about it to a friend at a local radio station, so for a short period of time, before I moved to New York, I was actually on the radio on Fridays.
Indianapolis is mostly Reds, Cardinals and Cubs fans – and I feel like a lot of those Cubs fans are newly minted, like they traded in their Cardinals World Series gear for Cubs World Series gear. (laughs)
Was it hard being a Brewers fan surrounded by all those other rivals in the area?
Yeah, definitely since the Brewers – though they've had a few good years, as well – normally it's been pretty rough throughout my life. But it's also been that way for the Cubs until recently, so at least we were able to cry into our beers together. The Brewers fans in Indianapolis, we all managed to find each other, but there are not a lot there, for sure.
When did you move out to New York, and what brought you out there?
So I moved in 2012 ­– the year Indianapolis had the Super Bowl. I basically know all my important dates by sporting events. (laughs) I work in social media, and there's obviously opportunities everywhere – I have nothing against the Midwest; I love returning home and love going to Milwaukee, Indianapolis and (sighs) even Chicago – but I got a job offer in New York that I couldn't turn down. And six years later, I'm still here.
How does New York – the land of big winners and big-market teams like the Red Sox and Yankees and Mets – deal with your Brewers fandom?
So Yankees fans are Yankees fans. (laughs) Some of them are pretty nice actually. The Brewers played the Yankees in interleague play last year in July, so of course I went to those games, because seeing them twice in New York only happens every so many years.
They're pretty friendly. Yankees fans have that swagger because they have that history of winning – and now that they're good again, I guess. It can be frustrating, but I've always felt pretty welcomed at Yankee Stadium. I've even worn Red Sox gear to a game there when they were playing the Red Sox, and no one said anything to me.
Mets fans are a little bit different. They've been welcoming, and I do support the Mets as my "hometown team," because I could never support the Yankees. They like to see a team like ours do well; they may not have been the underdogs the entire time they've been in the league, even in some of the recent seasons, but they're used to being overlooked and overshadowed by the Yankees. But those guys have been pretty great.
And actually the thing I love about Brewers fans is that when the Brewers are in town, they travel. I love it. When the Brewers were in town to play the Mets, I was at every game, and I wanted to talk to some of the people who'd come to town wearing Brewers gear to see if they were from New York or if they were from Milwaukee or elsewhere – and a ton of people had come from Milwaukee. I was at Coors Field last month to see the Brewers play there, and there were so many people from Milwaukee, too. It was awesome; you had your own section that made it feel like a home game.
Yeah, you always hear about Packers fans traveling well, so it's good to hear the Brewers do too.
I'm sure that you've seen that tweet where some guy was quizzing me about baseball, but another guy was like, "Who's your team?" I said Milwaukee, and he said, "Oh, then you must really love baseball because they are not good." (laughs) But yeah, the fans are loyal. When you see somebody in Yankees gear, you don't know if they're wearing it for fashion or just because they think the logo is cool.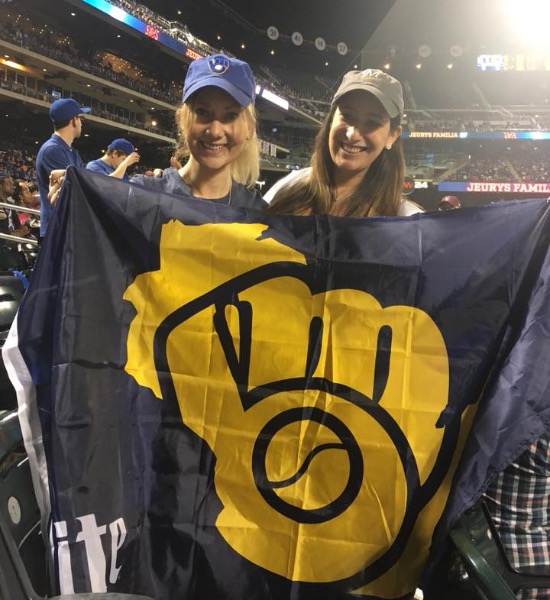 How often do you get to come to Milwaukee for Brewers games?
Since I've been to New York, I've only really been twice – which is really unfortunate. I'm definitely looking to go again this year. It's just really tough; I do travel a bit for work, and with scheduling and everything, it's hard to get out there. I would be there every weekend if I could, but I have a life here and things to take care of and a dog who probably wouldn't want to sit in a hotel room while I'm at the ballpark for the entire time.
I think the last time I was there was maybe three or four years ago. I had a meeting on the west side of Wisconsin, and I was like, "I have to make it to the game" – especially when I saw they were playing the Cubs. I'm working to make it a yearly thing and for longer than a day. I have quite a few friends there and friends that I've met through Twitter that live there that I want to meet. And I tell them all, "You'll see me in October, no need to worry." (laughs)
So about that viral tweet: Obviously you knew the teams, but how long did it take to formulate that perfect response?
Not that long, to be honest. When you start working in social media, a lot of your job is writing content. But even then, my friends can tell you I am one of the corniest people alive, so I'm always sending them puns and things like that. The longest part of it was deciding whether or not to send it, thinking how this person is going to react. But by then, I didn't really care.
I got it back to him right away – and then he never replied! That's why I posted it on Twitter – because he clearly didn't enjoy it, but I thought some of my friends will laugh at it or tell me I'm corny or something. Then when it blew up, I was waiting for him to come out of the woodwork and say something, because it was on MTV and ESPN and Mashable. I thought about texting him to be like, "Hey, did you see this article?" But then I figured he would not like that.
I wonder if he ever admitted to any of his friends that that was his. Wherever he is, I hope he's doing well – and doesn't quiz girls anymore over sports.
As much as it is a gigantic cliché to say that one has always had a passion for film, Matt Mueller has always had a passion for film. Whether it was bringing in the latest movie reviews for his first grade show-and-tell or writing film reviews for the St. Norbert College Times as a high school student, Matt is way too obsessed with movies for his own good.
When he's not writing about the latest blockbuster or talking much too glowingly about "Piranha 3D," Matt can probably be found watching literally any sport (minus cricket) or working at - get this - a local movie theater. Or watching a movie. Yeah, he's probably watching a movie.