The Milwaukee Brewers' home opener against the St. Louis Cardinals at Miller Park is almost here, and details for the opening ceremonies are set.
Here's all you need to know for Monday, April 2:
Ticket Availability: A very limited number of tickets were released today from tickets that were previously on hold. They are available to the public on a first-come, first-served basis through Brewers.com.
Parking Lots Opening Time: Gates to the parking lots will also open at 10:10 a.m.
Gate Opening Time: The Miller Park gates will open at 11:10 a.m.
First Pitch: Members of the Wisconsin Badgers football team, including head coach Paul Chryst, will participate in the ceremonial first pitch. The Badgers football program set a school record with 13 wins this past season, capped by an Orange Bowl victory.
National Anthem: Dan and Mike Attanasio, sons of Mark and Debbie Attanasio, will sing the national anthem. They will carry on the tradition started by their grandfather, Joe Attanasio, who traditionally sang the anthem on Opening Day from the time that the Attanasio family purchased the team.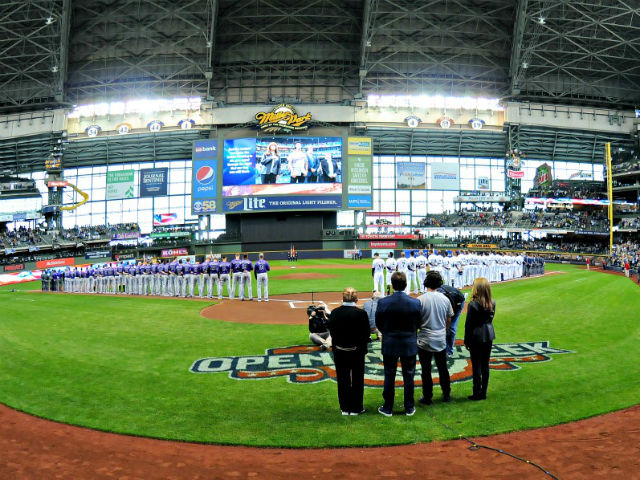 Color Guard: United States Army Recruiting Battalion Milwaukee, Navy Operational Support Center – Milwaukee, the United States Marine Corps Fox Company 2 Battalion 24, the 128th Air Refueling Wing, Wisconsin Air National Guard and the United States Coast Guard Sector Lake Michigan will take part in the opening ceremonies.
Game time: The game is scheduled to begin at 1:10 p.m.
Brewers Magnetic Schedule Day: All fans in attendance will receive a Brewers 2018 magnetic schedule, presented by Pick 'n Save.
Parking information: The Brewers are urging fans to plan ahead when considering parking options for all games at Miller Park, but in particular for Monday's home opener. Fans may purchase parking passes in advance for all home dates at Miller Park through the Miller Park Box Office, Brewers.com or by phone at (414) 902-4000. Note: A limited number of parking passes are available for the home opener. Please tune in to AM 1180 or @Brewers (Twitter) for up to the minute parking and traffic information.
Meet the team: Get to know the 2018 Brewers here.
Food guide: Check out what's new at Miller Park this season and what to eat here.
Tailgating: Planning to grill and drink before the game? First read our tailgate must-haves.
Shuttles: Avoid driving and parking with this shuttle guide.
MCTS: Take the bus.
Have fun and go Brewers!